Ever since it was discovered that mud was malleable in around the year dot, clay has been modeled into shapes for the amusement of others. Novelty ceramic giftware, which is quite often quirky and kitsch, sometimes become desirable to collectors purely by virtue of its audaciousness and originality, rather then any aesthetic qualities.
Transfiguration Screw IX   by Mitsuo Takeuchi
Art featured in the Milan Triennial during the 50's & 60's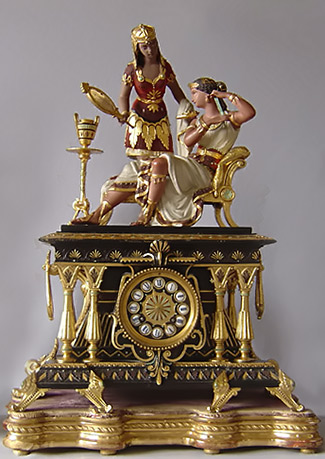 The Roman rule of Egypt from 30 BC to 395 AD led to Roman decorations incorporating Egyptian motifs and an increased interest in Egyptian culture. During the Italian Renaissance "Egyptomania" resurfaced.. read more
Celebrating the potters and pottery companies that have been recognized for their contribution to the ceramic arts with their unique designs, innovations and classic creations and their influence in introducing new styles and movements in the field of ceramics.
Many Mid-Century collectors covet a Marcello Fantoni piece for their flair and originality. Fantoni's ceramic designs came to embody the timeless appeal of classic and traditional Italian pottery merged with challenging modernist and progressive movements.  Read More
 Located in a region in south-eastern France, Vallauris is nestled among low coastal hills and with its rich supply of clay, has been a pottery-making centre since Roman times.
Koan :  Once a division of the Japanese army was engaged in a sham battle, and some of the officers found it necessary to make their headquarters in Gasan's temple. Gasan told his cook: "Let the officers have only the same simple fare we eat." This made the army men angry, as they were used to very deferential treatment. One came to Gasan and said: "Who do you think we are? We are soldiers, sacrificing our lives for our country. Why don't you treat us accordingly?" Gasan answered sternly: "Who do you think we are? We are soldiers of humanity, aiming to save all sentient beings."
Figurines Of Intrigue

The Okinawan's believe they are teenagers up to the age of 50, which is probably the most distinctive quality in their mindset compared to the West.
Anya Stasenko and Slava Leontiev

The following gallery represents an excellent collection of ceramics based in London. Contemporary Ceramics has opened an exciting new exhibition space in Somerset House.
The ritual of " afternoon tea " only became a widespread pastime after one of Queen Victoria's  ladies in waiting, the 7th Duchess of Bedford, promoted the habit of having tea and cakes in the late afternoon.
The unique look of  Japanese Raku pottery is achieved by utilizing  both smoke and fire in the Raku kiln to  create an unpredictable and unique style. Firstly the pottery is bisque fired, than glazed and fired in a Raku Kiln followed by enhancement in a reduction chamber. create an unpredictable and unique style. Firstly the pottery is bisque fired, than glazed and fired in a Raku Kiln followed by enhancement in a reduction chamber.
The vibrant ceramics of Ardmore, ranging from functional domestic ware to sculptural art in the highly decorative African tradition, offer a fine insight into the subtle influences of rural potters at work in the Champagne Valley of KwaZulu Natal. These artists combine the elements of their tribal tradition with the unique perspective of a new world. Although the nerve centre of Ardmore has moved to Lavendula in the Natal Midlands, the majority of the artists continue to work on the Ardmore farm near their family homes in the Champagne Valley.
The ancient Egyptians were gifted artisans and pottery was an art where they excelled. Egypt in the pre dynastic period produced pottery of very high quality From 3000BC on their pottery was decorated with   depictions of animals, humans, boats and various  other patterns and symbols. Two main veins of  pottery existed during this period,  pottery from Nile clay ( red/brown after firing ) and pottery from marl clay ( usually polished to give a lustrous look ).
Maiolica : Italian Renaissance ceramics
The tin glazed pottery made in Italy during the Renaissance era was known as Maiolica. It is recognized as one of the most appealing styles of pottery ever produced. Over a period of 1oo years from 1440 to 1540 some of the best Maiolica was created, the early designs being originally influenced by the pottery imported into Southern Italyfrom Islamic North Africa. Maiolica was first developed around 1370 in the Italian regions of Tuscany and Umbria and usually depicted either historical scenes or legendary themes.
Maiolica ceramics underwent two key processes. After the first firing, the bisque is dipped into a bath of fast drying liquid glaze. When dry, the glazed piece is ready to be hand painted. A final firing at 1690 F made the glaze interact with the metal oxides used by the painter to create the deep and brilliant translucent colors specific to majolica.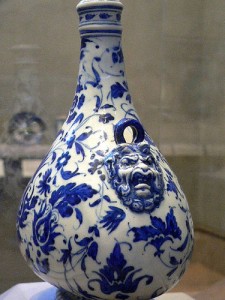 The Qin (221-206B.C.) and Han (206B.C.-220A.D.) dynasties are noted for the high quality and large numbers of pottery figurines they produced.
◊
The above top right  bowl was created and photographed by ceramicist/photographer  Philippe Buraud in the Provence of  Ile de France, Paris region, Essonne at la porte du solei.