Gemu Mountain Goddess in the distance — Yugu Lake, Yunnan
Elevation – 37o metres
The lush Yunnan province, in the far eastern foothills of the Himalayas, is said to have as much flowering plant diversity as the rest of the Northern Hemisphere put together. The camellia is the floral emblem of the province, holding the same place in the hearts of its people as the kumquat and peach fruits do in other parts of China. The sacred Gemu Mountain graces the edge of the pristine, deep azure blue Lugu Lake (also known as the Mother Lake} and serenely stretching along its sierra in the form of a woman in a sublime respose, resides a mountain Deity on her lofty throne. This was recognized by the ancient Tibetan tribes of the Mosuos as a good omen for the region and especially because of their matrilineal traditon, they were encouraged to adopt this secluded location for settlement.
To this day in this remote utopian encleve, they still hold annual celebrations for the remarkable Gemu Mountain Goddess on the seventh moon of the lunar calender, with music, dancing and circumnabulations of the mountain, to honour her as their protectress and venerate her as a feminine fertility symbol and for a healthy harvests of their crops. Their deep reverence being transported from a diistant past that reaches into times where the forces of nature ruled their instinctive perception and behaviour.
Mosuo women celebrate the Mountain Worship Festival (known as Zhuanshanjie)
Lugu Lake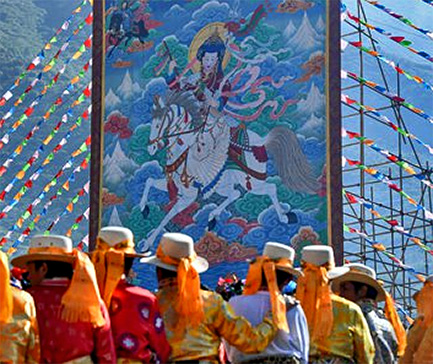 Mosuo women celebration of the Mountain Goddess
Gemu Mountain — Lugu Lake
Valley of flowers at Yunnan
Yunnan bird
Chen Yongle—reduction block print
Yunnan Art School painting
Chen Yongle—reduction block print
More goddess icons and feminine archetypes
Jean Alexandre Joseph—Falguièreexpan—-'Bust Of Diana'
19th Century
Kim Mccombs
Glass pillar deity sculpture — Cottesloe Beach, WA
Dancing Marie Louise Fuller—Amphora
Europa, Pan and Dionysis — Barocca
France, 1995
Japanese Meiji Cloisonne Ginbari Adachi Kinjiro Vase
 'The Musik' by Gustaf Klimt
'Shift of Consciousness'  – Sculpture by Egor Zigura
Feminine Reflection – French female nude sculpture
Frank W. Benson— 'Summer'
1890
Indinginous girls at Sydney Opera House
Alexande Archipenko,- 'Woman in Fur'
1936
Albert Ernest Carrier Belleuse – 'Hebe and the Eagle of Zeus'
As the Goddess of Youth, she was the cupbearer who filled the nectar bowls and served ambrosia to the gods.
Exquisite Satsuma Geisha vase by the Kinkozan studio
Meiji period (late 19th century)
Prophetess of Gaia – 'Pythia Dreaming' cast marble — Joan Relke
'Horizon' inversion glass orb by Lucy Humphrey
Japanese Geisha vase
Pinnicle Desert
King Neptune, (Pinnicle desert)
'At the dance II'  —  Michelle Gregor
'Windy Tree' – Michelle Gregor
Ceramic cone 5 oxidation multifired with stains and glazes
Grecian Tanagra statue – Woman with the blue coat and Chapeu
320 BC
Tamlaine by Robert Macnair
'Egyptian Rocket Goddess' — Audrey Flack
Beauty, transcendance, and strength were some of the attributes the sculptor considered.
'Endangered'  – Tamara Dean
Grecian woman and antelope profile – Suzy Birnstein
Stonewall Spiral sculpture
Natural Moai aerial landscape figure
Keep River National Park, NT, Australia
Wastelands – Notturno Piu
Rebecca Fontaine Wolf
Rebecca Fontaine Wolf
To me images have the ability to turn ordinary people into icons, to encapsulate all their beauty whilst erasing any trace of a banal existence
'Diana the Huntress' French Art Deco sculpture by Uriano
Sevres vase decorated by Susanne Kaehrling
1937
Valentina Sampaio, Vogue Portugal
Photo — Luis Monteiro
Lady of Guadalupe — Vincent Canlas of Nuevo Siglo
Vincent Van Gogh — 'Mulberry Tree'
Edouard Cazaux—-Firebirds charger
Vickie Quandelacy –Zuni corn maiden
Chongqing sculpture
Shibanpo Yangtze River Bridge – two of the four Seasons sculptures at the location – these were the first nude public sculptures in China. Cast in aluminium, they stirred up controversy and had to be thinly veiled.
Terracotta relief — Char Bangla Temple
Goddess Durga on the wall of Char Bangla Temple complex, Murshidabad,
As a goddess, Durga's feminine power contains the combined energies of all the gods.
Christ of the Abyss underwater statue – Miami
vase by Japanese Potter Yoko Komae
Natasha Dikareva teapot
White Dove Figurine – Rosenthal – Signed F. Heidenreich
Germany – 1590
Australian Lyrebird – Alex Maisey
Ancient Female Goddess relief Angkor Wat, Cambodia
Statue of Sofia with owl of wisdom sitting on her arm – Georgi Chapkanov
Belgrade, Bulgaria
Annette Jalilova
'Awakening' Sculpture by Mircea Puscas
'Beyond the Stars: At Galaxy's Edge', art print by Julie Dillon—–Space Sirens
Ceramic Vase — Lehigh Senior High School Center for the Arts
Dancing Shiva
'Land of Venus III' – Photograph by Steven Irwin
Mayan Rattle depicting a goddess
600–800AD
Egyptian theme Metal Sculpture head by Pierre Matter
'Chronos 8' – Nicolas Schoffer
Monument of gratitude – Belgrade
'Moon Goddess' by Becca Douglas
Egyptian relief – Niankhwadjet inhales the scent of a lily
    Dynasty 4-(2575-2520-B.C}
Carved figure of Nike–the winged Goddess of Victory
Ephesus,Ionia, Asia-Minor
'Duetto'   –  Erte
Bronze sculpture of the Dian Kingdom, 3rd century BCE, China
Pat Swyler — ceramic meditation figures kwan yin
Reefline sculpture underwater park – Miami Beach
Diving at Reefline sculpture underwater park – Miami Beach
Jessie Makinson – 'Miss ghost'
Fabian Lang Gallery, Zurich
Raku sculpture – 'Lady with wolf' – Jessie Mooy
Goddess relief – Banteay Srei Temple, Ankor Wat
Cambodia
French artist Ada Loumani glass vessel
Photo by Amanda Charchian
Ohoto — Emile Ristevski
Katherine  Gorge, Northern Territory
Rōka no geigi (Entertainer standing on a veranda)—Eizan Kikukawa
1787-1867
Chris Hawthorne
Moonface cups – Rebecca Hillman
Walnut by Franka Slothouber (Netherlands)
Tibetan Green Tara bronze turquoise statue
Jari Cornelis — Storm Dragon
 Chinese Cizhou Kiln Porcelain Dynasty Palace Phoenix Bottle Vase
Tree carving — female Dryad dancing gracefully
Mulas textile craft of the Kuna people, a self-governing indigenous from the e San Blas islands.
Terracotta Aphrodite riding a dolphin over the sea
Ψ