Those loyal vehicles of the captivating tea beveridge are under scrutiny again for their tendency to be audacious, bold and innovative products of the unbridled imagination.  Their bemusing evolution has led to forms flowing from the incongruitive to the sublimely harmonious, which showcase unconventional shapes, imagery and clever abstractions of the clay while fulfilling a need to command attention at the table. Teapots have morphed from being functional objects for the creation of a cuppa to charming utilitarian pieces of amusement and even serious sculptural statements  As they are the centre of attention several times a day and much loved for their role in tea making, its only logical they also get utilized for artistic expression. The tea leaves must be wondering what all this grandiose presentation is about. I say all power to the humble teapot.
Teapots of charming and zany sublimity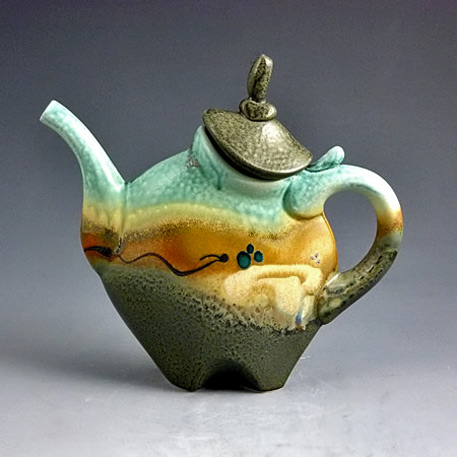 Loren Lukens ceramic teapot
Michael Hosaluk– tri legged, zigzag handle teapot
Flexine, Contortionist Sideshow Girlesque Series teapot – Karen Porteleo
Photo Andy Titcomb-flickr
Yoshiro Ikeda teapot
Natasha Dikareva teapot – 'Between East and West'
Queen of hearts Teapot
funteapartyideas.com
Michael Hosaluk teaware
Pumpkin style teapot – John Bauman
'Brown Trout Teapot' – Mark Chuck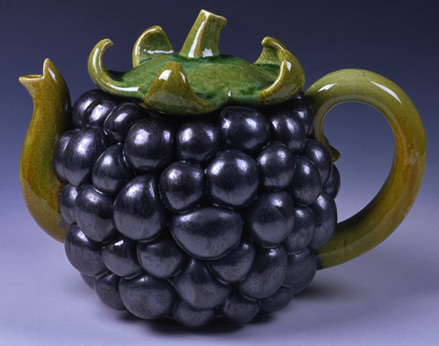 Blackberry Teapot – Kate Malone
Teashop, Boston
Porcelain Teapot – Adrian Saxe, California
In this piece Adrian combined classic Chinese ceramics with a humorous twist
Brooklyn Museum
Dancing retro teapots in pastels
Lifeinmommatone – etsy
'Bakst Foun'   – Earthenware teapot – Noi Volkov
Press molded earthenware, hand sculpted, hand painted, glazes, oxides, and under glazes
Louis Reilly Tea Pot
Crimson Laurel Gallery
Marylin Andrews
'In Love with Time' – Laura Balombini
Bear Shaped Teapot – English Prattware Pottery
circa 1790-1800
sold on 1stDibs – John Howard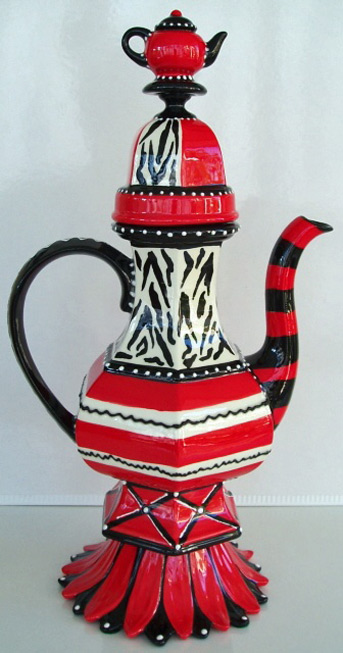 Cybill Ceramics
Goro Suzuki
Yoshiro Ikeda
Coreen Abbott
Jim Budde
'The Reluctant Dragon' – Justin Gerard
'Hope Warmed Over' – Laura Balombini, NY
'Onion' teapot – John Pripp, Denmark
Chris Theiss 'On The Bridge' multi perspective sgraffito teapot
Russian artist Irina Zaytceva
Created using highfire porcelain, with overglaze as well as underglaze painting
Jacques Blin, France
Helene Fielder
Jose Sierra
Rooster Teapot  – Layl McDill – Polymer Clay
Josie Jurczenia
Julia Kirillova tapot
Judith Heartsong on Flickr
Porcelain Spiral Teapot – Kaete Brittin Shaw
Barry Gregg Clayworks
Larry Spears
Laurie Shaman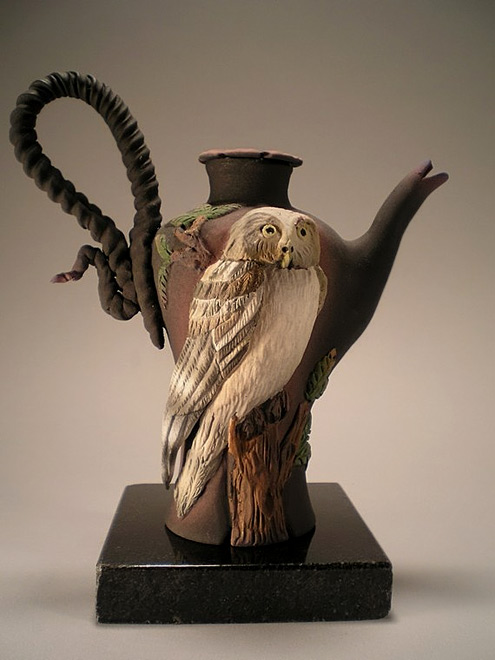 Nancy Adams owl teapot
Natalya Sots
 Jeroen Bechtold, Denmark
Roberta Polfus
Seated Elephant teapot – Scott and Naomi Schoenherr
 Laguna Beach, California
Sally Jaffee
Sandy Terry raku teapot
'Stone Prancer Teapot' by Susan Farrar Parrish
Photo by Seth Tice Lewis
"You Give Me Butterflies: Appetite" – Susan Thayer
2012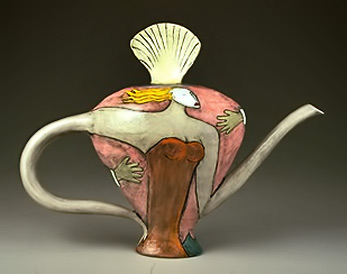 'Venus Revisted' – Sandra Zeiset Richardson
'Teapot–Red and Black' by Thai artist Porntip Sangvanich now residing in California
Glazed porcelain
'The Narghile Smoker' tea drinking automaton by Lambert
circa 1915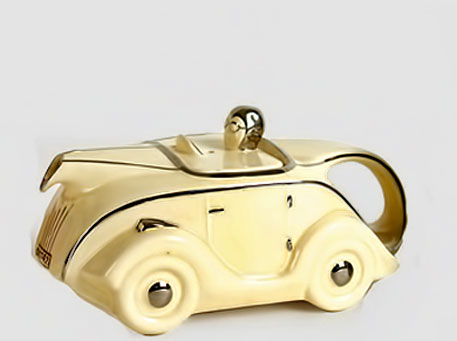 Art Deco automobile tea pot
Harris Deller from Brooklyn likes to make vessels that are provocative contradictions. The porcelain clay is sturdy, the abstracted forms are whimsical and the third dimension is suppressed in varying degrees.
Cynthia Aldrich
Yoko Miyagi
Joellyn Rock narrative teapot
Joellyn Rock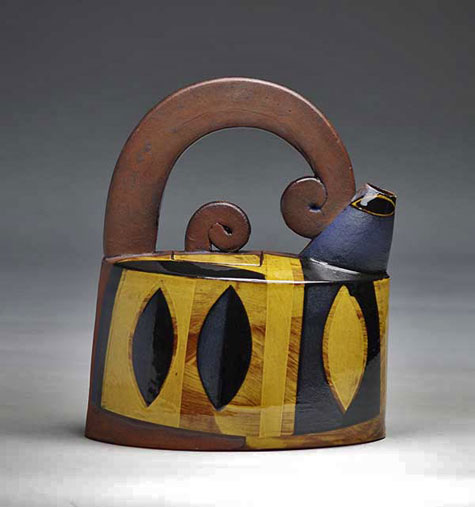 Richard Phethean, UK
Ripped stoneware teapot –  Elaine Pinkernell
Swan with Leda by Roger Michell
Marsha Silverman teapot
Cedar Creek Gallery, NC
Antique Japanese Porcelain Hirado Hotei Teapot
Circa 19th Century
French artist Marthe Huigens likes to paint teapots
Teapot with 2 characters of Belle Epoque -Signed Toulluc
1832.
Green glaze teapot – Sandy Terry
Black octopus teapot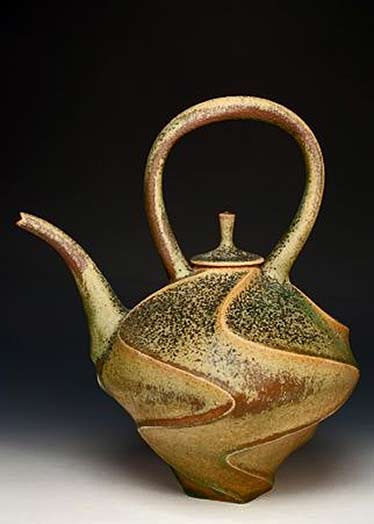 Jim Connell
'Wide Free Form Tea Pot'  – Gail Mackiewic
'Spanish Buccaneer' figurine teapot
–