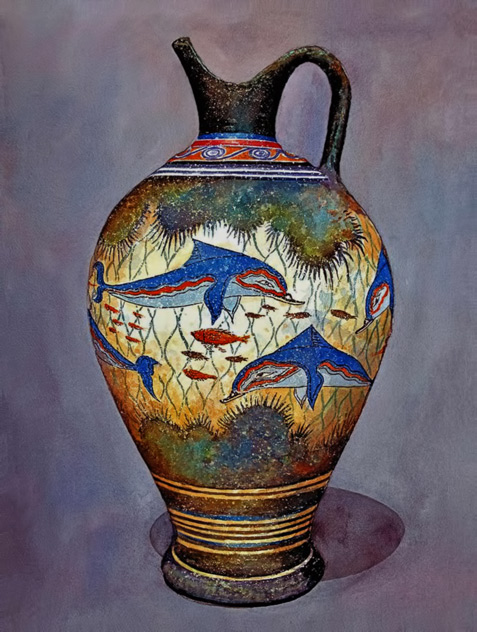 Minoan dolphin urn – Zografos Gallery
Storytelling with pottery decoration allowed many ancient civilizations to record unique and revealing narratives of their lives, as a means to record and reinforce their cultural beliefs for coming generations. This was usually integrated into a decorative theme and expressed creatively. Around the 3rd millennium BC in Uruk, Mesopotamia, ceramic mosaics depicted images of their culture from battle scenes to hunting .The ancient Minoans were one of the first to record distinct aspects of their culture in their pottery arts around 1900 BC. Their dependence on the sea for their diet and trading was well in evidence, with many instances of sea creatures being carefully illustrated on their pottery in a creative decorative manner. The matriarchal structure of their society was also ever present in the Minoan arts, with the ceremonial and temple worship by their women being depicted in beautiful detail along with the important symbols of their culture like the Labrys.
Their sophisticated illustration was very unique for this time and their extensive seafaring and trading helped to promote this pottery art. Surrounding cultures like the Myaceans, Syrians, Greeks, Italians and Egyptians were all influenced by their decorative arts, but their free illustrative style eventually became executed in a more rigid manner as it was adapted into a more geometric and ordered layout. Warrior, military, hunting and sporting themes became more popular, along with depictions of deities, Gods and mythical stories.
Meanwhile the Chinese, Japanese and Koreans were also busy recording details of their culture with their pottery arts, expressing reverence to their Gods and deities along with scenes of everyday life. The Silk Road trade route ensured this was witnessed up into the Middle East and eventually Europe. The Persian and Islamic arts were also influential along this route.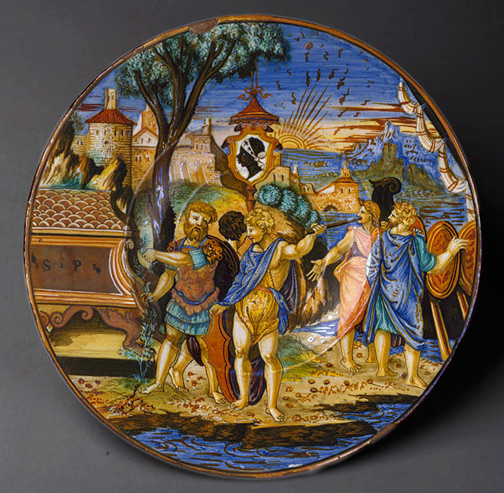 Aeneas and his companions at the tomb of Polydorus – painted by  Xanto Avelli da Rovigo
Commissioned by the Pucci family (coat of arms in center of plate)
1532  Florence
During the Renaissance, a more diverse range of colours were introduced which were further enhanced by the use of majolica glazes, which supported greater decorative detail and brilliance of the lustre. This lead to a pivotal shift as more painters were attracted to the sphere of pottery decoration, especially in Spain and Italy, where it reached a new level of perfection. The decorative language attained a greater level of realism in the 1500's, originating in Faenza with the Istoriato style. The illustrative art applied to majolica wares were comparable in seriousness to the Italian Renaissance easel paintings. The technical excellence of the pottery decoration matured at the right time to meet the demands for a high quality narrative art, being demanded by clients as a statement of prestige. The artists, being dependant on these commissions, willingly obliged. The delicate majolica had subject matter that included historical, mythological and biblical stories, all featuring artistic perspective and depth to enhance the realism. This hadn't been executed to this degree in any previous pottery decoration. In some instances, exact copies of paintings by famous artists like Raphael were produced along with artistic interpretations. The decorative virtuosity included musicians, ladies, poets, lovers and social gatherings.
Albarello pharmacy jar, Italy, Circa 1500
Hermitage Museum, St. Petersburg
During the Renaissance, women used turmeric to dye their hair, as can be seen above. The painting on this piece is performed in blue, yellow and green paints. It is known that in majolica painting over unburned glaze, only several paints were used: white, violet, brown, cobalt blue, yellow and copper-green.
The "Belle Faenza" (Faenza ladies) of the 16th century was also a popular subject and were given reverential attention. The romanticism of the era was expressed with depictions of women in all their finery, with exquisite robes, gowns and hats, generous cleavage, voluptuous curves and a captivating beauty. Other European pottery centers were influenced by this decorative style, especially in France.
Majolica plate –  Tin-glazed earthenware with yellow and gold lustre.
The head of a young lady with the inscription 'Amaro chi me amara'; I will love whoever will love me.
Gubbio, Italy, ca 1535-40.
The highly ornate decorative wares have continued since but the innovative designs and industrialization of the 20th century have replaced the use of so much detail, along with the introduction of modernist simplicity to carry the message. Contemporary decoration rarely touches on mythical or religious themes these days, but more edgy urban styles have emerged.
The pieces I have selected in this post have innovative imagery skilfully combined with perspective and pottery shapes to enhance the narrative and impact.
Mazzotti vase
Albisola, Italy
Vase decorated soccer players –  Charles Catteau
1946 – Height 40cm
Anna Lambert
Japanese Sumida Gawa vase – a man playing with his bulldog
Rene Buthaud
Rene Buthaud
A vase with the free spirited narrative of  Rene Buthaud – many of his works were populated with naked frollicking females.
Chander Swain
Christy Keeny
Ciboure pottery painted by Diego Garcia
1950
Typical Basque scene is depicted with a relaxed village ambience.
Ciboure and Richard Le Corone (designer) – Basque scene
Handpainted  vase 1880
Height 13inches
'Europa and the Cretan Bull'  – Richard & Carol Selfridge
( – a  nice touch integrating the bull horn with the handle )
Height 20.5 inches
'Earth Goddess At Delphi' – Diego Romero
'Birth of the Corn Maiden' by Susan Folwell (Santa Clara) and Les Namingha (Hopi-Tewa/Zuni)
2015
 In The Birth of the Corn Maiden, Ms. Fowell and Mr. Namngha's creation, the central figure's face is clearly influenced by the Botticelli painting (of Venus).  This debt is slyly acknowledged through the Corn Maiden's shell earring.  Here the goddess bears a corn snake on her head, her hair suggestive of corn leaves.  To the left are three badgers as well as two katsina heads, which similar to Zephyrus, blow the breath of life towards the Corn Maiden.  According to Ms. Folwell, "The imagery I chose was my two clans as well as the one to which Les belongs.  The badger clan is my grandfather and corn is my grandmother's.  Les' family is also corn clan, hence the corn snake."  The jar was made by Mr. Namingha and painted by both artists.
'Corn Maiden Canteen' by Susan Folwell, Santa Clara Pueblo
Native clay, 10" diameter x 4" (2014).
The artist reinforces the metaphor of women as sacred vessels in her Corn Maiden canteen.  This iconic shape is rife with symbolic meaning since it, too, resembles an expectant mother and the form's original purpose was to carry life-giving water.  For thousands of years, corn has been connected with the fertility of women among Native Americans.
'Damina with Pierrot' – Francesco Nonni
1923
International Museum of Ceramics, Faenza
Urban theme centred around three couples, a cityscape and a wrecking ball – Gerardo Monterrubio, LA
2014
Urban decay of an addict – Gerardo Monterrubio, LA
Gerardo Monterrubio website
Hautin Boulenger & Cie Choisy le Roi – Japanesque vase
'We've Found the Body of Your Child' – Grayson Perry
From a distance the vase looks benign and folksy, but with closer examination a more macabre message emerges
Inkwell with the representation of the Judgment of Paris .
Faenza, Italy –  end of the fifteenth century .
Four footed vase, fish handles – Deon de Lange
Satsuma vase – Samurai warriors, Geishas, Japanese gods and dragons were popular narratives for the Satsuma wares
Jessica Julian
French Porcelain gold and lacquer jug with gold pagoda
Paris, c.1810
Seagulls vase – Limoges
France
Kaiser Germany Porcelain Theben Series – Tutenchamun Vase
'Molly's Odyssey – There's nothing like a kiss' – Claudia Clare – my version of Molly's soliloquy – the last chapter of James Joyce's Ulysses.
2013 – height 80cm
'Molly's Odyssey – There's nothing like a kiss' – Claudia Clare
2013
'Molly's Odyssey – There's nothing like a kiss' – Claudia Clare
2013
From the Jumping For Joyce exhibition at the Francis Kyle Gallery
'Last Day of Summer' (front) by Irina Zaytceva
'Leda and the Swan' – designed by Viktor Schreckengost (American,-1906-2008), made at Cowan Pottery
1931-1932
 Boule Coloniale – Commedia Dallarte – Longwy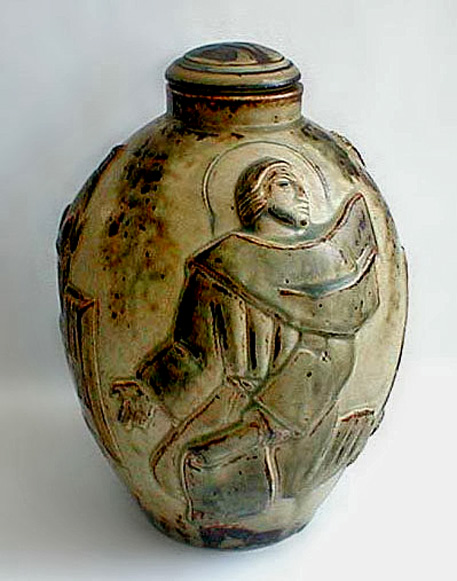 Lidded Jar with relief decoration. – Jais Neilsen for Royal Copenhagen
11 inches – 1965
www.freeformsusa.com
Lidya Buzio – 1995
'Red Queen' – Kurt Weiser–porcelain, china paint
2008;– 18 x 10 x 8 inches
After Kurt Weiser made the shift from black and white to using more colour in his decoration, he also began to indulge his narrative impulses by incorporating figurative elements, drawn both from fantasy and art history, into jungle and nature scenes. Weiser's figures, often nude and distorted across the planes of his vessels, move through steamy, Eden-like landscapes, interacting with the natural world they encounter. Themes of lust, predation, scientific curiosities, and the vulnerability of both man and nature abound in these scenes, resonating curiously with the cultivated vessel forms and refined medium Weiser has chosen. Detailed depictions of tropical splendor become wayward reveries as radiant colors and subtle distortions transform classic porcelain vessels.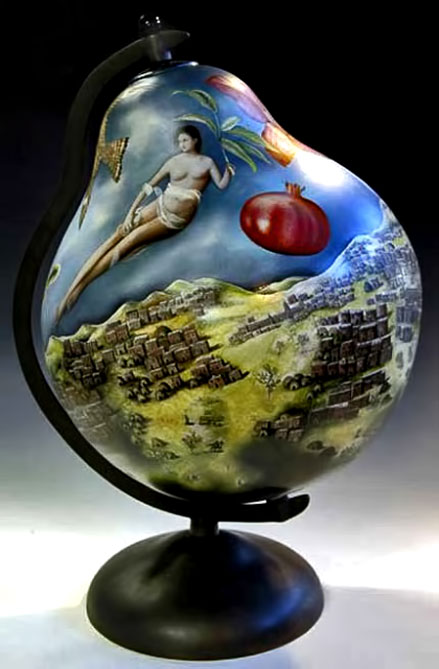 Rotating porcelain pear globe – Kurt Weiser
Kurt Weiser rotating Europa globe
Referential narrative : In Kurt Weiser's Europa, a gourd shaped ceramic form is held at a tilt by a curved metal bar, that allows it to turn like a globe. On the piece is a detailed china paint illustration of a moment in the Greek myth of Europa. In the story the princess Europa is abducted by Zeus who disguised himself as a tame bull. The bull wins the princes' affection and when she decides to try to ride him he takes her down to the ocean and swims to Crete. Zeus reveals his true self to her there and, among other things, makes her the first Queen of Crete. On the piece there is only an image of Europa riding a bull in the water, but it is not hard for a person who is familiar with the narrative to fill in the rest.
Art55
Lonnie Schang
Writing on vase – Mother, he's not a carney. Vern is a entertainer…he is an alligator wrestler. It's a real profession and he works really hard at it. I love Vern and I'm going to marry him. He's outside practicing….Hold on mum, Vern's coming
Large vase 'Women on clouds' – Gino Ponti – Italian Futurist
1923
Majolica Montelupo,–boy and flag
1620-40
Mesoamerican, Zapotec Mexico (Monte Albán) -Urn with Human Figure
300-B.C.—A.D
'Leda and the swan' – Michael Kay
Platter with hunters – Kalahari Studio
South Africa
Polia Pillin  Rectangular Vase Mid Century
Geometric Art deco bird decoration vessel – Charles Catteau
'The Whaling Vessel' – Sarah Ogren
Mermaid vase – Zsolnay
Large folk art dish by Natalio Chichipan Estrada – The designs come from imaginations and memories of the Purépecha culture
Tzintzuntzan, Michoacán, Mexico
'The Mango Pickers' – Ingrid Saag, UK
2011
Victoria Sexton, USA
Piedmont Craftsmen
'Nightwalker' – Claudia Clare
This vessel documents the struggles of a Kurdish-Iranian refugee limo driver in London, with metamorphosed images from Russia and cryptic messages.
'Nightwalker' – Claudia Clare
Couples–Maria-Luise Bodirsky
'But leave room in between your togetherness. And let wind and sky dance between you' – K Gibran
Virginia Hottinger
Modern figurative sculpture with seamless integration of imagery onto form by Rudy Autio
De Young Museum, San Francisco
Running, red earthenware vessel, Jitka Palmer
2012
www.jitkapalmer.co
–