Designer Abigail Ahern East London townhouse
Interior design dynamics :
I never envy the challenge that an interior decorator faces when weighing up the myriad of choices they are presented with when designing or renovating a new space, to produce a timeless outcome of aesthetic appeal. Flair, spontaneity, knowledge, intuition and attention to detail all come into play with the creation of an engaging decor. Maintaining optimum functionality and keeping the client satisfied adds to the task. I think a design that transforms a space into a captivating, relaxed dimension using a minimum of objects, that combine to maximize the impact, is ideal.
More is better still seems to be a prevailing issue of contention for me. Too many objects and details competing for attention tend to nullify their visual presence. If a room has a busy decor, this can be tempered by the use of a symmetrical feature of simplicity, that presents a core of calmness as a counterbalance. Maxfield Parrish's 'Daybreak' was the 20th century's single most popular print in America and it had a distinctive aspect of symmetry to it, defined by two pillars. He observed that his most successful posters and prints all featured a defining symmetry, so people must subconsciously seek out this quality.
There are some images below that highlight the effective dynamic of having diametrically opposed elements. I especially like the use of classical objects in a contemporary environment and the use of textural contrasts. Curvilinear contrasts against rectilinear lines always makes a room interesting. The arrangement of empty space is also important, rooms need clear spaces where the Chi can circulate and refresh. Curved lines and simplicity also support this.
Using a collection of objects of mild visual impact can be polarized against a single object with a stronger presence to push the dynamic. Sometimes a single decorative piece can emanate a calm and grandeur that influences the ambience of the whole room. Naturally lighting can be incorporated to highlight this.
Rooms of successful design and decor feel nurturing and uplifting. Enthralling interior decors have an essence that is transcendental, just like good art. I'm always in awe of designers that can produce a sanctuary of comfort and visual appeal that you know will inspire and bring respite from life's pressures and complexities. Most of the images shown in this post emphasize these aspects along with the effective use of sculpture and pottery in an interior home decor context.
Alexis Bittar apartment
photo  Kelly Stuart
Villa Liberty Art Nouveau home, Moscow
Lady Vase – Bjorn Wiinblad
Tree and cranes wall mural by Daun Curry of Modern Declaration
Photographed by Emily Gilbert
Buddha statue with mudra pose, ceramic lamp base with deep carving.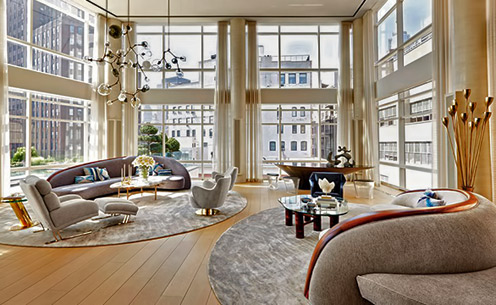 Decorator Amy Lau using the curvaceous sofas and rugs to balance the rectilinear window frames 0f this downtown Manhattan apartment
Carved Sandstone Sculpture by Josette Barbier
1990
The Catalonian country home of designer Serge Castella
Cuarto de banyo ( bathroom) designed by Anouska Hempel with a blue and white azulejo ceramic tiled wall panel and matching pots
Fortuna dining table – Boca Do Lobo
Monet coffee table & Newton suspended lamp by Boca Do Lobo
Maree sofa by Brabbu
Swedish decor
wabisabi-style.blogspot.com.au/
Mid century vases and lounge chair
decor8.gr
NY apartment design by Deborah French
 Stucco mural DESUS by Wall and Deco
behangfabriek
Eclectic Country House in Connecticut – Interior Design Files
Edouard Cazaux baluster vase
Cleve Gray painting and Primavera Art Deco vase – interior design by Caleb Anderson
1stDibs Introspective Magazine
Parisian apartment of  designer Herve Van Der Straeten
Photo –  Ricardo Labougle
Bertoncello red glazed pitcher/vase
Vicenza,Italy –  60's
Antiquariato Ceramiche
Globular stoneware vase-by Rene Ben Lisa
Galerie Silbereis
Contemporary coffee table with fire pit – an electric water-based fireplace that creates a realistic smoke and fire effect by Rigoletto
Interior Design by Julie Hillman—photography Manolo Yllera for Architectural Digest España
Chateau de Buno, France
Moulded 'Faceture' vase – Phil Cuttance, UK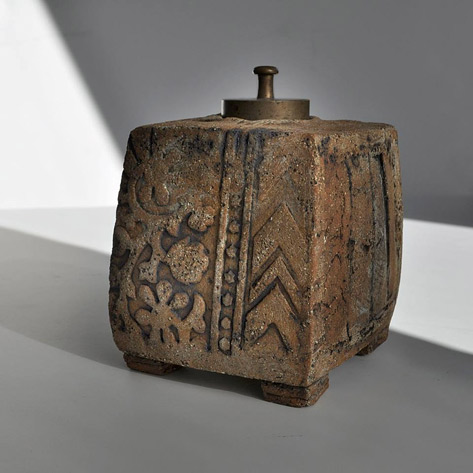 Simon Krug
www.rauchblau.com/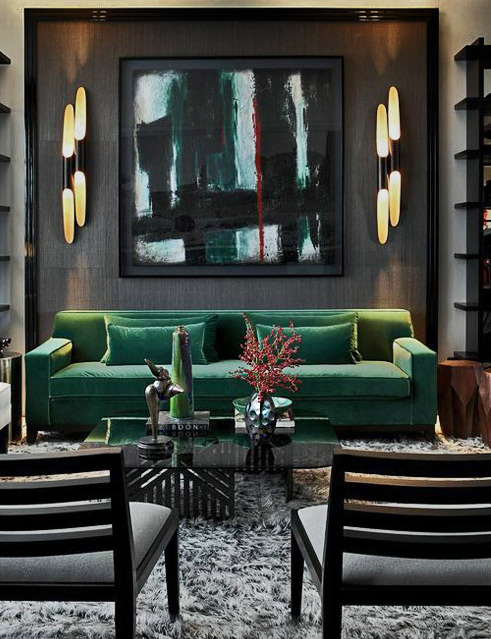 John Jacob interior design
Robert Caldart large ceramic vase
Sold by Revival on 1stDibs
Crowned guardian lion statues
Ceramic bust by Michael James Talbot, UK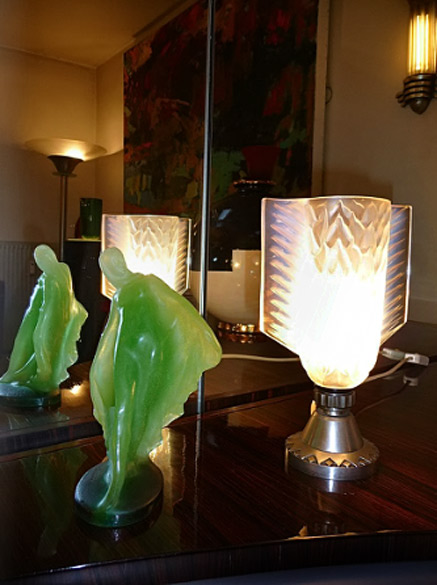 Art Deco geometric table lamp, parakeet green glass female figurine
1930's
Makassar Gallery
'Vetro Mosaico' by Scott Benefield
Marc D'Haenens aluminium female sculpture
Belgium, 1975
Manhattan apartment interior design by Michael Smith. Bold contrasts between the Henry Moore sculpture, the ornate 18th century gilt wood console and the rectilinear obelisk.
Porcelain bust – May Hamilton
Mediterranean villa of Richard Shapiro
Malibu, California
Malibu mediterranean villa of Richard Shapiro
Swedish ceramic bottle – Stig Lindberg
Mid Century style – Shirley Meisels design
Colourful Mid-Century pieces in the studio of photographer Manolo Yllera
Architectural Digest, Spain
Mid Century decor – architect Lee Mindel, Manhattan, NY
'Small Conversation' – Jaime Hayon, Lladro
Belgium Antwerp medieval castle – Interior design – Axel Vervoordt
Swedish windows, garden statues and lumina pumpkins
toneontoneantiques.blogspot.com.au/
Eastern and afrocentric decor – Pier 1
Solid stone coffee table and seat – Joris Laarman
Casa de Cocinas in San Miguel de Allende, Mexico by House + House Architects
Mid-Century style wall panel – Van de Akkers studio, NY
Country House Of Fashion Designer Tracy Reese
Interior design by Gio Ponti (1953-57) – abstract ceramic cladding on the wall, statues by Fausto Melotti
Villa Planchart, Caracas 
Italian designers Ludovica+Roberto Palomba carve a serene retreat out of a 17th-century oil mill in Salento
Mid Century Roger Capron ceramic lamp on a brutalist table
Apartment in Kiev – Dzhemesyuk & Yurov Design
Ceramic mosaic mural – Sicis showroom
Milan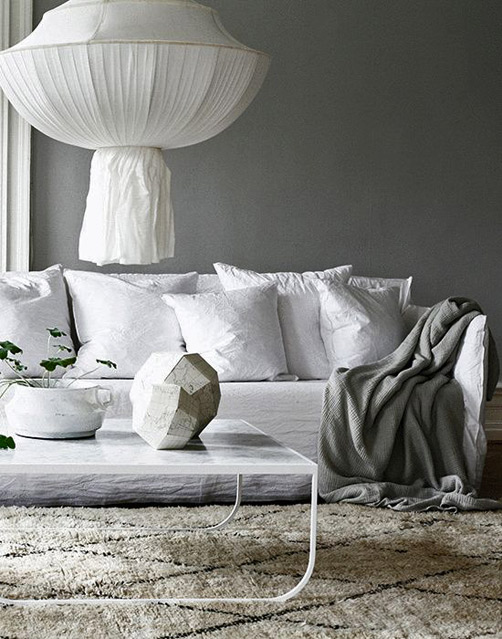 Sofa from the Gervasoni Ghost Collection
Textural interplay – Kelly Wearstler design
Balinese rattan furniture and decor
Large black glaze Greek pot – San Giorgio hotel, Mykonos
Interior by Red Coral Design, Melbourne
Elegant dining room
Juxtaposed classical and contemporary
Boca Do Lobo
Lavender sofa and Chinese ancestor figurine lamps.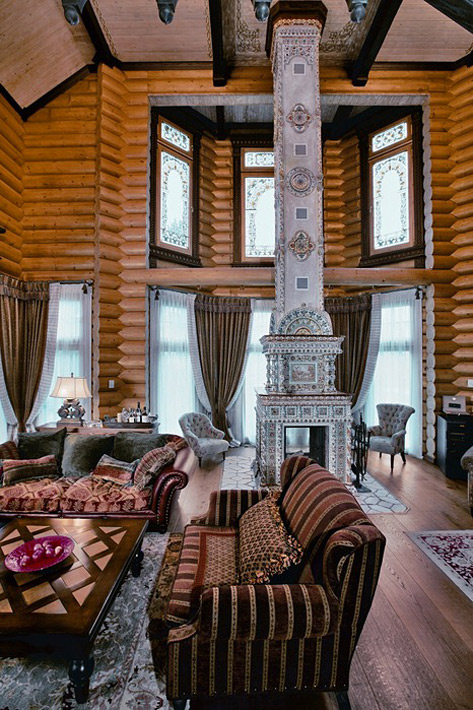 Russian eclectic country home – impressive ceramic tiled fireplace and chimney
–