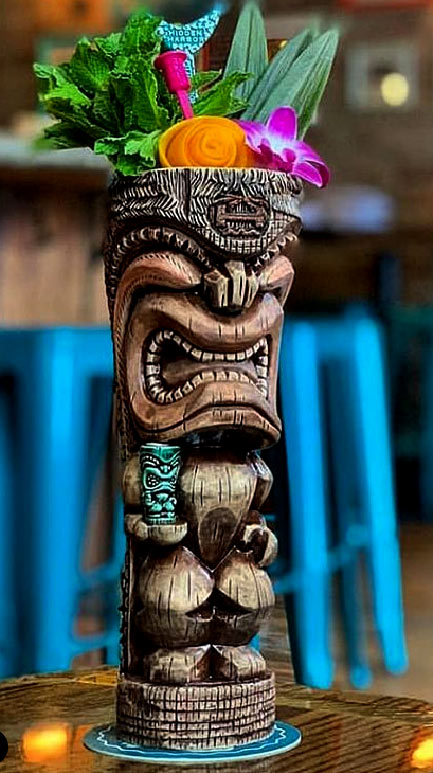 Kahuna Tiki  statue
Like a mantra, the words Corona Kahunna kept popping up during my early morning meditations. After contemplating this and some tiki images, it became apparent to me that the kahuna tiki was usually depicted with a look of defiance, humour and as a warrior, so I figured the message was to adopt a stance of detachment and being in control as opposed to succumbing to the collective virus fears and uncertainty. Bottom line is, if you find yourself having to battle this oppressive virus, a positive attitude and mindset will be highly supportive for your immunity and survival.
Ocean tiki
the descending dark mist
grinding grist to the mill
meets the grinning tiki
who dismisses with defiant shrill
Tiki warriors—Pu`uhonua O Hōnaunau
Lemon scented tea tree in my garden (right)
During a session with my Chinese acupuncturist/herbalist, he mentioned how in China, sachet herbs are currently being used with masks to assist breathing and help repel pathogens. Without knowing the Western equivalent of these herbs it was difficult to pursue this any further. But my intuition was pointing towards rosemary, lavender, fresh lemon scented teatree leaves and cinnamon. With further investigation I discovered that this was very similar to the ancient Four Thieves formula (see below) which I now use to enhance my breathing. I already practice deep yogic breathing, with each breath starting from the expansion of the abdomen, but the scented oils help encourage this and acts as a reminder to maintain it. This strengthens the Chung Chi( defence chi) against the Sha Chi (attacking Chi), in this case the external pathogens. Fortunately, apart from the cinnamon, I have access to these herbs in fresh form in my local neighborhood, but I also sourced them in organic oils. I use these with a cloth insert if I choose to wear a mask.
The British Army has issued a spray with Citriodiol,  derived from the oil of Eucalyptus citriodora, or lemon eucalyptus. (link)
The plague doctor
Nostradamus spent several years as a Plague Doctor in France and Italy and used herbs and salves for protection and he didn't fall to the pestilence. They used gloves, hat and mask of smooth morrocan leather with a satin robe, believing the virus couldn't latch on so easily or penetrate. Also the beak was filled with the fresh herbs of rosemary, rose, lavender, cinnamon, cloves, lemon  eucalyptus and carnations. There was 2 small holes in the beak from which they drew up air through the herbs. For me, the image of this unusual looking outfit always carries an impression of dread.
Cuban youth wearing homemade mask
Trader Dick's Tiki Mug
Viola Frey, 'Man and His World'
1994, ceramic sculpture
Tiki Farm — stone head tiki mug
Tiki Farm — stone head tiki mug
Venice Beach wall art — Ponywave
Ceramic Kahuna mug – Tiki Farm
Social Distancing
Social separation  —  Niki de Saint Phalle among her Nanas
Galerie Alexandre Iolas, Paris 1965
Sigita & Ricardas Lukosiunas 'Tea Break' quarantine
Turquoise Tiki Boy – Tiki Farm
Bust of a King   – Kish East, Sasanian Period (AD 224 – 637)
Tiki Farm,-Haka'iki Tiki vessel
'Pygothia' ceramic head – Cheryl Tall
George Segal's Walking Man
1966 Horst-P-Horst
Pu uhonua o Honaunau National Park
Hawaii
I find large trees are a wonderful contemplation for deep breathing as are dolphins.
Glazed terracotta Dolphin
Photo – Aanthony Wallace
AFP-getty
Pocket Kahuna Cobalt Blue Ceramic Flask
Designed by Squid for Tiki Farm
Wood carved Kahuna Tiki Bar
Hyattsville street mural
Black veil – Horst P Horst
Metal armour roll guard
Muertos Tiki
Isolation – Elya Innocent
Home Bound – Elya Innocent
Sky Device  – Micheal Leunig ( click to enlarge)
Da big kahuna waikiki ceramic mug — Tiki Farm
Crazy Al Evans – Red Hei Tiki mug
Art Deco terracotta statue and Jacaranda.
Even my front door jacaranda plant is reminding me to mask up
A boy plays in front of a mural by Yuriel P called 'Marcha Hacia la Oscuridad' (Move Toward Darkness)
 Havana
Kahuna Tiki mask
MCM art tiki wall panel
Two tiki's
∴
The virus challenge
My daughter came down with a fever and spent a horrendous night dealing with its severity, where she used high doses of Vitamin C to subdue the fevers. After a week of exhaustion and weakness she recovered. A week later my oldest son also became feverish, had an aching body and dry cough. He took some Yin Chiao tablets, (popular Asian herbal formual), then went with the Japanese remedy of powderd Kudzu root simmered with an umeboshi plum in water, grated ginger and shoyu, consumed as a soup to boost his immunity. Later this was followed by taking Gan Lu Xiao Du Dan, also a traditional Chinese herbal formula, which has currently been used in China and Taiwan  but needs a consultation with a TCM doctor to obtain it. He also drank organic coconut and cucumber juice (not chilled) to replenish his fluids..  The latter herb formula probably had the most tangible effect on regulating the fever. He recovered without any debilitating fallout after a few days.
Here is a collection of traditional Asian folk food remedies for the lungs
Turnip – steam a whole turnip and eat it. An ancient remedy, popular along the silk road.
Figs – steep fresh or dried figs in boiling water, drink as a tea. Helps to lubricate the lungs.
Olives – eaten fresh or boil 5 olives with 150 grams of fresh radish, consume as soup – a flu remedy
Fresh watercress, consume with soup.
"Silver ear soup" – white fungus (jelly mushroom or white tree ear} soak mushroom for 12 hours, add honey and steam and drink on an empty stomach.
Mulberry cough remedy to lubricate the lungs.– cook on low flame till they dissolve and are reduced to thick syrup, then add honey (organic preferably) – 2 teaspoons 2 times daily
Dry cough – grind walnuts and pine nuts, add honey – slowly cook over low flame until thick, take 2 teaspoons daily with warm water
Crysanthenum tea to detox and clear liver heat ( indirectly helps lungs)
Chronic cough – Combine peanut, jujube dates and honey – make a tea and drink two times daily. The Taoists loved to eat peanuts for longevity because they had unique minerals which their plants obtained from deep feeder roots.
Mung bean, celery, wakame soup is excellent for clearing internal heat problems. Eaten on a regular basis, try to eat at least once a week.
Seaweed, eucalyptus leaves, red capsicum boiled in water for 30 miutes, inhale the vapours. Used in Spain during the Spanish flu.
Pear – cored and steamed – eat 3-4 times daily – if you have cold extremities or diarrhea this is not recommended
Persimmon – stops coughing, dissolves sputum, clears heat
Strawberry  –  mash strawberry with brown sugar, steam and eat three times daily – relieves dry cough and sore throat.
Tea made from dried orange peel helps release stuck mucous. Lubricates lungs.
Water Chestnut helps relieve cough and  phlegm
Foods for the lungs and the 5 Elements
According to the Chinese Five Element theory, the white colour is important for the lungs. Foods included in this category are asparagus, barley, leeks, lima beans, tofu, white sesame, spring onion and rice.
Also to fortify the lungs strengthen the Earth and Water Elements with your diet.
Earth (Spleen-yellow) supports Metal (Lungs-white) – useful foods –  corn, beets, silverbeet,(these have a distinct earthy fragrance), carrots, broad beans, braised beef, yellow squash, fresh green field peas, millet and ginger. [The Earth Element helps tp balance all the other elements which is why one of the master points in acupuncture therapy is Tsu San Li (St36), which is the Earth point on the Earth meridean.
Water (Kidneys–black)  – mushroom, black sesame, black rice, black bean, eggplant, seaweed, pork.
Fire  (Heart-red) controls Metal (Lungs-white) – useful foods – apple, cherries, strawberries, red capsicum, red beans, tomato
Using decor to boost the earth element   – After dividing the floor plan of whole home into 9 equal sectors, favour the middle sector with earthy tones, especially ochre, also adding azure blue with dashes of red and black. The middle is where the Earth element is situated as is Neptune (azure). White highlights also helps the lungs.
Earth Element decor
If my number rolls the wrong way on this Corona roulette, I'm going out rockin'
Live studio jammin' from the Isley Brothers in 1977
"Shoot your best shot and keep on living"
Aussie rockers Thirsty Merc
–
Sources:  The Tao of Nutrition  –  Maoshing Ni, The Art of Long Life – Henry C Lu