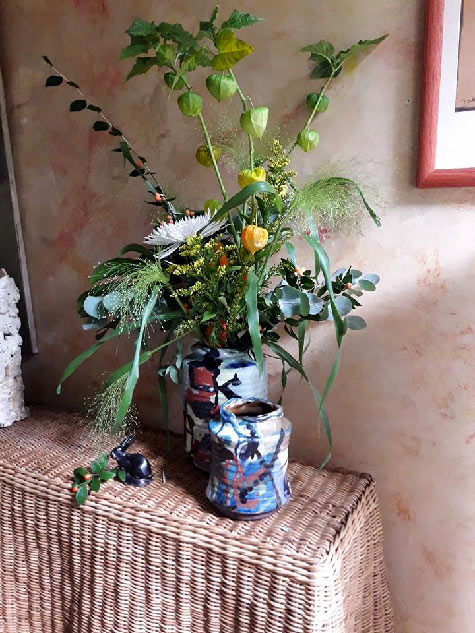 Floral arrangement with French pottery
Probably the simplest way to introduce vibrationally uplifting energy into an indoor environment is with fresh flowers and plants. For intrinsically pure chi, refreshing fragrances and captivating colours they cannot be surpassed. Extremely versatile for decorative design, they introduce the captivating elements of rejuvenation, rebirth, beauty, growth, renewal and optimism. Decorative 3D objects that recreate images of flowers and botanicals also can have a comparable impact, particularly with ceramics because of their ability to reproduce vivid colours and fine detail.
Each flower has a distinctive color, fragrance and essence that reinforces their unique signature. For styling, colour combinations and simplicity they are a design masterclass. It's always a pleasure observing how they are adapted and interpreted in design and decoration.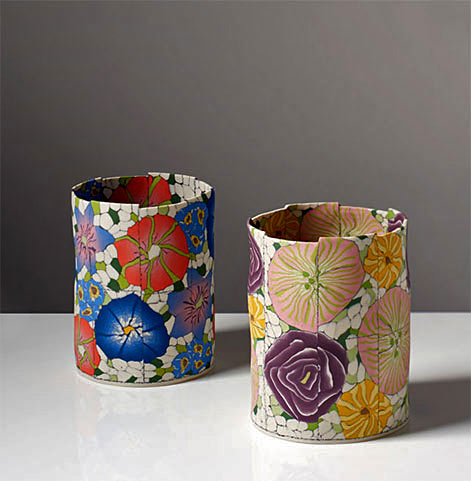 Vallauris slab built floral pots
24th Biennale Internationale de Vallauris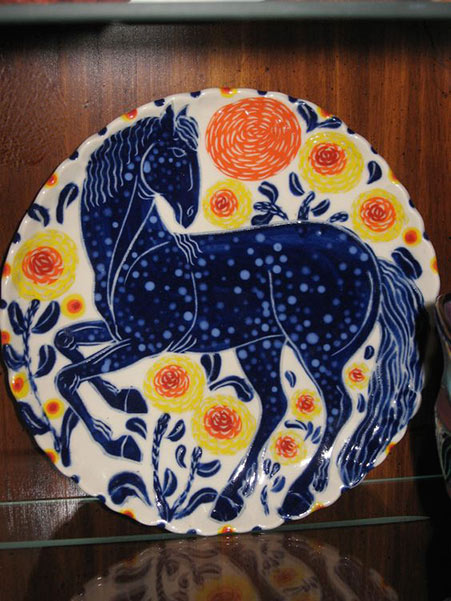 Alazan Ceramics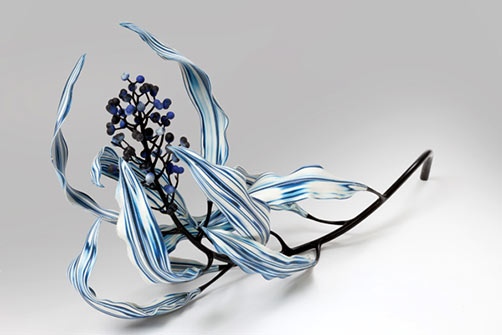 Dutch Solomon floral sculpture – Michael Sherrill
27 in. (69 cm) in length, porcelain, silicon bronze, glass,
2015  –  Photo- Scott Allen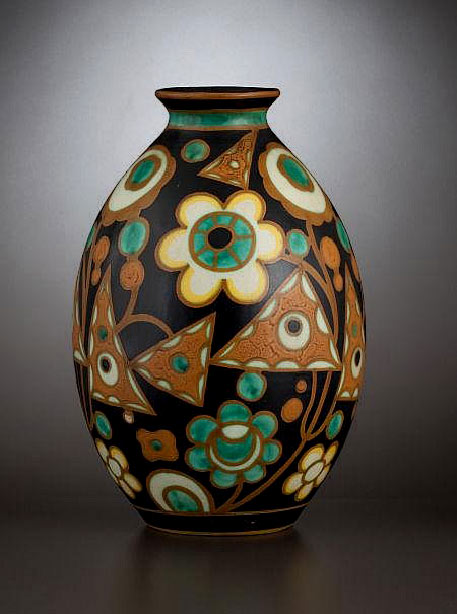 Art Deco ovoid vase – Charles Catteau for Boch Frères
Andy Djati Utumo –  Indonesian ikebana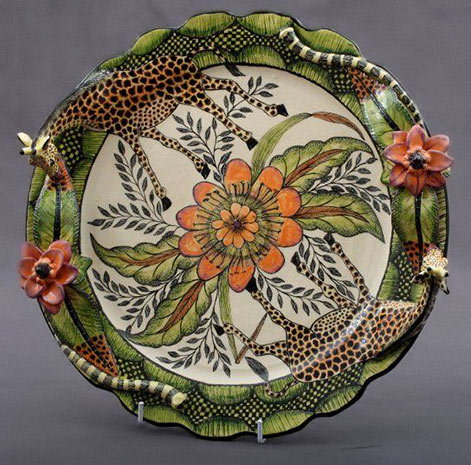 Floral charger from Ardmore, ZA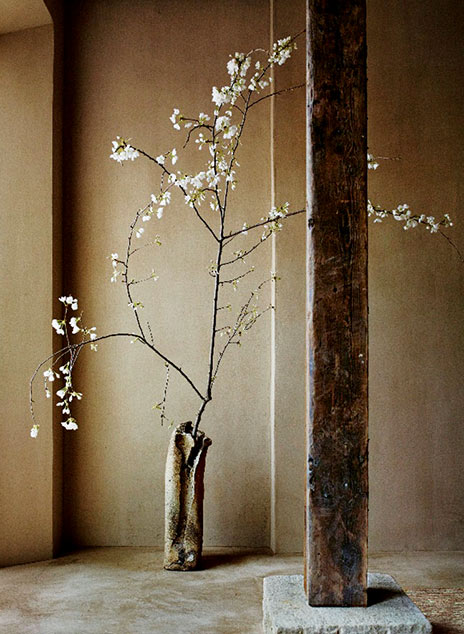 DiNero NY apartment, design by Axel Vervoordt
 "The idea was to create an installation more than decoration — to invoke a feeling of silence and space in the middle of New York," says Vervoordt.
'Iris' by Ohara Koson
c. 1910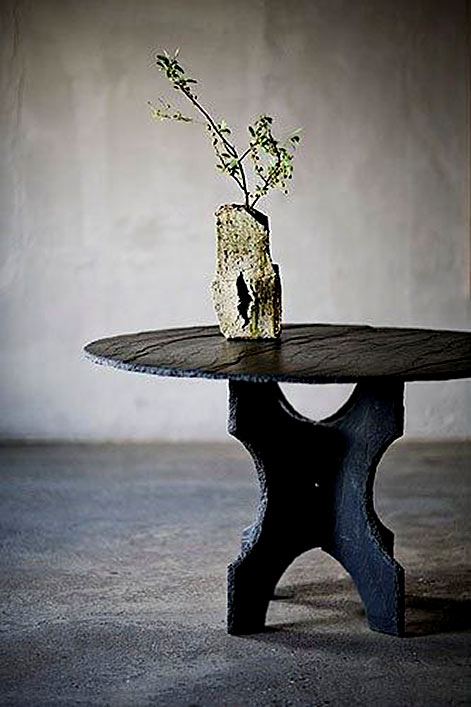 Japanese Aesthetic Slate Table by Axel Vervoordt – photo by Manolo Yllera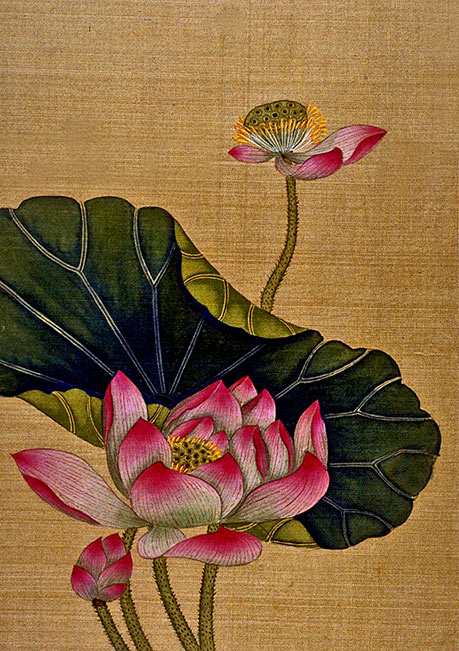 'Lotus Blossoms', Chiang Su. Opaque watercolor on silk
1700-1799
Andy Djati Utumo –  Indonesian Ikebana
Ceramic vase Atelier Stella London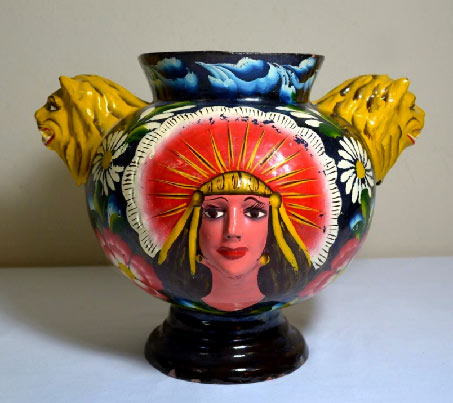 Charming Vintage Mexican Folk Art Sun Goddesses vase with Lion Handles
Mariana Mae easytobreathe speckled glaze pottery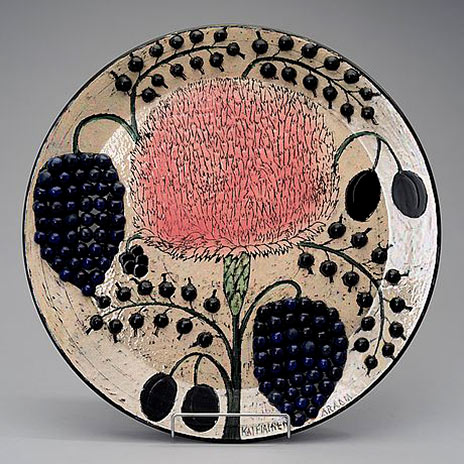 Birger Kaipiainen art plate for Arabia Finland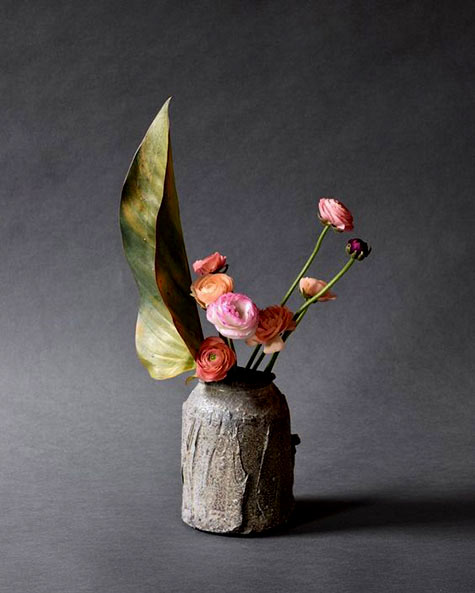 Akira Satake Ikebana display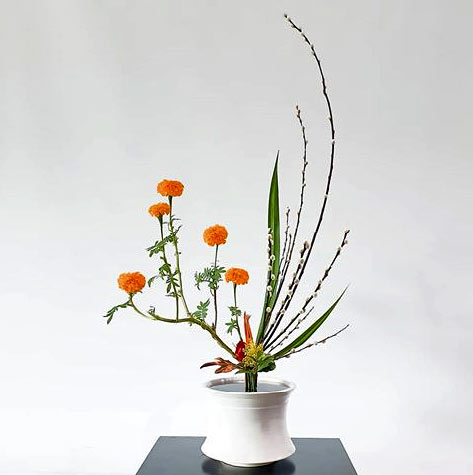 Andy Djati Utumo Ikebana
Black Mountain Ceramics succulant planter
Boch Frères Art Deco vase
Winter Bouquet  with vase by Michel Lanos
Clement Massier iredescent glaze vase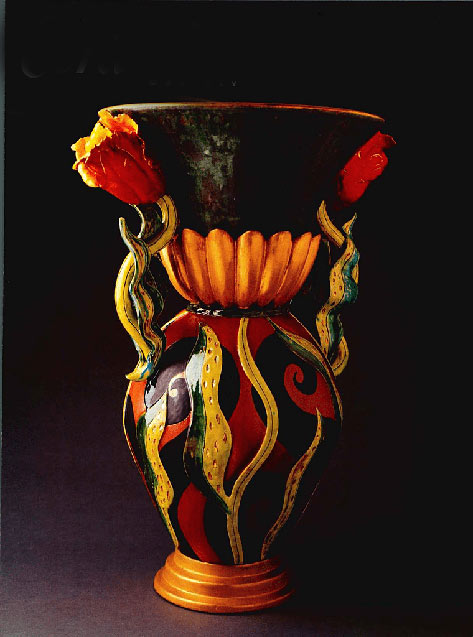 Carol Gouthro Tulip Vase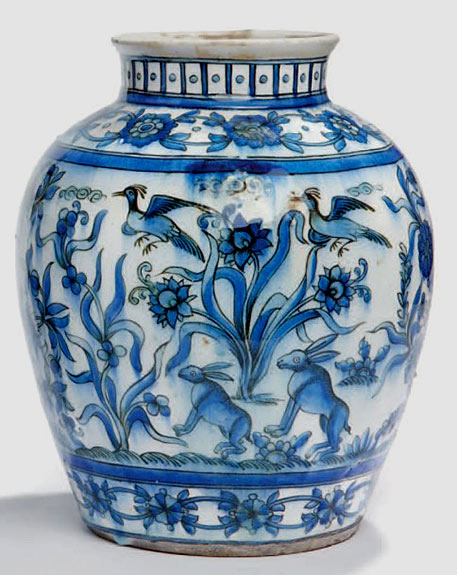 CERAMIC VASE OF THE QAJAR ERA with blue decor on a white background of birds, caprids, rabbits and bouquets of hearts.
Iran, 19th century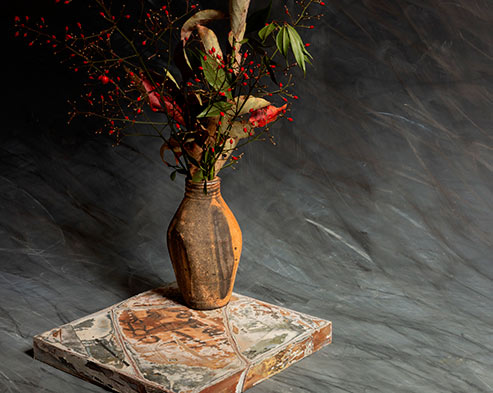 Catherine White
Ceramic vase with ovoid base and polygonal neck. Decoration covering ears of wheat. Covered enamel and iridescent green-meadow, green-turquoise and red.
Signed Delphin Massier Vallauris
Charles René Thévenin – Villeroy & Boch-circa-1899
Diana Fayt botanical bottle vase
Ikebana of dried painted wood with-corroded wire—2016
Japanese Ikebana by Kawase Toshiro
French Art Deco Ceramic Vase by M. Fontinelle
Jochem Ruth vessel – Karin Koop Ikebana
Galerie in Moor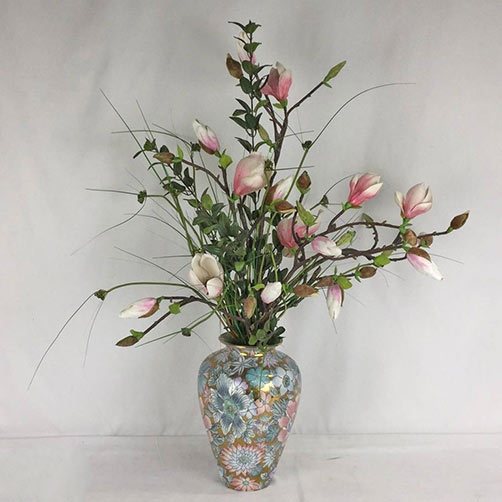 Golden peony vase with flower arrangement
Antique European porcelain figural candleholders
Jenna Leitner abstract motif planters
Julie Woodrow, 'Happy Morning', ceramic functional vase
Sherrie Gallerie
Abstract bottle vase keramiekwinkeltje-etsy
Three succulant planters — Jumping Creek Designs
AUS
Raku vase keramiekwinkeltje-etsy
Netherlands
Laney K Oxman Art Pottery Bowl w Female Nude
USA
Small handmade vase – LifeAndClay
Large Pottery Floor Vase by M.Ruley
Louis Comfort Tiffany
Morse Museum, Orlando, Florida
Art Nouveau vase – Max Leuger
1897
Hitoshi Morimoto
Our Psycter GRY  by @paulacodoner
Madame de Mailly's commode by Matthieu Criaerd-(1689-1776)
'Spring affair' -—-photo by Chinnoe and Vlemmix
Sulpher crested galah – Chijia Yu
Mountain pattern spackled vase—BackyardKiln, etsy
Nancy Gardner floral plate
Shannon Garson  AUS
Nippon Moriage Hat Pin Holder, Japan
Boch Freres – Large vase by Charles Catteau
Belgium
Jacqueline Leighton Boyce
pinkpagodastudio
French Art Deco Ceramic Vase – Longwy
1stDibs
'Shanghai' -photo by Chinnoe and Vlemmix
1967
Rozenburg Den Haag porcelain vase, design Samuel Schellink
1903
Rozenburg eggshell porcelain vase with cockatiel
1914
Large Kuthaya ceramic suspension ball with tulips, carnations and wild roses
Rozenburg Den Haag eggshell porcelain bottle vase
Outdoor sculpture by Kay Singla 'Peace Love and Calmness within'
H. Muller Croismare vase, Muller Freres,  1910
Terracotta volute krater with tulips
Theodore Deck – circular plate with decoration of flowers and butterflies
Jazzy Wemyss Elgin vase, decorated with iris and foliage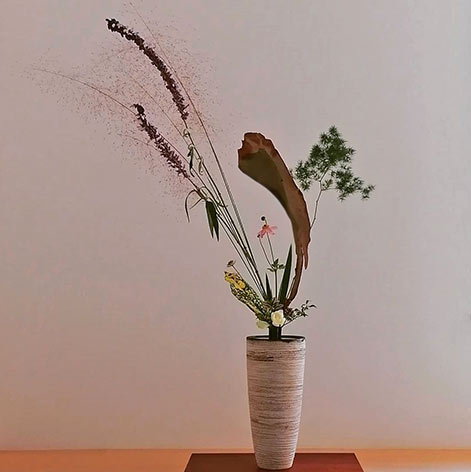 Ikabana autumn plants — Andy Djati Utomo
Andy Djati Utomo – Rikka Shimputai Ikebana
With the Rikka Shimputai arrangement, there is not a single insignificant flower. Each and every flower material has it's own function that supports one another, creating harmony
Vase mit Disteln Art Nouveau
Sevres vase straight, shouldered and hemmed collar and recessed circular base. Beautiful scenery covering the sky, clouds, fluttering birds, cypresses and interpreted trees in gray, pink and nuanced enamel
Zablocki Christine et Lopes Sébastien
Jennifer Allen ceramic pitcher
Danica Wichtermann vase with Australian native flower bouquet
–