C.Dresser designed metal kettle
Without a doubt, Christopher Dresser ( 1834 – 1904 ) can be regarded as one of the great pioneers of  modern design. He was among the first independent industrial designers, and he  championed design reform in 19th century Britain while embracing modern manufacturing in the development of wallpaper, textiles, ceramics, glass, furniture and metalware.
During his time,  Dresser was a household name, who was  famed for his innovation in industrial design. He became a force for furnishing ordinary people with well-made, efficient and engaging goods, along with the hundreds of objects he  designed in textiles, wall coverings, ceramics, glassware and metalware. His commercial success is all the more remarkable as Dresser also pioneered what we now recognise as the spruce, simple modern aesthetic. Radical for the time, some of Dresser's products, notably his 1880s metal toast racks, are still in production today.
Dresser was born in Glasgow in 1834, and from 1847 to 1854 he studied at the Government School of design, Somerset House. Having specialised in botanical studies, Dresser became a lecturer in botany when he left the College in 1854. This study of plants had a profound effect on his approach to design. Seeing nothing superfluous in nature, where every beautiful thing had simplicity of form and a clear function, Dresser applied the same principle to design.
Minton & Co, Christopher Dresser, porcelain pilgrim flask. Dragons, masks and geometric decoration.
Christopher Dresser  Old Hall Japanese aesthetic style elephant heads pottery vase
◊
In 1876, he became the first European designer to be commissioned to visit Japan, which had reopened its borders in 1854, in order to view craft and manufacturing techniques for the UK government.  As well as lecturing about Japan and Japanese craft techniques on his return to the UK, he published his acclaimed book 'Japan, Its Architecture, Art and Art-Manufactures' in 1882.
Dresser's trip to Japan had a profound effect on his approach to design as well as his understanding of manufacturing processes. Prior to his trip, his output shows a great amount of attention to surface ornamentation. Upon his return, however, Dresser began to take a holistic approach to design. Form and decoration became inseparable.
At a time when the fast-expanding Victorian middle classes were enthusiastically furnishing their homes, Dresser designed all the effects necessary for the family table: claret jugs, tea services, serving dishes, toast racks, candlesticks and cruet sets. Much of Dresser's most influential work was produced from the late 1870s when he worked increasingly as an adviser and designer to smaller firms which allowed him greater control over a range of products. While he still provided designs anonymously, his stature was so great that many manufacturers now used Dresser's name as a marketing ploy. He supplied designs to at least fifty companies, both in Britain and overseas.
 Pots made by Linthorpe were potted by hand and then finished in a wood mold. Hand painting and glazing were done after the first biscuit firing. Innovative methods, such as spray color and gas ovens, were used. The glaze, possibly made with ground flint or granite added to Cornish clay and oxide tints, created a random yet richly mottled effect that emulates Japanese Raku teawares.
◊
Wedgwood & Sons
Aquarian flower pot, 1873, design –  Christopher Dresser
( The Minneapolis Institute of Arts )
Dresser's designs were radical in the context of a period when many designs combined a heady mix of cultures and periods with the highly decorative Rococo revival style dominating silverware. His reduced, geometric forms revealed the influence of Japanese and Islamic silverware and a desire to be economic with the use of costly materials. Maintaining an acute awareness of function, Dresser also became adept at utilising standardised components for handles and lids to reduce costs for manufacturers.
The contrasts in his designs for different materials showed how his approach to design was also shaped by the properties and nature of a material. In 1879 Dresser was appointed art director at the newly established Linthorpe pottery, near Middlesbrough. Founded by John Harrison, the pottery's aim was to use local clay to provide jobs for local men. Dresser's design for the moulds for the pottery were inspired by a wide range of cultures from Japan, Peru, Mexico, Morocco and Ancient British forms. These pieces were very striking at the time, with the metal oxides in the complex and innovative glazes providing the only decoration.
Linthorpe Pottery Six-handled bowl of lead-glazed earthenware, design C.Dresser
( The Victoria and Albert Museum )
Watcombe Pottery Co. Glazed earthenware, moulded and gilded vase. Design-C.Dresser ( V & A Museum )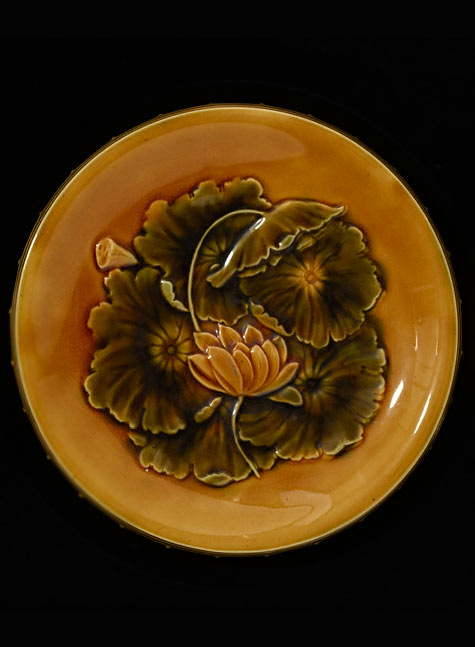 Linthorpe Pottery – Lead-glazed earthenware dish . Design – C.Dresser
( The Victoria and Albert Museum )
◊
He also promoted design through his writing and lectures. Speaking to the Royal Society of Arts in 1871 he argued: "True ornamentation is of purely mental origin, and consists of symbolised imagination only… Ornamentation is even a higher art than that practised by the pictorial artist, as it is of wholly mental origin."
Towards the end of Christopher Dresser's life, a tribute appeared in an 1899 issue of Studio magazine describing him as "perhaps the greatest of commercial designers, imposing his fantasy and invention upon the ordinary output of British industry."
Earthenware pitcher with transfer-printed enamel – Christopher Dresser
1881
risdmuseum.org
Linthorpe Art Pottery vase. Design – C.Dresser
 Wave Bowl – C. Dresser design, Linthorpe Art Pottery, Middlesbrough
 1880 glazed earthenware  jug
A ' Cloisonne' tea caddy', the design attributed to Christopher Dresser, manufactured by Minton & Co. circa 1870
( Walpoles Antiques )
  William Ault Pottery earthenware, moulded and glazed vase. Design C.Dresser ( V & A Museum )
Linthorpe Pottery earthenware vase with streaked, lustrous glaze. Designed by Christopher Dresser
Watcombe Pottery Co – Earthenware Jug and Cups –  C. Dresser design

 William Ault Pottery-  glazed earthenware vase  ( V & A Museum )
This vase form, based on the sphere and right angle, does indeed appear to preclude 20th-century Modernism. But, as is well established,  Dresser's appreciation of spare, clean shapes, derives from his interest in Japanese forms and his profound understanding of manufacturing processes.
Linthorpe  Plate – C.Dresser design
Gifted to V & A Museum by Miss Amy Harrison
C.Dresser Vase in  Asian style  with four figural handles, covered in oxblood majolica glaze.
Vase – Christopher Dresser
Three pitchers – Christopher Dresser
( The Met )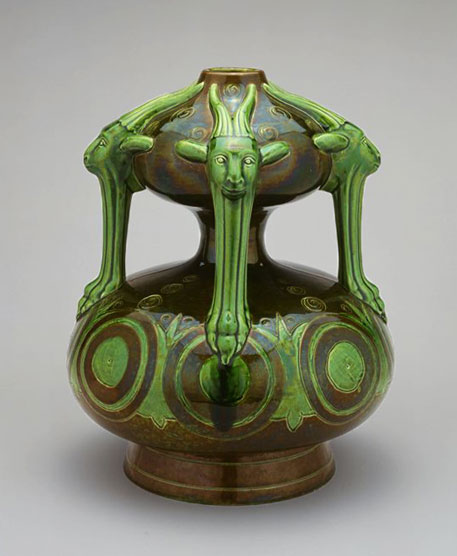 Christopher Dresser Grotesque Vase, c. 1893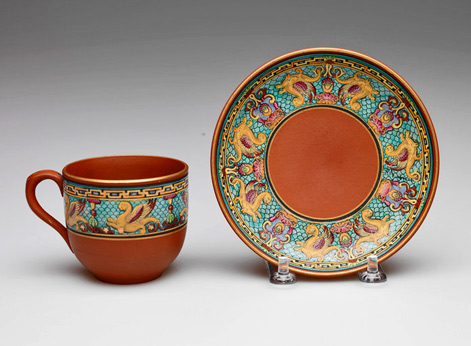 Cup and saucer – Christopher Dresser
C. Dresser for Linthorpe
Assymetrical pitcher etched in a floral and geometric pattern and covered in amber, brown, and green flambe glaze.
( V & A Museum )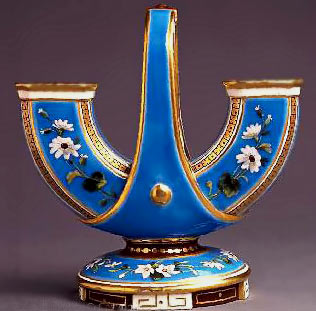 Christopher Dresser bone china overglaze enamel vase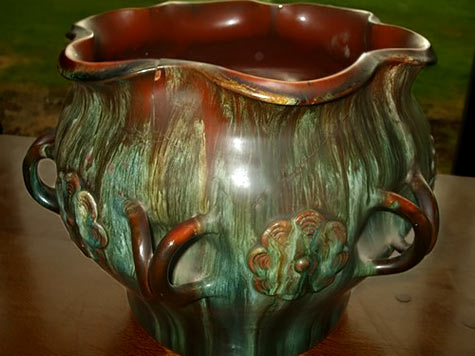 Linthorpe pottery vessel design by Christopher Dresser
Christopher Dresser glass bottles
Glass bottle – Clutha – Christopher-Dresser-1900
Minton baluster vase by Christopher Dresser
Bone China bowl Christopher Dresser
C hristopher Dresser  'tongues' vase for Ault
1885
Pitcher. Designed by Christopher Dresser, c. 1880. Manufactured by Linthorpe Art Pottery, Yorkshire, England
Christopher  Dresser Linthorpe 1890 vase
Christopher Dresser, 'Moon-Flask'-Vase, designed for Minton
1880
 Aesthetic movement Watcombe redware vase by Christopher Dresser
1880
xupes.com/Antiques-Fine-Art
Earthenware Vase gold and silver foliate scrolls, figural handles of jesters
Christopher Dresser
 Christopher Dresser
---