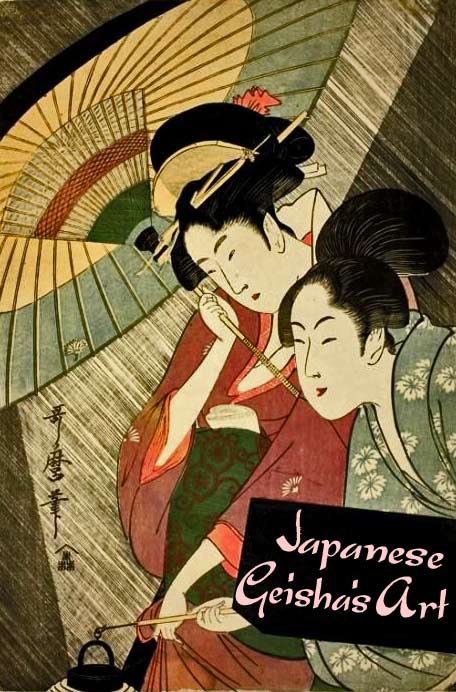 'Night Rain' by Kitagawa Utamaro
c.1797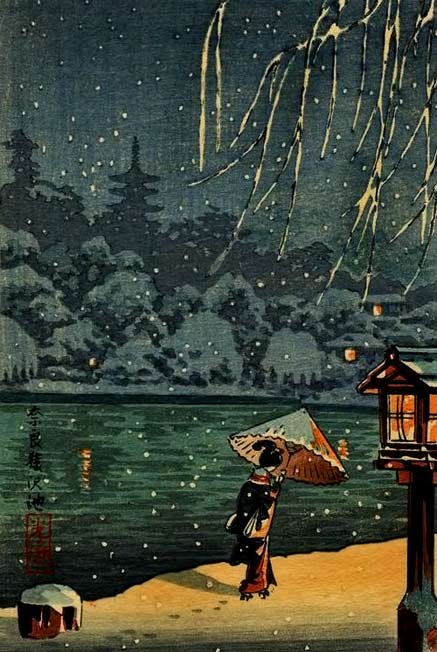 'Sarusawa Pond in Nara' by Koitsu Tsuchiya
1930's
The distinctive facial decoration and hairstyles, refined kimonos made of silks with exquisite colorful designs and the graceful demeanor of the Geisha have presented an entrancing subject for Japanese artists over the centuries.
The tradition of the geisha is still deeply entrenched in Japanese culture. The selection process starts at a young age of around 15 and training is fairly rigorous over several years. Known as a Maiko in the beginning, the young women observe and train after being accepted into an Okiya ( Geisha house) – where they live and are taught the art of Geisha by an Okasan (Japanese for mother).
They are taught the subtleties of Japanese culture including tea ceremony, flower arrangement, calligraphy, poetry and performing Japanese traditional music and dance. When they turn 20 and are acknowledged to be skillful in art and service, they become Geiko, a full-fledged Geisha. As a hostess they are expected to carry themselves with grace and poise and they only appear in public wearing their traditional make up and elaborate kiminos. During their service as a geisha they have to renounce most modern trappings, live together with other Geishas and mentor a Maiko.
The are also trained in the art of conversation and service for the entertainment of their male customers. The most literal translation of geisha into English would be "performing artist" or "artisan." The elegant, high-culture world that geisha are a part of is called karyūkai – "the flower and willow world" which is a metaphor for "beauty and strength" Gentle movement, avoiding direct eye contact by looking downwards and walking slowly, were encouraged to support yin/feminine traits. Their adherence to subservience and mystery was regarded by the geisha to be a statement of passive yin femininity, which to them was a display of empowerment, as their centuries old tradition believed that their well being, strength and balance depended on it.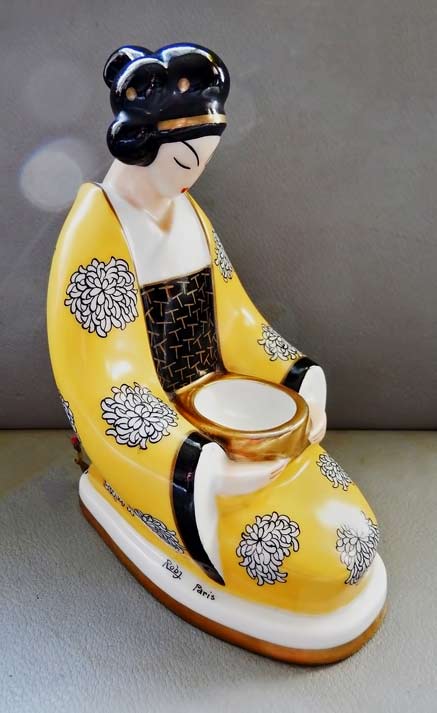 Art Deco Japonaise Veilleuse Brule perfume incense burner by Robj, Paris
Historically, Japanese feminists have seen geisha as exploited women but some modern geisha see themselves as liberated feminists." We find our own way, without doing family responsibilities. Isn't that what feminists are?" It is known for geisha girls to sometimes marry their clients but their marriage necessitates retirement, as there are never married geisha.
The submissive appearance of the geisha doesn't betray the full picture as some of the strongest and most financially successful women in Japan have come from a geisha background, and traditionally this has also been so. Mineko Iwasaki, in a Boston Phoenix interview, claimed "The geisha system was founded, actually, to promote the independence and economic self-sufficiency of women. And that was its stated purpose, and it actually accomplished this quite admirably, in Japanese society where there were very few routes for women to achieve that sort of independence."
The elevated status, mystique and refinement of the Japanese geisha all served to reinforce her unique yin/feminine qualities and contribute to the preservation of the traditional Japanese aesthetic. The are rightly taught to believe they are a living work of art and an affirmation of Japanese 'iki' (artistic chic)
'Woman playing with a Cat' – Antique Japanese woodblock print by Utamaro Bijinga.
Circa 1890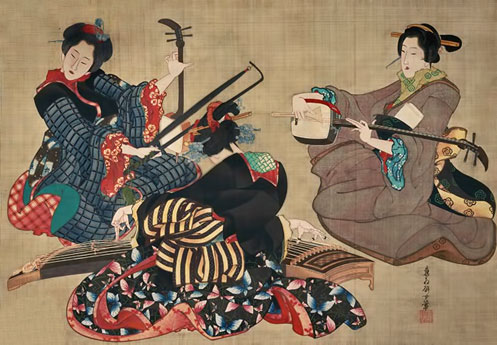 Geisha girls performing music
Asian Art Museum of San Francisco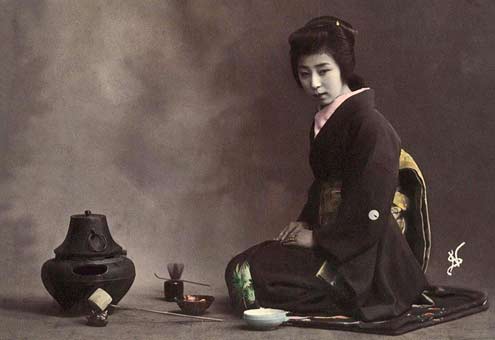 A Geisha with tea ceremony implements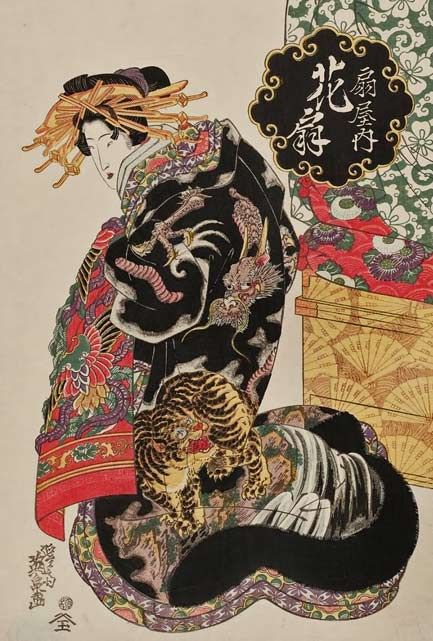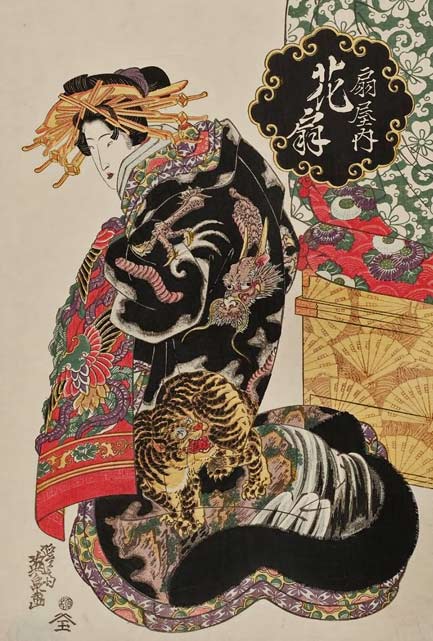 'Hanaogi of the Ogiya'  – Ukiyo e woodblock print by Keisai Eisen
about 1830's, Japan
Geisha 'Fan Dancer' – Alexander A. Danel design for Austin Sculptures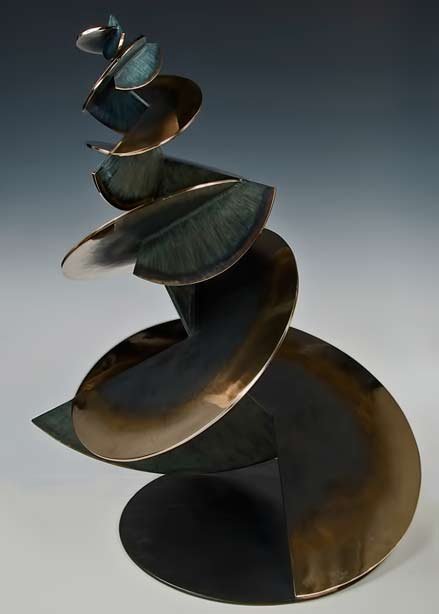 Small Satsuma Geisha and Maiko vase
Spirit of Geisha – 1995
I took this photo with a Canon F1 film camera. The Japanese girl was an amatuer model, but a very instinctive and natural muse.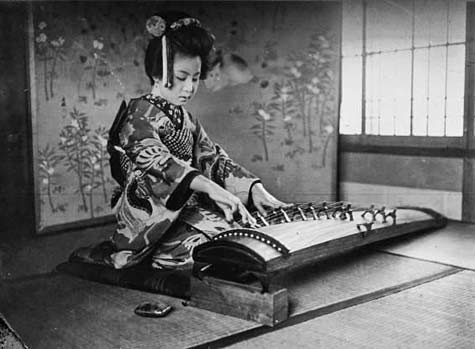 Geisha playing the Koto by Agence Mondial
1932
Hand-painted Satsuma vase, Kyoto ware
Meiji 1900
'Woman with Umbrella in Snow' – Attributed to Kitagawa Utamaro I
Japan, 1806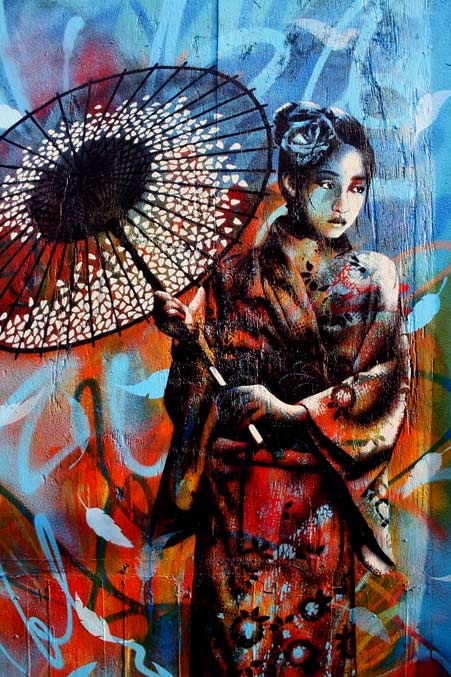 Geisha street art in London by Fin DAC
Vintage image of Geisha in preparation
'A Beauty in Snow' — by Koryusai
1770's
'Rōka no geigi (Entertainer standing on a veranda) '- Eizan Kikukawa (1787-1867)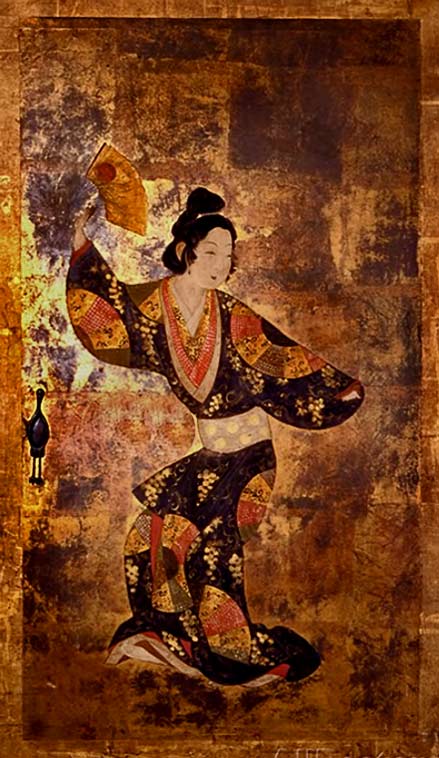 Dancing geisha decoration on door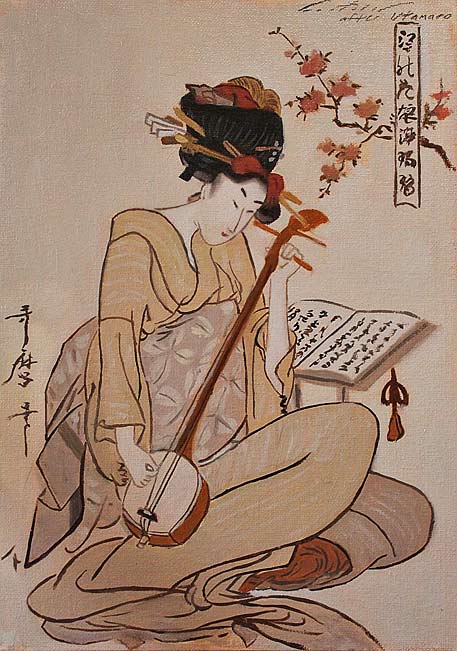 'Flowers of Edo' – Young Woman's Narrative Chanting to the Shamisen by Kitagawa Utamaro
c. 1800
Antique Japanese Satsuma vase
'Snowy day' by Eizan
Japanese Satsuma female figurine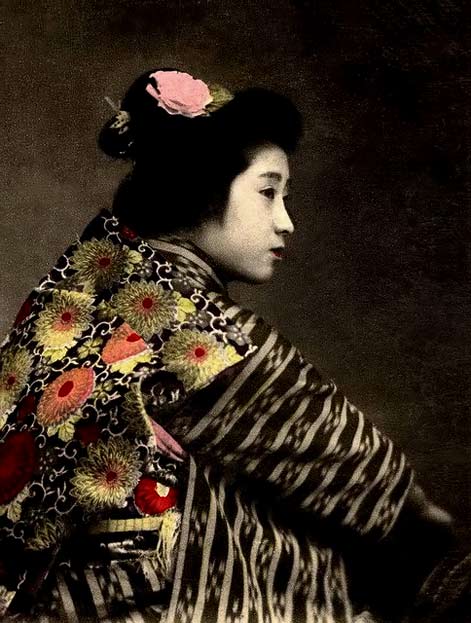 Over a century old hand coloured geisha photo
 Japanese  Satsuma porcelain decorated pitcher with scroll handle and scenes of 2 women and floral design
19th century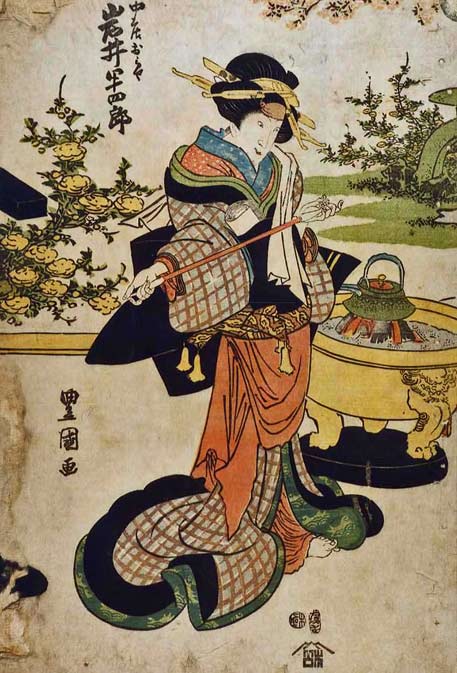 'Nakai Omiya Hanshiro Iwai' – Utagawa Toyokuni I
1818
Waseda University Theatre Museum
 Hand tinted half-stereoview image of Geisha's by T. Enami of Yokohama.
Ca.1905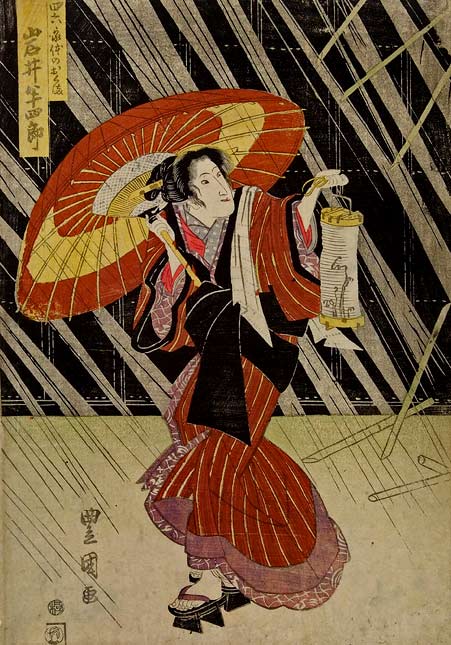 Ku ma Iwai half Shiro – Utagawa Toyokuni I
'Yearning at dawn in Yoshiwara' – Toyohara Kunichika
Edo 1867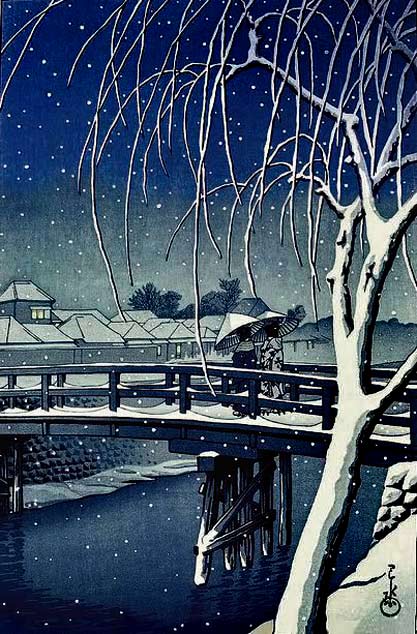 'Evening Snow at Edo River'  woodblock print by Hasui Kawase
1932
Plum leaves on Flickr
Geisha Girl Panel Handpainted Vintage Chocolate or Coffee Pot
bellefleurantiques on Etsy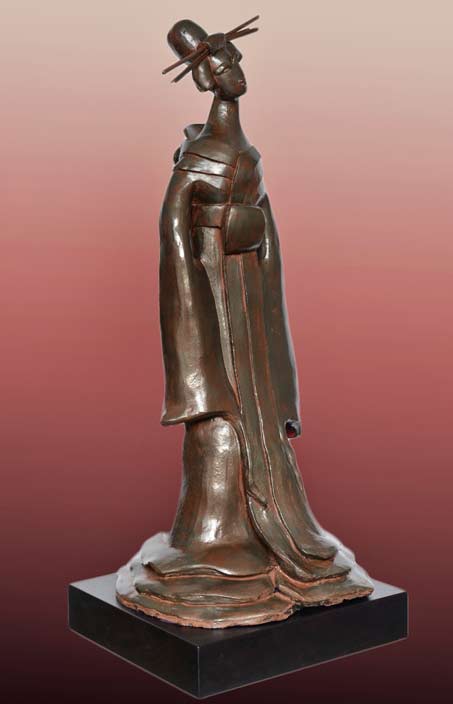 'Geisha Memories' – Mariko
2011
'Geisha on a morning walk by a river' – vintage photo
Okinawa Soba – Flickr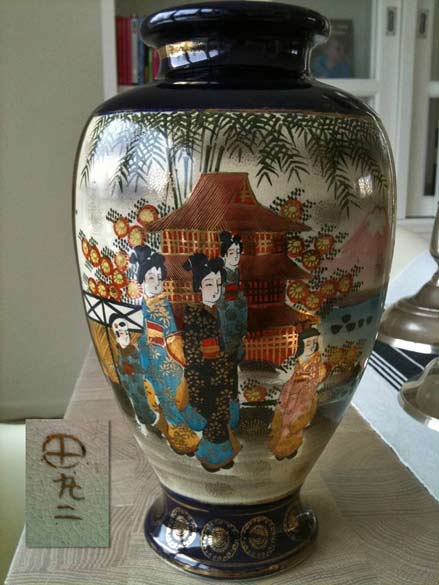 Japanese porcelain Satsuma vase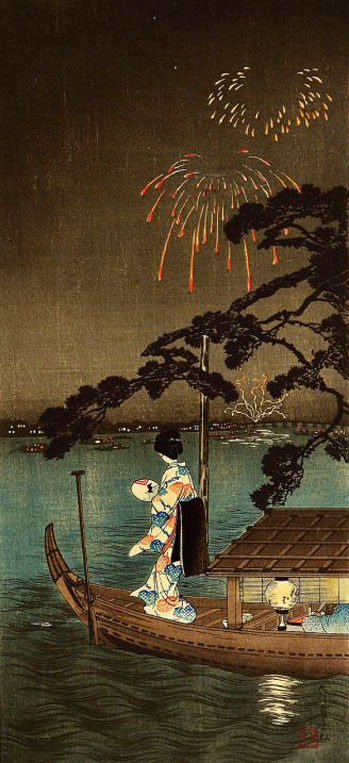 'The Pine Tree of Success on the Sumida River'  – Hiroaki Takahashi
1910
'Snow at Nezu Shrine' – Koitsu
1934
'Heron Maiden' – Nakamura Daizaburo
1920-25
Mid-Century Geisha girl with iridescent glaze by Hedi Schoop
California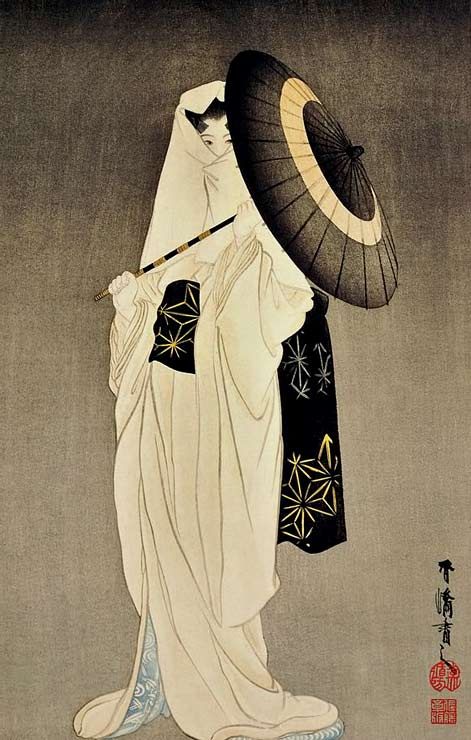 The spirit of the heron maiden woodblock print by Taniguchi Kokyo (1864-1915), dated 1925
From a Japanese folktale
Japanese porcelain figurine Japanese Geisha Girl Kutani Musician
Japanese Satsuma Vase
Japanese Sumida Gawa earthenware teapot. The finial depicts a seated male figure. Raised crab and sea motif.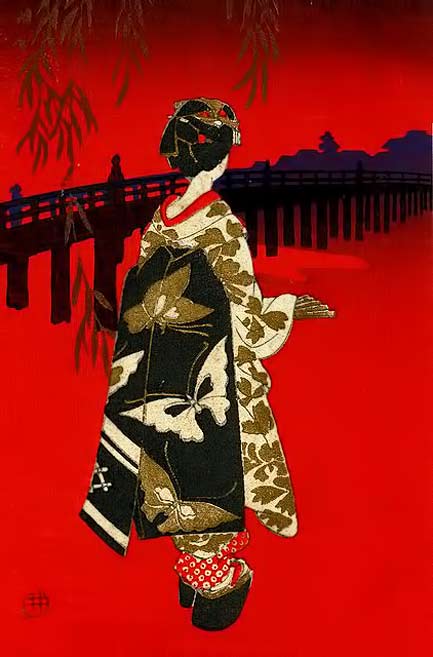 Japanese woodblock print postcard –  'Butterfly Obi'
1945
Geisha instruction
'Katsushino of the Aka-Tsutaya'. Ukiyo-e woodblock print,  by artist Kikugawa Eizan
early 1800's, Japan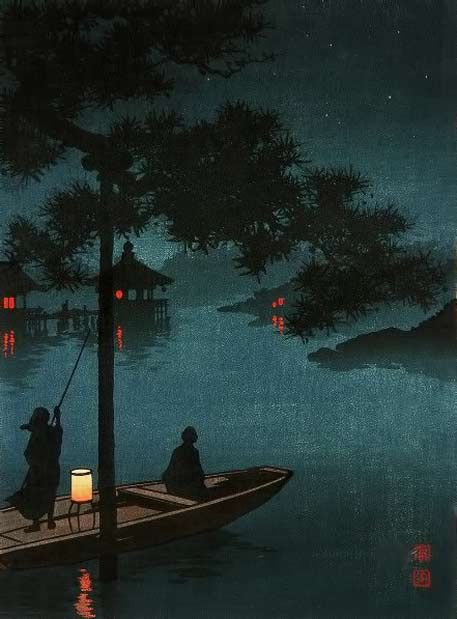 'Lake Biwa' – Koho Shoda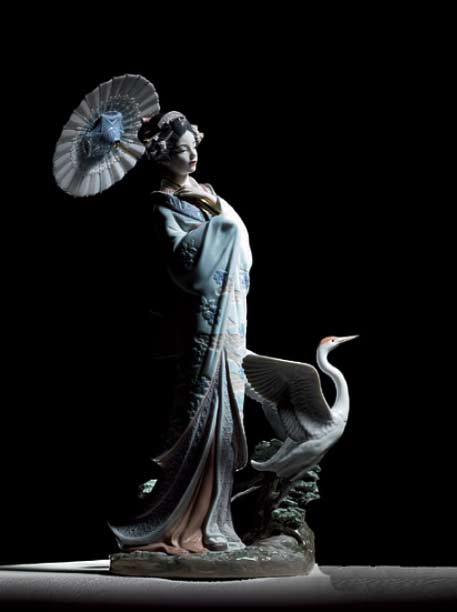 Japanese geisha figurine – Miguel Angel Santaeulalia for Lladro, Spain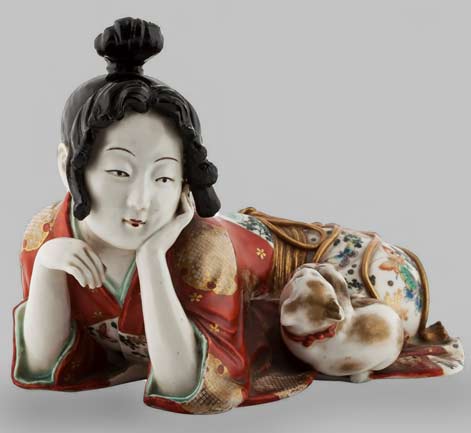 Kutani–porcelain-figure – Woman with Kitten
circa 1870  – Memphis One, 1stDibs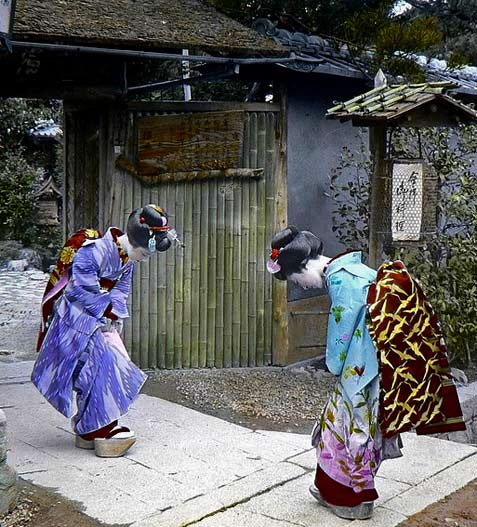 Greetings at the Gate —- Japanese girls in kimono at the entrance to Genkyu en Gardens in Hikone
Okinawa soba, Flickr
Geisha dancing with a fan
National Library of France
Miss Taiko, Miss Tzumi, Miss Samisen—-Three Geisha playing music
Meiji Era Japan
Plate, Edo period (1615–1868), 1760 Japan, Hizen Province, Arita kiln Porcelain decorated with the figure of Ononokomachi in blue and brilliant enamels – Met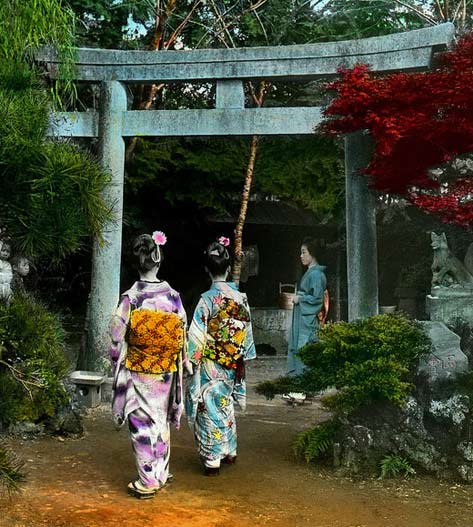 Geisha girls at the garden
Okinawa Soba, flickr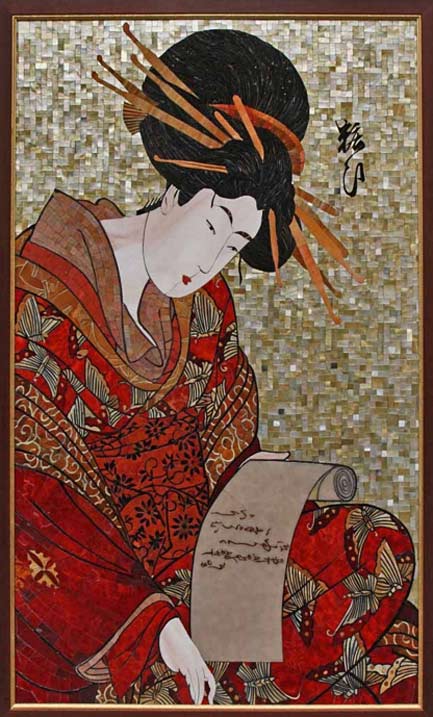 Geisha girl reading a scroll – Mosaic Studio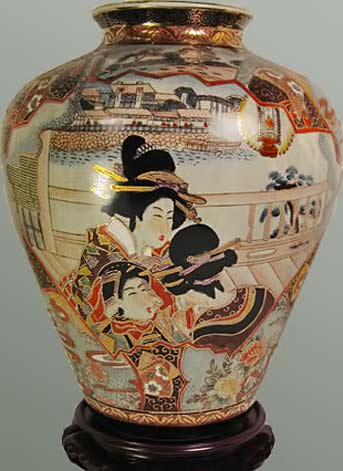 Chinese Porcelain Imari  hand painted vase
'Reclining Geisha' – Lladro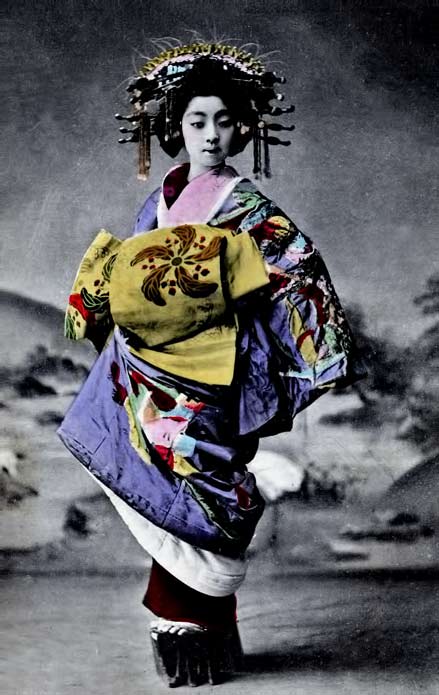 Japanese Oiran (courtesan) with her Obi tied to the front ( as opposed to the geisha who tie them to their back)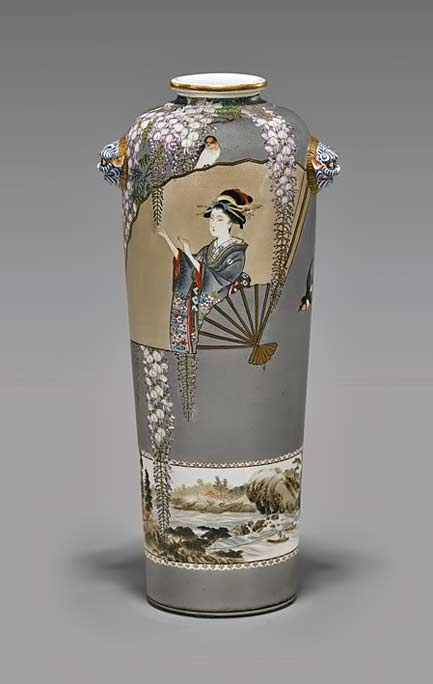 Tall Geisha Kinkozan Satsuma vase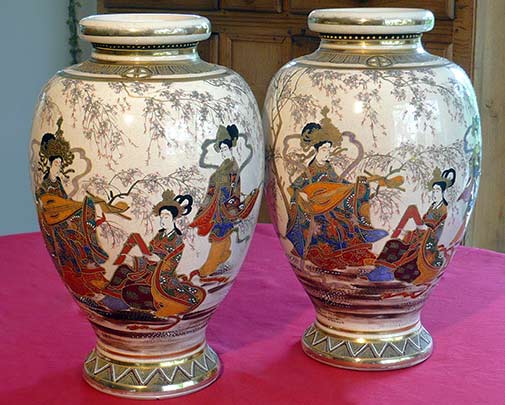 Satsuma footed ovoid pair of vases
 Weller Pottery –  Birdimal Orange Japanese vase with geisha girl motif by Frederick Hurten Rhead
–