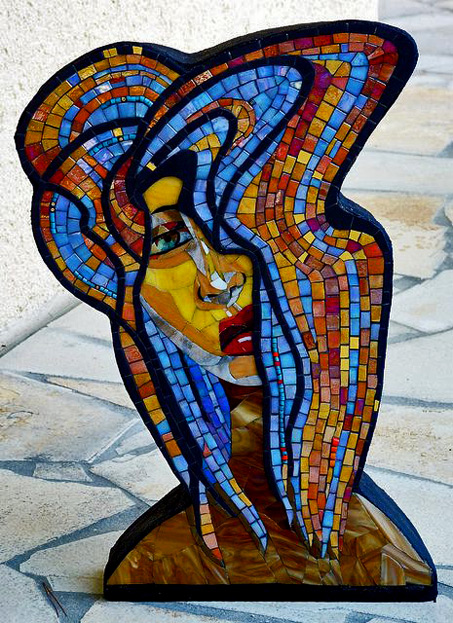 "I Am Here"  – Irit Levy
 Mainly art on Flickr
Mosaic dynamics
This statement by Krishnamurti reminds me of the innate dynamic in mosaic art – "A mind which is seeking permanency soon stagnates; like that pool along the river, it is soon full of corruption, decay. Only the mind which has no walls, no foothold, no barrier, no resting place, which is moving completely with life, timelessly pushing on, exploring, exploding – only such a mind can be happy, eternally new, because it is creative in itself."
By its very nature, mosaic art is particularly dynamic because of its fragmentation. This creates an eternal seeking of completion, through the potential motion of merging with the surrounding tesserae (mosaic tiles), to present a more perfected whole. A complex array of dissociation in flux and tension.The patterns and textures in the tesserae, combined with visual flow and direction within a mosaic, produced by the placement of rows and colours, tend to support this. In mosaics this is known as andamento – the movement or flow of tesserae , which is often accentuated by the interstices.
Ancient classical mosaics were created with natural stones and pebbles. Around 200BC specially manufactured pieces from ceramics and glass began to be used to give extra detail and range of color to the mosaic works. The versatility and robust quality of mosaics makes them suitable for application on virtually any space. Murals, floors, statues, arches, mirrors, splash backs and entry statements have all featured prominently through history with their longevity in evidence. The superb quality of the ancient mosaic art is because it was a popular symbol of wealth and prestige in both public and private buildings. Whole interiors were done in mosaics and it was hard not to notice this art when it was laid out on the floor in front of you.
This article presents mosaics in both 3d and 2d, mostly public art, chosen for their dynamic nature and movement.
This mosaic wall art was created by Canadian Denyse Terio with sea glass
Sea glass is a material that can be found on beaches around the world and is essentially small portions of glass that have been polished by the currents into small gems.
'Movement and Vitality' floor mosaic for the recreation centre of the University of Iowa by Gary Drostle
 This mosaic displays the role of the Egyptian culture in Italy, in particular in Palestrina, where the goddess Isis was identified with Fortuna.
1st century BC,  Palestrina, Itlay
Early Byzantine mosaic art – Empress Theodora With Her Court.
 ca. 547 – Ravenna. San Vitale
Italy
Romantic scene from a mosaic in Villa at Centocelle, Rome
20 BC – 20 AD
(Wikimedia Commons)
Abstract Ram Sculpture Clad In Miniature Glass Mosaic
USA, Circa 1970s
Assemblage Ltd.- 1stdibs
Lion Head sculpture – The Erawan Museum on the south eastern outskirts of Bangkok
Aidan McRae Thomson – flickr
Mosaic totem – "Entwined Histories' – Gary Drostle
This sculpture was designed to celebrate the many immigrant communities that settled in the Poplar area of East London.
Green Mosaic Cat
Gillm-mosaics – flickr
Mosaic Cube – Anja Berkers
 The inspiration for this mosaic is the work of Friedensreich Hundertwasser and his use of color and organic forms.
40cm x 40cm
Mosaic Rooster
Italy—Roma, quartiere (borough) Coppedé
'Jelly Brollys' 
Carol –  flickr
'Winter Fury' — Lynn Bevino Felts
Bezalel Mosaics
'The Departure' – Wilhelm Heeson
Almelo Railway Station, NL
Modernist Mid Century mosaic at Almelo Station by Piet Buy
Ceramic and Mosaic Decoration on a Fountain in Arles, France
photo – jan buchholtz-flickr
Niki De Saint Phalle Mosaic Sculpture
Park Avenue NY
Romero Brito Pernambuco mosaic – Rio de Janeiro
Girl from Ipanema Park
'Supernova' – Anja Berkers
With the support from the Municipality of Puento Alto in Santiago, Isidora Paz López has been able to coordinate a community project to decorate over 75 pillars with nature inspired mosaic art.
Deborah Halpern's ceramic and glass mosaic 'Ship of Fools'
Sculpture by the Sea,  Tamarama Beach
'Queen Esther Revealing Her True Identity' – Lilian Broca
Beadwork and Mixed Media Owl by Betsy Youngquist
Mosaic art mural – 'Wandering Geckos' — Brett-Campbell
'Metamorphosis' – Betsy Youngquist
 'Norman-peasant' – Fernand Léger
Argentan, France
'Catalina' by Carol Towler
Mosaic Chiminea
Hausmanager-flickr
Miguel Covarrubias 'Genesis, the Gift of Life'
1954, Dallas Museum
Niki de Saint Phalle mosaic statue from the The Garden of Tarot which is a sculpture garden based on the esoteric tarot
Garavicchio (Tuscany)
Man riding dolphins mosaic – District Lions Stadium, Island of Delos
Fernand Leger Museum abstract mosaic murals
Argentan, France
Fernand Leger Museum abstract mosaic murals
Argentan, France
Kim Emerson mosaic sculptures
Cerritos Park, Los Angeles
Linda Biggers
Mosaic L'Annunciazione' by artist Isabel Piczek
 Our Lady Queen of Angels Plaza Church, 1981
Los Angeles
Mosaic sculpture of Adam & Eve, wearing watermelon hats, Eve passing the apple
Mosaic Sculpture Garden—Linton, NZ
Niki De Saint Phalle  "Firebird" disco fever statue
Pulpo – RuTh, flickr
Coruna, Spain
Palau Güell Chimney, Barcelona
Palau Güell mosaic , Barcelona
Mosaic Oriental belly dancer – French artist Francony Kowask
Roz Anderson Pelican mosaic
Kay Harpa mosaic
Père Lachaise Cemetery
Original glass mosaic sculpture, 'Clownimal'  – Hangs on wall. By artistprovocateur on etsy
Mosaic sculpture made of broken pieces of glass tile and metallic covered porcelain by Anchorage artist Shelia Wyne
Mosaic Sculpture Garden—Linton, NZ
Mosaic mural 'Triumph of Neptune' standing on a chariot pulled by two sea horses
Third century AD
Sousse Archaeological Museum, Tunisia
Suesy Circosta mosaic totems
Melbourne, Australia
'Electronic Sculpture 1'
Mosaic art by Muharrem Batman, Ayse Batman and Judith Brun displaying compositions of resistors, plugs, circuit boards, connectors, wires and other electronic waste.
Mosaic flair at the Treetanic Bar The Jade Seahorse
A zani boutique hotel in Utila, Honduras. It features five oddly shaped but comfortable bungalows, each eclectically decorated with bottle art, mosaic tiles and iridescent glass stones. It took the owner, Neil Keller, 15 years to produce this dreamlike world.
Picture by Ded Ch
'Goblet Number Three' – Robert Palusky-2011
Habitat Gallery
 Soviet built modernist mosaic bus stop
Gagra,-Abkhazia
Photo – Christopher Herwig
'Eggsistentialism' – AVAM (American Visionary Art Museum), Baltimore
George Reader-flickr
'Aurora Borealis' mosaic wall on AVAM's exterior, designed by Mari Gardner with youth from the William Donald Schaefer House.
2014
Photo by Dan Meyers.
Mosaicesque sculpture by Tiffany Schmierer
photo- linda fahey
–