'Hopping' – Roger Capron
Vallauris street sculpture – Roger Capron
Capron:  exemplary Mid-Century modernist designer
The Mid Century ceramic art of Roger Capron embodied the vibrant spirit and verve of Vallauris and the Cote d' Azur. He took over an abandoned pottery studio at the age of 24 in Vallauris, France, where he worked with Robert Picault and then Jean Derval. Capron's ceramic workshop, known as 'l`Atelier Callis', contributed to the renaissance of ceramics in Vallauris and at its peak employed over 120 ceramicists. He eventually expanded his production of vases, pitchers and other functional wares to include coffee tables with hand glazed tiles , lamp bases, wall plaques and other interior decor objects along with sculptural statues for public installations. Roger Capron's pottery venture thrived and experienced considerable benefit from the post war reconstruction period and the explosion of consumerism that followed.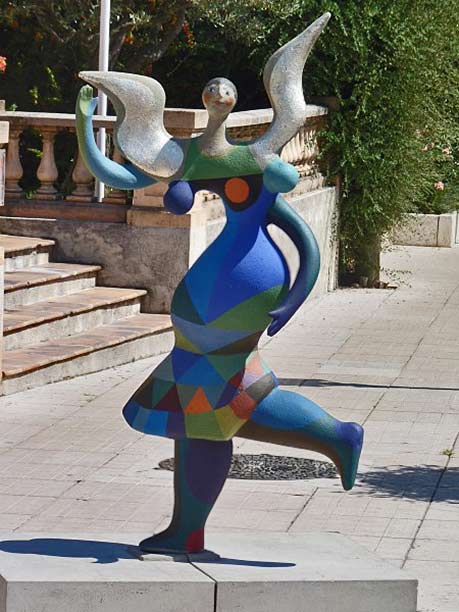 Athena statue – Roger Capron, Vallauris
In 1948, two years after Capron had arrived, Picasso at the age of 65, turned his prodigious creative talents towards making pottery at the Madoura ceramic atelier with Suzanne and Georges Ramié in Vallauris. His reputation and poster designs in the early fifties for the annual exhibitions of the Association des Potiers de Vallauris, helped bring attention to the emerging pottery mecca of Vallauris and drew more visitors and artists to the region while also lifting the profile of the modernist ceramic arts.
Capron's colourful, vivid and spontanoeus ceramic art clearly displayed a Picasso influence, while maintaining a distinctive Capron visage. He was dedicated to the ethos of the ceramic master René Gabriel, which was to "make beauty accessible to everyone." Capron was one of the first to apply his knowledge of ceramics in the context of semi-industrial production and his ceramic oeuvre included much artistic research and innovation.
Before moving to Vallauris in 1946, he had studied Applied Arts in Paris from 1939 to 1943 and worked as an art teacher in 1945.
His contribution to the promotion of the appeal and beauty of abstract forms and illustration, expressed through the ceramic medium, is undeniable and it's extremely pleasing to see his ceramic works getting wide recognition now and becoming eminently collectible.
Whisky decanter – Roger Capron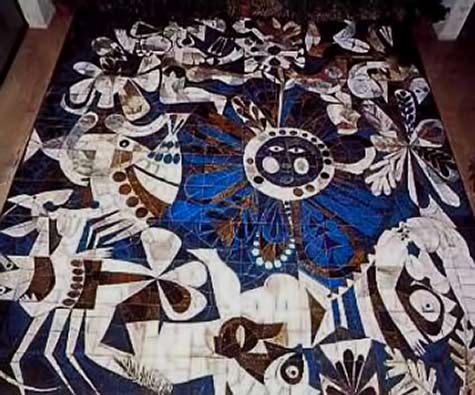 Tiled dance floor mural at Byblos in Saint Tropez, 1968 by Roger Capron and Jean Derval.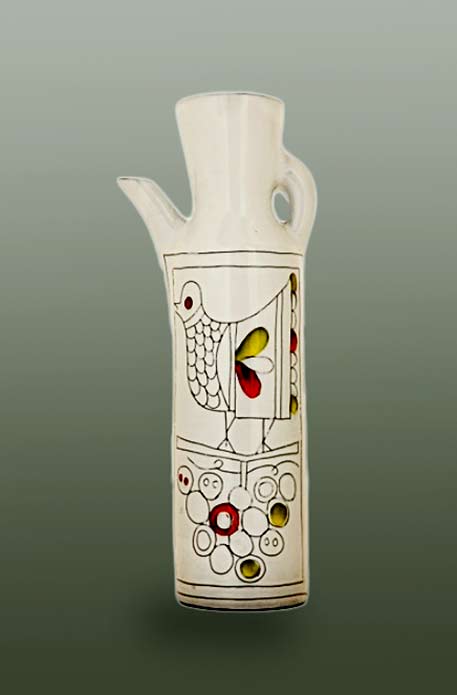 Tall white pitcher – Roger Capron
Roger Capron pitcher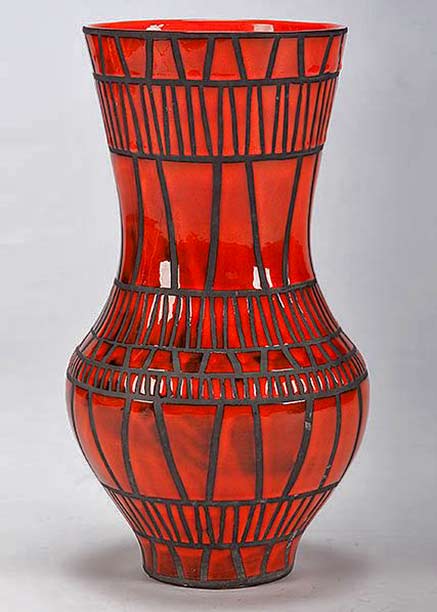 Red baluster vase – Roger Capron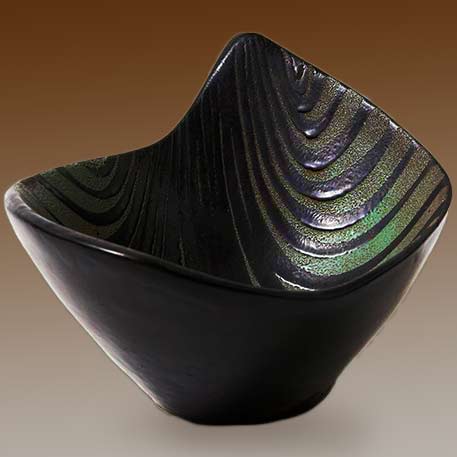 Free form bowl – Roger Capron
Gallerie Riviera, Paris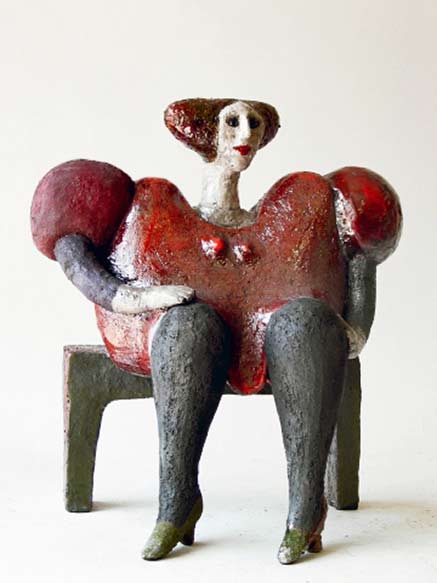 Baroness' – Roger Capron
rogercapron.com
White quad footed ceramic ovoid dish – Roger Capron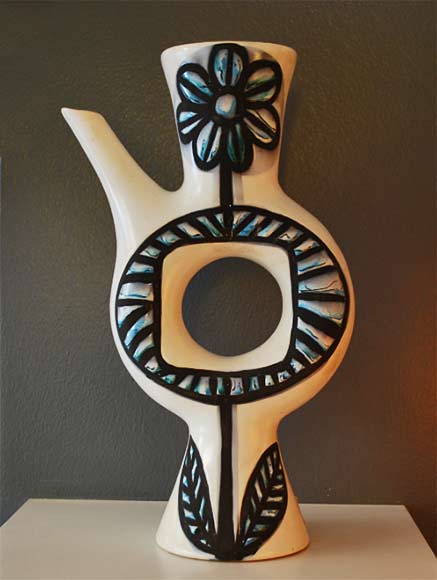 'Vase Fleur Bleue' – Roger Capron
le maga.be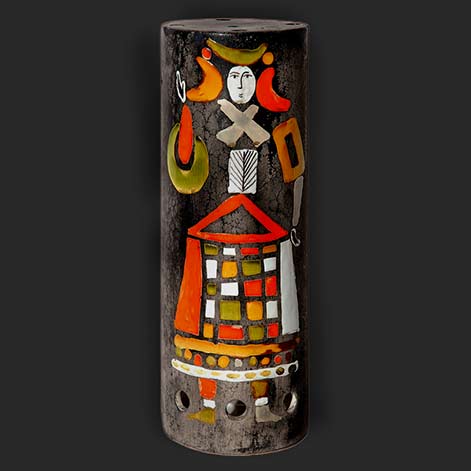 Ceramic lamp shade – Roger Capron
Sam Kaufman
Folded rim ceramic pot – Roger Capron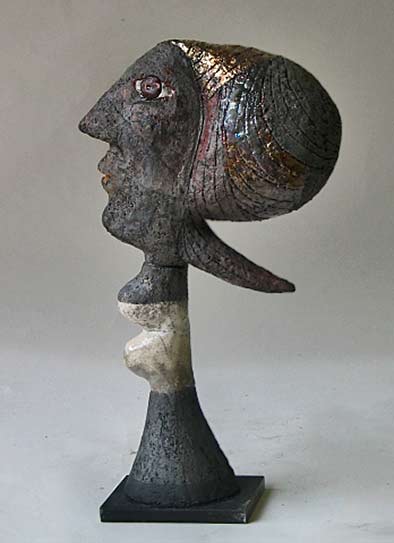 'Claudia'  ceramic bust – Roger Capron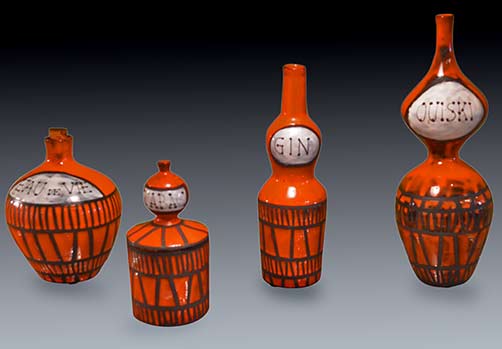 'Rouge Bottle Set' – Roger Capron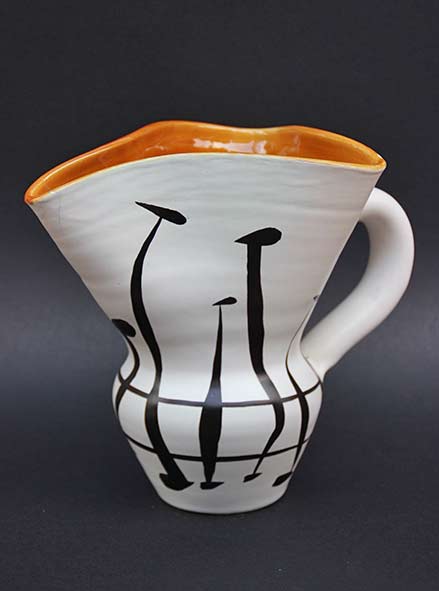 White ceramic jug with orange interior glaze – Roger Capron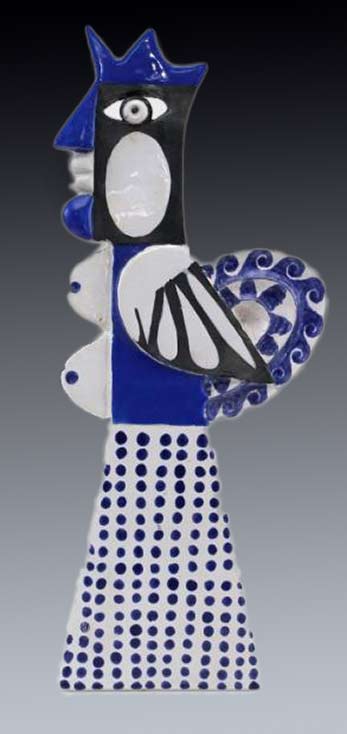 'Female bird totem' – Roger Capron
Personnage animal fantastique – Roger Capron
Large cornet vase – Roger Capron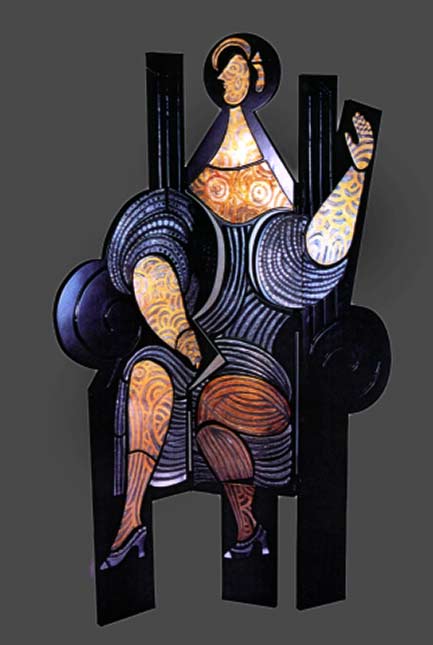 'Femme au Fauteuil'  folding screen – Roger Capron
1960
'Grand Profil Raye' – Roger Capron
'Harlequin' – Roger Capron
rogercapron.com
'Flat Warriors' plate – Roger Capron
'Horned Wildlife' – Roger Capron
rogercapron.com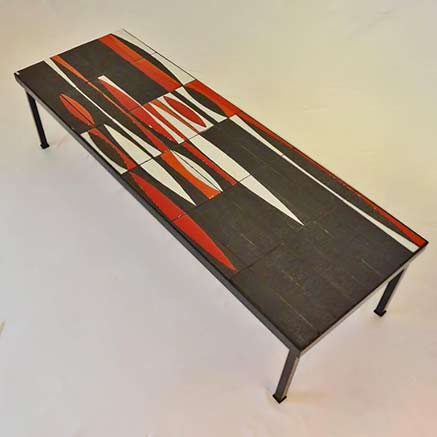 Coffee table 'Navette'  – Roger Capron
Bottle vase – Roger Capron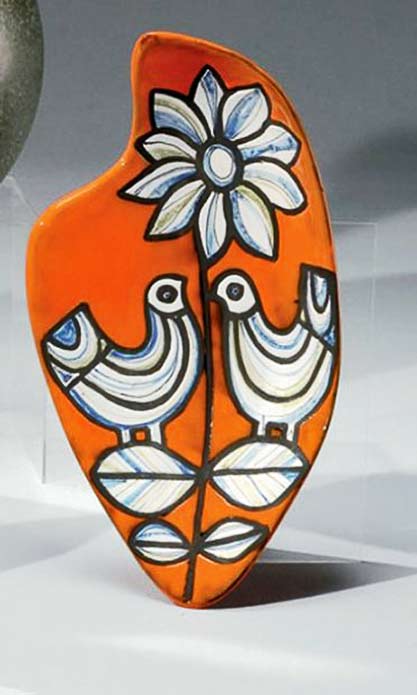 Large ceramic bird plate – Roger Capron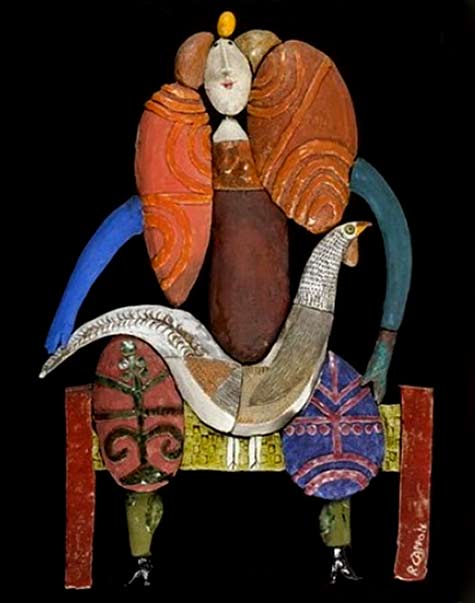 'Loiseau in his nest' – Roger Capron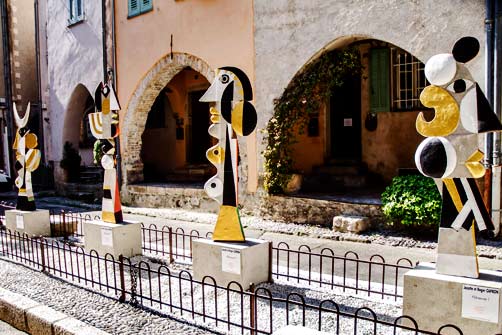 Roger Capron sculptures, Biot, France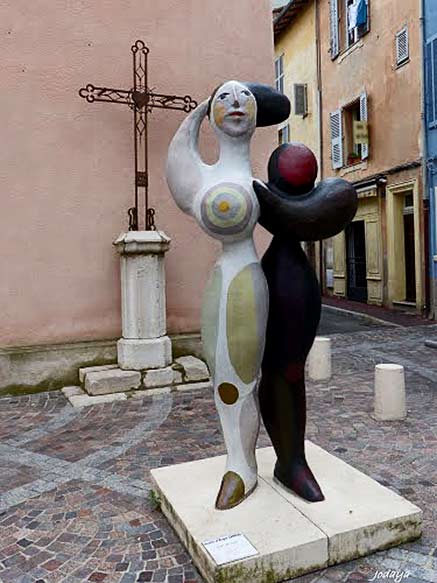 Vallauris street sculpture – Roger Capron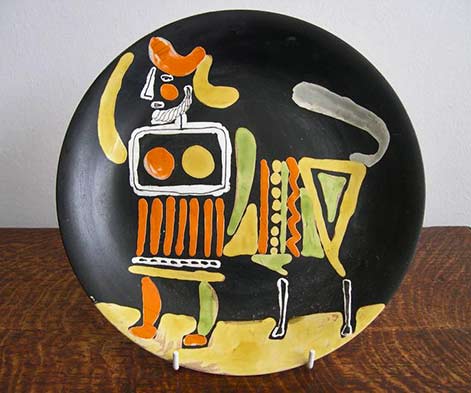 Roger Capron plate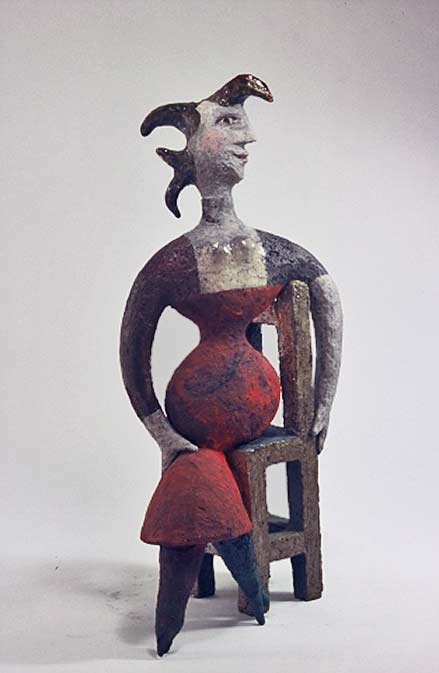 Female zoomorphic raku sculpture Roger Capron
Roger Capron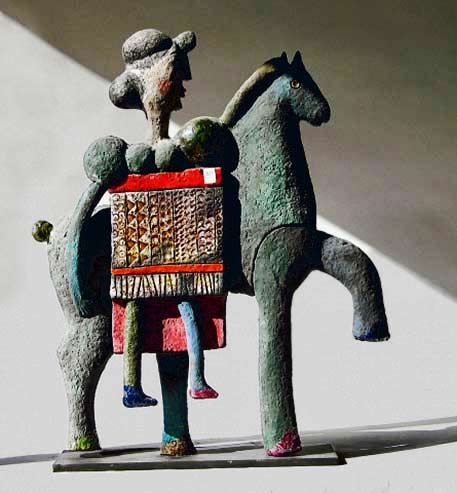 Ceramic horse sculpture – Roger Capron
Roger Capron – reclining female sculpture
Roger Capron ceramic panel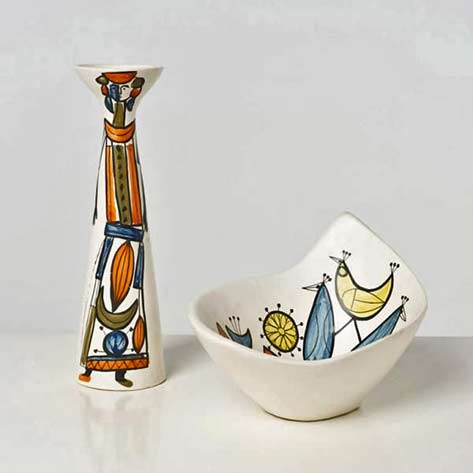 Bowl and vase – Roger Capron
Zoomorphic Rooster – Roger Capron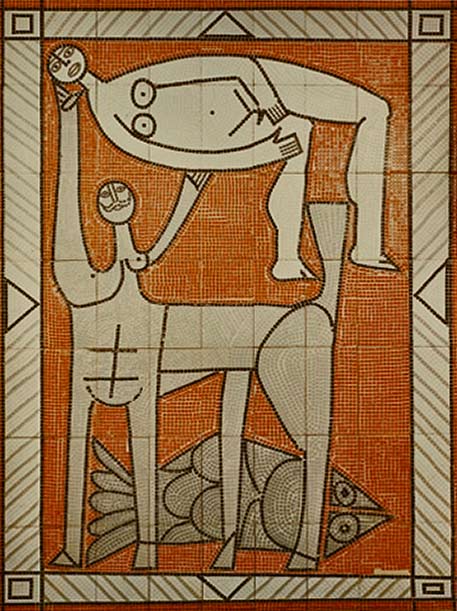 Mosaic mural – Roger Capron
Raku female sculpture – Roger Capron
Femme Gravee Philippe – Roger Capron
Kneeling juggler sculpture by Roger Capron
Abstract ceramic bust Roger Capron
Vallauris studio – Roger Capron
Roger Capron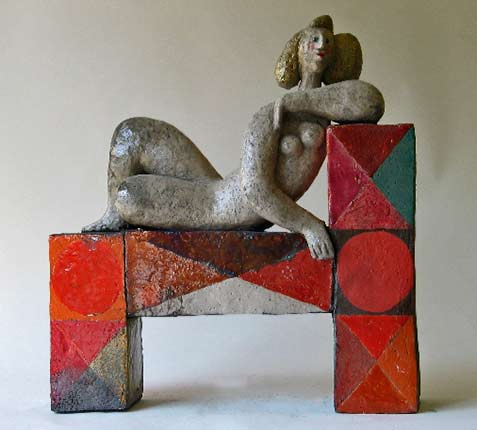 'Femme au lit' – Roger Capron
Women wearing gown – Roger Capron
'Yellow Bird Vase' – Roger Capron
1958-
Galerie Sandy- Toupenet, Paris
Zoomorphic fish sculpture – Roger Capron
Tripod red vase – Roger Capron
'Double Dove' sculpture bust – Roger Capron
Other Vallauris ceramic masters
Ceramic sculpture – Pablo Picasso
Painted wood 'Centaur' sculpture – Picasso
Ceramic pitcher – Pablo Picasso
Hermatige, Saint Petersburg
Pol Chombost figural vase
'Sylvette' sculpture bust – Picasso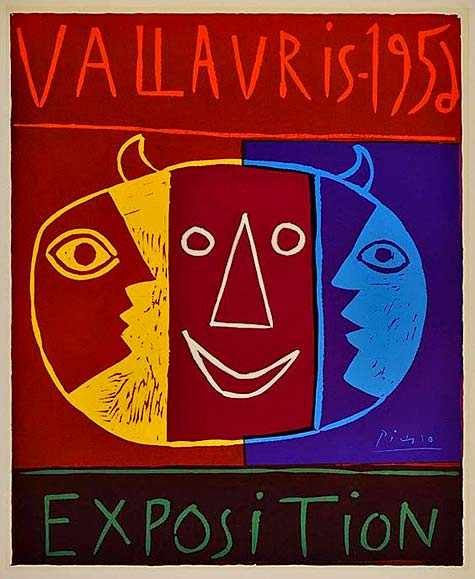 Vallauris poster by Picasso, 1956
Vallauris poster by Picasso, 1957
Ceramic mask – Pablo Picasso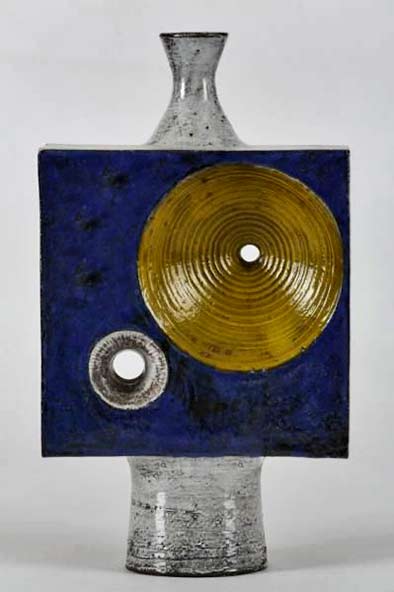 Ceramic bottle with square modernist panel – Jean Derval
'God of Ceramics' – Francois Raty
( I always wondered what he looked like)
Abstract sculptural ceramic bottle – Jean Derval
'Les Femmes d'Alger'  – Picasso
Christies
Picasso's War & Peace mural in the chapel at Vallauris
'Pintade'  coupe – Jean Derval
Vallauris, 1961
Gilbert Portanier
artentique.nl
Gilbert Valentin pitcher
Pitcher – Picasso
Vallauris fish jug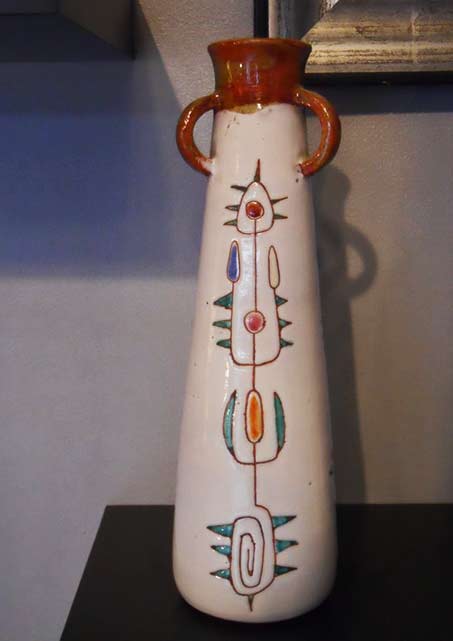 Jean River
Twin figure modernist sculptural lamp base by Gilbert Valentin, France
–