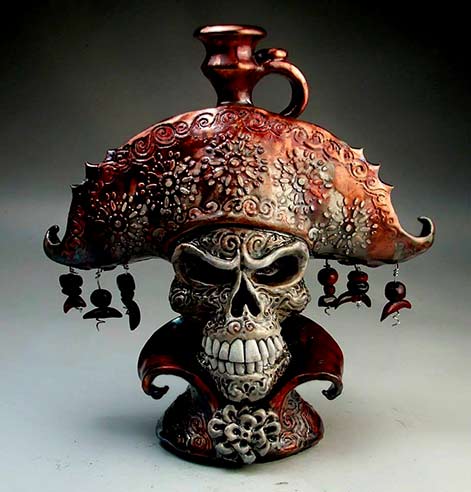 " 'av' a swig me matey" – Michael Grafton
Contemporary grotesque wares, edgy ceramics, confrontational clays, provocative porcelains all conjuring up a mud mayhem designed to command your attention. Challenging times can trigger artistic impulses where more audacious, uninhibited creativity seeks an outlet and the market readily responds. Disturbware that can be unnerving, sometimes humorous, maybe illuminating, possibly ugly or even brilliantly conceived and just so original you are taken aback by the level of creativity and innovation. Art pieces of protest that are deliberately antagonistic to make a poignant statement so the message gets through. Ground breaking art whose time has arrived to announce a new direction or an artist indulging some fantasy or expressing a personal narrative with strong convictions. Edgy arts cover many possibilities.
I enjoy seeing the works of the following ceramic artists for their edgy narratives and styles expressed with originality, spontaneity and pure abandon.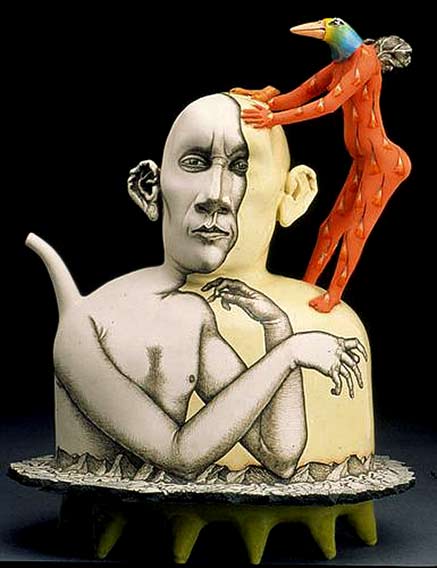 Sergei Isupov teapot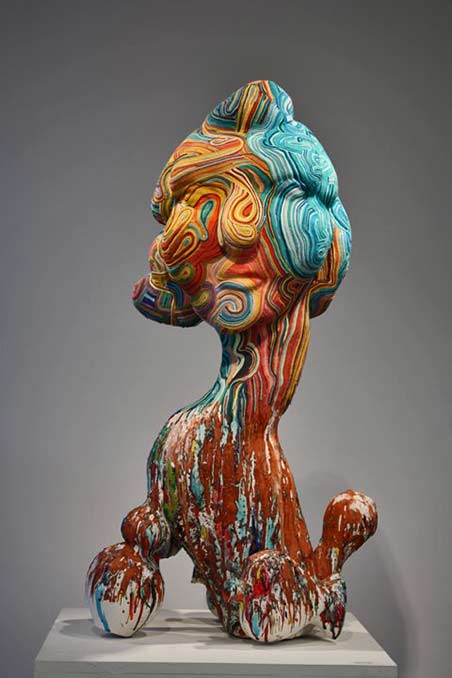 Michael Lucero, California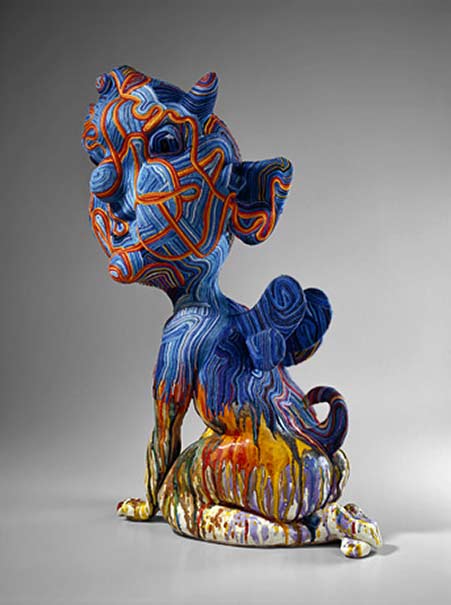 Micheal Lucero – 'She Devil' 
Museum of Fine Arts, Boston
Photo by Lee Fatherree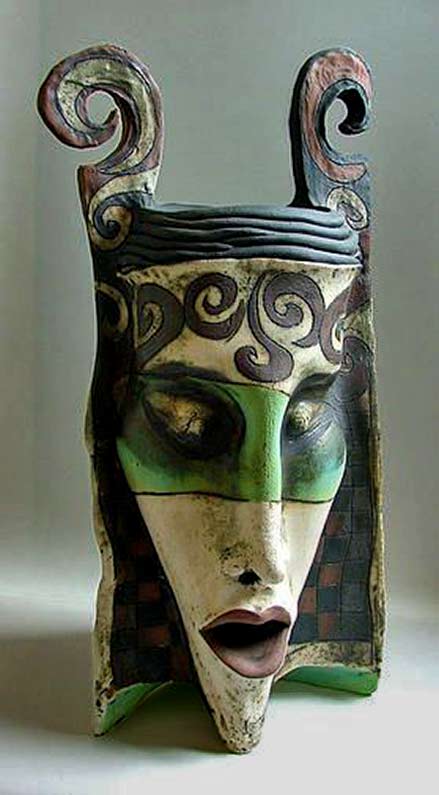 Inna Olshansky, Israel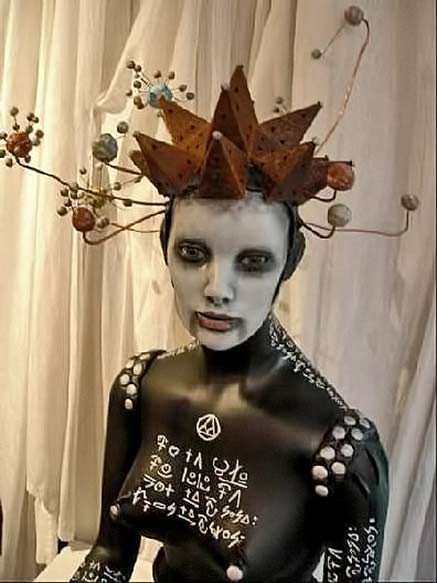 'The Message Orrery' – D.L. Marian
36″ tall free-standing life-size fiberglass prop with sculpted features. lacquer wood base. glass eyes. Planets have been added to head with copper wire, rusted metal sun crown. Alien writings adorn her body giving us that unknown message or warning.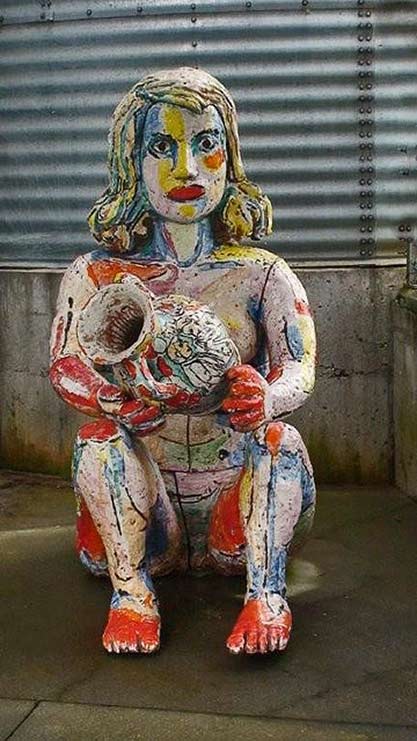 Viola Frey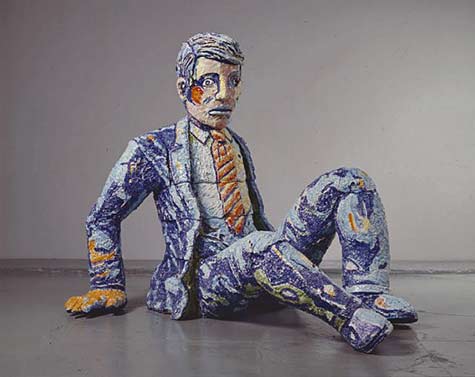 'Falling Man In Suit', Viola-Frey
-1991-
To me, art is a visual language. The origins of my artistic language emanate from life's experiences, readings of literature and mythology, and visual interpretations of art history. Often this language focuses on the absurdity, the unpredictability and the unruliness of life. Like a classical language, the vocabulary that I create has many layers of meaning. I leave it with the viewers to derive their personal interpretations.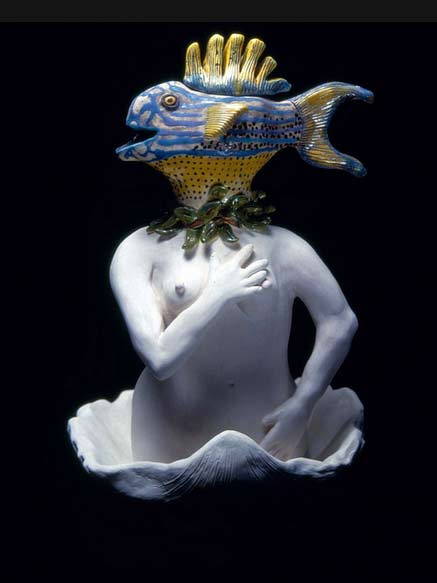 'Thirst of Venus'  – Carol Gentithes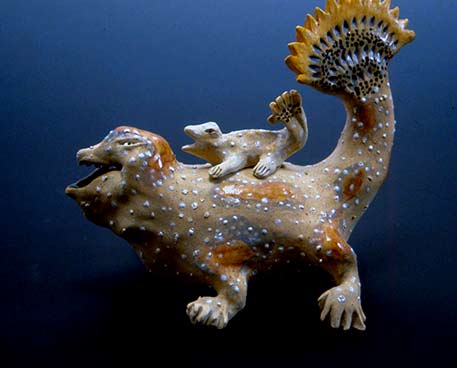 Sea Creatures – Carol Gentithes
Carol Gentithes – 'Marriage'
'Poisdon' sculpture by Carol Gentithes
Carol Gentithes
I question how I can extend the tradition of pottery. What can I contribute? I am not interested in pots that are mindless, shallow imitations and replications of the past. I believe in the idea of cross-fertilization and playfulness. The mixing and matching of different cultures, motifs and art styles are fertile ground, a place to cultivate.
'Woman with pierced tongue'– Fred Johnston
'Woman dancing with Guinea Hen' — Fred Johnston ceramic tile
 Suzy studied dance while absorbing Hollywood musicals, film noire and the mysteries of Rembrandt. As an adult, she's been seduced by the sensuous spontaneity of working with Clay, Colour and the essence of Romance. Suzy's imagery is a marriage of her childhood and adult influences. The figure dominates her work. She is compelled to create archetypal icons which embrace the power of Ancient and contemporary World cultures, overlaid with the spirit of song and dance.
'Beauty Bountiful' – Suzy Birstein
Suzy Birstein-~-'Notorious'
'Who are you really' – Suzy Birstein
'In Wonderland'–Suzy Birstein
Height 24″
'Moon Lights up the Night' – Suzy Birstein
Suzy Birstein
'd Ivoire Duet singin'–til there was you..'  – Suzy Birstein
'Get The Sweet Beat' – Suzy Birstein
Click image to expand
"I cannot speak too highly of my experience with Suzy's ceramics course on Skopelos Island.  Working with clay in that magical setting overlooking the turquoise  Aegean Sea was one of the highlights of my artistic life. The people of Skopelos are welcoming and hospitable.
Your  MUSE AWAITS YOU on the green island. " —   Jackie Conradi-Robertson (Painter)
 Robert Bricker
'Aspiration' – Robert Bricker
Robert Bricker—"The ceramic vase is 5 years young, a complete improvisation, based on the seed crystal of a female model saying that this session was her last, that she would be flying away. Thus I drew the flying female figure thema. This vase is from an exhibition called "Deep In Shallow Thoughts'."
Pantheon Urn – Robert Bricker
Robert Bicker
Ceramic tile – Robert Bricker
Mattie Leeds has been making pottery full time for 42 years. He studied classical Chinese painting with Y.C. Chaing, a master of Chinese arts, he studied pottery with Michael Frimkiss, a renowned potter and student of Peter Voulkos.
Mattie's work is bold, colorful and expressive. The pieces are large- many over 5 feet tall, and the sheer volume of their surfaces gives him a freedom that the two dimensional surface of a canvas lacks. The bold figurative schemes dance around a surface that has no beginning and no end, but is a continuous statement as the viewer circles the object. Like free-standing sculpture, every side is luscious. Some of the pots speak of the 10 years he spent studying Chinese painting and calligraphy, while others are a montage of figures and design, merging colors and emotion.
'The Bomb' – Mattie Leeds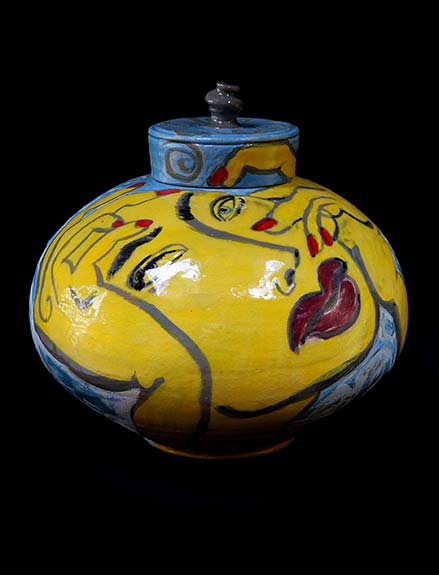 'Woman with Yellow Face' — Mattie Leeds
Mattie Leeds  – 'Hands'
2011
Hands series Vase  – Mattie Leeds
Hands series Vase  – Mattie Leeds
'Space Monster' – Mattie Leeds
'Wave' – Mattie Leeds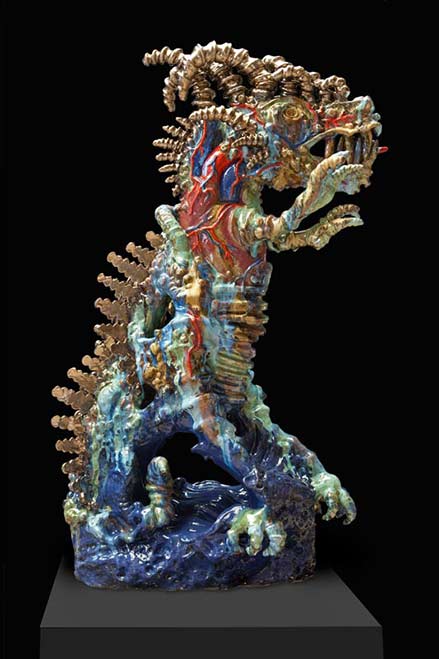 'Heartmonster' –  Mattie Leeds
'Grand' – Mattie Leeds
Mattie Leeds
◊
'Chip off the old block' – Janet Smith
Michael Corney
Schaller Gallery
Hinrich Kroger
Hinrich Kroger
Hinrich Kroger
Full-time artist in Pittsburgh, PA who loves to work with ceramics, printmaking, mosaics, paintings and cast iron. I come from a family of 11 children and was always encouraged to play, which I still do quite a bit of. Laura Jean McLaughlin received an MFA in ceramics from West Virginia University. Laura Jean's work has been exhibited in over one hundred galleries and museums
Laura Jean McLaughlin — 'Down to the River'
Sgraffito dish — Laura Jean McLaughlin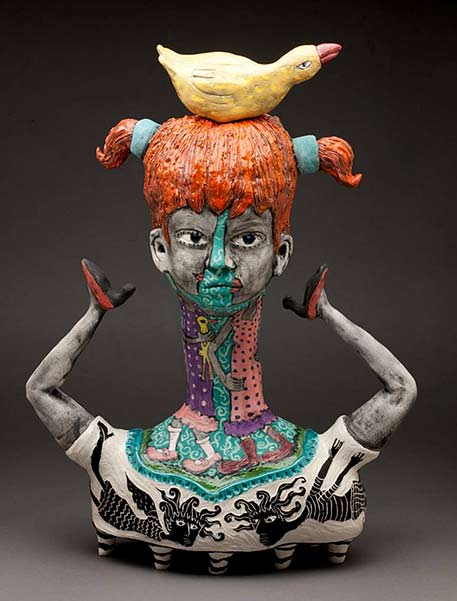 'Nest' – Laura Jean McLaughlin
Decorative sgraffito wall plate – 'Joy Ride' — Laura Jean McLaughlin
Laura Jean McLaughlin — 'Entangled'
Laura Jean McLaughlin
Laura Jean McLaughlin
Laura Jean McLaughlin with her cat Mojo
Jenny Orchard
A maker of beguiling clay mutation sculptures, Jenny Orchard is a contemporary artist, living and working in Sydney. She has travelled a unique path of making figurative hybrid ceramics called Zookiniis or Interbeings, totemic forms and vessels since the early 1980's.
See more of Jenny's fascinating art here
'Dandy Tiger Vase' by Jenny Orchard – 2013
Jenny Orchard – 'Weeds and ghosts'
Jenny Orchard ceramic 'Zookini's'
'Kitty' – Jenny Orchard
Monumental hand painted glass vase by Lea Bartneck
Kevin Snipes is interested in duality, vessels and containers with stories, his ceramics have multiple layers of meaning and provocative narratives.
Kevin Snipes 'Boxer' Plate
'Kicking The Cat'  – Kevin Snipes
Keri Joy Colestock – 'Out Of This World'
Keri Joy Colestock – Multi Media sculpture
"I'm not an innovator, ceramic-wise. I use very traditional forms, techniques and it's merely the carrier of the message. That's how I want to keep it. But I'm always aware that it's a pot. It's not like I take it for granted. I'm always aware that I'm working on a vase and what that means" A master of the incongruous juxtaposition, Grayson Perry scrawls savage satirical messages alongside sentiments of nostalgia for lost innocence.
'Ceramics Void Vase' – Grayson Perry
'Cries of London'  – Grayson Perry
'The Frivolous vase' – Grayson Perry
Grayson Perry
Gerardo Monterrubio
For millennia, numerous cultures have used the ceramic medium to record their existence. From these artifacts, we can form an understanding and various interpretations of the cultural paradigms, sociopolitical practices, mythologies, and the human experience of the worlds that created them. It is this anthropological aspect that propels my work in its creative endeavor, using the forms as vehicles to compose linear and fragmented narratives. Altered by the imagination, memory, and the like, my work engages the idea of recording selected aspects of contemporary society, composing moments and spaces for mystery, speculation, and wonder, in methods as old and universal as human creativity itself.
Teardrop ceramic vessel – 'Sadgirl' – Gerardo Monterrubio
`
Urban narrative ceramic sculpture – Gerardo Monterrubio
George Lafayette – 'Dream Catcher'
Elvira Bach –  Series: The Other Eva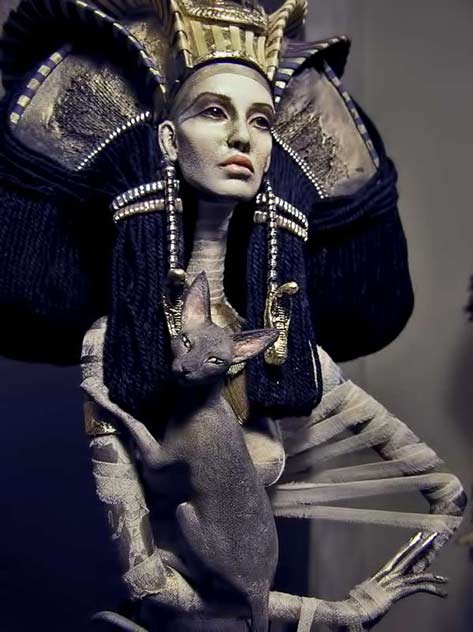 Hathor and Basnet – Popovy sisters
Kurt Weiser teapot
'Crane Rider' by Sun Koo Yuh
Mindy Solomon Gallery
Clemens Briels
jonislittledolls – etsy
'Catch of the Day' – Natasha Dikareva
SNAart Gallery
"Often when working I feel the need and seek out ways to counterbalance Western and Eastern civilisation. Visually the contrast can be quite harmonious or is intended to jar and create unease."
Akio Takamori – 'Female Bather with Mirror'
–
Akio Takamori
Akio Takamori
Alfajar, Malaga
Since 1994, Alfajar has been making stoneware and other clay ceramics at high temperature, with the most refined craftsmanship. The surface is most carefully treated with metallic oxides applied with a fine brush and glazed at a very high temperature.
Alfajar Botella tension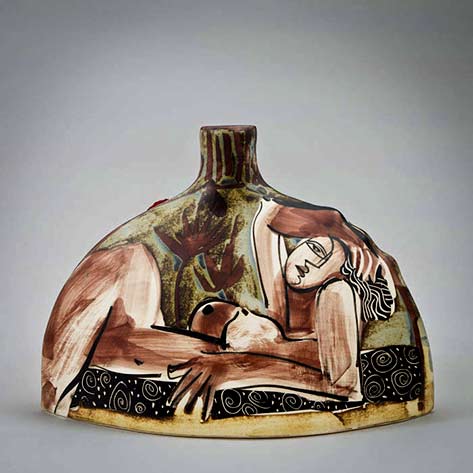 Alfajar
Marni Gable
–