Minton Persian blue vase designed by Christopher Dresser
1862
Out of the azure blue
During the latter half of the 1800's, French ceramicist Theodore Deck was so impressed by the colours, lustre's and glazes of the Iznik wares that he was motivated to reproduce them. He successfully achieved this after closely analysing some broken Iznik tiles obtained from the Middle East. The best known of his glazes was a turquoise/blue colour which became known as 'Deck Bleu' and it resembled the Azure blues which had consistent representation in architecture and art along the Silk Road trading network. The potter Eugène-Victor Collinot was also creating orientalist inspired wares at this time.
Similarly in England in 1875 , William De Morgan and designer Christopher Dresser also  experienced Persian phases where the Persian palettes of blue, turquoise, manganese purple, green, Indian red, and lemon all featured in there designs. In addition to this, during the latter half of the nineteenth century, the Persian decorations and azure blues also appeared from established ceramic companies like Longwy, Minton, Zsolnay, Sevres, Cantagalli and Louis Tiffnay glass designs. Just like the ubiquitous blue colour glazes and Oriental decorative styles had been developed and traded at  several pottery centres along the Silk Road from Jingdezhen to Rishtan and Iknik, they were also widely developed in Europe.
 An hexagonal, Islamic style lustre tapering vase, painted by Fred Passenger, with panels of stylised peacocks and flowering foliage, in blue and silver lustre, for William De Morgan
Eugène-Victor Collinot, orientalist porcelain bottle with stopper
France 1867
Persian style ceramic vessel with Alhambra style handles, calligraphic motifs – Cantagalli, Florence
Théodore Deck (1823-1891) earthenware with translucent azure blue glaze shaped 'ting' in the style of Chinese archaic bronze censer
Zsolnay porcelain vase with long tapered neck and intertwined, twisted handle, artichoke motifs, Persian style
Theodore Deck arabesque vase styled after an oil lamp
Planet Neptune Azure blue, Voyager photo
The azure blue colour was emulated in ceramics along the Silk route because the ancients in Egypt, Persia, China and other locations believed it was connected to Neptune and its associated qualities of compassion, good fortune and subtle mystical instincts. The Egyptians named Neptune Nu, which meant "primeval waters" and "ocean of aethers" and the oldest of the Egyptian Gods was also named Nu.
Galleon Vase De Morgan Collection
courtesy the De Morgan Foundation, Britain
Doulton Lambeth Hispano Moresque design twin handled vase
De Morgan – Persian motif symmetrical vase with artichoke leaves
Edmond Lachenal Iznik inspired charger with floral motifs and artichoke leaves
France 19th Century
!9th century vase with Iznik floral design on a Lapis Lazuli deep blue background —  William De Morgan for Cantagalli, Italy
De Morgan met Ulisse Cantagalli while on a voyage to the Arabian Peninsula while studying Iznik pottery.
Liveauctioneers
Arch Glass 54  —  Noel Hart
Guido Gambone – blue ceramic pitcher
1950's
Persian blue mosaic tiles
Morocco
Pyxis made with 'Egyptian blue'. Imported to Italy from northern Syria.
Produced 750-700 BC, Altes Museum
Egyptian blue was a pigment made up of a mixture of silica, lime, copper, and an alkali. Its colour was due to a calcium-copper tetrasilicate CaCuSi4O10 of the same composition as the naturally occurring mineral cuprorivaite. It was made in Egypt during the third millennium BC, and is the first synthetic pigment produced there, continuing in use until the end of the Greco-Roman period (332 BC–395 AD)
Timurid turquoise and blue tile with Kufic inscription, Persia
Theodore Deck Persian shape vase
Sothebys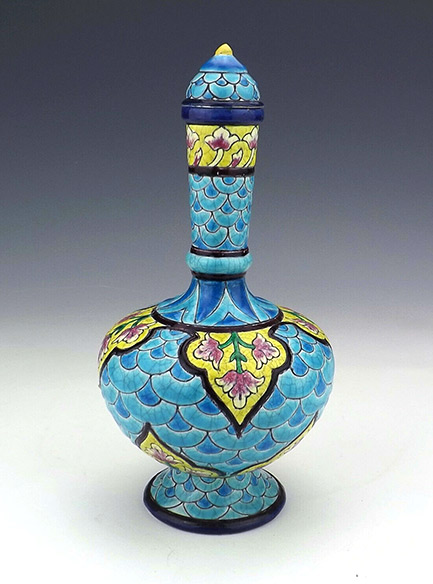 Antique Longwy French Pottery Islamic Inspired Enamelled Bottle Vase
Sıtkı Olçar– Selcuk turquoise Mythic Bird Plate, Turkey
Nomad Son
Alhambra Vase, by Théodore Deck, Paris, 1862.
Theodore Deck ceramic planter
Catalina Pottery female figural bookend
Three vessels all are glazed with the typical blue Emaux des Glaciers, for which this pottery was renown
Cyclope Pottery,  Annecy, France – Mid Century
Havana cruising in blue —  SVA NY
Tall vase featuring elliptical shape and-totemic plant like decoration, given movement by vertical hakeme style brushstrokes under transparent glaze–Mitsuo Shoji
2002
'Guarding the celestial nest' – Robbie Hood
2018
Azure-blue striped Mug — Tom
Cantagalli Persian blue winged lion, Italy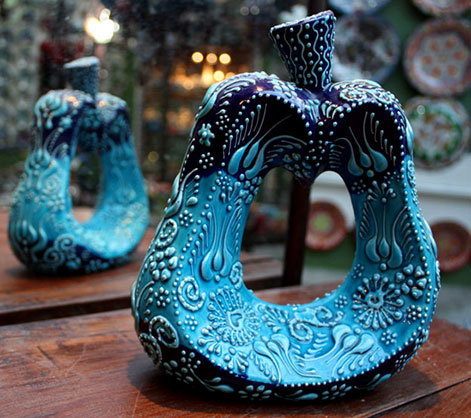 Silk road inspired Persian motif ceramic vase – San Polo, Venice
Venice had a key link to the Silk Road through its intercontinental links with Byzantine Constantinople. Venetian merchants obtained the trading privileges from the Byzantine emperors that gave them a distinct advantage over their rivals from other western European cities.
'Liquid' – Carrie Gustafson
'Convict Lake Sunrise' – Aravind Ravisankar
Cyclope Pottery Annecy Emaux des GlaciersVase with pinched sides from the Cyclope Pottery, Annecy, France.
Glazed in a thick turquoise, white and grey drip on a matt black ground.
'Dancing Octopus' by Gabriel Barathieu-(France)
Delicate Arch – Aravind Ravisankar
The complimentary colour for red ochre is an azure blue
Ming dynasty lidded vessel with azure designs in relief
Dube Fontana Arte – Reverse Painted Glass Plaque
Frank Kovalchek–statue of blue glass in a square on Murano, Venice
Fred Passenger designed vase for William De Morgan,V&A
Inverness to Istanbul – Robbie Shade
Twin spout stoneware vase – Michael Stein
Jijtka Palmer hand painted ceramic plate
Joana Vasconcelos' installation at the 55th Venice Biennale, 2013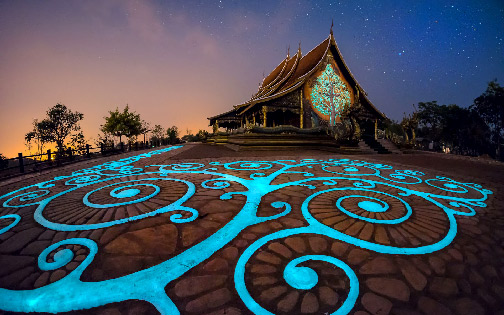 Sirindhorn Wararam Phu Prao Temple–Thailand
Sheila Fournier Torn —  Layered Ceramic Vessel
Rodeo Cove Small Sunset – photo by Joe Azure
Raku, cerámica, escultura,-Juan Canfield,
Cuernavaca México, 2014
Querubim Lapa tiled relief panel —Comptoir Su
Old Venetian Murano glass pitcher from the 1940's, magnificent aqua colored glass, decorated with Aventurina metallic copper flakes in the glass
Noel Hart—Arch Glas 33
Neptune coastal sculpture – Moana, Spain
Joana Vasconcelos' installation at the Venice Biennale, 2013
Kate Reynolds raku bust
Lady Holding a Wine Glass Bronze Statue—-NIFAO
Latchezar Boyadjiev — blue glass sculpture head
Linda Jarouski
Louis Tiffany,lustre vase
1897
Murano 'Mulan'-–Glass Sculpture, Venice
Sierra Starr raku vessels
Azure tiled dome
Turkestan's Khoja Ahmed Yassaui Mausoleum
Colora vase designed by Vicke Lindstrand for Kosta
Sweden. 1950's.
Basilica di San Marco, north facade
Venice
Vintage mid century modern Italian stem vase bowl by Raymor
Wendy Severson sculpture disc
'Wrapped' —  Rosemary McClain
Spectrum Gallery—-Height 12 inches
Chocolate and turquoise dinner set, Ukraine
DV porcelain patterned vase — David Voorhees Pottery
My oldest son in Havana in an azure Chevy Bel Aire. He was in Miami on route to Cuba when the azure meteor paid a visit. He was amused by the synchronicity with my recent azure fascination. (see below)
Polished Labradorite Quartz Crystal Gem
Madagascar
Samir Belhamra azure skies, Iceland
Bright azure blue sky NY, Dec 2018
Azure meteor March 30  2019, Florida
–