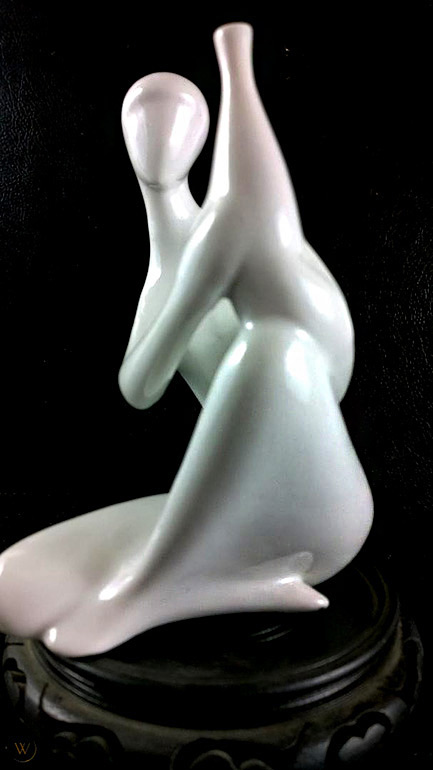 White porcelain Royal Dux water bearer
A collection of ceramic pieces, lively in diversity, colour and designs.
—-"indeed this substance, with its precious humility becomes, through its indestructibility, the most faithful bearer of man's message. As far back as one goes in time, the works of humanity, from prehistoric times, have reached us not through stone which crumbles and wears away, or through metal which oxidizes and becomes like powder, but through slabs of pottery, the writing on which is as clear today as it was under the stiletto of the scribe who traced it."  …..  Bernard Leach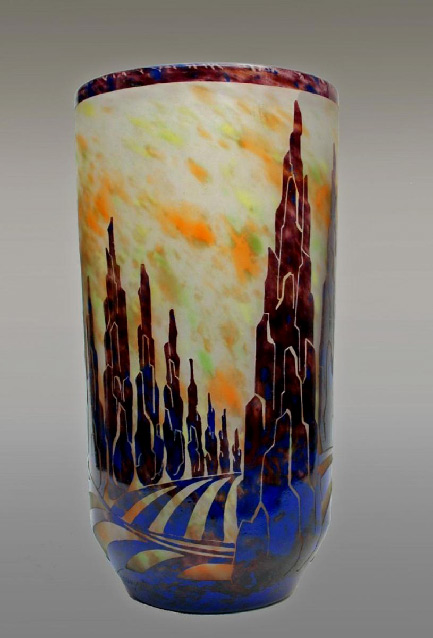 Charles Schneider—Le Verre Français Art Deco vase
circa 1927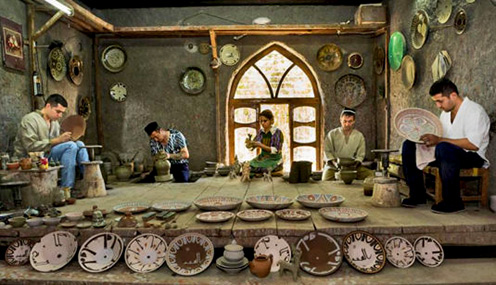 Alisher Nazirov, Alisher Rakhimov, Abdulla Narzullaev (Uzbekistan) ceramic artisans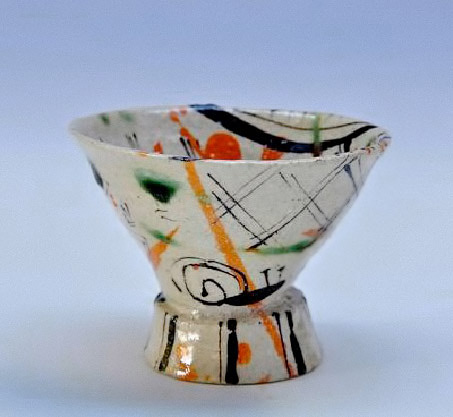 Katsunori Sawa — Trax Gallery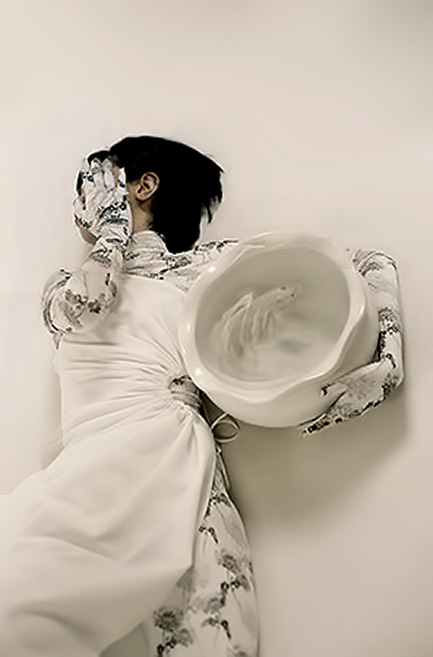 Korbito Yo
Guido  Gambone vintage vase
1955
Fratelli Fanciullacci 'Atomic Spiral' Italian vase
60s
Italian Ceramic tile–Gio Ponti–Richard Ginori
Vintage Italian pitcher – Meli Salvatore
Midcentruy ceramic landscape table
Otello Rosa—San Polo—Venezia
Paoli Pillin Paperweight – decorated with horses
Los Angeles, late 20th century
Stoneware vase — Peter Sparrey
copper red glaze with iron decoration
Peter Voulkos ceramic plate
1957
Rometti silhouette vases
Umbertide 1930
Spanish Sargadelos Sargillos coffee set
Whirling Dervish – Sille Art Work @etsy
Walter Crane swan vase
Michael Kay — harvest grapes vase
Rometti futurist vase – Dante Baldelli
Kumakura Junkischi
Lauren Gallaspy
Joseph Mougin – porcelain soap dish
Joan Miró sculpture — 'Personage'
1978
Akio Takamori
1986
Angelo Biancici—Madonna
Aztec Style Sun Image Pottery Wall Mask
Jan Edwards serving platter
Jean Cocteau-labre de science-Centrotevola terracotta
Face vase — Michelle Blade, SF
Marliz Frencken -–- 'A vase is a painting…'
Vally Wieselthier Ceramic Box
Footed and lidded vessel – Losol Ware stanley pattern
 Salvatore Meli mid century vintage jug
Mentori Tokkuri faceted Saki bottle
'Artic Rim' — Merilyn Wiseman NZ ceramics
Terracotta Dining Collection and Ceramic Vases by FAINA
Design by Victoria Yakusha – The most obvious visual reference to terracotta in the collection is the ZTISTA table, which in Ukrainian means 'made of dough'. Yakusha explains her particular inspiration as "the spontaneous and naïve designs of a dinner table shaped by hand with a technique, that our ancestors used to create a hut-hut." The base resembles a hand-made hunk of clay, complete with irregular perforations, though it is in fact made from steel, flax rubber, biopolymer, and cellulose.
'Green Lands' — Jessica Jordan Ceramics
Sculptural Vessel  – Jessica Jordan
Large Mermaid Bowl, Art Deco Sculptural Piece by Waylande Gregory
Midcentury large ceramic Italian Lobster
Vibrant Colors Red Blue 1960's
'Bursting with life floral display'  —  Mohamed Alba
Ceramic bowl — Nani Champy Schott
Stoneware dragon floor vase by Gunnar Nylund, 1950s
Barnebys
Eric-Astoul ceramic sculptural vase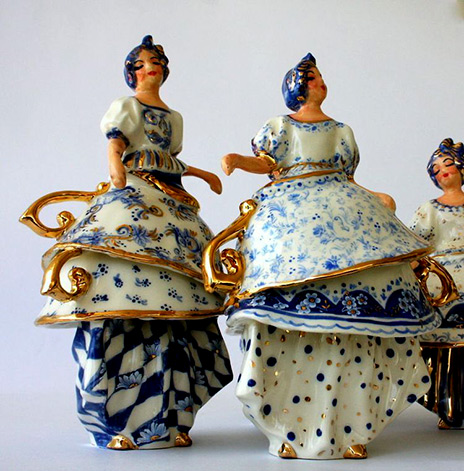 Fugi Naim doll figurines
Fuginaim etsy
Abstract face ceramic tiles panel — G. Şahin Kütahya
Turkey
Glazed earthenware table –Salvatore Meli, 1953
 Colourful, mythical dog base
John Chamberlain — Fenollosa's Column and The Arch of Lumps (right)
John Maltby
Neera Gatti quad footed jug
Raoul Dufy fauvist underwater decor vase
Italian Art Nouveau (liberty) vase – F. Pierrott
Caroline Cole slip cast moulded vase, exposed underglazes and matt glazes
Justin Telhet vase set
Klaus Fußmann jug vase
Ancient Greece vessel
Zoomorphic polychromed tripod Mayan vessel
Art Deco Clarice Cliff, 'Bizarre' vase
Contemporary Japanese Vase by Hiraga Taeko
Ceramic sculpture Horseman—Vladimir Mudrenko
Ukraine
Christie Soledad
Tang Dynasty terracotta horse, China
Mother Of The Universe Vase — Joey Le Meche
Vintage craquelure vase, France 50s
Satsuma Pottery Vase, Baluster Form, Bird & Flowering Branch,
12 inch height
Yoichi Ohira lidded ceramic vessel
Kaku Hayashi
 'Lunar' – Laminated porcelain small bowl by Dorothy Feibleman
Kaku Hayashi ceramic sculpture
Mari Simmulson ceramic vase for Upsala Ekeby
Meli Salvatore monumental vintage vessel
Poole charger
Rob's Poole Pottery Blog
Shozo Michikawa
Huge Merino sheep sculpture
Australia
Polia Pillin–Bulbous vase with women and bird
10ins height
Theo & Susan Harlander – Brooklin pottery vase
Hinrich Kroeger porcelain poodle
Alessandra Foletti exhibition –  Galerie La Bouee, Cherbourg, France
19th March to 11th July, 2021
Shoji Hamada
ψ