Incised stone decoration – Dongcheng District, Beijing
Feng Shui chi flow
Traditionally, a Feng Shui master analyses a space, be it your home, office or garden, using a tool known as a Ba-qua, which is an energy map that divides your home into 8 peripheral sectors around the central sector, which is represented by the Earth element. Hence the central space of any building is ruled by the Earth element, as all other elements are created from the Earth element, hence it has the ability to balance the peripheral elements of Fire, Water, Metal and Wood. This relationship was gleaned from the 5 Element Theory, first mentioned in the Chinese Yellow Emperor's Classic, which was written by the famous Chinese emperor, Huangdi, around 2500 BC. Usually the central courtyard was surrounded by rooms with doors that faced this middle location, so as to have an unimpeded access to the Earth element.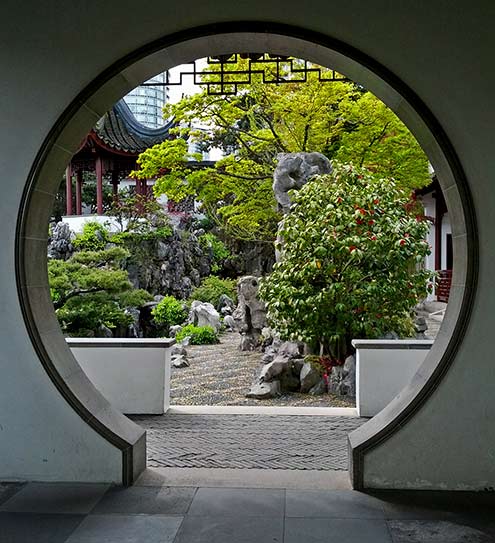 Moongate entrance to courtyard, Classical Garden, Vancouver
Photo–M.Cynog Evans
Traditional Chinese buildings were square and symmetrical with a large central courtyard space that was kept uncluttered and had stone features like stone benches and sculptures, plants and ceramic vessels, to support the central Earth Element. Animals and fruits that symbolize good fortune and prosperity, such as dragons, bats, pomegranates, peaches and the tortoise were featured in the building decoration. Quite often there was a sky well or open ceiling to encourage fresh chi flow. If it was a city dwelling, there was a greater chance of drawing fresh air and chi down the central shaft as opposed to air through windows near the street. The Chinese believed the bad Chi energy (Sha Chi) was rigid and tended to travel in straight lines so the doors were either round or curved, so as not to invite the Sha Chi inside. For this reason, curvy paths were encouraged in the garden leading up to the front door, with round doorways leading into the central courtyard. Preferably the rear of the building was on an elevated landscape, while water features were encouraged for the front. In the absence of any rear elevation, a wall of trees and landscaped rockeries were encouraged. Keeping the centre chi strong helped to nourish the weaker sectors, while having complementary elements together encouraged movement of chi.
Robj Chinaman bookends, produced by Villeroy and Boch.
Ideally an optimal location for enhanced Chi would be to have a river, lake or ocean at the front of your house with a mountain behind you. In the absence of a river, your street is regarded as a channel of chi flow firstly because it is usually an unimpeded pathway, with few objects to hinder the chi movement. Secondly, traversing vehicles, activity and wind also support the chi flow. Taller building in the rear can act as mountains. The easiest way to attract Chi into your house is having the front door facing the street and being visible, preferably connected with a winding path and having an entrance with lively, bright colours, plants and dynamic sculptures..
Water features, like fountains and waterfalls, by virtue of their inherent movement help to maintain a Chi dynamic, but can exhaust the Earth Element by virtue of the Husband/Wife relationship (5 element theory) if they are too large.This can be especially problematic in the central Earth courtyard. A high degree of intuitive judgement is needed to ascertain the right amount of water to introduce. If it doesn't feel grounded and calming then it's been overdone. It is better to concentrate water in the water sector or wood corner. ( see Ba Qua below for its location)
Tianmen Mountain National Park, Zhangjiajie, in northwestern Hunan Province, China.
Taoist priest bronze and enamel sculpture
Red lacquer mixed with neutrals + gold and green accents – ideal colours to nourish the Earth center. ( red feeds gold which is related to the Earth, green controls it from being too excessive)
Japanese courtyard rock garden with the round window encouraging chi flow and strengthening the Earth element.
Positive feng shui (round leaves) bonsai plant
Footed majolica peacock vase — Galileo Chini
Ideal for Earth sector
Pa village kiln, hand painted sitting female
Shanghai Museum
Buddha bust – Anita Feng
Wedgwood China Vase
Chinese Lapis Lazuli aesetic hermit sculpture
One of the eight Daoist Immortals Zhang Guo Lao is often depicted riding a magic donkey
Yamamoto Izuru vase
Ceramics that are fired over several days become more Yang and grounded as the Yang chi increases with extended firing time. This is why the anagama fired ceramics from Japan have a very grounded feel about them, due to them being fired for a long time and the kiln quite often being built into the earth of a  mountainside. The Yang chi from a wood fired kiln has the purest quality chi as opposed to gas or electric which is why the Japanese revere their anagama kilns. Anagama ceramics have the the highest quality of the Earth Chi.
Chinese 5 Element balanced decor – Wood (green) nourishes Fire (red) nourishes Earth (brown)
Abstract bronze sculpture 'Trevalgan', Barbara Hepworth
1956
Saji China tea cup and saucer with gold trim, Japan
'Baby Shellden' – Heather Johnson Beary bronze tortoise
For people of the Far East, Turtle's shell represents Heaven and it's underside the Earth, making the turtle the keeper of the gateway between all dimensions. A reminder of constant and steadfast progress, perseverance and patience, the turtle teaches us the consistency of Nature's rhythm and the irrelevant perception of time. Regarded as the ancient animal symbol for Mother Earth, turtles are considered healers and protectors. As a totem, turtles grant us long life, wisdom, and the good health that comes from an honest and focused mind.
Solid wooden chair with concentric circles. Rounded corners and edges as opposed to angular features promotes chi circulation.
Jun ware crackle glazed vase, in an elongated pear form
China, 20th Century
Red and gold ceramic dragon with dynamic pose
Tarlo & Graham, Australia
Carved amber vase China and wooden base
Female musician porcelain figurine, China. Music created chi movement.
Chinese Clay Double Happiness Teapot
Contemporary Chinese decor
Cobalt blue on Ge glaze Chinese vase — DGVAS flickr
Chinese Yuan Shikai Period Porcelain Vase 20th Century
 'Black Emperor Gong' – Large wind chime gong from Woodstock Chimes
Porcelain Chinese brushpot
Expanding the indoor garden with a pot plant mural combined with real pot plants
Energy Form stone sculpture
Etsy
Chinese bamboo carving leaf sculpture
Contemporary Asian decor. Images of mountains and the red colour enhancing the Earth element.
Typically animated blue and white dragon plate 17th century. The dragon always depicts dynamic chi and creativity.
Ken CTHong-達觀 Flickr
Falcon Ware Georgia Pitcher Jug
– bright colours and abstract style creating a vibrant presence, generally good for the kitchen.
Blue ceramic planter with violets. Blue and purple being good for the wealth corner.
'Meeting point III' – Feng-Feng Lo Chien
Museu de Ceràmica de l'Alcora
Sencha ewer or export teapot in the form of bamboo
– with painting of the three creeds  —  Fengan with tiger, Confucius, and Laozi
19th Century © Los Angeles County Museum of Art
Gold foo dog on blue vase with chrysanthemums. Good in the money corner for protecting wealth.
Flora Gouda Elite vase Yin And Yang Patternca
1955
Giuseppe Lamers abstract head sculpture
'Harmony', yin yang glass sculpture by Di Tocker, NZ.  Glass has a connection to the Metal element.
16 inch tall Shishi Foo statue Kutani Temple Dog
Silk flower display. In the absence of real flowers, silk flowers are a credible feng shui substitute, provided they are kept clean.
Henri Laurens curvy, dynamic pose sculpture
 Kegon Waterfall Series – 'Morning Mist' by Hayashi Kaku
Robert Yellin Yakimono Gallery
Kokhei Hahn
Jean Arp
Joan Carrillo metallic lustre vase
.
Francoise Nugier–ceramic vase. The lively dynamic of an abstract design with the asymmetrical lines looking for symmetrical order.
Black (water) is the the Element mother of purple (wood) so this combination is useful in the wealth corner.
Shuni mudra, the 'seal of patience'. Quanyin seated on white elephant.
Late Qing, ca. late 19th – early 20th century
Early 20th century Qing Dynasty turquoise porcelain floor vase with dragons
height 20.5 inchess
Kangxi vase
Musée Guimet, France
Ceramic vase Mihara Ken
Reclining garden Buddha stone sculpture
Peter Cockram footed porcelain cup
Jingdezhen porcelain bottle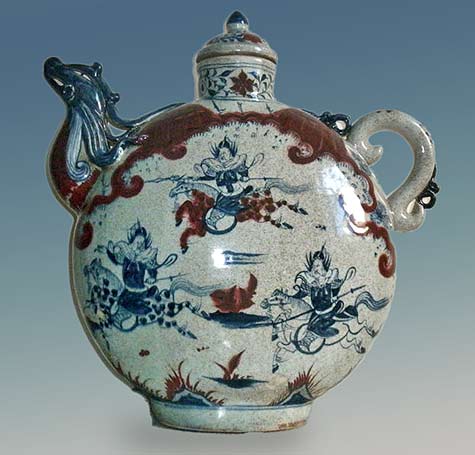 Yuan Dynasty blue and white underglaze red phoenix flat bottle
Using the Pa Qua
The 8 sided Pa Qua configuration is superimposed over the floor plan of the residence in consideration. The side defined by the numbers 294 (see below) is aligned up with the wall containing the front door or the main entrance. In some instances, if this entrance is too concealed and lacks a clear path to the door with obstacles to the street, then the chi will enter through a window, especially a large one if it faces the front street with a clear line of vision. Metal screen security doors will inhibit the flow of wood chi (desirable for creativity and wealth ) through the front door but plants at the entrance can support its movement. Avoid metal sculptures at the entrance.
The Chi movement is anti clockwise in the Northern Hemisphere while the direction is opposite (clockwise) in the Southern Hemisphere. From either of the polar tips (North or South Pole) the chi flows towards the equator as it  expands from a contracted point at the pole, outwards to the expanded equator. The Earth is always rotating towards the East manifesting a Chi Flow in that direction. In the Southern Hemisphere, when it meets the currents of Chi flowing from the South Pole towards the Equator. it veers upwards and into a clockwise motion. Conversely the Northern Hemisphere Chi goes Anti Clockwise. Cyclones in the Northern Hemisphere tend to follow an anti clockwise direction while are opposite in the South.
Northern Hemisphere Ba Kwa (Ba Qua)
Southern Hemisphere Ba Kwa
–