Egyptian-figure-vase New Kingdom, mid-Dynasty 18 1435–1380 B.C.
I am featuring Lindy Lawler first up in this article because her ceramic art has recently been inclined toward a mother/goddess orientation and the act of honoring the feminine principle that pervades most ancient cultures.
Lindy Lawler uses the matriarchal dynamic, ancient teachings, traditions and philosophies to explore various artistic interpretations of the mother in her clay sculptures and imbibes them with her subtle understanding of this principal. Using the language of art she honours feminine wisdom and rites of passage while maintaining a connection to the universality of mother lore and intuitive wisdom. The subtle bonds of sisterhood are reinforced in her art, which embraces the pure simplicity of the ancient forms and the power of their associated symbols. Indigenous knowledge and cultural diversity might bring differences but they rarely stray from this ubiquitous theme of the mother.
Cucuteni Inspired Mother Goddess figurine – Lindy Lawler
The deeper essence of this feminine instinct has remained intact, but requires continual reverence and celebration to nurture, reveal and protect it. Mother Earth, the Earth Mother, Pacha Mama (Mother 'Universe'), Gaia, Mother Nature, the Mother Goddess have a common foundation in all ancient cultures. Archetypical mother figures like Curandera the Mexican Goddess, Hina – The Polynesian Moon Goddess, Kuan Yin, Cucuteni Inspired Mother Goddess, Oshun and numerous others represented fertility, healing, abundance, folklore, spirituality, sustenance, insight and wisdom. Aa a focal point of devotion and respect, they were a formidable source of unity and reassurance.
The image of a mother with a child touches the core of this tradition and has been explored by many artists. For some, their own mothers were the source of their inspiration while others expanded it to embrace a more universal presence. Sometimes this relationship was complex, but for most their early years were blessed with a mutual mother/child worship and this is the prevailing impression of a sacred bond that permeates most of the sculptures following this theme.
The male is separate from the female in most traditional images as this reinforces the independence of the male and recognizes the inner sanctum of the female, a temple of yin divinity, solace and mystery.
'Quechua Pachamama Mother and Baby' statue –  Lindy Lawler
Tahitian mother and child statues – Lindy Lawler
'Zulu Mamma' – Lindy Lawler
Kuan Yin – Lindy Lawler
Market day – Lindy Lawler
Virgen de Guadalupe Goddess – Lindy Lawler
Henry Moore
Bronze mother child abstract sculpture – DZ Sculptures
'Emotion' sculpture by artist Rosamond Lloyd
Mazzotti Italian plate painted by Corrado Cagli
1930's
Michele Ludwiczak, France
Alan Wilson sculpture – Cheshire Oaks Designer Outlet, Ellesmere Port, England
A painting of the statue of Our Lady of Candelaria, venerated on the island of Tenerife as patroness of the Canary Islands.
Artist –  Cristóbal Hernández de Quintana.
Woodruff Nash mother holding child bust
 'Mother and Child' (VersionTwo)' –  Beatrice Hoffman
Artist Giulia Madonia – 'Madonna with the child' – Original sculpture in painted clay.
Made in 2010
Jean Louis Toutaine park sculpture, Toulouse, France
Roger Capron, France
Photography by Lillian Bassman
Giorgio Andreoli 1530 Dish – Madonna Child
MET
Abstract Mother with child sculpture – artist?
Carburry Antiques
Barbara Hepworth's 'Mother and Child' (1934), made of pink ancaster stone
'Mother and Child' -by Maurice Lambert  – Basildon, Essex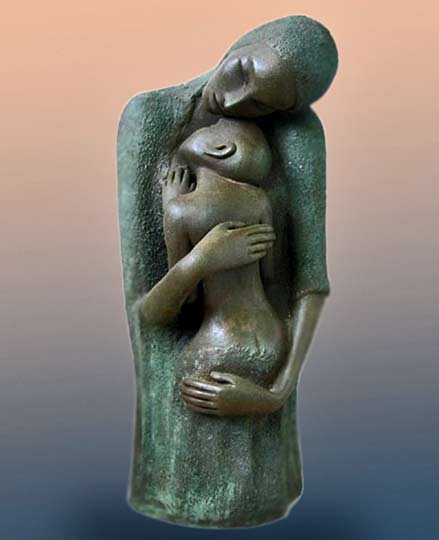 Cris Pereby is a Belgian sculptor inspired by the ancient Egyptian sculpture and Camille Claudel.
Gustav Klimt, 1905
Bronze Mother Child sculpture by Ben Roth
Woodcarved Congo maternity figure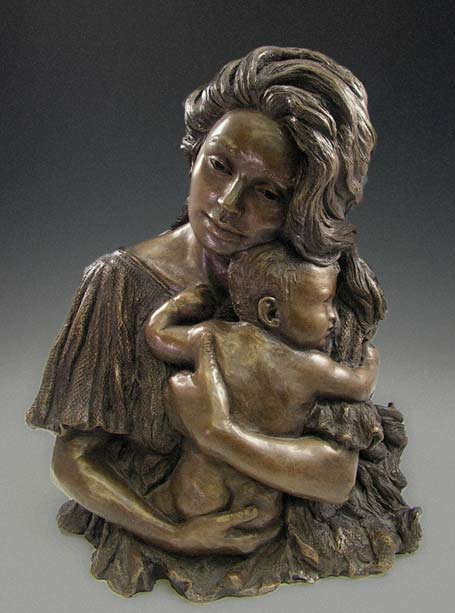 Bonnie Freireich
Edourde Cazaux vase
Mother /child figure – Mexico, Mesoamerica. Culture: Tlatilco
12th–9th century B.C.
Dame Barbara Hepworth, Mother and Child, 1934
Cumberland alabaster on marble base
Donatello—(Donato di Niccolò di Betto Bardi) — Italian–15th century
Female figure nursing an infant, Central Highlands, Mexico, c. 350-550
Terracotta figurines of women with their everyday attire and adornments, 2nd century BC,
Pella archaeological museum (Macedonia, Greece)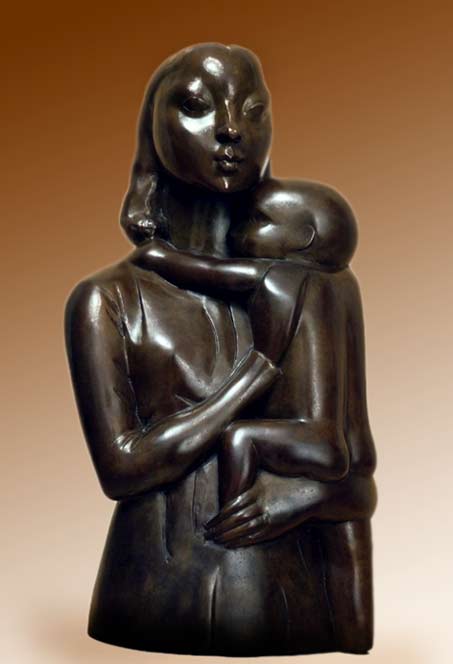 Hana Orlova sculpture
1925
Maiolica di Castelli, 'Lavoro dei Progenitori'
1700-50 ca
Museo della Casa Fiorentina Antica—Palazzo Davanzati
Mother and Child sculpture _ Henry Moore
1983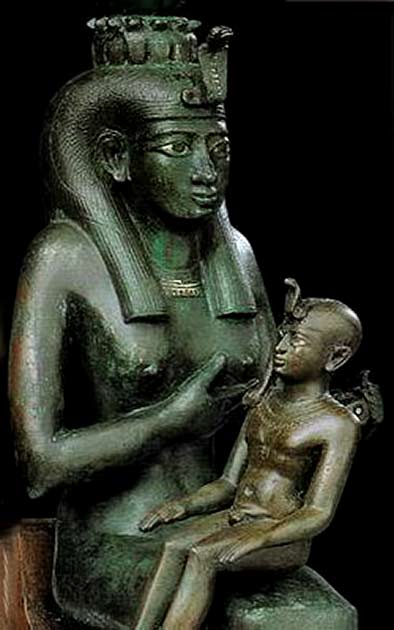 Egyptian Isis nursing Horus sculpture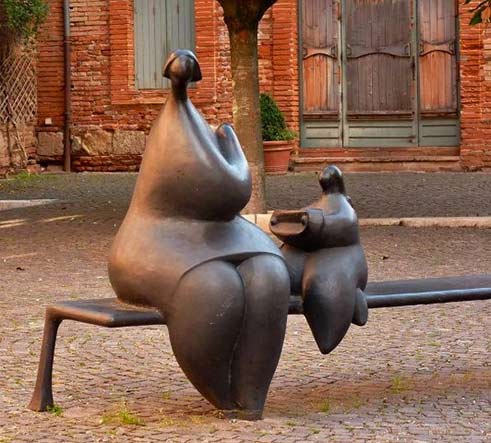 Jean Louis Toutain sculpture, Blagnac, Toulouse
Jean Louis Toutain sculpture, Blagnac, Toulouse
Mid Century mother/child ceramic sculpture bust
Jean Louis Toutain, Artigues près Bordeaux, France
Panoramio © All Rights Reserved by YMV
Jean Pierre Augier — France
Mother & Child Sculpture on the Bullfinch Lawn, Massachusetts General Hospital
Josep Sanchez Carrasco
Lorenzo Ghiberti
Mother And Child  street sculpture
Olomouc, Czech Republic
"La Familia" by Martha Pettigrew
Statue of Virgin Mary by Jean-Baptiste Pigalle
 Church of St Eustache, Paris
Turquoise ceramic figure   Mother and Child 12th–13th-century, Iran
Simon Dror – Mother playing with child
Sam Shendi abstract Mother Child sculpture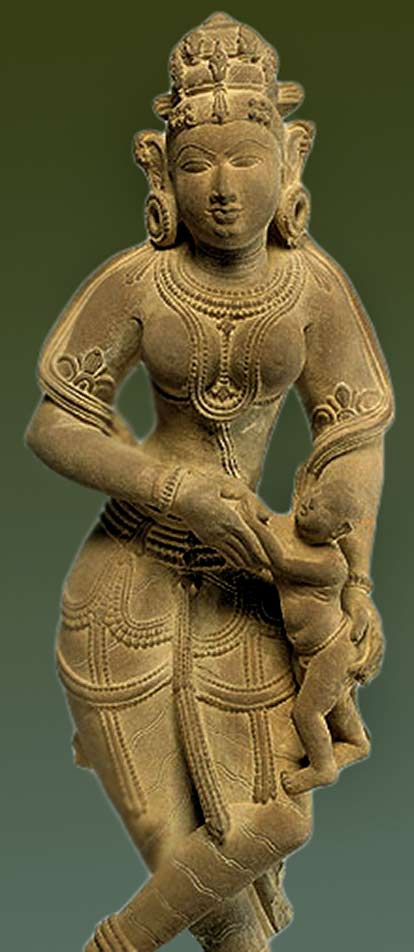 Carved sandstone statue, North India
Han Meilin sculpture
Madonna and Child on wood
Art Deco wall relief Mother and child –  Ruth and Raymond G. Perelman
Building of the Philadelphia Museum of Art
'The child is there', Le Corbusier
1961
Luca della Robbia sculpture of Madonna and Jesus
Photo-  Tomasso Brothers Fine Art
The Annunciation and the Nativity – ovoid earthenware vase – Edouard Cazaux
1960 – Camard Auctioneers
Vanessa Pooley
Hexagonal plaque – The Guild of Glass Engravers, 2012
Wall decoration by Oswald Tieberghien. Mother with child
Walter Kirtland Hancock
1938
Witte Museum, San Antonio,Texas
Nigerian sculptor Nnamdi Okonkwo
William Ellisworth Artis
'Exercising Baby' — Shona sculpture – Simoriro Chikuruwo
Alexsander Danel madonna child sculpture for for Austin Productions
–