Utopian bodies- fashion looks forward
Imaginable futures for the adorned body
≈≈≈≈≈
Forward utopian projections usually lean towards the futuristic, combining surreal and adventurous design elements, sometimes outlandish and impractical, other times visionary and prophetic. The recent Stockholm utopian fashion exhibition was no exception, with many aspects of modern design integrated into the couture that were inventive and served to elevate it into the future.
Liljevalchs´Museum exhibition "Utopian Bodies: Fashion Looks Forward" focused on imaginable futures for the adorned body and useful developments in fashion in a challenging world. Harnessing a combination of high tech innovation and sensitivity to environmental issues, creativity in fashion was taken beyond a purely aesthetic appeal. Curated by Sofia Hedman, Serge Martynov and Mårten Castenfors, vivid, abstract set designs were used to compliment the boldness and originality of the styles.
Utopian ideals were explored with a merging of creativity and technology over eleven themed galleries including Technology, Sustainability, Craft & form, Change, Craft & colour, Resistance & society, Resistance & beauty, Solidarity, Memory, Gender identity and Love.
For example Smart Textiles created the first completely recyclable cotton fabric, which can minimize the environmental impact on cotton growing. The BBsuit 0.2 created by ByBorre and Eva de Laat, cleans polluted air through a portable filtering system, while Pauline Van Dongen's solar panel shirt stores natural energy. Valerie Lamontagnes' clothes change their properties according to the weather, pointing towards a future with less over specified garments, which would consume fewer natural resources.
The technology section featured garments, made with laser cutting, that had sensors embedded into the fabric, to convert pressure, temperature, speed and movement into signals that mimicked some of the performances of the wearer's skin.
Elena Slivnyak for Iimuahii
Other inventive designs were Billie Whitehouse's and Ben Moir's Navigate Jacket that come with vibrating mechanisms embedded in the shoulders, allowing wearer's to find their way without looking at a map. Cutecircuit's shirts allowed you to send hugs to other wearers of their garments and Ying Gao made clothes that interact with an onlookers gaze or voice. From a recycling perspective, Miguel Mesa Posadas's clothes were made from recycled car tires, while Qmilks created clothes out of biologically degradable milk fibres.
Recent fashion contributions from Viktor & Rolf's, Issy Miyake , Dior, and Mcqueen were highlighted. Also on display were Hussein Chalayan's ground-breaking table skirt and moulded plastic dress and Walter Van Beirendonck's Stop Racism headdress from Crossed Crocodiles.
While functionality wasn't exactly the primary focus, this avant garde fashion, like any art or design form, faithfully reproduced and reflected the needs and obsessions of a society, during the times in which they appear.
'Mini Miki' (centre red outfit) by Bea Szenfeld, Resistance and Beauty gallery
Utopian bodies- fashion looks forward
Utopian bodies- fashion looks forward
Liljevalchs, Stockholm
2015 – Feb 2016
Charlie le Mindu headpiece 'Kiss Me'
 2011  photo by Vernie Yeung
Utopian Bodies, installation view of Sustainability gallery, with dresses by Issey Miyake, Dai Fujiwara, H&M, Hussein Chalaya and Miguel Mesa Posada
Liljevalchs, Stockholm
H&M "Love" dress, in the exhibition gallery of the same name.
Photo by Mattias Lindbäck
Manish Arora – Utopian Bodies costume
Utopian Bodies, Viktor & Rolf "Hana Bedtime Story"
Photo by Mattias Lindbäck
Viktor & Rolf – 'Hana Bedtime Stories'
foto -Peter Stigter
Utopian Bodies – Craft Colour Gallery
Photo by Mattias Lindbäck
Utopian bodies- fashion looks forward
Liljevalchs, Stockholm
The BBsuit 0.2 created by ByBorre and Eva de Laat, cleans polluted air through a portable filtering system
Utopian Bodies, Resistance & Society gallery
Utopian Bodies, installation shot of Resistance & Beauty gallery
Photo by Mattias Lindbäck.
Utopian bodies- fashion looks forward
Liljevalchs, Stockholm
Walter Van Beirendonck, Headwear, "Weird" Collection (Autumn/Winter 2005)
Courtesy of Mode Museum Antwerp
Foto: Roland Stoops
Utopian Bodies, installation view of Solidarity gallery. A room entirely in white, with custom-made wigs by Perry Patrasczewski, clothes by Minna Palmqvist, Gudrun Sjoden, Ida Sajasedt and Sandra Backlund.
More utopianesque designs
Model – Edie Campbell, Photographer  – Tim Walker
2014
Israeli fashion designer Noa Raviv has integrated 3D-printed elements into ruffled garments influenced by distorted digital drawings. Grid-like patterns are warped and stretched across parts of the garments to create optical illusions across the body. "I've translated those lines into textiles that creates this sort of optical illusion."
Luana Teifke, photo Fabio Bartelt
Vogue Brazil
'Eos' is a creation of stitched and plaited sterling silver wire, copper wire, beads and silk by Claire Prebble
'Amor'– Molly Bair in Alexander Mcqueen – Fashion Week 2015 by Nick Knight for V Magazine
Inspired by Anselm Kiefer's blackened sunflower heads, the project explores the parallels between creativity and love.
MGPIN Make-up Styling spring / summer 2012 Photo Lintao Zhang Getty image
Nick Knight photography for Vogue
Dutch designer Iris van Herpen merges 3-D printer technology with high-end fashion skeletal form
Brutalist cage couture –  Gareth Pugh Black Leather Cage Jacket
Photo by Hyuna Shin
Kitty Kouture by Ophelia-Overdose
miss-overdose.com
Korean designer Lie Sang Bong
'Medusa' – photo by Wilfred Dy
Hauteur Space –  Nick Knight
Nick Knight looked to the timeless language of elegance expounded in the works of Erté, Aubrey Beardsley, Lillian Bassman and Irina Ionesco, amongst others, to explore the future-fantastic visions of Spring/Summer 2012 for W magazine.
'Into Bloom' by Hyuna Shin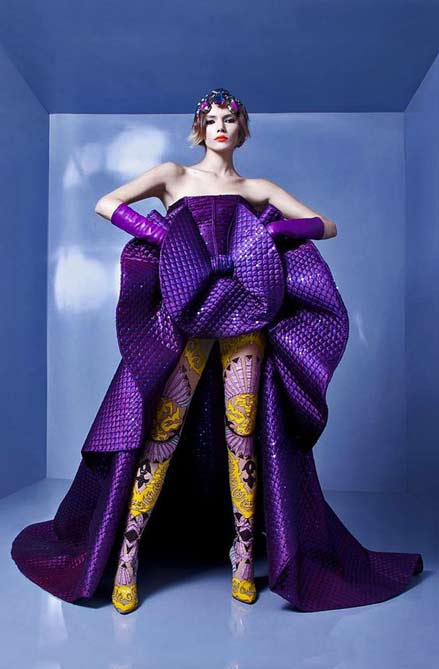 Nicolas Jebran couture 2012-2013
Triple vortex  – Pierre Cardin
Art Deco geometric design by shotopop  (created in photoshop)
Polish designer Bea Szenfeld  'Haute Papier' collection of handmade organic and futuristic paper garments.
photographer Joel Rhodin
Kate Forbes Warrior collection
photographer – Troyt Coburn
'Rain' costume – Alexandra Kokinova
Manual Diaz futuristic Egyptian Art Deco clear plastic design
Pagoda samauri inspired costume – Rinaldy A. Yunardi
Jakarta Fashion Week 2016
Shao Yen Chen designed sculptural fluffy white dress with dramatic silhouette
Alla Nazimova in Salomé 1923 directed by Charles Bryant
Inspired by naked burlap cockatoo knights – Rinaldy A. Yunardi
Christine Kreiselmaier photography for Steinrohner design
'Suprematism II' by Olga Zavershinskaya
University of Westminster graduate Valeska Jasso Collado was inspired by the color, finish and form of Memphis furniture to create this avant-garde collection of wearable structure
'The missing moon of Sedna'  photo by Pinch Martin Tremblay
via Behance
Designer Marjolein Dallinga
WOW – world of wearable art. NZ
'The Nativity of Pearl' – photography Wilfred Dy
Russian fashion designer Valentin Yudashkin
Venetian crow costume
Venetian turquoise ocean theme kitsch, 2016
Venice illuminated light costume, Venice 2016
Gondola inspired masquerade costume, Venice
"The Zoo Of Venice" by Tanja Schulz-Hess, Venice carnival 2012
Viktor & Rolf red cube gown inspired by Noguchi
Splash Calendar 2011 by Tejal Patni
Water splash crystallization dress – Iris Van Herpen
Tejal Patni and Kirstan Hermans photography and digital art
Cactus inspired dress – Designer Xinyuan Xu
Givenchy
Designer David Ferreira – 2015
Pine'Tree Girl' by Toon Van Stralen (design by Pim van den Akker)
Gareth Pugh, Paris
2012
Christian Dior Haute Couture
photo Patrick Demarchelier
Hussein Chalayan avant garde fashion
Lai Kit Ling, Hong Kong Design Institute.
Line & form – Korean Seoul's Christian Dior Couture Store
 Designer Vingi Wong  –  Central Saint Martins
Katerina – Intro magazine
photo by Sofia Zasheva
–