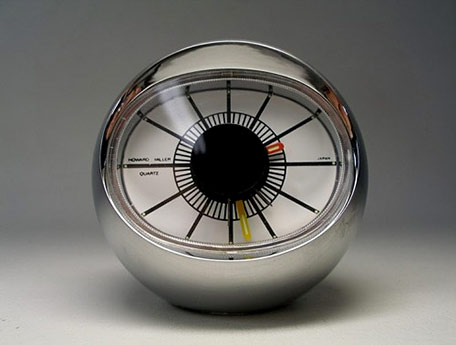 Vintage 70's Space Age Howard Miller eye clock
Design convergence in the Mid Century
Mid Century design from the post WW2 era possessed a bold and audacious aesthetic that grew from the fusion of many intrepid design concepts. It represented the critical mass of the merging of numerous design influences including biomorphic curves, orbiting atoms, fractured cubist forms, brutalist abstractions, lava glazes and streamlined minimalist forms.
The desire to bring futuristic styles into the mainstream, reflecting the thrust of the space age and the atomic age inventions, came into fruition. These provided iconic imagery that was very adaptable to the minimal streamlined industrial designs that had emerged in architecture and furniture from gifted designers like Le Corbusier, Ray Eames, Gio Ponti,  Isamu Noguchi and Walter Gropius. The public were eager to embrace modern design concepts, possibly to distance themselves from the recent WW global conflicts and their escapist desires were adequately provided by decor objects that exuded fantasy, glamour, modernism, humour and the future.
Designs embracing a fun-factor, kitchiness and sense of the future were ubiquitous and covered a vast array of decorative objects that included figurines, lamps, planters, clocks and vases.  Polynesian, Aztec, Tiki and African themes were popular, along with other kitsch diversions all combining with modernist, abstract features.
The inventive styles ranging from the quirky to the sophisticated, have proved to have a timeless appeal and can still be harmonious with contemporary modern decor designs. Due to their excellent craftsmanship that embraced new materials,, tasteful simplicity and adventurous innovation, they are still being admired and collected over half a century later. Their brilliant originality has endured the journey and contributed to their ongoing collectability and appeal.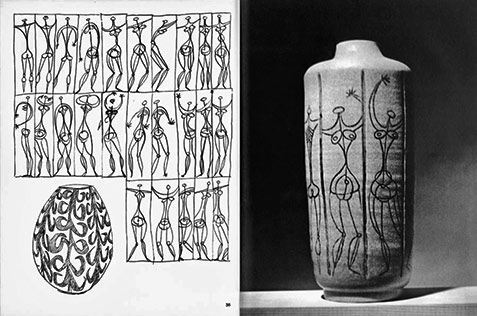 Aaron Bohrod figure sketches and ceramic vase
Ü Übelacker Keramik West German Pottery
Etienne Pirot sculpture figures – turquoise and gold – @Tutt'Art
Peter and Denise Orlando, Ceramic Dish on Base
Peter and Denise Orlando vase
Bay ceramic pitcher — 'Istanbul' designed by Bodo Mans
Germany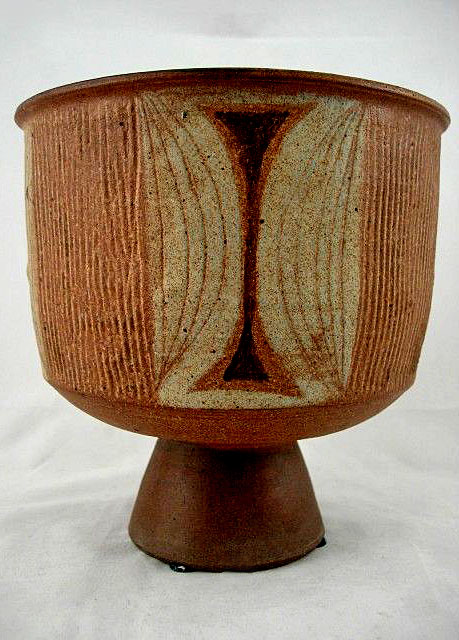 Daniel Rhodes, USA
Sascha Brastoff Gilded Wire Abstract Peacock Sculpture
Early California Antiques
Vase by Karl Heinz Schultz Koln – Arabia of Finland
1963
Vallauris pitcher
Atomic coffee table – Ronald Schmitt, Knutt, Hesterberg
Germany, 1964-65
Riccardo Dolker  Peacock Pitcher
Vase öpfermeister series by Bodo Mans
13 inches height
Mid Century Modern — Cloaked sculpture figure – Claude Horan
Hawaii
Stig Lindberg mustard glazed ceramic vintage vase for Gustavsberg
Ted Faiers — 'Space Machine' wall hanging,
1955
Valentine-Schlegel Mid Century vase
Vintage California Style Ceramic Pottery Boomarang Ash Tray
Washington Jesdesma
Penny Dhaemers Mid-Century pottery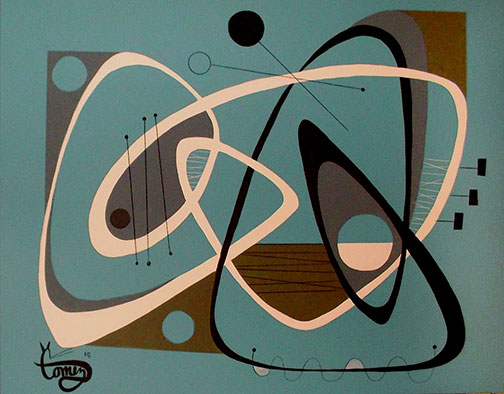 El Gato Gomez
1950
Ceramic lamp by Marcello Fantoni
Accolay Ceramique Lampe
1960
 Huber avocado lounge chairs
1968
Silberdistel vase
Fat Lava Wadersloh-flickr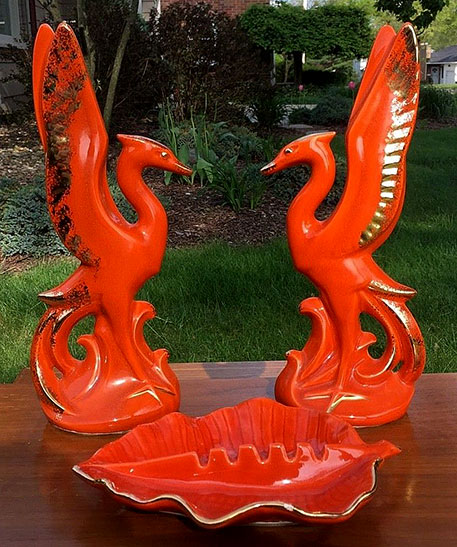 Vintage California Pottery USA 3 pc Console Set Ashtray Bird Figurines in Orange and Gold
 Warrior King in sand cast aluminum enlivened with bold-texture and form – Evelyn and  Jerome Ackerman
Reglor of California chalkware hula girl lamp with coolie lamp shade
1950's
Hedi Schoop wall plaque masked dancers
Guido Gambone Large Ceramic Vase
1951  —    height 15 inches
Pamono
Zaha Hadid tea and coffee set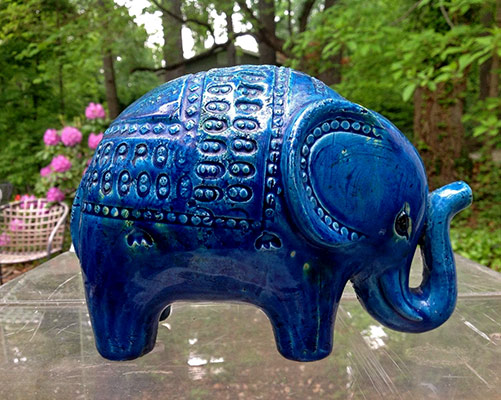 Large Aldo Londi-Bitossi-Raymor Figural Elephant, 1960's
moderneform—ebay
George Barsony African Figurines
Australia
Alvar Aalto—Beehive lamp
1953-54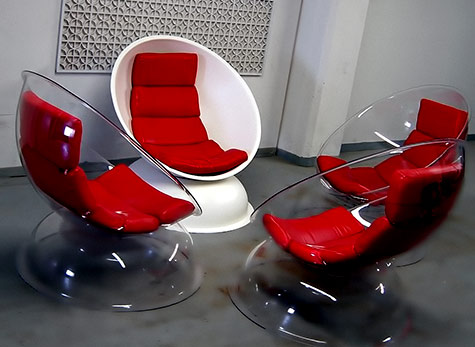 Pod style Space Age Furniture in red and white
 'Spatial construction in the 3rd and 4th dimensions' – Antoine Pevsner, 1961
National Museum of Modern Ar t— Georges Pompidou Center, Paris
Atomic Orb – lidded and footed ceramic ovoid vessel –Sascha Brastoff
Art Smith's-"Modern Cuff" bracelet  circa-1948
Mid Century lamp
Rafael Martinez
Mid-Century California Contempora Boomerang Jawbone-Serving Dish by Metlox Poppytrail
Dancers sculpture by Kostas Dikefalos
Continental Art Company Mid Century showgirl Lamp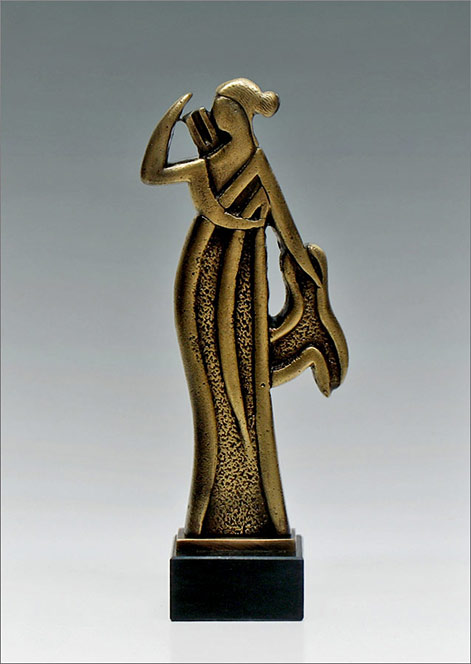 Modern Artemis bronze sculpture by Yiannis Nanouris
Vintage tango couple Mid Century modern lighting
Designs West Stoneware Art Pottery Flared Vase Mid Century Vintage California
Dora De Larios California Studio vintage Pottery
Erhard Goschala Meuselwitz Art Pottery Vase Midcentury Modern East German
French Modernist Ceramic Handled Vase by Marius Bessone
Vallauris, France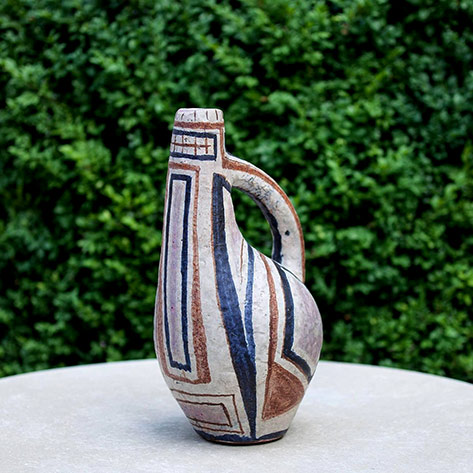 German Art Pottery Ceramic Pitcher by Roman Elsold, 1958
Modern Design Connection
Guido Gambone – Glazed ceramic vase
Los Angeles Modern Auctions (LAMA)
Modernist Polished Brass Sculpture by Alain Chervet
Ior  Maria Martins (1894-1973), 'The Impossible III'
 Rio de Janeiro  Museum of Modern Art
Tile Mural by artist Jay Rivkin , California
Helmut Schaffenacker Ulm vintage portal vase
W.Germany
Jetson Coco Tropical Hawaiian Fabric
James Bearden – black brutalist sculpture – 'Rex'
Weinberg Modern
Joel Edwards Abstract Modern Stoneware Lamp
Pair minimalist tall white ceramic vases – Jonathan Adler
Large 1950s Modernist Japanese Porcelain Vase
Kitschy Polynesian – Belly Dancer Chalkware Lamp by TikiTiger
1950's
Vintage Barsony kneeling Javanese lady figurine
Large Lava and Blue Glaze Italian Mid Century vase
Laurel Mid-Century 50's Atomic Sputnik vintage lamp
Marc Bellaire mid century modern  Balinese dancer plate
10 inch Dia. – California
Mid-Century Modern Naked Torso ceramic lamp
Mid-Century carved ceramic flared lip vase
California Original Mid-Century Orange Boomerang Atomic Ashtray
14inches
Mid-Century drip lava glaze pottery table lamp & fiberglass shade
Mid-Century Atomic Sputnik Pendant Lamp-Chandelier by Sartatti
Mid-Century teak Danish sideboard cabinet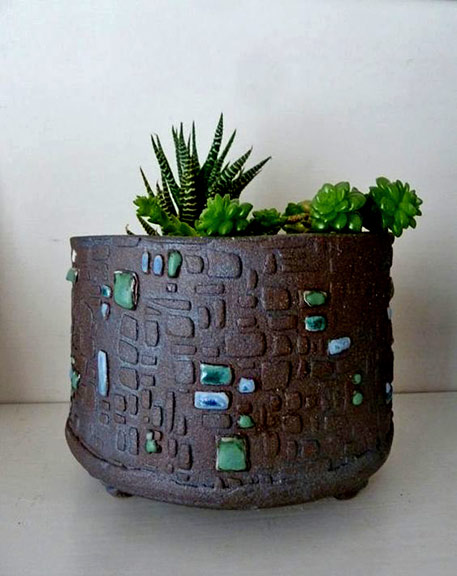 Mid-Century Oval Planter with succulents
DesignPaws on Etsy,
Mid-Century Modern Raymor Italy Ceramic ashtray
Mid Century lamp by Jetsetretro design
Large modernist Perignem vase, decorated by Hans Heinz Goll
Belgium
Otto West German Modernist Lava glaze Space Age UFO Vase
Height 17cm, 60's
Peter Voulkos ceramic vase, California
Pair of Midcentury space-age lamps with orange glaze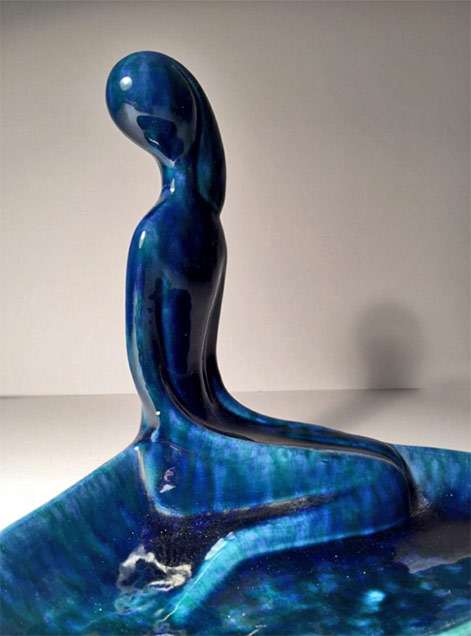 Blue Hoenig of California ceramic sculpture
Bay Modernistic Mid-Century red vase
West Germany
Ron Hitchins abstract ceramic wall panel
Robert and Jean Cloutier; abstract Figure
1950's
Tiki mask ceramic lighter – Sascha Brastoff
Sascha Brastoff vintage ashtray
Sascha Brastoff—- Ceremonial Aztec Priest platter
Modernist Scandinavian tile panel with a warrior figure_
20th century retro
Vintage 1950's Rose Dodd incised pottery tray
Vintage California art pottery large Cocker Spaniel by Kay Finch
Vintage 60's Hedi Schoop Console Centerpiece
Guido Gambone
Height 10 inches  — Cube Art and Vintage, Bern
French fat lava pourer
–