'Propellors' — Fernand Léger, 1918
Fernand Léger's paintings of this period combined Cubism's simplified, abstract forms with an interest in industrial machinery. The dynamic rhythm of this composition's planes, cylinders and tubes alludes to mechanical motion. Embodying both solidity and the promise of speed, the propeller emerged as an emblem of modern technology for Léger and his contemporaries. At a visit to an aviation fair in 1912, Marcel Duchamp (whose Bicycle wheel is also on view in this gallery) was said to have been so struck by the beauty of a propeller that he remarked to his fellow artists Léger and Constantin Brancusi, 'Painting has come to an end. Who can do anything better than this propeller?'
MoMA at NGV: 130 Years of Modern and Contemporary Art,
June 9 – October 7, 2018 at NGV International, Melbourne
The National Gallery of Victoria (NGV) in partnership with The Museum of Modern Art in New York (MoMA) is presenting MoMA at NGV: 130 Years of Modern and Contemporary Art, to continue its focus on promoting knowledge about the evolution of art in our time, from the age of Modernism until today. MoMA, NY opened in Manhattan in 1929 and its collection of over 200,000 works of art by some 10,000 + artists, makes it one of the leading museums of modern art in the world and this exhibition offers a unique overview of this iconic collection.
The first few decades around the beginning of the twentieth century was filled with new, innovative and radical art movements that heralded the birth of Modernism, leading to a diverse range of architectural and decorative styles, as well as applied and graphic arts, created between 1880 and 1950. This exhibition explores the emergence and development of this 'new art' and is represented with works by Vincent van Gogh, Paul Gauguin, Henri Matisse, Paul Cézanne and pioneering cubist, constructivism, futurist and orphism artists such as Pablo Picasso, Aleksandr Rodchenko,  Umberto Boccioni and Sonia Deleunay.
Also on display are abstracted forms from artists such as Lyubov' Popova, Jean Arp and Piet Mondrian, alongside the surreal visual language of paintings by artists like Salvador Dalí , Yves Tanguy and other prominent Abstract Expressionist artists like Jackson Pollock. Developments in art beginning in the 1960s, from Pop through to Minimalism, are explored with the works of Roy Lichtenstein, Andy Warhol and Isamu Noguchi and other contemporary art which followed.. In total, over 200 key pieces, including works that span Photography, Film, Architecture and Design, Painting and Sculpture, Drawings and Prints, and Media and Performance tracing the development of art and design from the urban and industrial transformation of the late nineteenth century extending to the digital and global present. Even Tomohiro Nishikado's pioneering computer game Space Invaders (1978) and the original set of 176 emoji developed by Shigetaka Kurita in 1999 are represented.
Yves Tanguy – 'Mom, papa is wounded'
Aleksandr Rodchenko,- 'Non Objective Painting'
1919
AEG Poster — Peter Behrens
1907
Alexander Calder —  'Snow Flurry'
1948
André Derain – 'Fishing Boats, Collioure'
Cubist painting – 'Architects Table' – Picasso
'The Newborn'  —  Constantin Brancusi
1920
André Derain — 'Bathers', 1907
In this monumental painting, André Derain represents a trio of bathing women, a classical Arcadian subject, using formal means that were radically modern at the time.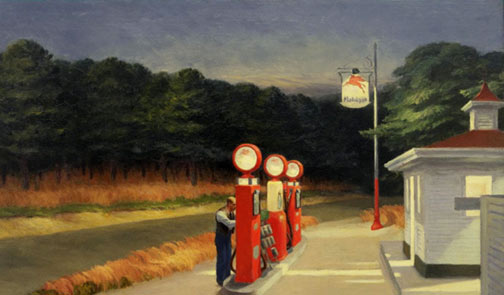 'Gas' – Edward Hopper  (American)
1940
 Le Corbusier 'Villa Savoye' — Pierre Jeanneret (collaborating architect)  Theodore Conrad (model maker), 1932
In 1923 Le Corbusier declared houses to be 'machines for living in', a point of view reflected in his conception of the Villa Savoye. Along with his cousin Pierre Jeanneret, Le Corbusier planned the entire composition of the villa as a sequence of spatial effects
Edward Weston, 'Stump against Sky'
1936
El Anatsui, 'Bleeding Takari II'
2007
Ernst Ludwig Kirchner – 'Street Dresden'  1913
Kirchner has violently heightened the colours of this urban scene, depicting its figures with mask-like faces and vacant eyes in an attempt to capture his perceived psychological alienation wrought by modernisation.
Frederick Kiesler — 'Model for an endless house'
Giorgio de Chirico  —   'Gare Montparnasse (The Melancholy of Departure)'
Paris, early 1914
George Grosz -'Explosion' —  World War I in Berlin
Jackson Pollock  — 'Number 7′
1950
Jean Arp —  'Bell and Navels'
1931
La goulue entering the Moulin Rouge accompanied by two women  —  Henri de Toulouse Lautrec – 1891–92
Henri de Toulouse-Lautrec portrayed unconventional individuals in a manner both frank and sympathetic. Here, Louise Weber, nicknamed La Goulue (The Glutton), is depicted at the Moulin Rouge, a Montmartre cabaret frequented by Paris's bohemian subculture.
American sculptor John Chamberlain.- 'Tomahawk Nolan'
1965
Uruguayan Joaquín Torres García,– 'Color Structure'
1930
Joan Miró — 'Portrait of Mistress Mills in 1750′
1929
Olivier Mourgue –  'Djinn Chaise Lounge '
–tubular steel frame, foam padding and nylon jersey upholstery
1964-65
Gerrit Rietveld.-  'Red Blue Chair'
René Magritte – 'The Portrait'
1935
 National Gallery Of Victoria
László Moholy Nagy — 'Nickel Construction'
'La Japonaise – Woman beside the Water'  Henri Matisse,  1905
Fauvist painting with the Japanese woman of the title barely indistinguishable from the surrounding landscape.
Louise Bourgeois.- 'Quarantania, III'
1949-50
'Map'  by Jasper Johns, 1961
photo courtesy of NGV
"Annabelle Serpentine Dance" – Lumière brothers.– Loie Fuller
Lyubov Popova,- 'Painterly Architectonic'
1917
'My Pacific (Polynesian Culture)' – Isamu Noguchi
Isamu Noguchi believed that art was part of the environment and described his works of art as 'landscapes'. He often used materials he found in nature to create his sculptures.
Roberto Matta — modular
Malitte Lounge Furniture. 1966
Roberto Matta — Malitte Lounge Furniture. 1966
This colorful collection of polyurethane foam shapes could be stacked into a rectangular wall or used as individual pieces of seating. The design concept is playful and flexible. Its interlocking organic shapes reflect Matta's training as an architect in his native Chile as well as his Surrealist painting practice, which developed after his move to Paris.
Pablo Picasso 'Seated Bather'
early 1930
'Seated figure, right hand on ground '- Hennri Matisse
1908
Roy Lichtenstein  'Drowning girl', 1963
— oil and synthetic polymer paint on canvas
photo courtesy of NGV
'Simultaneous Contrasts Sun and Moon' by Robert Delaunay
1913
Stenberg Brothers, Poster for 'Three million case'
1926
'Sundial' by Lygia Clark
Sonia Delaunay-Terk- 'Portuguese Market'
1915
MoMA NGV 2018
'Swifts Paths of Movement + Dynamic Sequences' by Giacomo Balla
NGV Section 2: The Machinery of the Modern World
Keith Haring– 'Totem'
1989
Zaha Hadid –The Peak Project, Hong Kong
1991
'Hina Tefatou Aka The Moon And The Earth' – Paul Gauguin
 'The Persistence of Memory'  Salvador Dali
1931
Salvador Dali  —  'Trilogy of the desert Mirage'
NGV
Glenn Lowry, director of New York's MoMA, NGV director Tony Ellwood and Andy Warhol's 1967 Marilyn Monroe series
MoMA NGV
Mario Bellini Totem stereo system with detachable speakers (model RR 130)
1970
Lithograph for album cover for Disraeli Gears by Cream – Martin Sharpe
1967
'Unique forms of continuity in space'  –  Umberto Boccioni
Vincent van Gogh.- 'Portrait of Joseph Roulin'
1889
Van Gogh's thickly painted, colorful portraits changed the way many artists and patrons viewed portraits at the time. Van Gogh wrote to his brother Theo of his excitement about "the modern portrait," a picture that renders character not by the imitation of the sitter's appearance but through the independent, vivid life of color. Van Gogh's subject in this painting,
Wifredo Lam, 'Satan'
Bauhaus balconies c. 1928 — Theodore Lux Feininger
Man Ray, 1931
–