Andrea Gill  – 2014
Andrea Gill believes that ceramics is the ideal media to combine surface color and three-dimensional form. The thrust of her work is more preoccupied with the decorative than functional, which liberates the scale of her works and scope of her designs. Detailed imagery and patterning is an ever present feature of her ceramics, which she successfully integrates into her original shapes. These tend to involve appendages of wing like handles (not dissimilar to hispano moresque alhambra vases) and vessels surrounded by larger vessels, supporting more utiisation of detail, and bringing forth a refreshing journey of discovery, wonder and a sense of evolving form. Her work is decorated, often employing hand-cut stencils, which generate stunning layers of color and glaze on clay vessels that allude to the history of ceramics, textiles, painting and ornament.
An extract from Andrea Gill's artistic statement:
"I choose to make vases and bowls because those forms allow the most open interpretation of shape without losing the iconic identity of the object. The scale of the vases, from two to six feet, gives me room to explore color, shape and pattern. The bowls provide a more intimate space where I have been exploring narrative ideas, recently involving mythology. My devotion to surface patterning has also proven to be an addiction that satisfies my love of stylized image and my firmly positive response to the word 'decorative'. In the motifs of my overlaid figure/ground surfaces, I suspect I am often exploring my subconscious. The sources for the motifs range from my garden to doodles to texts of historical ornament, such as Owen Jones' Grammar of Ornament. There is the affirmation of historic precedence of the painted pot, and the possibilities of current clay and glaze technology to support my vision."
Her husband John Gill displays a similar ceramic trajectory of a restless dynamic with lots of movement, but featuring more asymmetrical forms, highlighted by multi faceted surfaces of contrasting colours and combinations of expressive shapes. John Gill knew he wanted to be a ceramic artist when he was told you couldn't make sculpture out of clay. Failing to grasp the rationale behind this assertion, it motivated him to pursue a path in ceramics to prove this was a fallacy. He hasn't looked back since.
John Gill's Artist Statement –
"In my work I try to utilize simple techniques. This allows for freedom of ideas and process. Shape, form, use and color in form and to question other possibilities. My work uses shape and form to inflate color. Working within the realm of function expands the potential. History of ceramics, painting and sculpture collide. Clay has a simple directness – it prints beautifully."
[divider type="plain" width="thirdwidth" align="aligncenter"]
Andrea Gill
BFA in painting from Rhode Island School of Design in 1971, and, after a serendipitous job working for a potter, went on to study ceramics at the Kansas City Art Institute. She is currently a professor of ceramic art at the New York State College of Ceramics at Alfred University in Alfred, New York. She has been a resident at the Archie Bray Foundation and Anderson Ranch and in October 2012 Andrea Gill worked in the Voulkos Visiting Artist Studio as a Visiting Artist Fellow.
Andrea Gill – vase and bowl set
2013
Footed ceramic vessel with elaborate lid – Andrea Gill
Sculptural head vase – Andrea Gill
Vase with surface pattern decoration – Andrea Gill
'Cherry Blossoms on a Winter Day'  – Andrea Gill
Andrea Gill
2014
Andrea Gill
Vase bowl set – Andrea Gill
Female figurine vessel – Andrea Gill
Andrea Gill
'Iznik Vase' with arabesque decoration – Andrea Gill
Ceramic vessel with tapestry and fabric print textures – Andrea Gill
Andrea Gill
2014
Ceramic vessel encasing a vase- Andrea Gill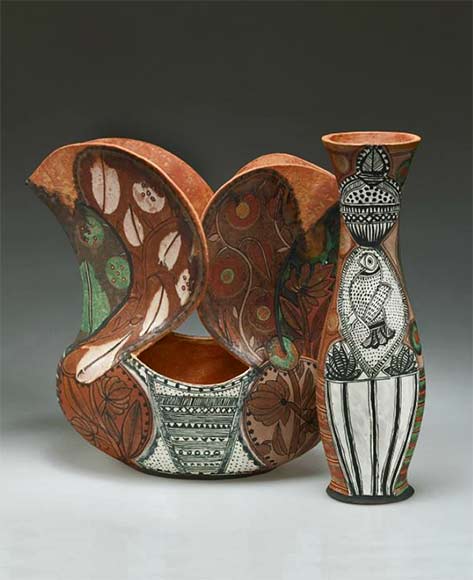 Andrea Gill
Alfred University School of Art and Design Image Gallery
Andrea Gill vases
Andrea Gill matching vessels
Andrea Gill
Low fire ceramic, Majolica glaze, engobes
34 inches height
'Hidden Glance' – Andrea Gill
1990
Madonna series 'Sweet' – Andrea Gill
Low fire ceramic, Majolica glaze
28 x 4 x 9 inches  — 2010
'Mithila Basin' – Andrea Gill
'Red and Pink Flower Vessel' – Andrea Gill
Face sculpture vase – Andrea Gill
John Gill
John Gill is a Professor of Ceramic Art at the New York State College of Ceramics at Alfred University where he is currently Chair of the Division of Ceramic Art.. He has degrees from the Kansas City Art Institute (BFA, 1973) and The New York State College of Ceramics at Alfred University (MFA, 1975).
'Bottle #7' – John Gill
Stoneware 'Lone Vase' – John Gill
Geometric pattern bowl – John Gill
Ceramic Ewer – John Gill
Ceramic platter – John Gill
Ewer – John Gill
12-x-13-x-9.5-inches
Photo Brian Oglesbee
Ceramic platter – John Gill
Ceramic bottle – John Gill
Teapot – John Gill
Abstract ceramic 'Ewer 3′ – John Gill
John Gill – large glazed stoneware teapot or pitcher
Sculptural ceramic vase – John Gill
Ceramic Ewer – John Gill
John Gill mug
Polychrome stoneware radish platter 2010- John Gill
16 x 22 x 5 inches
Photo Brian Oglesbee
John Teapot 2010
Abstract shaped vase – John Gill
Vase by John Gill
Wine Ewer with handle – John Gill
height 13 inches
Lidded abstract jar  John Gill
31 x 12 inches
Sculptural ceramic ewer – John Gill
Andrea and John Gill teaching
–
 
NEXT POST  —  Contemporary clayartist concepts
-------------------------------------------------------------------------More Posts