Camille VandenBerge
.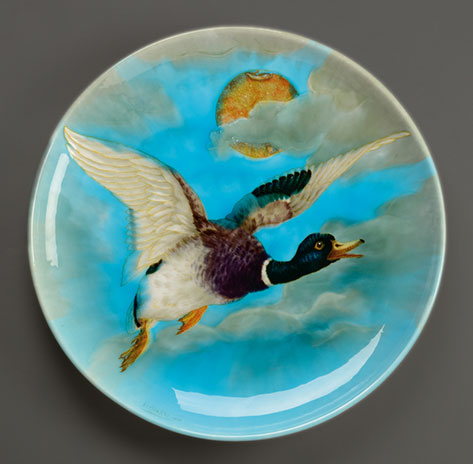 Theodore Deck and Ernest Carriere
(1823-1891) Dia 23inch-1890
Free as a bird
I once lived high on a hill with mountain views in the distance and I believe it was on a migratory bird path or near some energy vortex because flocks of birds flew past on a regular basis. They would fly in a huge circular arcs overhead and there would always be one bird that would release a shriek of delirious joy while in flight before they moved on. This liberating expression of delightful freedom in flight became an uplifting interlude during the day. The Taoists claim that the early morning collective bird symphonies of chirping and singing help to get the days chi moving in addition to the spiral vorticies created when they flap their wings.
"Byrdes of on kynde and color flok and flye allwayes together." This old proverb has been in use since at least the mid 16th century. In 1545 William Turner used a version of it in his papist satire 'The Rescuing of Romish Fox'. In nature, birds of a single species do in fact frequently form flocks. Ornithologists explain this behaviour as a 'safety in numbers' tactic to reduce the risk of predation. When a flock is feeding on the ground, a few sentinel birds keep watch from nearby trees, rising into the air and screeching loudly at the approach of any danger. Birds sing songs to defend territory and attract mates. Hence, it's the males that sing the most—usually during breeding season.
Assembled below are some ceramic pieces with bird imagery, birds with their birdcalls, bird sculptures and bird humour from Michael Leunig.
"I don't know anything about consciousness," a Zen master once declared. "I just try to teach my students how to hear the birds sing."   (A-wing and a-way)
'Birds of a Feather' –Marty Biernbaum
Huntly Pottery ceramic Cockatoo Figurine
Bendigo,Australia est. 1937
Roger Capron – ceramic Funky Chicken sculpture
France
Paul Harvey—Green bronze sculpture  'Sleeping Amazon'
Campden Gallery
Jacqueline Leighton Boyce footed ovoid vase — 'The arrival of the swift'
Shelly Art Deco vase with Kingfisher motif
30's
I work with mid-range porcelain, which offers durability as well as a smooth surface for detailed decoration. Each one-of-a-kind piece is wheel-thrown and decorated entirely by hand, primarily through carving, as well as the application of slip and, occasionally, 20K gold luster. I explore textural patterns in my work through incised ornament, movement, fluid lines, and a peaceful palette of transparent glazes. I make intricately carved, functional pots to celebrate and bring elegance to everyday life. I am inspired by nature in all its aspects: the diversity of flora and fauna, habitats, seasons, and most importantly, the embodiment of life, growth, and vitality.
'Parrots At Sunset' –Jeanne Porter
Kookaburras always seem to have a smile on their beak and sure know how to have a good laugh. (Recording below)
Adelaide Rosella —- -image by Danny McCreadie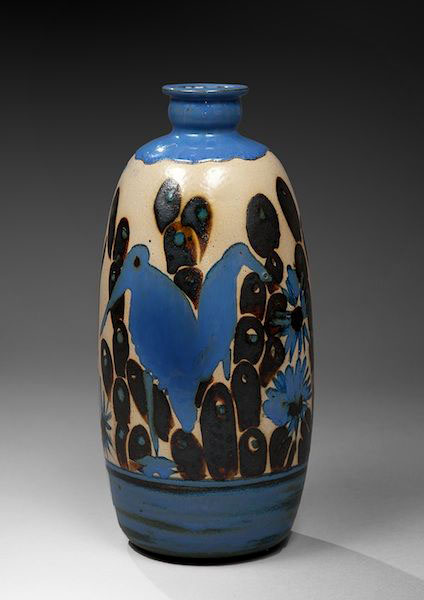 Primavera and Saint Radegonde, Gustave Asch.—Blue Ceramic Vase with Birds and Vegetation Decoration.
France, Circa 1930. Height 30 Cm
'Spring diary of a small brown bird' — Michael Leunig
'The Academy of Very Ancient Music'  —  Michael Leunig
Vessels by Dona Reed,—Rainshadow Arts
Monochrome Magpie
Vintage Lisa Larson stoneware pottery bird figure — Gustavsberg Sweden
Retro Danish ceramic vase with abstract bird motif
Constanin Brancusi : 'Bird In Space Bird Sculpture'
Boyadjiev Latchezar glass sculpture – 'Flight'
Roman Khalilov. Blackbird ceramic sculpture
Carved Bird Vessel by Jim and Shirl Parmentier.
Ardmore bird tureen
'Bird of Paradise' performing trance dance
BBC Earth
Rene Lalique — geese in flight glass vase
Mosaic garden circle with stones – High Legh, Manchester
'Birds passing on the secrets of the universe to a sleeping baby'
Michael Leunig
Ceramic wall art — 'Girl & Bird', Helen Kemp
Primordial Nest
Robin on female garden sculpture
Royal Dux Porcelain Parrot, Bohemia
Art Deco ovoid vase, parrot motif — Charles Catteau
Pablo Picasso Madoura jug
Mosaic birds in hair_mini — Irinia Charny
Theodoros Papagiannis ceramic bird sculpture
Greece
Phoenix cake plate – Chinese Art Deco
Art Deco Grès Keramis vase with birds by Charles Catteau-Belgium,1925
Arianna Gallo robin bird mosaic
Polish ceramic Love birds on a rustic Wooden Cloud by Popielnik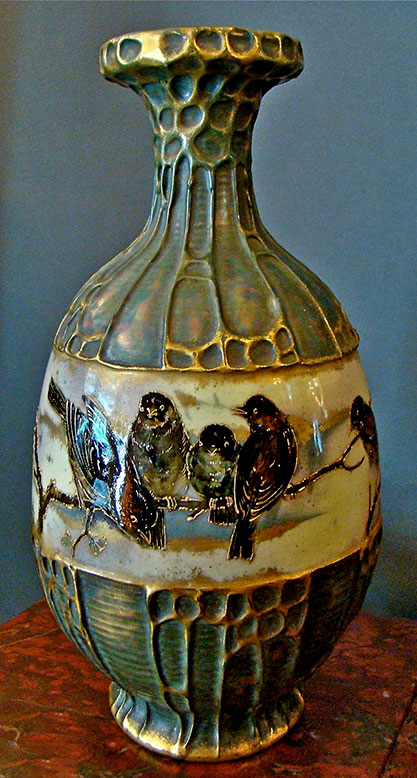 Art Nouveau  – Amphora Vase with bird decoration
A northern cardinal sits on a tree branch in falling snow in the New York City suburb of Nyack
Annette Corcora — Scarlet Tanager porcelain teapot 2003
Driftwood bird sculpture by Jeffro Utto
A mandarin duck on a tree by the Solyonaya Protoka River
Vladivostok, Russia.
Acoma Pueblo Parrot Hand Coiled Parrot Seed Pot – Dolores Lewis Garcia
Porcelain Vase Camille Tharaud
Desimone De Simone Pottery Pitcher – Mid Century
Volery of Birds –Tim Biskup
18" x 17.75"
Zeus with an eagle, cup tondo by the Naucratis Painter, c. 560 BC
Louvre, Paris
Aaron Bohrod — Bird shaped pitcher with incised feather pattern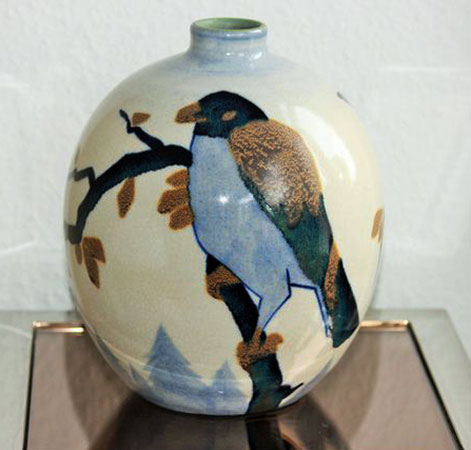 Charles Catteau — Boch Freres Art Deco vase
Thoth Simon Gudgen bird sculpture
60cm height
Stephanie Cunningham at-the Glasshouse Gallery—Penzance—Cornwall
Simon Griffiths sculpture —  Ferruginous Hawk
Sgraffito carved plate by Laurie Landry
Charlie Parker Pottery, 2011
Raku bird feeder–RingoffirePottery-etsy
Royal Haeger — crimson pheasant bird figurine
Mark Chagall ceramic vase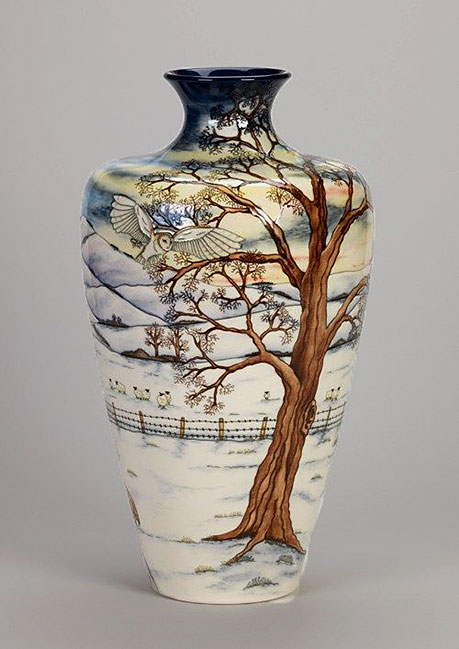 Moorcroft owl in tree vase
Murano Glass birds—Avventurine Tucan duo
Marty Ray––'Bird Walk' —2011 ceramic gourd vessel
Sgraffito Mata Ortiz Pottery by Armando Valles—  'Song Birds'
'Murmation of Starlings' – Lynne Newton
Somerset Levels and Moors Wetland
Large Owl Family Vase — Jennifer Falter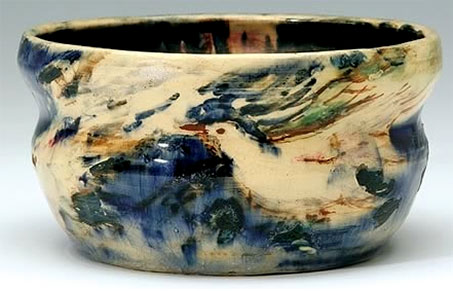 Merric Boyd bowl, blue and cream glaze, interior painted with bird's nest, exterior with birds in flight, painted by Arthur Boyd
Michelle Shields —  Acoma pot decorated with birds and flowers
Mudhead Gallery
Paul Harvey turquoise Kingfisher in bronze
Mid Century Modern Porcelain White Dove Sculpture by luola on Etsy
Michael Simon teapot
Ceramic Kingfisher bird — Brigitte Evrard on Etsy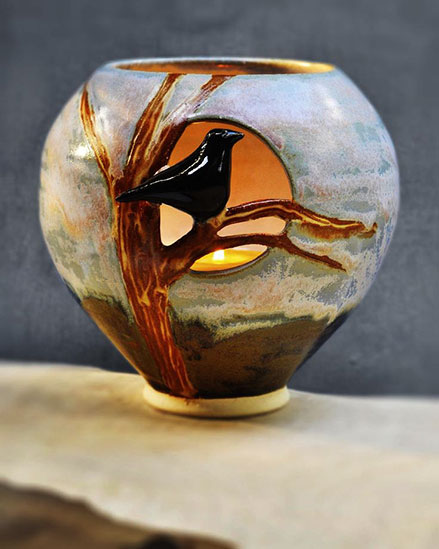 Lee Wolfe Pottery —  'Raven and the Halloween Moon Luminary' lantern
Pot from Akrotiri with swallow, early 17th Century BC (Thera)
(Minoan Bronze Age settlement on the volcanic Greek island of Santorini)
Molins Balleste Art Deco Spelter Figure of a Dancer with Birds
Stylized Gull in Flight — Somchai
Moorcroft-Chapada-Toucan vase
Royal Doulton Titanian ware flattened globular vase,
painted by H. Allen with Night Heron
Bamfords Auctions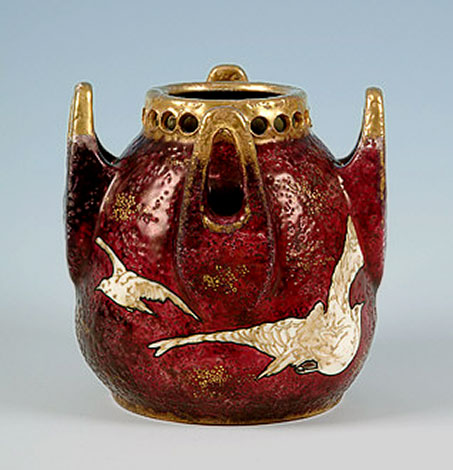 Amphora 'birds in flight' Art Nouveau vase
31cm height
Child-&-Child– Winged Heart Brooch
1880-1915
'Guess What? …we have voted you chef of the year, we love your work'
Michael Leunig
Charlie Tefft Flat Vase with Birds
MudFire Gallery
Birds in Tree silhouette – Freda and Aaron, Brisbane
Stephen Bowers cockatoo plate
French Clamecy pitcher
Catherine Chaillou Raku woodpecker
Elaine Coleman ceramic tumbler
Ceramic Pelican Sculpture with Cloisonné Enamel, French, 1960
Gallery Sandy Toupenet
Gaynor Ostinelli and Paul Priest ceramic bird sculpture—Studio Pottery
Haeger green Parrot
Haegernerd, Flickr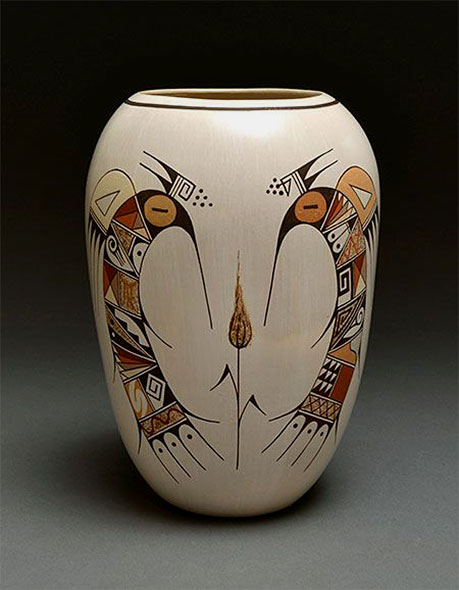 Rainy Naha  ~ Hopi whiteware pottery vase with symmetrical hummingbirds design
Handbuilt eagle motif mug – Justin Rothshank
Mudfire
Jacqueline Leighton Boyce bird and botanical decorated vase
Carved pigeon vase by Joseph Mogin, France
Boch ceramic Art Deco vase – Charles Catteau
Wood carved Kotuku (White Heron) by Rex Homan, Māori artist, NZ
Large Porcelain Sgraffito Moon Raven Tree Mug by TheMuddyRaven,
Linda MacCaulay parrot sculpture–Tread Sculptures
Kangaroo Ground, Victoria
Lockbund Sculpture Gallery—Bridget McCrum bronze bird
Kaka, New Zealand Bush Parrot-©-Rex Homan
–