Bizarre Ware dish – Clarice Cliff
Clarice Cliff
Clarice Cliff was recognized as one of the major  Art Deco ceramics designer of the Twentieth Century and possibly the most prolific. Born in 1899, Clarice Cliff started working at the age of 13 as an apprentice enameler. In 1916 she joined A. J. Wilkinson's Royal Staffordshire Pottery as a lithographer and eventually went on to develop a small studio in Wilkinson's Newport Pottery, decorating traditional white-ware. Cliff was ambitious and acquired skills in modelling figurines and vases, gilding, keeping pattern books and hand painting ware: outlining, enameling, filling in colours within the outline) and banding (the radial bands on plates or vessels ). Her first original style she named " Bizzare" and was immediately popular.
By 1929, Cliff's team of decorators had grown to a team of around 70 young painters, mainly women (called her 'Bizarre girls') but also four boys – who hand painted the ware under her direction. Many of these workers were traced in the 1980s and 1990s and they totalled over 100. The Fantasque range evolved between 1928 and 1934 and mainly featured abstracts or landscapes of cottages and trees, and some Art Deco inspired patterns.
Clarice Cliff's fame and success in the 1930s are hard to fully appreciate now, but at that time there was no such thing as 'career women'. The publicity she received in the national press was unprecedented. Cliffs wares were exported all over the world and can still turn up in Op shops, garage sales and Bric a Brac shops.
Art Deco tea set – Clarice Cliff
Meiping Vase – Clarice Cliff
Coral Firs vase _ Clarice Cliff
circa 1933
Jazz Age teapot – Clarice Cliff
1930's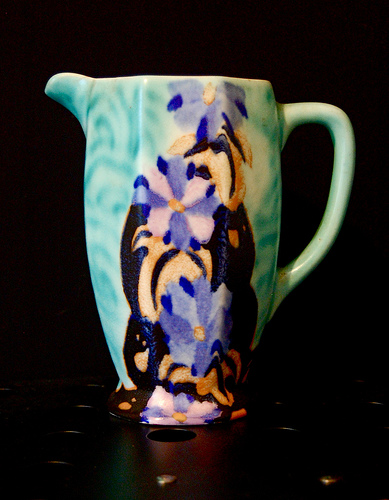 Clarice Cliff jug
'Honolulu' Vase – Clarice Cliff
circa 1933
Conical Bowl – Clarice Cliff
Art Deco baluster vase and teapot – Clarice Cliff
Sunburst Lotus Jug by Clarice Cliff
Art Deco baluster vase – Clarice Cliff
Windbells Cup & Saucer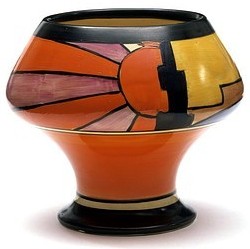 Clarice Cliff Vase – Sunray
ca. 1929 Burslem UK
V & A Museum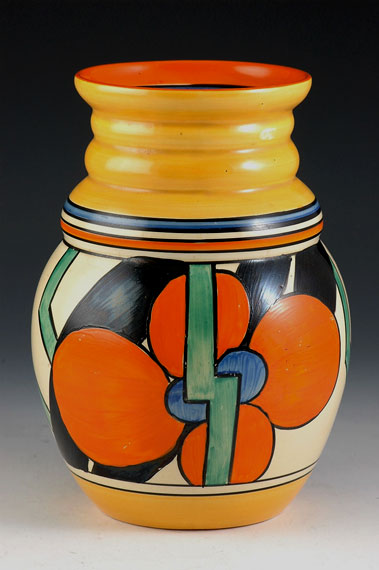 'Picasso Flower' vase – Clarice Cliff
Wedgwood – The Bizarre Living Landscapes of Clarice Cliff 'Fantasque Mountain' plate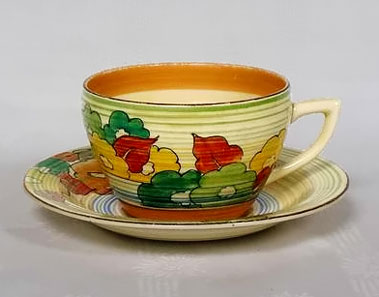 Teacup and saucer – Clarice Cliff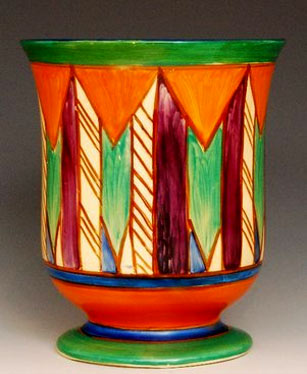 Original Bizarre Clarice Cliff shape 353 vase of footed bell 1928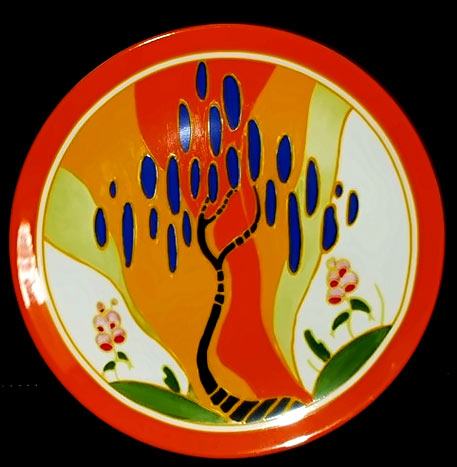 Wedgewood Clarice Cliff plate – 'Windbells'
Moorland Art Deco " Huntley Cottage " Sugar Pot – design by Clarice Cliff
Clarice Cliff  " My Garden " footed vase
Clarice Cliff Moorland Limited Edition Sugar Sifter
Large Conical Bowl Clarice Cliff
Clarice Cliff Bizarre Orange Capri Shape Sleeve Vase
Clarice Cliff Art Deco vase
1933
'Young Clarice Cliff' figurine
Clarice Cliff vase
'Orange Autumn' Bonjour Preserve Pot – Clarice Cliff
Clarice Cliff
Bizarre ware 'Picasso Flower' pattern Odilon jug – Clarice Cliff
BanfordsAuctions.co.uk
'Applique Blossom' 464 shaped vase – Clarice Cliff
1931
'Bizarre Ware' Archaic Vase  – Clarice Cliff
Fantasque Sunrise pattern three piece condiment set — Clarice Cliff
Banfords Auctions.co.uk
–