'Minnow from Earth' series by Michael Lucero
artnet
Revering the Earth
Most ancient cultures practised rituals that displayed a reverence for the earth. This usually took the form of celebrations that ritualistically encouraged healthy crops for the coming year and the earth being praised as a good source of sustenance. The Green Corn Ceremony (Busk) is an annual ceremony practised among various Native American peoples associated with the beginning of the yearly corn harvest. The ceremony was marked with dancing, feasting and fasting and religious observations. Likewise, the Pagans and Druids liked to worship mountains and sacred trees along with  various Earth Goddess figures.
In the East, the Earth Element was revered for its ability to balance all elements and heal, exemplified by the Chinese emperor exclusively wearing yellow, (symbolic of Earth). The Japanese favoured anagama ceramics for their tea ceremony, due to the fact they were fired in kilns built into the earth and experienced longer firings which strengthened the Earth element. They believed this extended exposure enhanced the quality of the Earth as this element was nourished by the Fire element
In Hebrew, the name Adam suggested the colour red, or "red earth" and is related to the Hebrew word "adama" 0r earth. It was believed that the first man came from earth, taken from the red soil. According to the Tanakh, Bible, Quran, the Hadith and other writings, Adam was formed from clay, and then life was breathed into him.
Shape and appearance also influence an earthly perception. Vessels of a symmetrical form with balance give the impression of being more grounded, as do earthy palettes and shapes that are bottom heavy with a low centre of gravity. Squat shaped pottery and objects tapering to a large base also convey an earthly appearance of being grounded. Solid, heavy pieces made from dense materials also have this effect, as do rougher textures (more yang). Yang chi moves in a downward direction towards the earth.. Horizontal lines also allude to being grounded and support earthiness.
The imagery presented here is a rumination of  the terrestrial diversity of earth and its related creative products.
'Mud hut with a view'  —  Traditional tukul house, Ethiopia
Raku sculpture – 'Flow of Time and Space' —Anita Feng
Mayan Aztec maize Goddess plaque/mask
Maize/corn has an earthy fragrance and was honoured due to this connection to the Earth and was regarded for its healing powers.
'Three Peaks' – Dolomites
Italian Alps
Earthenware Platter – Sandra Blain
Pottery vase — Fired Earth Ceramics- Southern Africa
Two abstract ceramic vessels — Carol Zee
Earth Meets Fire Show
'Earth' sculpture by Sylvia Simon
bronze, height 48cm
Ida Sahmie mother earth rainbow tile
King Gallerie
Gaia Earth Goddess with Europa relief
GAEA (Γαία) was the Protogenos (primeval divinity) of earth, one of the primal elements who first emerged at the dawn of creation, along with air, sea and sky.
Large Peter Rushforth  drip glaze Blossom Jar
Rare vintage Italian Bitossi pottery vase, designed by Aldo Londi in the 1950s.
Earthquake cracks – Golden Gate Park, 1906
Shozo Michikawa
Black granite Song Version 5 — John Isherwood, UK
height 60cm
The name Kuan Yin translates to 'Earth Feminine'
Photo by Kowit Sitthi
 Le Corbusier- 'Water, sky, earth'
1954
Mid Century Modern TOYO black glazed ceramic ikebana vase
Large glazed ceramic plaque with nude — Waylande Gregory
USA
Eric Astoul vase – La Borne, France
Diala – Digital interpretive aerial  landscape art, NT, AUS
Guido Gambone  Glazed Earthenware Jug, Italy circa 1960
Harter Galerie, Nice, France
Gilbert Garcin – 'Life is a theater'
Acu-terrestial ceramic Totems – hillside installation – BYUH Sculpture
Bitossi Alondi vase with earthy tones, Italy
Jean Derval — 'Warrior Sculpture Earth Box'
'Earth Festival' — Festino della Terra (Alaraagbo XIII), Jelili Atiku Street performance
Palermo, Italy
Rosanjin Kitaoji anagama bizen ware plate
And forget not that the earth delights to feel your bare feet and the winds long to play with your hair. -Khalil Gibran
Waddesdon Manor Gardens, UK
'World Mandala' by Neil Tetkowski has 188 different clay samples collected from each country represented by the United Nations.
Vintage Paul Morris Art Pottery Salt Glazed Earth Tone Stoneware Charger
Baden fountain, Austria
Vicki Grant  — 'Windows to Earth Series'
Fish shaped earthenware jug  —  Vallauris
Sculpture of Hina, the Tahitian Goddess of the Moon, and Te Fatou, the God of the Earth.
'The Messenger' – from Andrew Rogers 'Rhythm of Life' land art project
China 2006
Tatsuzo Shimaoka
Stan Bitters  —  'Salt of the Earth' ceramic wall plaque
60's
Inca Storage Jar (Aryballus)
'Talking Earth' by Steve Smith
Carl Peverall stone sculpture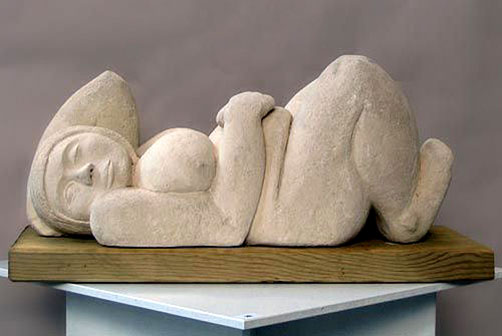 'Of the Earth' by Lysa Gruzauskas
'Ochre Earth Totem' Sculpture by Jacques Barbier, 1990
Artocarpus – Galerie Riviera – Saint Ouen
Nang Talinee, Lao Earth Goddess
Vintage Art Pottery Royal Haeger Earth Wrap Jug
Earth Vessel 1—Pit Fired Clay—Tundra of Chugiak, Vicki Gubter
Jessie Mooy Vase – 'Eva in the forest' – earthenware, 2013
Villebois Lavalette gallery
'The earth and the moon'  —  Jorge Oteiza, 1955
Jemsen Pottery terra siglillata (sealed-earth) vessel
Lilian Wessels – sculpture bust, NL
"Lost Paradise"  — Eve sitting, holding an apple — Edouard Cazaux
 Large, open-mouthed, flattened spheroidal vase stained a parched earth colour and dipped and trailed in shades of blue, white, red and black – Mark Reid
1985 Bemboka
Grayson Perry – 'Bullfighter'
The dove of Minerve —  Jean Luc Séverac
1962
'Danu' by Maxine Miller
Danu is the Irish earth Goddess, mother of the Tuatha Dé Danann
Dianne Coulter 'Earth Force' series 3  — Seventh Palmer sculpture biennial
South Australia
Christine McKay — 'Sisters of the Earth'
Susan Musi — 'Earth forms'
Claude Cavin – seated woman raku sculpture
'Cheeky Peas' –Anthony Turner
Asthall Manor
Christine Remy — Gallerie Ecusson
Annie Peaker  — Earth & Fire 2014 Exhibiton
Anna and Krzysztof Brzuzan ceramic bust
 Joan Miro and Jose Llorens Artigas
Nasher  'Return To Earth' exhibition
'Mother of Earth' – Nicholas Roerich
1937
Temple Garuda sculpture, Candi Dukuh. Indonesia
Joan Miro sculpture – Return to Earth exhibition
'Hall of the Earth' – The Temple of Damanhur
Northern Italy
Ken Mihara Multi-fired stoneware vessel with cinched waist, horizontal score at center and surface colorations
2012 Unglazed  14 inches height
Joan Mirviss Gallery
Monumental "Desert Breath" installation by Alexandra Stratou, Stella Constandines & Danae Stratou
Sahara Desert
Charles Daudelin, 'La Cavalière', 1963
 Quebec National Museum of Fine Arts in Quebec City
–