Full listing here —  ceramic artists having an Open Studio
This weekend is your opportunity to purchase handmade pottery wares directly from the studio and make a connection with the ceramic creator. Witness the inner workings of their craft production and artistic flair.
Free Adnission
10am till 4pm
Australian ceramic artists and studio locations:
Maricelle Olivier
1 Aspinall Street, Watson, ACT 2602
Mike Hall
58 Florence Terrace, Scotland Island, NSW
MY Studio-–-Ian Hodge
4 Cherry Grove, Donvale, VIC 3111
'Neo Ceramics' – Jack Balfour
247 Abbotsford Street, North Melbourne, Victoria
Jack Balfour
Jack Balfour
Nic Auton – 'Legend Pottery'
10 Reid Avenue, North Curl Curl, NSW 2099
Njalikwa Chongwe -–- Zinongo Studio
47 Lefroy Road, Beaconsfield, WA 6162
Njalikwa Chongwe mug
Njalikwa Chongwe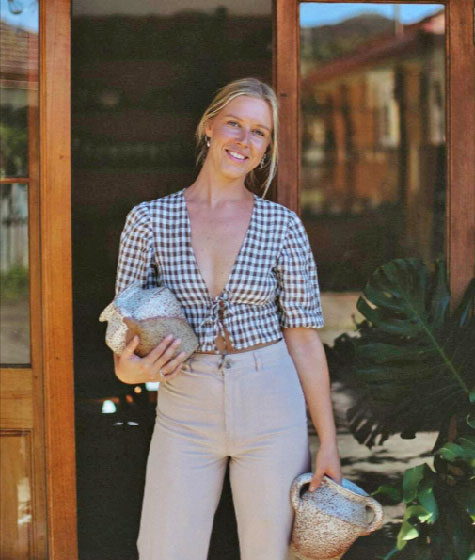 Ochre
44 Main Arm Road, Mullumbimby, NSW
Cara Kushlin-–-Day Studio
183A Waverley Road, Malvern East, VIC 3145
Cathy Franzi
18 Kerferd Street, Watson, ACT 2602
Cathy Franzi
Cathy Franzi
'Ceramic Ocean' -–- Brett Smout
126 Duntroon Street, Hurlstone Park NSW
Claudia De Salvo
142 Birds Road, Guanaba QLD 4210
Clay Canoe
33 Yule Road, Merewether, NSW 2291
Clay Canoe
Clay Ground studio
601 Botany Road, Rosebery, NSW
Dannielle Wilkinson –- 'Dusty Pots'
1 Maldon Road, Castlemaine, VIC 3450
Elnaz Nourizadeh
62 Newlands Road, Coburg North,, VIC 3058
Elnaz Nourizadeh
Evelyn Alvarez — 'Alvarez Visual Art'
4 Hyman Street, North Tamworth,, NSW
Evelyn Alvarez
Grace Chaplin -–- 'Muckware'
853 Hinterland Way, Newrybar, NSW 2479
Muckware
Plate with ash fired glaze and eggs on toast
Muckware Studio
Lee Anne Peters
9 New Street, Campbell Town, Tasmania 7210
Heather Gandy-–-'Potable Pottery'
138B Wallington Road, Ocean Grove, VIC 3226
Jen Lyall
2 Ben Bullen Road, Glenorie, NSW 2157
Pink Ember Studio
22 Allenby Street, Coburg North, VIC
Rainforest Ceramics
56 Gittoes Lane, Possum Creek, NSW 2479
Richard Newton Potter
62 The Bulwark, Castlecrag, NSW 2068
Ronelle Clarke
28 Briarwood Street, Carindale, QLD 4152
Sasa Scheiner
878 Binna Burra Road, Federal, NSW 2480
Jane Annois
109 Kangaroo Ground-Warrandyte Road, North Warrandyte VIC 3113
Cindy Tong Ceramics
189 Foster Street (Corner Barkly Street), Sale, Victoria
Entry and parking via Barkly Street to avoid traffic from Foster Street
Cindy Tong Ceramics
Thrown on the wheel and decorated with coral, yellow ochre and slate slip then carved with an illustration of the banskia flower and pod
Sonali Patel – 'The Dreamer'
Saint Peters, South Australia 5069
 0438639856
Jean McGhee Ceramics
5 Syme Street, South Hobart, Tasmania 7004
Liz Izquierdo
Unit 1
10 Stanton Road
Tingalpa QLD 4173
Josephine Powell
106 Reynard Street, Coburg, Victoria
Josephine Powell
Josephine Powell
Madeleine Meyer
72 Bega Street
Tathra NSW 2550
Pottery Penny
5 Burreel Avenue
Elsternwick VIC 3185
Peter Wilson-–-Rosemont Pottery
131 Gilmour Street
Kelso NSW 2795
Dawn Vachon — A peek into the studio, pots for sale (firsts and seconds), and perhaps a refreshment.
8 Patterson Street
Coburg VIC 3058
Chris Johnson –Place Matters Studio
'Always with clay beneath my feet – and often under my fingernails'
'This is about connections – to land and the joy of making'
10 McMillan Road, Green Gully, VIC 3462
More ceramic artists with open studios at Australian Ceramics Community with extra contact details
— Includes 214 studios and location map
***