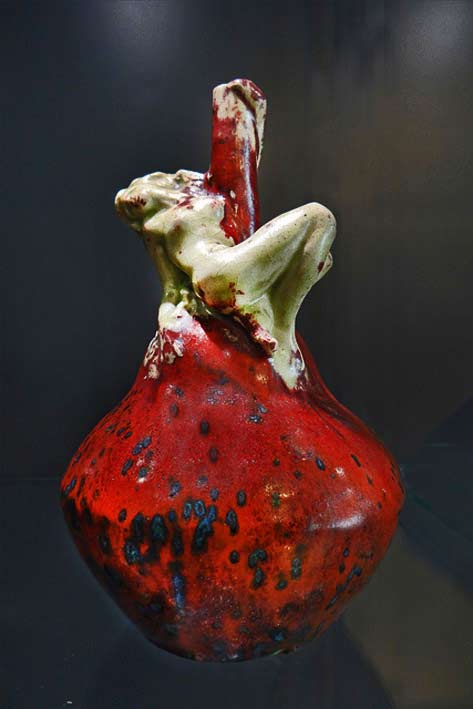 Pierre Adrien Dalpayrat, Bourg-la-Reine, France
Jean-Pierre Dalbéra – flickr
Hotel Bouctot Vagniez, Amiens, France – Art Nouveau fireplace
When I saw this stunning Art Nouveau fireplace, I was immediately inspired to do another article on the fascinating Art Nouveau, fleshed out with other images from this remarkable genre.
The allure of Art Nouveau
At the dawn of the 20th century, the Art Nouveau artistic movement was thriving and peaked in popularity from 1890-1905. It was characterized by distinctive plant, insect and animal motifs that were presented with stylized forms, and accentuated with sensuous, curvilinear details mixed with the abstract and asymmetrical. These were further highlighted by sudden 'whiplash' curves, angular contours and other graphical maneuvers adding to the elegant grandeur. This revolutionary reaction to the eclectic, historical and academic styles of nineteenth-century art was embraced by a diversity of artists and craftspeople wanting to move towards new styling for the 'modern age' of the 20th Century. Its pervasive influence was witnessed with the participation of painters, illustrators, sculptors, architects, ironworkers, furniture designers, interior decorators, potters, jewelry designers — in fact, nearly every kind of artist-craftsman.
The organic naturalism of Art Nouveau, with its intricate patterns of vines, flowers, tree branches and other botanical aspects reflected the late 19th Century European fascination with Japonism (Japanese arts), which had been particularly popularized with ukiyo-e (woodblock) prints and the sophisticated aestheticism of the Japanese ceramics.
Porcelain Leaf Vase by Paul Dachsel for Ernst Wahliss Co
The flowing, graceful style of Art Nouveau was promoted through its use in architectural features, being visible with balconies, staircases, doorways, facades, wrought iron gates, lampposts and railings, all displayed with rich details and superb craftsmanship. Every time you entered the Paris Metro you were confronted with a beautiful Art Nouveau entrance designed by Guimard. The genre was also highly visible with the embellishment of panels, ceilings, borders, friezes and walls with elaborate images of animals, insects, flowers, lush decorative details and other inspirations from nature. The use of exquisitely ornate typography in the popular Art Nouveau posters and advertising was also a poignant feature.
Gorky House Museum, Moscow
Yesterday upon the stairs
Glanced a forest full of maidens bare
Nymphs and fairies dwelt there to
Enchanting world this art nouveau
There was a collective desire at the beginning of the 20th century for the newly rich to decorate and enhance their dwellings in an innovative style, combined with people beginning to appreciate furniture, interior and decorative products as entwined parameters in an environment that could be integrated through design. The sumptuous, stylized creations of the distinctive Art Nouveau seemed to be a perfect fit. The sheer sensuality of line and delicate interplay of color provided the lavish design elements that were craved along with the diversity of choice. Original styles abounded with entertaining fantasies populated with a remarkable array of exotic motifs, including peacocks, parrots, dragons, beguiling women, lilies, wild roses and butterflies on offer.
The curvaceous, sinuous lines and geometric patterns adapted naturally to the curves of ceramic vases as it did with precious stones and the intricate details of metal jewelry. Art Nouveau ushered in a liberated design era with its influence spreading to subsequent forms of modernist art, style innovation and awareness that has perpetuated to this day.
 Amphora Iris vase
Belle Epoque Carved Agate, Pearl, Gold Naiad (fresh water mermaid) and Sturgeons jewellry brooch
Tadema Gallery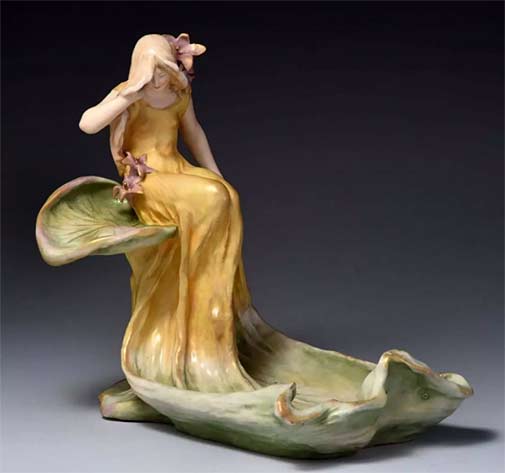 Amphora Art Nouveau figurine
Saules soleil couchant-(sun setting in Saules) vase Daum-Nancy
Turkish coffee server with lid by Zsolnay, Hungry
c. 1880 – Hand-painted majolica with undulating leaves and buds
'Reine Des Pres' vase – Louis Chalon
1901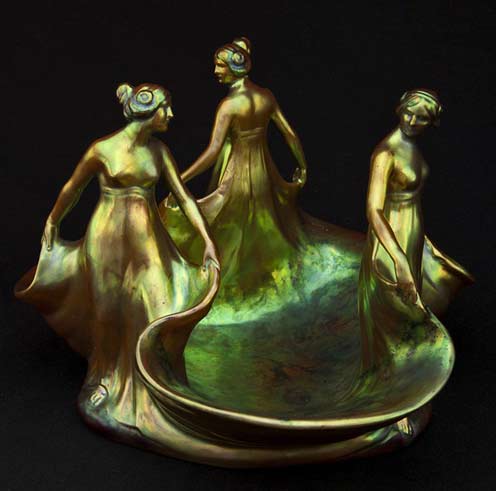 'Three Graces' eosin lustre dish – Zsolnay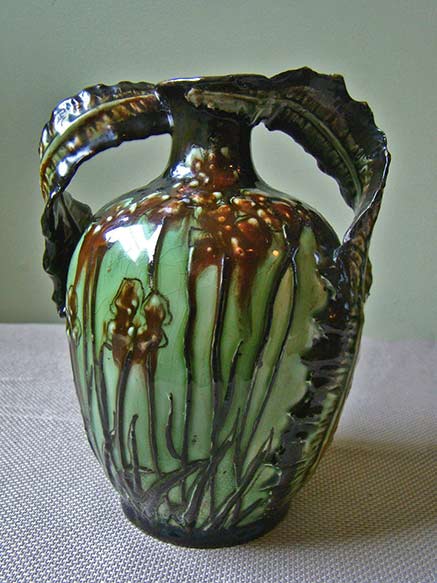 Royal Vienna – Turn Ernst Wahliss Art Nouveau Slip Glazed Majolica Vase
1910
Royal Copenhagen Art Nouveau Vase
Zsolnay eosin vase with raised relief dancing female figures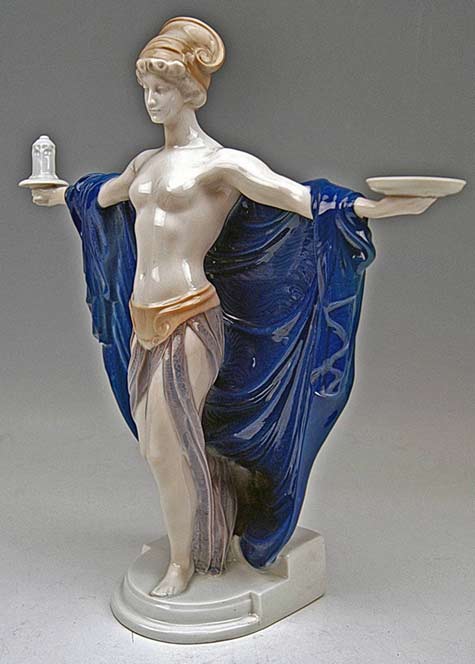 'Temple Dedication' by F. Liebermann, Rosenthal Germany
circa 1914—City Antik, Vienna
Calla Lily Vase. Glazed & Gilt Pottery. Paul Dachsel
Turn Teplitz,  Austria. Circa 1906 – height 14″
'Deceit' – Patten Wilson
1898
'Moon Alley',-  John Atkinson Grimshaw
1878
Art Nouveau brooch – Luis Masriera
wmf Art Nouveau pewter twin handled vase
circa 1906, Christies
Teplitz Art Nouveau centrepiece – Eduard Stellmacher
'Allégorie' vase by Amphora Werke Reissner
1900
 Porcelain Figural Candle holder – Ernst Wahliss
Royal Dux Porcelain Figurine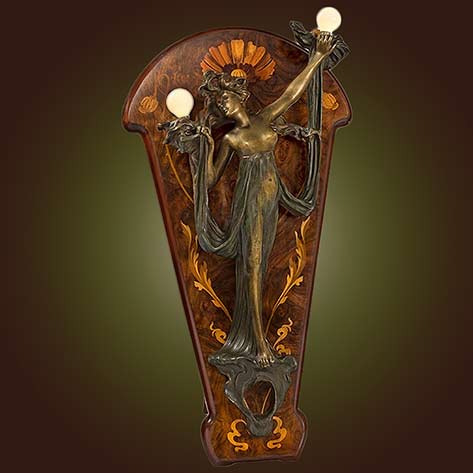 Bronze two light Sconce on Marquetry Easel – Georges Flamand French Art Nouveau
Macklowe Gallery NY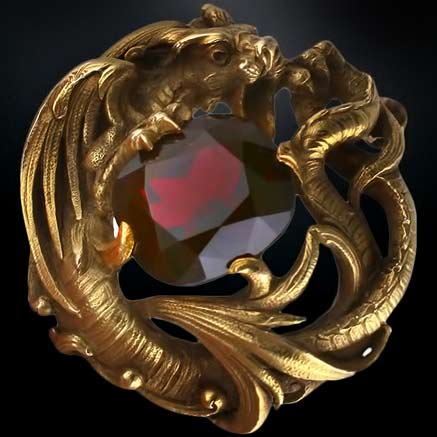 Gustav Manz for F. Walter Lawrence Art Nouveau Chimera Brooch
Hotel Bouctot Vagniez, Amiens
Eternal Entwined–peridot and pearl Serpent Brooch  – Karl Rothmuller
Tadema-Gallery—1900
Loïe Fuller, 1900
Alabaster Lamp of an Art Nouveau woman – carved by O. Rossi, Italy circa 1920
 'LE Secret'  –  Charles Korschann, an Art Nouveau Two Patina Bronze Clock
1897
Robert Zehil Gallery, Monte Carlo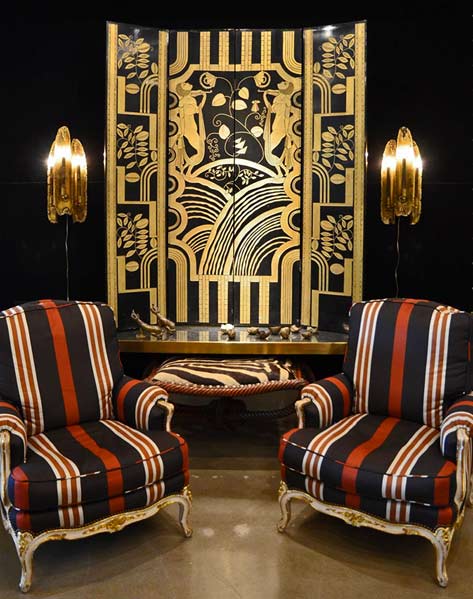 Black Lacquer and Gold Screen- Art Deco/Art Nouveau – Paul Feher

Amphora reptile textured ceramic vase
Elvira Studio Art Nouveau facade designed by August Endell
Munich 1897 ( destroyed in 1944)
Amphora art nouveau vase
Art Nouveau pendant -Maison Vever
Art Nouveau Sang de Boeuf Gourd Vase by Pierre-Adrien Dalpayrat
Jason Jacques Gallery-NY
Art Nouveau Porcelain Jardinière by Amphora, Teplitz
1900-1910
Parisian Art Nouveau entrance
Art Nouveau Blood Vine Pitcher by Léon Kann for Sèvres
1stDibs Jason Jacques Gallery-NY
Art Nouveau/Art Deco marble mantel clock—Ruyten
Art Nouveau figural  vase – Amphora
Art Nouveau Amphora Figurative Vase Centerpiece Bowl
A Touch of The Past Antiques
Art Nouveau Amphora Blow Out Portrait Vase
Austria, 1900
 'Sweet Pea with Bust of a Woman' Lorgnette Handle gold-enamel-cast glass. Art Nouveau ~ Rene Lalique 1899-1900
via 'The Jewels of Lalique' Yvonne Brunhammer
Arial—Graal Vase by Edvin Ohrstrom for Orrefors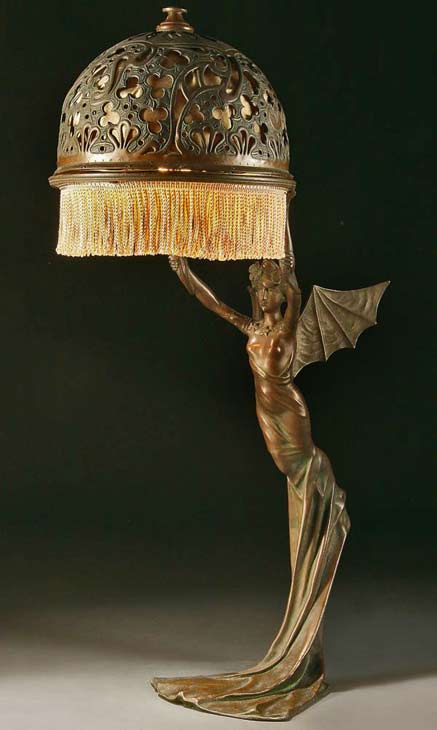 Austrian Art Nouveau figural winged nymph lamp
Amphora Winter Snow Art Nouveau Vase by Ernst Wahliss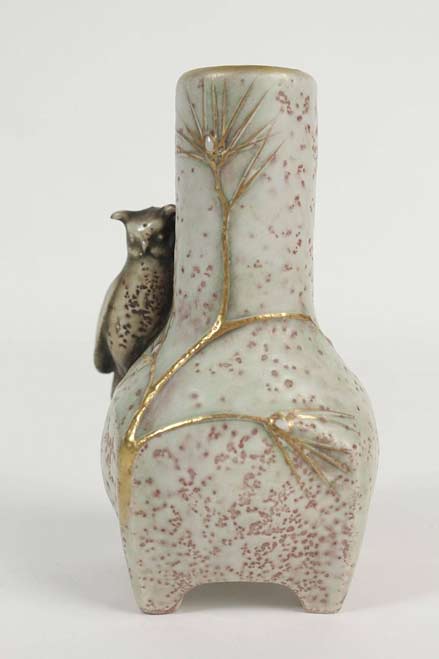 Ceramic footed vase with owl – Amphora
Amphora vase – crowned female motif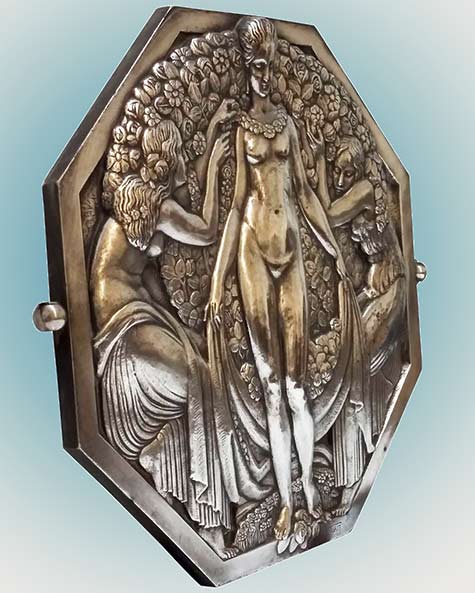 Octagonal medallion sculpted by Pierre Turin
Amphora Klimt vase
1901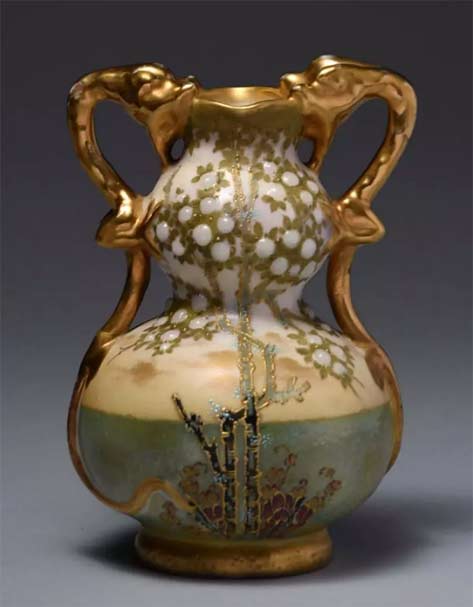 Amphora ceramic gourd vase twin dragon old handles
Art Nouveau bird motif vessel with mermaid handle
Amphora vase
Vase soliflore by Amphora Werke Reissner
1900
Quad gold handled Amphora vase
Amphora Ceramics Art Nouveau Figural Vide Poche dish
Amphora Gres Bijou Pitcher
Amphora dragon vase
Amphora Art Nouveau Vase
Circa 1898
1stDibs Very Vintage LA Gallery
Amphora Allegory Portrait vase
Chasen Antiques
Art Nouveau Gourd Vase by Pierre-Adrien Dalpayrat
19th C.
Plique A Jour Butterfly Nude Lady Brooch
–