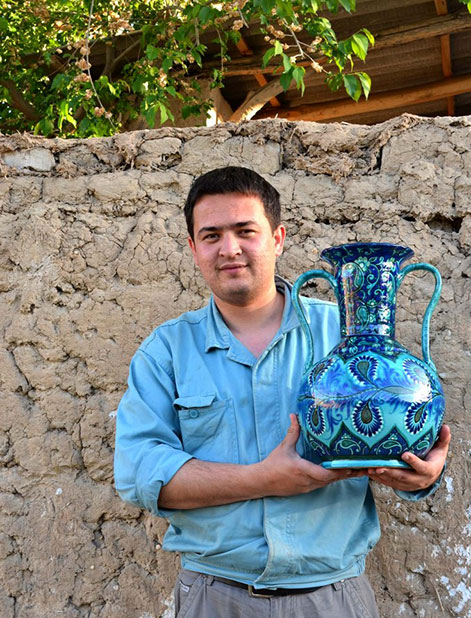 Rishtan ceramic vase with paisley decoration   –  Diyorjon Nazirov
Trading on the Silk Road played a significant role in the development of the civilizations of China, Korea, Japan, India, Iran, Afghanistan, Europe and Arabia. Many pottery centers flourished along its route including Jingdezhen in China, Iznik in Turkey, Kashan in Persia, Basra in Iraq, Tabriz in Iran (Azerbaijan), Rishtan in Uzbekistan and Arita in Japan.
They fostered multi-cultural interaction and in addition to economic trade, the Silk Road became a  route for cultural trade among the civilizations along its network. Along with the goods traded, their philosophies, art techniques, sciences, religious concepts and technologies were shared. For instance, techniques, shapes, and decorative motifs of Chinese ceramics were admired and emulated by Islamic potters, especially after the Mongol and Timurid invasions. Likewise, Islamic pottery styles were absorbed and created by the Chinese for gaining  penetration into the markets of Central Asia and the Middle East.
Numerous pieces are on display below of the ubiquitous, vibrant turquoise and azure wares that traversed the Silk Road from China to Europe and the artistic influences that spread from Central Asia and beyond.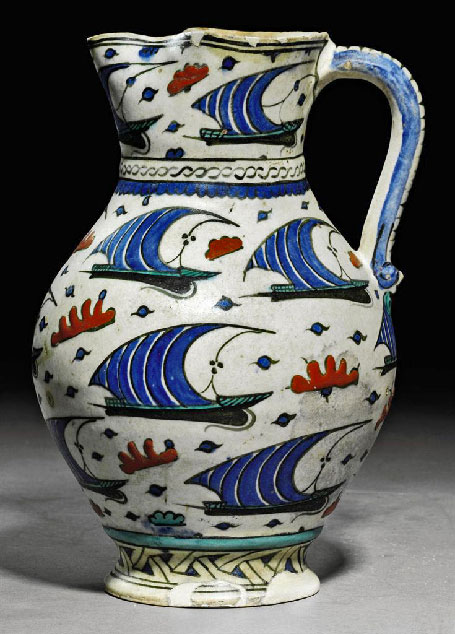 Iznik pottery jug, Turkey circa 1560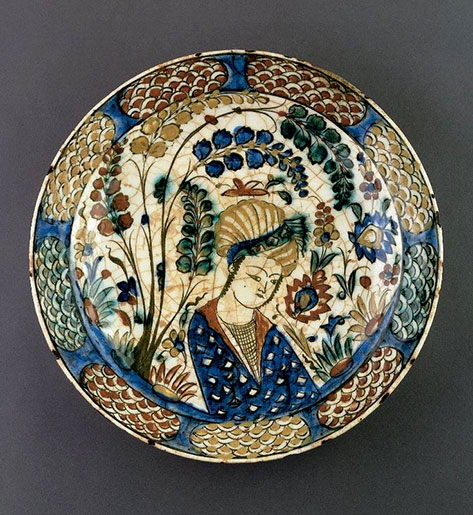 Plate with Youth in Landscape Setting. Safavid period, early 17th century,  Iran
Cincinnati Art Museum
Uzbek ceramic panel depicting a woman playing lute
Alisher Navoi station, Tashkent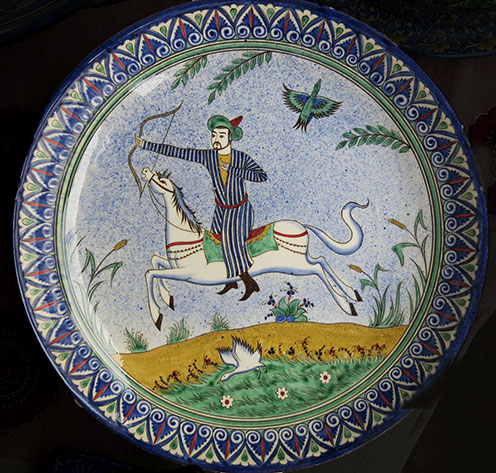 Rustam Usmanov horse riding hunter plate
Rishtan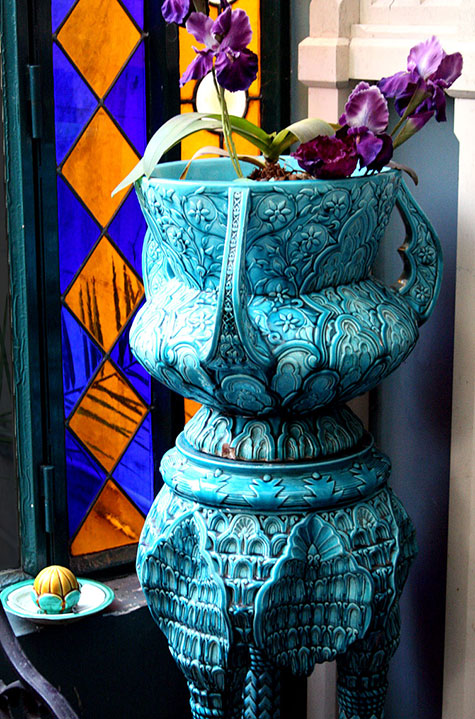 Azure vase with minaret inspired base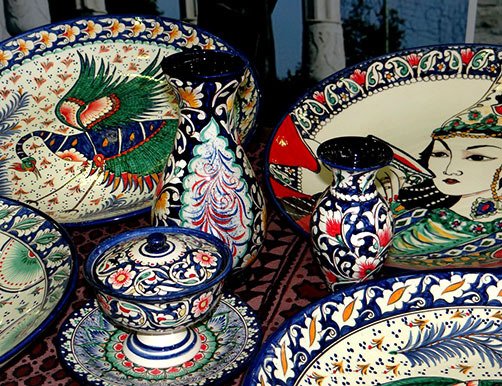 Uzbek Rishtan ceramics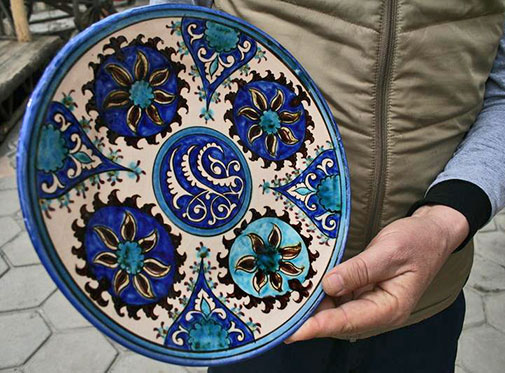 Alisher Nazirov ceramic plate in "Ishkor" blues
One of the oldest locations for the ceramic arts in Central Asia is situated in Rishtan, located in the Ferghana Valley, in Uzbekistan. Currently there are over 2000 active potters, accounting for about 1/10 of the population, honoring their ancient pottery tradition. This stretches back over 1000 years, when it was a thriving center during the days of the Silk Road. Celebrated for their diverse blue hues, their colour pallettes range from deep cobalt blues to azure and turquoise.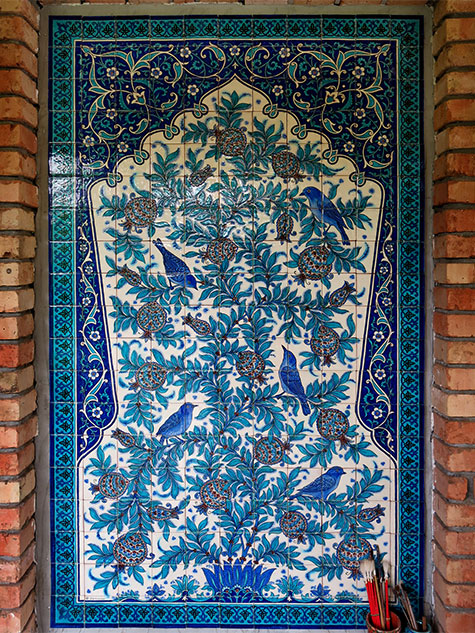 Ceramic tile panel – Rustam Usmanov, Rishtan
The renowned 'Ishkor' glaze is closely connected with the art of traditional Uzbek ceramics, and is a source of pride for the "Usto" (Uzbek pottery masters) This is influenced by a local herb called Kyrk-Bugin, which translates as "forty stems" and is only harvested in Autumn (September). After harvesting, the plant is then burnt in the field and converted into ashes, then roasted again in the studio in a "gundam" oven at a temperature of 1200-1300 °F , thereby bringing the ashes to a crystallized state.
This is then ground into a powder and mixed with crushed white river stones, quartz sand and even flour and painted as a glaze onto ceramic articles over pre applied colours that have already dried.
Cobalt can be added to the ishkor glaze to create turquoise, azure and blue colors while copper is added for green hues and manganese for browns. The presence of the Ishkor is attributed to creating the rich color depth and brilliance of the Rishtan ceramics.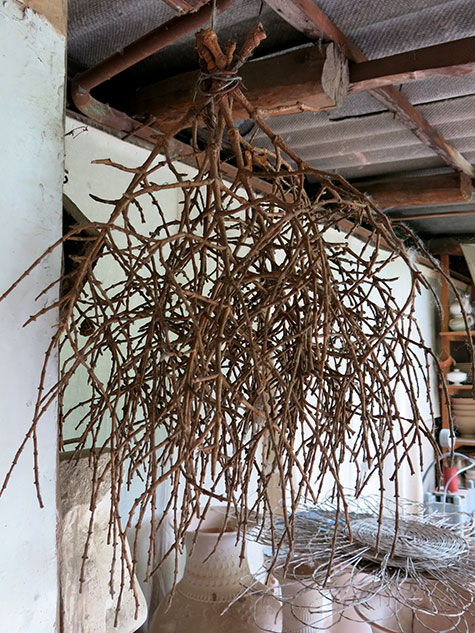 Kyrk-Bugin, a special herb and a critical component of the Rishtan 'Ishkor' glaze
Rustam Usmanov ceramic 'ishkor' blue wares, Rishtan, Ferghana Valley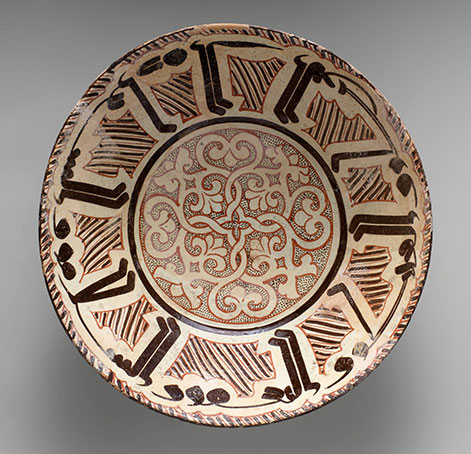 Bowl with the Arabic Inscription of 'Blessing, Prosperity, Well-being, Happiness'
Late 10th to 11th century–Nishapur — The Met
The Samanids (819-999 CE) were probably one of the most important dynasties in the eastern part of the Islamic world during the early Islamic period. Their realm included large centres like Samarkand (Afrasiyab), Bukhara, Merv, Nishapur and Kerman. The most important contribution of Samanid artists to Islamic pottery-making was the invention and perfection of the slip-painted ware. There are several types of this ware known today, and in general can be divided into the following main groups black on white, polychrome on white, decoration on coloured ground slip imitation of monochrome lustre.
These slip-painted wares constitute a great advance in pottery decoration. Normally the pigment runs in the kiln under the lead glaze, as it was practiced in Mesopotamia in early Abbasid times on splashed wares. By the introduction of a ground slip and slip pigments, potters could control the designs while in the kiln, and thus were able to produce a great variety of surface decorations.
Northern Qi ceramic flask with Central Asian dancer and musicians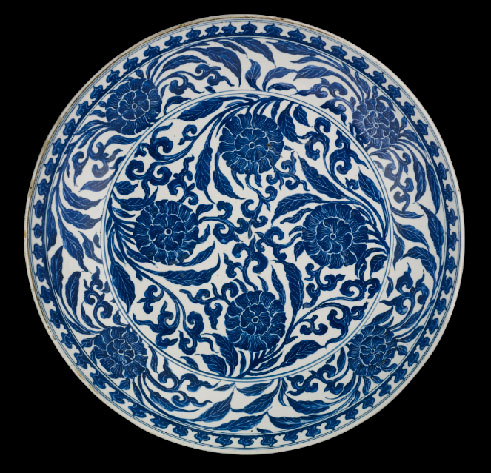 Large Jingdezhen blue and white charger made for the Islamic market
China, 17th century—Southebys
Tang earthenware fragment with sancai glaze excavated in Nishapur, Iran
End of 7th, early 8th century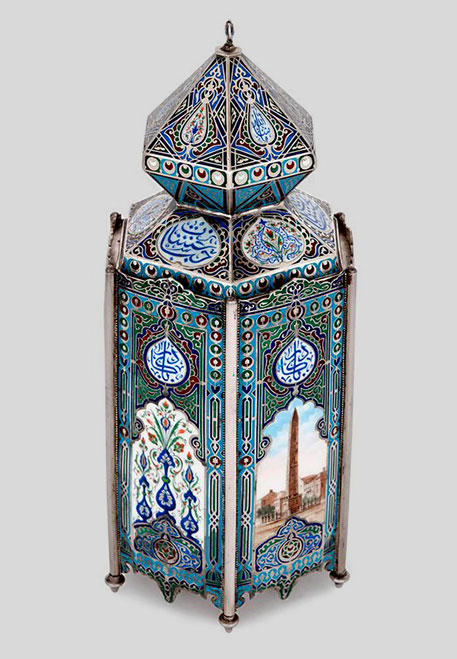 Antique Russian Islamic style silver and enamel lidded vessel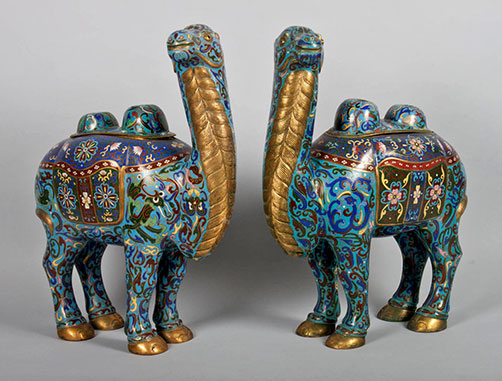 Pair of Chinese cloisonné enamel camel censers with gold highlights
20th century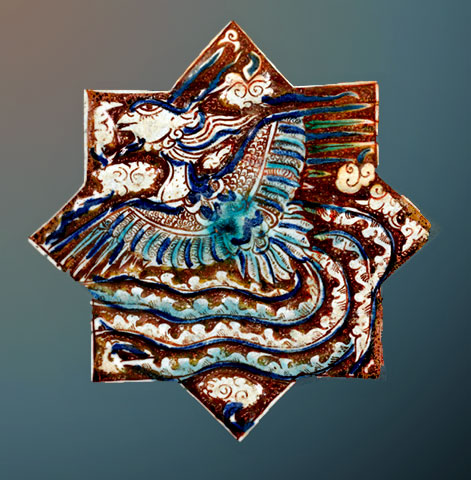 Kashan star shaped lustre pottery tile with phoenix,Persia, 13th century
Arts of the Islamic World Auction – Sotheby's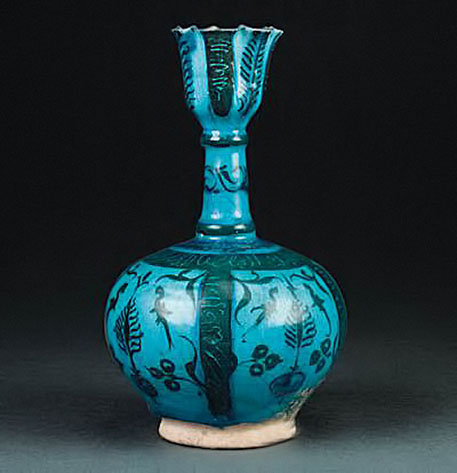 Persian Kashan turquoise glazed bottle,  circa 1200
With spherical body on short foot rising to the tearing tubular neck & flaring deep cusped mouth with everted lip
Rare Kashan Minai Bowl depicting Prince Faridun, Kava and Zahhak from Firdawsi's Shahnameh
Persia, late 12th-early 13th century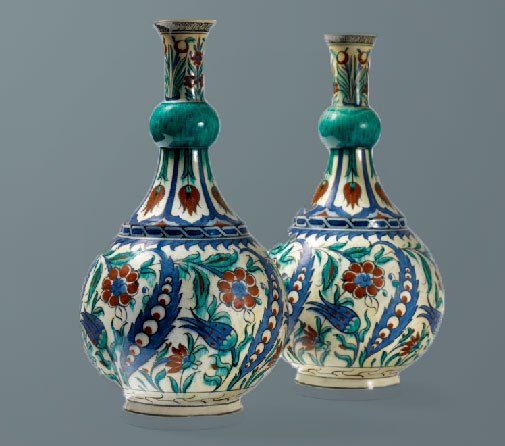 Pair of Iznik vases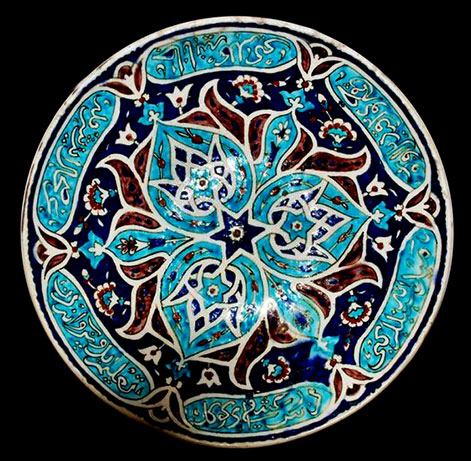 Ottoman Kütahya Plate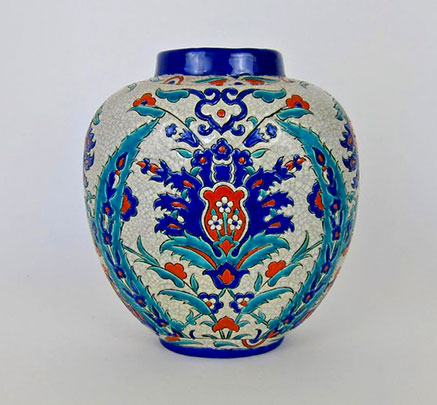 Boch Freres Keramic Art Deco Vase in the Iznik Style, Belgium
Caravanserai_of_Sa'd_al-Saltaneh
Qazvin
Green Uzbek porcelain bowls
Chinese Cloisonne Vase-–-Islamic Motifs
Coupe Porcelain turquoise Plate
Bukhara, Uzbekistan
Peacock dish with artichoke and leaf decoration. Turkey, 'Iznik'
c. 1550.
Islamic Arts
Persian tile, Falconer riding white horse
19th century–National-Museums-Scotland
Donkey rotating  grinding stone for clay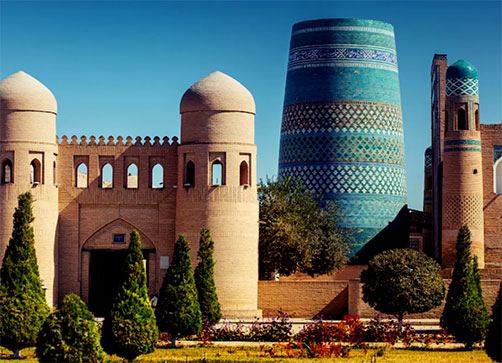 The Kalta Minar Minaret, Khiva, Uzbekistan
Two English Ironstone Vases in the Manner of Turkish Iznik Ware
Female street vendor in Bukhara with ceramic wares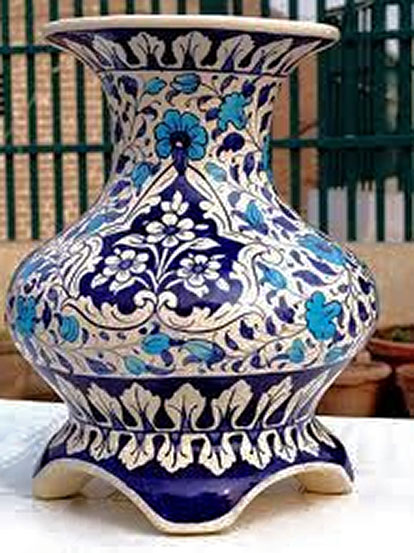 Hand made blue pottery of Jaipur, another iconic piece that originated in Persia and came to Rajasthan in the early 1800's
Hand painted ceramics, Rishtan, Uzbekistan
foto by Ana Filonov
Ceramics figure of a potter – The Narzullaevs Gijduvan
Bukhara, Uzbekistan
Massive fortress called the Ark — perhaps the oldest building in Bukhara
Colorful Bird of Happiness plate — Uzbekistan
Turkish Iznik ceramic bowl set
Iznik Ceramic Tile by Ohannessian, renowned Armenian Potter
Jerusalem
c 1930's
Iznik ceramic wares—Flickr Shahrazad
Turkish ceramic Bottle with medallions and flowering branches.
Turkey, 'Iznik', c.1535-45
Nasrudin Khodja riding his donkey, Bukhara
Lobmeyr Persian-style gilded and enamelled two-handled clear glass bottle vase
Vienna, 19th-20th century
Silver and Enamel Islamic lidded box
Monumental French Jacob Petit porcelain sherbetlik made for the Ottoman market
19th century
Moorcroft 'Bukhara' vase by Shirley Hayes
2001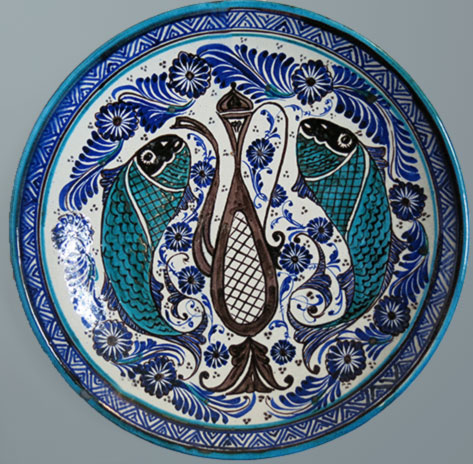 Pisces plate
Rustam Usmanov, Rishtan, Uzbekistan
Rustam Usmanov Studio plates
Large ceramic charger — Rishtan
Rishtan pomegranate platter
Rishtan pottery teapot and cups
Alisher Nazirov with his Rishton wares
Samarquand Tabriz bowl–Stonepaste; painted in black under turquoise glaze, incised (Kubachi-ware)
second half 15th century
Traditional Uzbek mastava soup-–-with lamb, vegetables and rice-–-served with patterned flatbreads and Uzbek dinner ware
Bronze sculpture — Uzbek Girl with a Jug by Vera Mukhina—-1933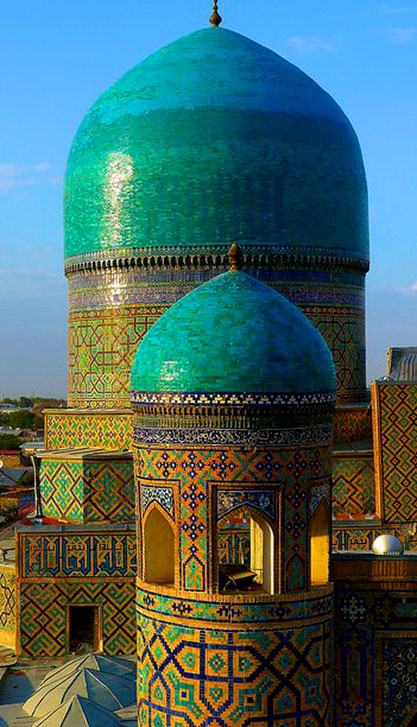 Ceramic tiled Minaret of Tilla Kari Madressa
Uzbekistan, Samarkand, Registan,
Fergana Airport, Uzbekistan
Teahouse in Margilan, Fergana Valley
Monumental blue and white Uzbek vase
Rich turquoise and blue glazed Uzbek ceramic vase
Uzbekistan Rishtan potter on wheel
Bakhtiyor Nazirov with his pottery
Rishtan
Sitki Olcar candle holder – Turkey
Middle Eastern Vase with floral motif and calligraphy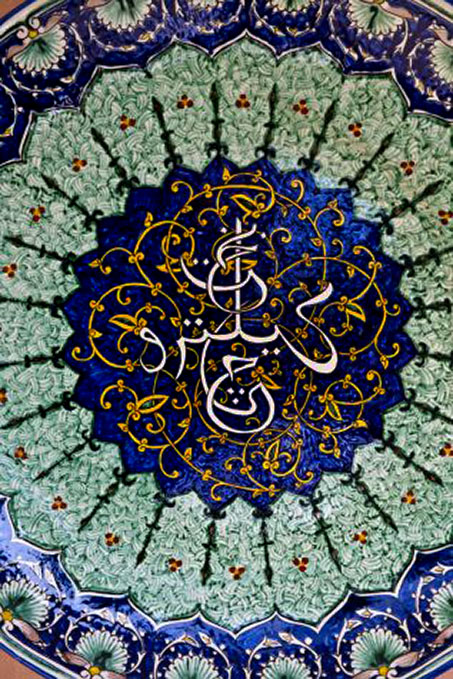 Arabesque calligraphic motif on a Uzbek plate
Iznik 16th Century vase
Large relief at the exit to Buyuk Ipak Yuli (Great Silk Road) station in Tashkent, Uzbekistan
photographer, Amos Chapple
Relief Silk Road mural at Almaty
Tile fragment, Bukhara, about 1359
Uzbekistan
Iran, probably Kashan  — fritware with running animal design in carved and underglaze-painted slip
Seljuk Period, 12th-13th Century
–