Rupert Deese, USA
Rupert Deese tall sgraffito 'Forrest' vase
Rupert Deese (1924 – 2010), known as Rummy, was a Californian Mid Century Modern ceramic artist recognized for his innovative designs and decoration of high fired ceramics.  He graduated from  Pomona College in 1950 and, while studying ceramics at Claremont Graduate School in California, taught at the Mt. San Antonio College. In the 1950's, Deese's hand thrown ceramics were available from several interior design firms, including Dean Marshall in La Jolla, California.
In 1958 Deese shared a purpose-built studio space with Harrison McIntosh, next to his home in Padua Hills, Claremont. From 1964 to 1983 he designed dinnerware forms and patterns for Franciscan Pottery Inc. while continuing to make his own ceramics in his studio. His creative energies were directed towards bringing forth experimental glazes and an unerring aesthetic for pure function.
Deese wrote "It is my hope in making these vessels that as the perception of their beauty diminishes over time, they will sustain themselves by pleasant usefulness."
Stoppered ceramic bottle and ivy bowl on stand – Rupert Deese
Two incised ceramic bottles with stoppers — Rupert Deese
Vintage Rupert Deese Studio Stoneware Pottery Vase
Mid Century — Claremont, California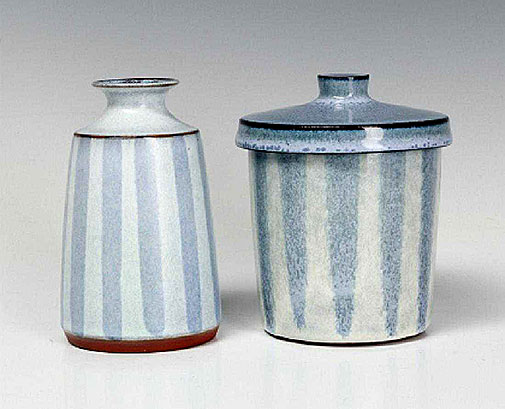 Two ceramic works by studio potter – Rupert Deese
Rupert Deese glazed stoneware bulbous vase
Rupert Deese squat circular vase
Mid Century Blue ceramic ocktail pitcher–Rupert Deese
Rupert Deese lidded and incised vessel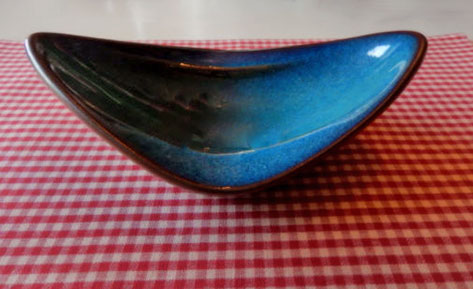 Rupert Deese
Matt surface vase, deep incisioned lines — Rupert Deese
Rupert Deese  —  Ceramic vintage  matt glaze compote
Azure blue Mid Century dish — Rupert Deese
Rupert Deese
Photo – Krystal Brier
Sgraffito vessel by Rupert Deese
Large ceramic bottle with vertical stripes by Rupert Deese
Turquoise glaze vase — Rupert Deese
California
Blue vase — Rupert Deese Studio Pottery
Deep footed Bowl — incised poem through black pigment—Rupert Spira
"The greatest discovery in life is to discover that our essential nature does not share the limits nor the destiny of the body and mind." – Rupert Spira
During the late seventies and early eighties Rupert Spira trained as a ceramic artist under Henry Hammond and Michael Cardew, two of the founding fathers of the British Studio Pottery movement. His early influences in pottery came from the ceramic traditions of China, Korea, Japan and Persia. His mother was artistic and had a deep interest in spiritual matters and at the age of 15 he gravitated towards exploring the writings of Eastern spiritual masters like Rumi, Shankaracharya, Gurdjieff and Ramana Maharshi. "Somehow, I had a deep intuition that what I was reading was true."
Rupert Spira–stoneware coffee pot and set of six cups, white linear relief glaze decoration
Rupert Spira ceramic 'bird of paradise' charger
Oxford Ceramics Gallery
Rupert Spira
Rupert Spira elegant footed bowl
Rupert Spira- Open footed bowl, blue porcelain Chun Glaze
Rupert Spira ceramic charger with plant motif
Rupert Spira- ceramic cup & saucer
Rupert Spira– dish resist decorated with a bird
Rupert Spira Large Chun Glaze Bowl
Rupert Spira poem bowl
Rupert Spira – Monumental Cylinder Vase with Poem written on surface
Rupert Spira — footed bowl with sgraffito surface
Open Bowl with Poem incised though Black Pigment over White Glaze – Rupert Spira
Rupert Jack, AUS
Rupert Jack was born in Mimili in 1951, a remote aboriginal community in the Anangu Pitjantjatjara Yankunytjatjara (APY) Lands in the State of South Australia He moved to Kenmore when he was a baby where he grew up, then moved to Ernabella. He was a priest for over 20 years, travelling all across Australia, talking and singing in the indiginous inma language.
In 2010 he began working as an artist with Ernabella Arts as a painter and ceramicist. He is currently the chairperson of the Ernabella Arts center and a leader in the wider community. Established in 1948, Ernabella Arts is Australia's oldest, continuously running Indigenous Art Centre. Ernabella Arts is part of the Pukatja Community, at the eastern end of the Musgrave Ranges in the far north west of South Australia.
Rupert Jack 'Maku Maku III' – stoneware vase with sgraffito
2016  —  Sabbia Gallery
Rupert Jack – 'Maku Maku" black vase with white sgraffito
Rupert Jack
Rupert Jack sgraffito vase
Rupert Jack sgraffito vase
Ernabella Ceramics
Ernabella Ceramics Rupert Jack vase
Sabbia Gallery– Clay Stories–Rupert Jack
2017
Rupert Jack, 'Kapi Ukalinganyi'
Rupert Andrews of Glastonbury, studio pottery ovoid crackle glaze vase
Not long after he set up his first pottery studio in 1974 in West Wales, Rupert Andrews  experimented with various techniques that eventually led him to the invention of his own unique crackle glaze. He achieved something that had never been done before –a crackle Glaze on white stoneware that was fully water tight and functional. Creating and mixing his own glazes, finding the precise temperatures of firings and understanding the delicate relationship between the nature of the glaze and subsequent crazing, he invented the technique of craze lines following his patterns creating intricate designs with swirls, waves, flowers and petals etc
"This glaze technique has evolved from years of studying its reaction to my interpretation of art through the use of it" The delicate relationship between glaze ingredients, its thickness and 3 precision firings contribute to producing this functional artwork pottery. After the 2nd firing the craze lines are filled and re-fired to a top temperature of 1200c. After the final firing what you are left with is the memory of craze lines within the high gloss finish. This means each piece is completely individual and has its own unique character.
"I love to think of people using my pots within their homes, and I really hope the colours and the natural freedom in the artwork shines through"
Rupert spent 6 months in India in 1971 and spent time at the Ganeshpuri ashram in Maharashtra with the spiritual teacher Swami Muktananda practicing yoga and meditation. The rich colours and vivid patterns and textures that pervade India was an influence in his wonderful discovery and he also claims his spiritual expansion fueled his desire for exploring creativity and art.
Colorful spiral vase – Rupert Andrews
Rupert Andrews crackle glaze tree mug
Rupert Andrews in Glastonbury studio
Rupert Andrews red ovoid crackle glaze bottle vase
Rupert Andrews unique crackle glaze vase
Rupert Andrews crackle glaze ovoid vessel
Rupert Andrews red and black ovoid crackle glaze vase
Heart Mug — Rupert Andrews
Pink streak ovoid crackle glaze vessel
Blue crackle glaze mug — Rupert Andrews
Handmade crackle flame glaze vase — Rupert Andrews
Ox blood crackle glaze vase –  Rupert Andrews
'Yellow Garden' ‎craquelure mug–Rupert Andrews
Green wavy vase — Rupert Andrews
Rupert Andrews flames mug
Ruby red crackle glaze Vase —Rupert Andrews
Dark Ochre Flames Mug – Rupert Andrews
Blue flames mug–Rupert Andrews
Petitie spherical vase — Rupert Andrews
Abstract Peonies crackle mug – Rupert Andrews
Abstract botanical decoration crackle glaze Mug — Rupert Andrews
Abstract Blue Dots crackle glaze bowl –  Rupert Andrews
–