The detailed sgraffito pottery of Tim Christensen :
Tim works exclusively  with black and white drawings on porcelain pottery with the motive of conveying a message for the times. Christensen claims his work reflects his environment, and the rhythmic, meditative movements of throwing the clay, shaping the vessels, sanding and carving them, give him time to become even closer to the woods, the sea and the night sky.
Tim's story :  " I have been making black and white pieces since 2003. I am getting better as I get deeper into this technique of sgraffito. My work is narrative, specifically illustrated, sometimes spiritual, often funny, and understandable. "
'Emptyboat'
  " I make pots about the times in which we live, and the challenges of living in a time in which we are divorced from the natural world around us. I make my work to be appreciated by those who know a lot or a little about porcelain or art, and make it with the hopes that some of these pots will survive longer than me or the culture in which we live, and will still be as pertinent and relevant then as now. "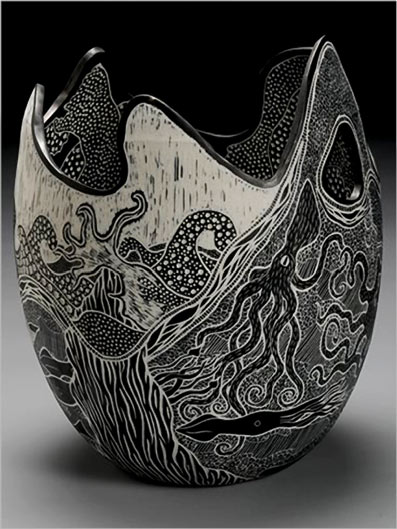 'Hardwork' – Tim Christensen
  " I live in an off-grid cabin near the ocean in Roque Bluffs, Maine. My studio is the woods when the weather is fair, and in the cabin when it isn't. "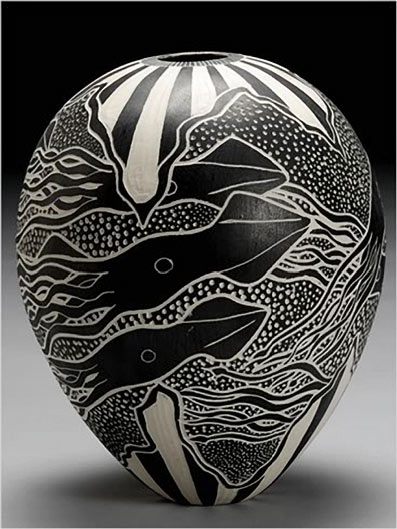 'Squidcircus'  – Tim Christensen
  " To me, more important than the immediate political or social issues of the day is the greater struggle of humans to find a way to fit back in to the natural pattern of life on earth. This is the defining struggle of our time, and I feel compelled to illustrate this on my pottery. "    
'Octopusplate'
  " I make my forms on a kick wheel nestled in a hollow in the woods, draw where I please, usually in front of a small camp fire, and fire the work in a gas fired kiln, to which I have attached a bread oven. This arrangement allows me to be in very close contact with all of the natural rhythms coursing around us all. The ocean is about 300 yards away, and I often pack up my tools and a few pieces and draw on a very small island named "Despair". "When I'm drawing, I portray things I'm really interested in, I feel like they are a photograph of my thoughts. Almost like an illustration of my dreams.  If  I can pull my conscious mind out of the process, I find greater insights than I would ever be able to put into words."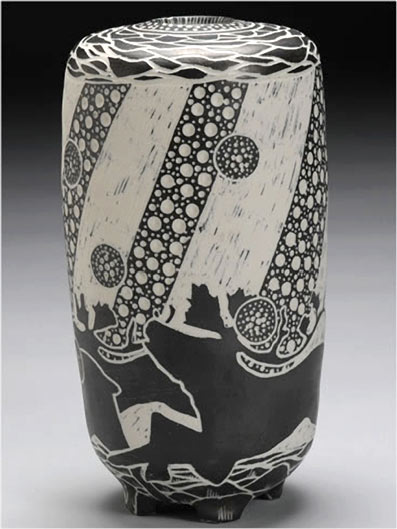 'Herd'  – Tim Christensen
'Lotus' – Tim Christensen
  "Across a channel is the island "Hope". Seals, a family of eagles, my girlfriend Jenna, and our two dogs are constant companions whether I am working on our land or at the water. "    
'I saw a kingfisher'  – Tim Christensen
Scratching through the surface on a piece of porcelain
Sgraffito work on the porch with Tim Christensen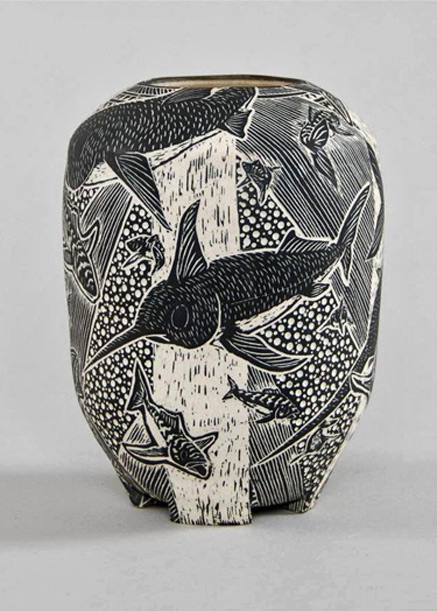 'Swordfish and Mackarel' – Tim Christensen
11 inches height
'Winter Clam Digger' – Tim Christensen
Height 8 inches
Tim Christensen
Tim uses the sgraffito method to draw pictures on his porcelain vessels. Each vessel is made with layers of contrasting clay colors and he carefully carves a drawing into the top layer, revealing some of the layer beneath.
'Woodswalk' – Tim Christensen
'Merganser' -Tim Christensen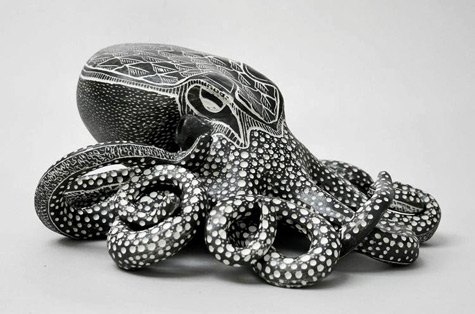 'Ocotpod' – Tim Christensen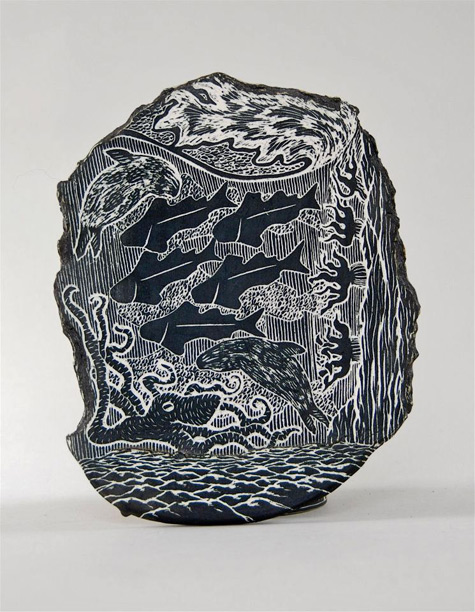 'Sea Wall Tile' – Tim Christensen
11 inches height
'Wrens and Grass'  – Tim Christensen
More on Tim Chistensen here.
–