A diverse collection of tribal ethnic pottery art from Central America (Costa Rica, Panamá, Guatemala, Honduras, Nicaragua) and the North African Maghreb (Algeria, Morocco and Tunisia).
Central America
Costa Rica
The remnant indigenous Chorotega potters of the Guanacaste/Nicoya region of northwest Costa Rica, since the pre-European contact era until present, continue creating their distinctive oven baked and painted (with natural slips) art pottery. Some of these Indian pottery pieces are re-creations of their ancestors' archeological objects, while other objects are more contemporary, but always informed by their pre-Columbian aesthetic.
Ceramic tripod 'chocolatera' pot, Costa Rica
Galeria Namu
Vintage Chorotega Indians pottery handmade vase Costa Rica
Chorotega Indian pottery vessel, Costa Rica
Galeria Namu
Monkey motif ceramic vase – PEFI Ceramics
Costa Rica
Carved mask with painting by two  artists of the Brunka Tribe-  Ismael Gonzalez and his son Melvin Gonzalez.
Hand decorated, quality eco-tile. Made in Santa Barbara de Heredia,Costa Rica by Patricia Bedoya.
Ocelote figurine carved from Tagua nut
Brunka tribe-Carved wood Coatimundi figure with the 'jícara' fruit shell.
Painting by Paco Lazaro Fernandez and carved by his mother Loli Lazaro Fernandez
Boruca tribe pottery kiln, Costa Rica
PEFI Ceramics water jug, Costa Rica
Forest Cat mask- Brunka tribe – carved and painted by the artist Melvin Gonzalez.
Amerindian Pot with ancient motifs and contemporary design
Colourful Goblet Pair from the PEFI collection by Cecilia Facio de Figueres
Chorotega indigenous art collection –  A model of a jaguar ceremonial grinding stone
Costa Rica Pottery Vase with Etched Turtle Design Signed Mauro
Indigenous Chorotega pottery figure using only natural mineral slips
Galeria Namu
Cherries cookie jar – PEFI ceramics
Female ceramic figure sculpture – Noble woman of Nicoya–Guanacaste
Colorful Sushi Plate from PEFI Ceramic collection. By Cecilia Facio
Chorotega indigenous art Jaguar Pot. Hand-made by talented artisans of this native group of Guanacaste, Costa Rica.
Traditional decorative plate by Chorotega Tribe
Panama
Wounaan carved ivory nut hermit crab, Panama
Hand carved owl
Wounaan handwoven basket features a carved tagua nut hummingbird hovering and feeding on its lid
Panama
French Angelfish Figurine tagua sculpture Wounaan tribe of Panama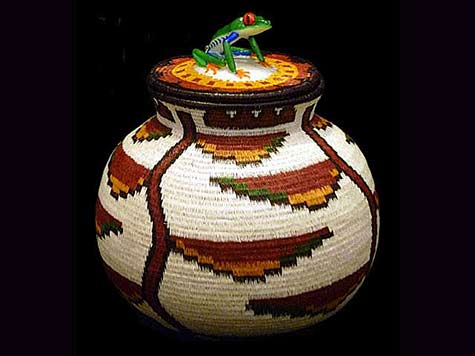 Handwoven lidded pot – Panama Wounaan tribe
Guatemala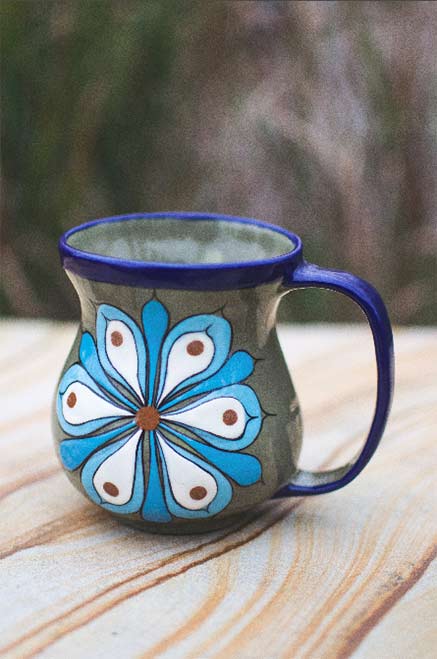 Flower motif coffee cup–Guatemala
Carved jade sculptural head – Museos de Casa Santo Domingo
Mayan ceramic replica -Guatemala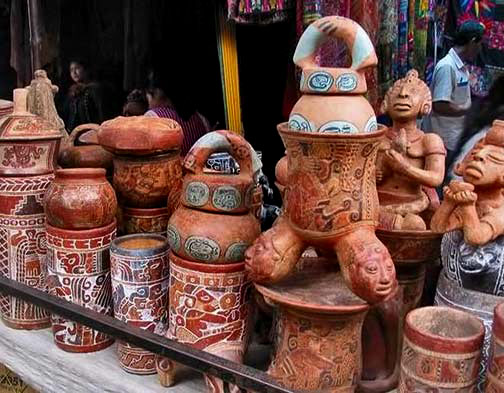 Mayan pottery traditions in Guatemala
Guatemalan basket weaver
Guatemalan ceramic platter
Honduras
Historically, the country's most important handicrafts have been in the production of pottery and objects made of twisted, knotted, spun and woven plant fibers, especially ropes, baskets, textiles, and mats. The Mesoamerican peoples that lived in the Honduran territory at the time of the Spanish conquest, the Chortis, Chorotegas and Lencas, developed a highly sophisticated level of pottery, ranging from the simplest products for daily use to the most intricate ceremonial objects. The Lenca pottery arts is a testimony to the pottery tradition of Honduras and its activity is reserved for women in the community, popularly called loceras. The process of creation and painting is done by hand using old techniques where no artificial ingredients are used, the colors used favor organic pigments which are obtained through natural procedures. After a piece is molded, it is left for a few days in the sun and once dry, it is placed in an outdoor adobe oven.
Lenca contemporary pottery Honduras
Acta De Honduras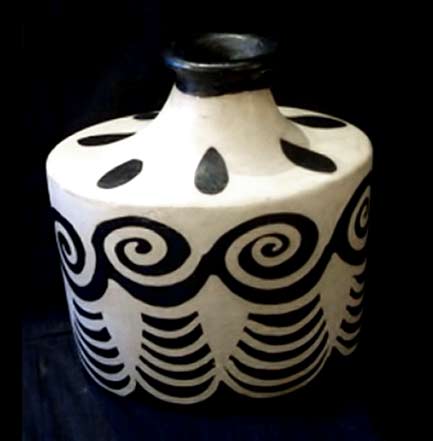 Indigenous Lenca tribe pottery, Honduras
Lenca contemporary pottery Honduras
Lenca plate Honduras
Lenca woman flower vase
Carmentas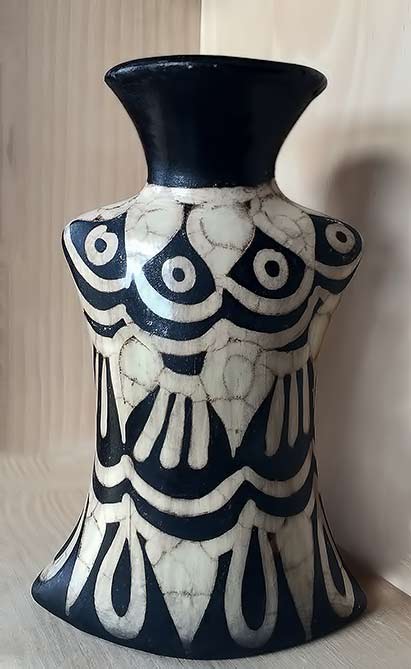 Lenca black and white vase
Lenca contemporary plate – Alessandra Foletti
Honduras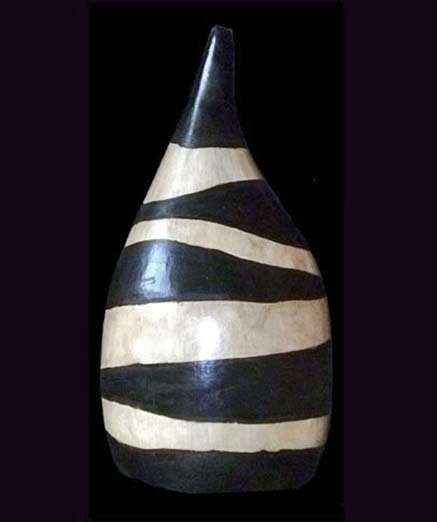 Lenca ceramic abstract striped bottle
Galeria Namu
Lenca adobe kiln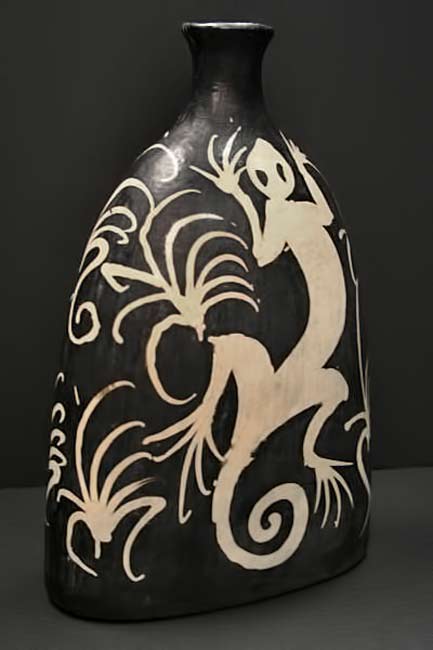 Honduran Lenca lizard motif vase
Lenca pottery vessel
Honduras Lenca Pottery vase
Indigenous Lenca pottery artist Maria Amgadalena
La Arada, Valle in Honduras.
Nicaragua
Sgraffito fish motif pot Artisan San Juan de Oriente
Handmade in Nicaragua
Pottery Vase by Miguel Angel Calero
Nicaragua
Sgraffito turtle  motif pot by San Juan de Oriente
Nicaragua
Costa Rican ceramic plate
Maghreb
Algeria
In North Africa, wheel-thrown pottery made by men dates from the 7th century B.C. when the Phoenicians introduced the potter's wheel to the Algerian coast. Handbuilt pottery made by women, including those from the Kabyle, an older, probably indigenous tradition, dates back 2000 years before the birth of Christ. Pottery and ceramics are handmade in simple kilns, and then painted using natural-made paints and dyes, applied manually by the fingers of the women who make them. This advanced and meticulous way of "finger-painting" pottery is a prized example of Algerian art made by indigenous artisans and fine craftsmen.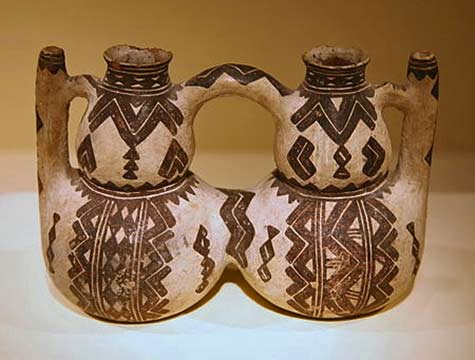 Kabyle (Berber) pottery double vessel from northeastern Algeria
19th century
By cliff1066 via Wikimedia Commons.
Kabylie Algerian pottery jug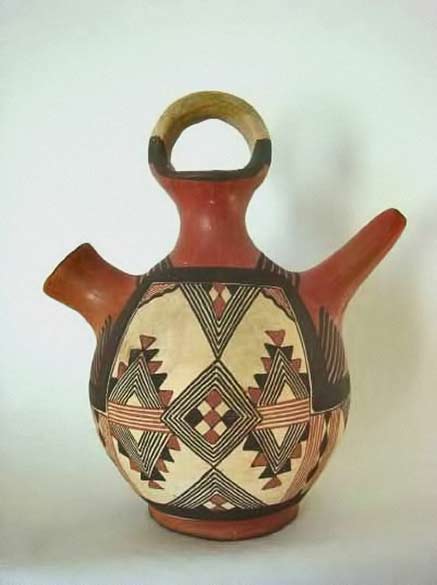 Berber water vessel, Kabylie, Algeria
Kabyle peoples jar – Ceramic and pigment vessel with the head of an animal from Algeria
!9th Century
National Museum of African Art, Washington DC
Algerian Kabylia pottery vessel
Photographer: Jeff Jones
Algerian Kabyle oil lamp
Handpainted Kabyle pot
Kabyle (Berber) Pottery, Algeria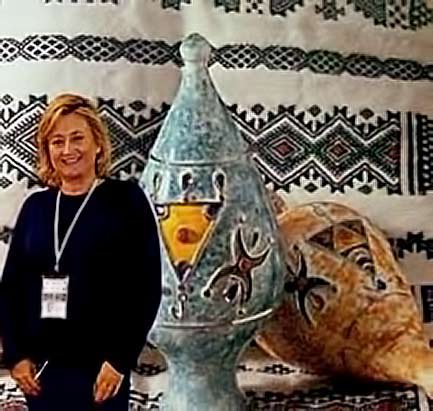 The National Excellence Centre for Ceramics in Tipaza, Algeria
Morocco
Women's pottery from the Rif, a mountainous area of Morocco,  whose roots go back to the Neolithic, is considered part of the World Cultural Heritage, due to its great anthropological artistic value. In the Taounate province, due to the risk of this tradition disappearing, the organisation Innovarte initiated a project aimed at preserving the trading and revival of all the repertoires of their crafts. It also included improving the women's working conditions and enhancement of production techniques. Also the design of new collections are encouraged along with support for commercialization.
Pottery from the Rif, Taounate
Terracotta pottery vessel from the Rif mountains, Al Hoceima
Women's pottery from the Rif, Taounate, Morocco
Rif pottery at Chefchaouen
Photo – David K. Edwards
Women's pottery vessel  – Rif, Taounate
Moroccan hand painted pottery vessels – Rif, Taounate
Moroccan female potter from the Rif, Taounate
Chefchaouen blue pottery vessel, Morocco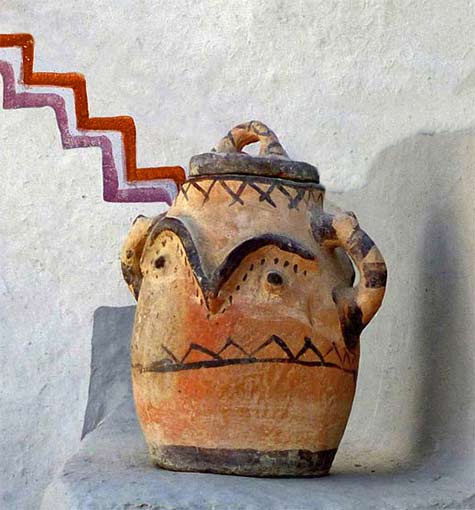 Lidded pottery jar – Rif, Taounate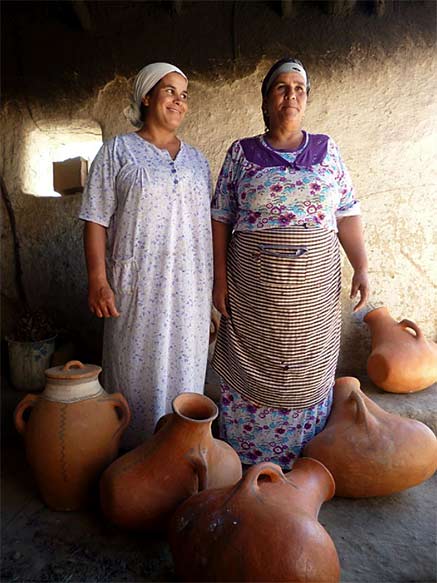 Moroccan Rif  Taounate female potters
Moroccan Ceramics of the Rif
Hand painted Moroccan Rif pottery
Large jade green Moroccan storage jars
Moroccan Rif Al Hoceima tea set
Tunisia
The coastal town of Nabeul is an ancient pottery center in Tunisia.
Large baluster pottery in Nabeul
Tunisian pot with geometric decoration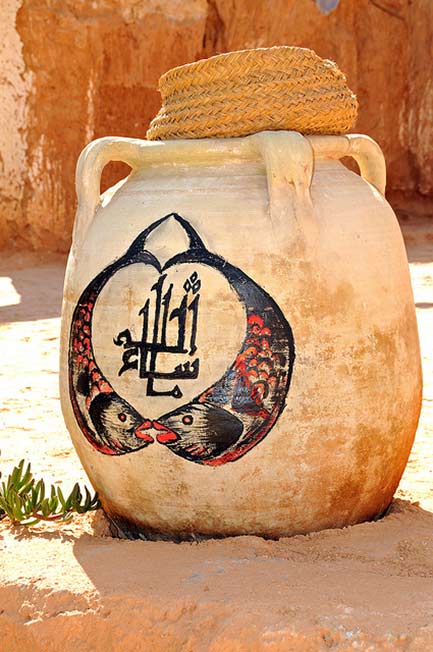 Tunisian pot with twin fishes and calligraphy motif
Dennis Jarvis – flickr
Vintage Jug-Vase from Nabeul, Tunisia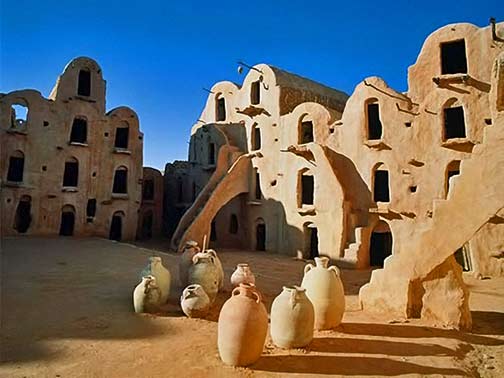 Village of Tataouine, Southern Tunisia
Square twin fish motif platter, Tunisia
Amphora ovoid vessel, mosaic style twin fish motif
Island of Djerba in Tunisia
Tunisian geometric design ceramic vase
Nabeul, Tunisia – 1930's
–