Here  is a video of Hsin-Chuen Lin throwing a tall vase without using any tools. :
Hsin-Chin Lin is currently living in Fremont California, but originally came from the port city of  Kaoshiung Hsien in Taiwan. His foray into ceramics began at the National Taiwan Normal University in Taipei, when he was studying Industrial Education. He went on to graduate school at the University of Iowa where he received his Master of Fine Art degree in ceramics.
Working in clay has been Lin's passion for more than 25 years now. His form has evolved since he came to the  U.S. in 1988. His inspiration comes from the Eastern culture, particularly early Chinese objects from the  Shang and  Zhou dynasty's bronzes as well as the Sung dynasty's elegant pottery. He has also been  influenced by American contemporary ceramics, and the freedom and spontaneity of making pottery. Cultural influences are integrated into his work using contemporary concepts and techniques. He works mainly on a potter's wheel  where his  beautiful vessels are first thrown, then torn, punched, squeezed, decorated, and finally fired, such as raku, sagger, gas and wood fire depending on what he wants to express.
Hsin-Chuen Lin prefers organic looking clay forms.  Spraying a glaze and reduction firing is the usual process that is used. A dry glaze and reduction firing  is applied to match the texture naturally,  rather then using fancy glazes. In his words : " I like to make strong forms that need no embellishment. To me, the forms express themselves."
Website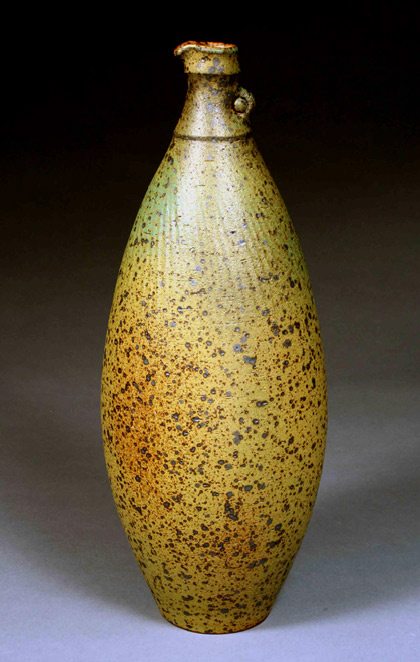 Tall Pitcher by Hsin-Chuen Lin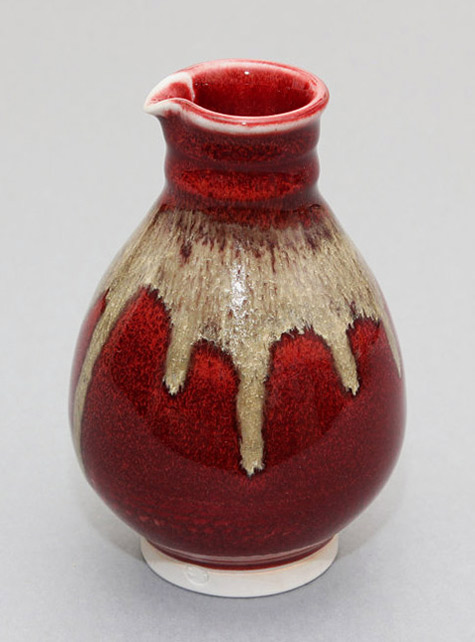 Wheel-thrown Porcelain Copper Red with Golden Glaze Sake Bottle.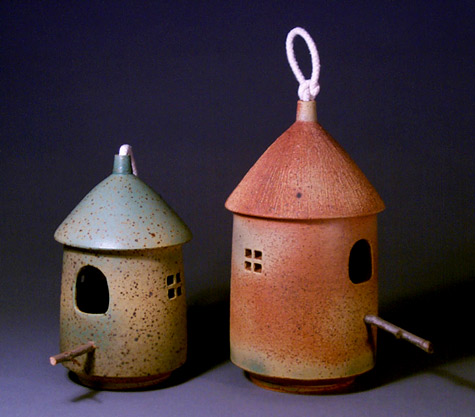 Ceramic Bird Houses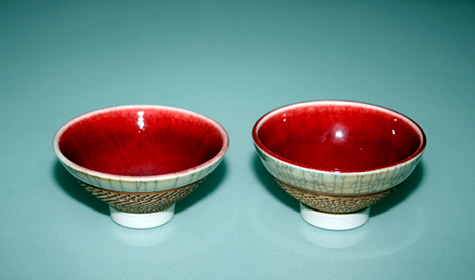 Wheel-thrown Porcelain Bowls with Red / Crackle glaze and Chattering Decoration.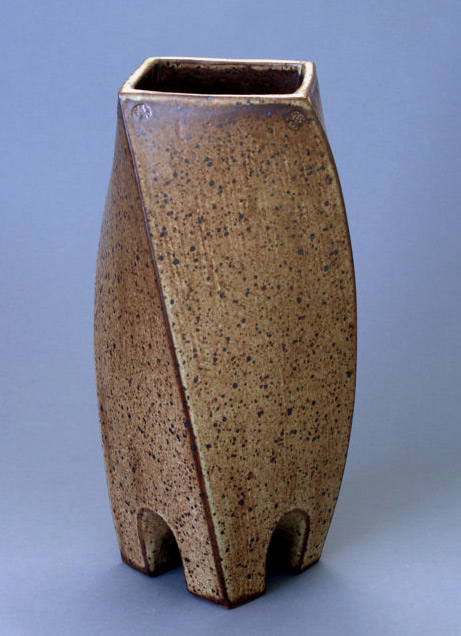 Wheel-thrown & Altered Stoneware Square Ikebana  Flower Vase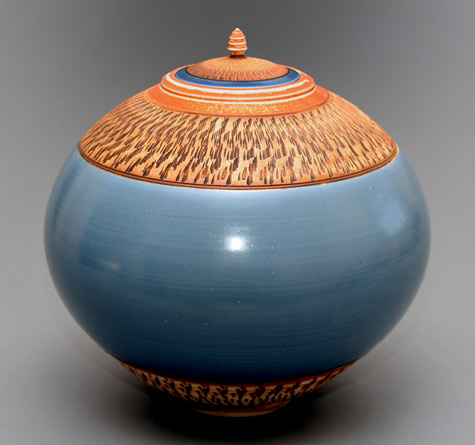 Hsin-Chuen Lin
Shino Bowl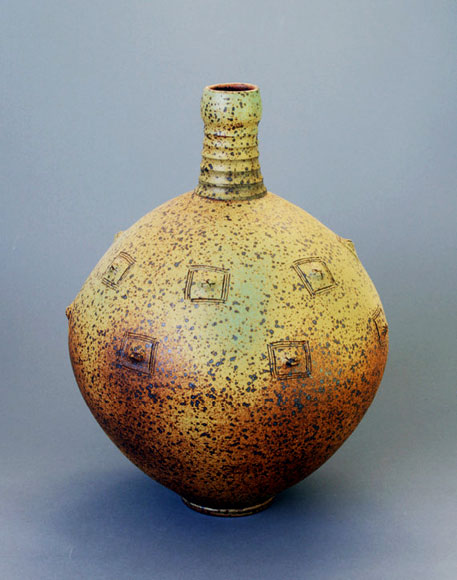 Wheel-thrown and Altered Stoneware Vase Bottle
Red Bowl by Hsin-Chuen Lin
Wheel-thrown Stoneware Flower / Ikebana Vase with Shino and Green Glaze.
Tall Teapot –  Hsin-Chuen Lin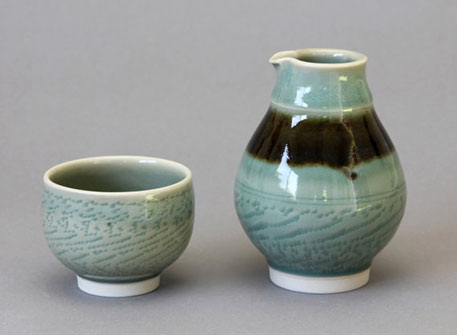 Wheel-thrown Porcelain Celadon Sake Bottle and Cup Chattering Decoration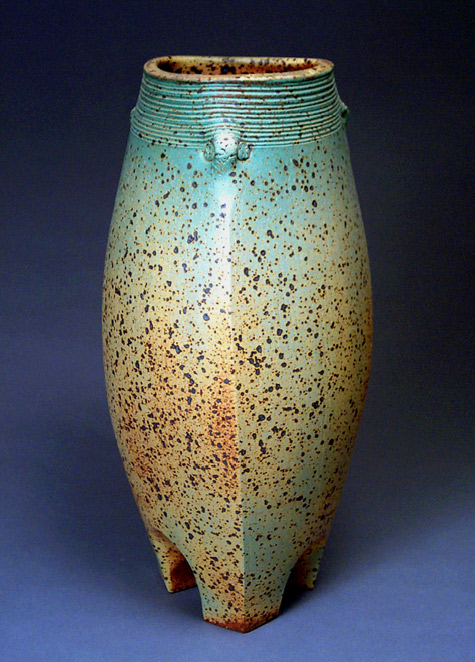 Tripod Vase
Wheel-thrown Porcelain Shallow Bowl with Red, Blue and Olive Glazes and Chattering decoration by Hsinchuen Lin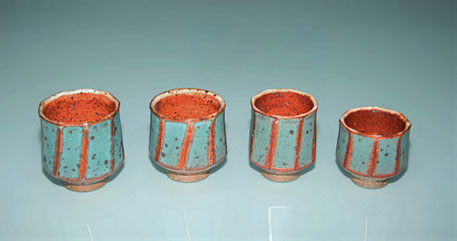 Hsinchuen Lin
Round teapot
Ceramic pumpkins by Hsin-Chuen Lin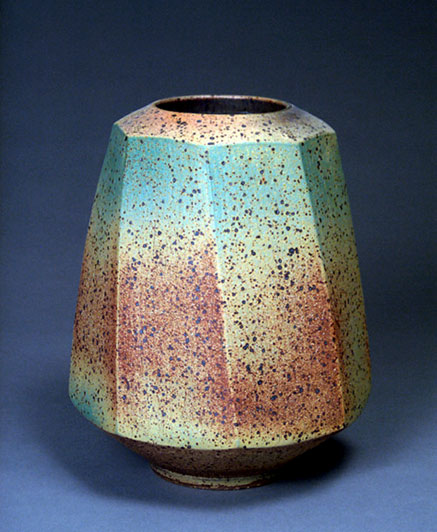 Hsinchuen Lin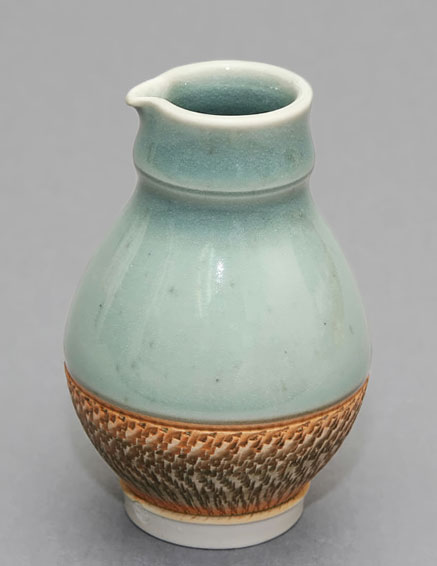 Wheel-thrown Porcelain Celadon Sake Bottle with Chattering Decoration by Hsinchuen Lin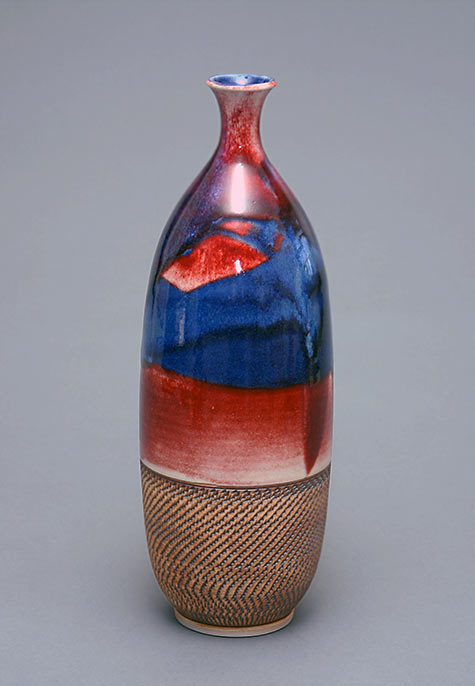 Hsin-Chuen Lin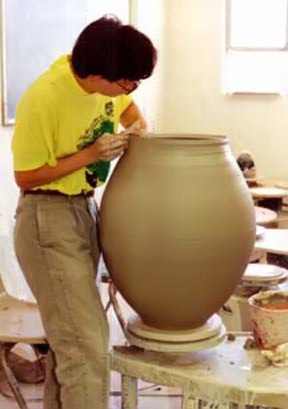 Hsin-Chuen Lin throwing a large pot.
See more on Hsin-Chuen Lin pottery here
…
An article penned by Susan Bendavid on her experience of studying pottery with Hsin-Chuen Lin :
Dreams Do Come True – August 2013
I was watching "The Bucket List" for the second time with my husband four weeks ago and thought "what do I really want to do before I die?"
Then I recalled a moment twenty years ago, back in 1993. I had spent time visiting master potter Otto Heino in Ojai, Calif. He offered me a pottery apprenticeship but at that moment I had two sons under age five and was building a safety business. The timing could not have been worse! Neither motherhood nor a budding business allowed for a sabbatical from the real world, and with huge disappointment I had to decline a rare opportunity. I felt that my chance to study with a master potter was lost forever.
That was until four weeks ago when surfing the Internet for pottery tutorials on YouTube. I came upon the chattering video by Hsin-Chuen Lin (pronounced Shin). I raced to show my husband what I discovered! He knew and I knew the force of my excitement was about to change our lives forever.
That very night I sent Hsin an email asking if he taught, and within hours he replied "YES." I just so happened to be on a break from work and my children, both over 21, had no need for me. So I was free to do as I pleased. I booked a flight from Fort Lauderdale, Florida to San Jose, Calif. and began to pack my tools and apron.
I landed two weeks ago, on a Friday afternoon. The very next morning I drove to Fremont, Calif., a suburb about 20 minutes north of San Jose, to study at Hsin's private studio; a quaint building at the back of his house in a beautiful yard. It has two potter's wheels and windows to the garden. One wheel was for "throwing" and the second wheel was for grinding.
The grinding set up is a modified wheel exclusively built by Hsin with a drip water system powered by a fish-tank water pump and a hose with copper tubing inserted to deliver water onto a diamond-head wheel bat at a precise location for smoothing the foot on a piece of pottery which is essential after firing.
The studio also extended outdoors to the side of the property where a pug-mill clay mixer, clay wedging station and electric kiln are stationed (Hsin only uses the electric kiln to bisque fire his work). He is the kiln master of two fabulous studios in the region where he also teaches. Those studios fire with gas. One studio is in San Jose in the arts district. It is Higher Fire Clayspace and Gallery owned by Dan Dermer who taught me glazing and spraying techniques as well. The Higher Fire Clayspace kiln is fired to cone 9-10. The second studio is Sunnyvale Community Arts Center in Sunnyvale where the kiln is fired to cone 10-11. Both studios have reduction and oxidation firings and scores of amazing glazes. Better yet, they are dust conscious environments – well suited to me – a safety nerd.
I took four private classes at Hsin's house– three hours apiece – and practiced five days a week, eight – twelve hours a day. I also attended group lessons by Hsin and other classes at the studios. I even learned how to fire a pot in my barbecue. I took video footage of Hsin teaching me and shot scores of photographs of his work in his private gallery. I bought pieces too. In fact, I had to buy extra carry-on luggage to safely transport all the pieces I brought home.
The private sessions began with my spiral wedging technique and I got Hsin's approval on that. Hsin is very easygoing and nonjudgmental which was a relief compared to other potters I had studied with before. I learned to use my fingertips to center the clay on the wheel rather than my palm. We focused on the basic cylinder form using an inverted thumb which made me think differently; the result being accurate upward pulls and uniform wall thickness – essential to quality work. I came to the realization that I could now form any shape I desired.
Having been an average potter for 20 years, his tips catapulted my skill level forever. I had always wondered how to tap to center so he set up the wheel with the pin tool held by a clay lump facing the pot to demonstrate timing the precise moment to tap. He showed me how to listen for the sound of a drum to trim a floor as thin as 1/8 inch which insures a pot's floor won't crack when fired. He also showed me how to attach wet handles to leather hard tea pots so they won't pull away when fired. He gave me tried and true recipes for oil spot glaze and other oxidation glazes for my electric kiln, and he showed me how to create textures with Sodium Silicate. I even bought a set of Hsin's hand made trimming tools. He sells them on Etsy under the name "Hsinchuen" or contact him directly via email at: [email protected]. His tools are a must to trim and chatter.
I urge anyone that wishes to make beautiful pottery study with Hsin and take advantage of a rare opportunity before he gets too busy. Once the word is out that he offers private lessons, not just tutorials on You Tube, his calendar will be booked solid. He is a treasure to be discovered and cherished by all potters who dare to be great!
After having traveled over 6,000 miles to study with the master potter I was destined to study with my dream is alive and I am a confident potter today having mastered "Hsin's Magic Thumb" technique. I am forever grateful to Hsin for sharing so freely and lovingly.
Upon my return home, I could not contain my enthusiasm as it poured from my every breath. That energy and glee transferred to my husband and sons. They too are inspired from my experience and are acting on their dreams. My husband will be retiring to become the photographer he always dreamt to be; my eldest son is moving back home to Los Angeles to be a real musician and my youngest son is moving to New York to be a healer through Yin yoga. As a family we have a renewed bond through our creativity and excitement. What a gift after 30 years of marriage and 26 years of parenthood. Anyone that wants exuberance in his or her life need only be inspired. I hope you watch "The Bucket List" a few times too, but mostly that you act on what inspires you without hesitation, because life is worth living to the fullest every moment!
Susan Bendavid is president of Universal Safety USA, LLC, a high-rise building disaster preparedness firm based in Los Angeles and can be reached via email: [email protected]
–