Two ceramicists that use imaginative, evocative images and text to deliver poignant narratives to their decorative language. And the delightful minimalist black line images on earthenware by Louise Madzia, filled with subtle humor. 
Lucinda Mudge – 'Jungle Killers Alive'  
Inspired by the overly dramatized poster art from old fashioned circus shows.
'If you are feeling guilty you probably are'  baluster vase — Lucinda Mudge
If you were a vase, what imagery and text would you choose for your surface?*
Gold fingernails, fancy sunglasses with tiger stripes and an ornately patterned floral outfit with gold monkeys from head to toe. I'd have glistening rubies in my big smiling teeth and the text would read: 'repent, repent, repent'.
"I use humor, irony and mockery as a way of asking authentic questions. The work then opens up to operate on two levels, because it's sometimes unclear to the viewer as to whether it's serious or not. I don't think artists in general need to use humor, but it is part of who I am and this comes through in my work. I am interested in the human spirit – the good times and the bad – so my vases reflect that. They are glitzy, gold and beautiful, but there is a heaviness there too."
"I have been fascinated by ceramics from childhood. It's the transformation that the clay undergoes, changing from floppy to rigid and glass-like. The beauty of a ceramic canvas that is round is that the story will link up and repeat. My vases are canvases that tell stories and I use this as a reference to the human condition – the idea that we are on repeat. Secondly, with a vase, it is not possible to see the whole picture at once. The image on the back will always be hidden, but we know it is there. This is a reference to the way that we live – what we choose not to see even though we know it's there. Some of my vases are built with this in mind – there are two different sides to the vase and only one is visible at any one time. If you don't like the message, you can turn it to face the wall. I engage with that."
Lucinda mudge, 'wake me up when it's all over', 2016 ceramic, gold lustre,
Height 21 58 in. (55 cm)
"Building a ceramic vase is a technically difficult operation, and one that I still struggle with. It's similar to spending three weeks stretching a canvas and two weeks mixing paints, and all the time I'm thinking, thinking. It's also very demanding – if I do one thing wrong, the vase will fail. Then, thrown against this is my personality – I can't make test tiles, I just don't have it in me; I can't measure the amount of stain in milligrams, it's too boring. It makes me rebel against it all, be free, not care. I think it may be these two elements combined that give my work a sort of edge."
'Humanity i love you' — Lucinda Mudge
Hybrid pixel weave vases
Everard Read / 'CIRCA' Cape Town presents Lucinda Mudge Pixel Vases as a feature exhibition in our Winter show. This includes a collection of fourteen ceramic vases and one bronze inspired by traditional South African Zulu baskets with 8-bit pixel art images referencing the arrival of the internet in rural areas.
Ulundi House, Portswood Square, Portswood Ridge, V & A Waterfront — running till 15th July
Lucinda Mudge Pixel vase
Height 22 inches
Lucinda Mudge 'Pikachu' Pixel Vase
2017
Lucinda Mudge 'Gold Dollar Sign' Pixel Vase-22 inches
Lucinda Mudge, Sth. African studio
Lucinda Mudge 'Hi' Pixel Vase
Lucinda Mudge 'Hi' Pixel Vase collection
2017
Lucinda Mudge 'Miffy' Pixel Vase–2017
Lucinda Mudge – 'Wow' Pixel Vase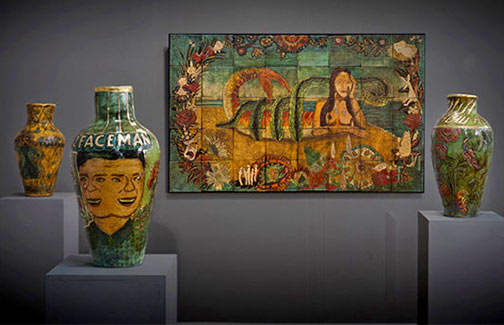 'Take what you want' – ceramics exhibition – Lucinda Mudge
Knysna Fine Art, 2015
Floral skulls – Lucinda Mudge, Sth. Africa
'Click! ???' ceramic vase — Lucinda Mudge
'Filthy stinking rich' vase Lucinda Mudge
56cm High
'Forget Me Not', ceramic, vase by Lucinda Mudge
My mermaids are inspired by their popular choice of imagery in the past for tattoos, this one is from an actual tattoo.
56cm height
'I told you not to call me baby'  vase Lucinda Mudge
Lucinda Mudge, 'and I can't control my mind (after catteau)'
2016 — 24 3/8 inches
Referencing French ceramicist Charles Catteau
Lucinda Mudge, 'baby let`s start living dangerously'
2016  —  21 5/8 inches
Lucinda Mudge, — 'kill you eat you' series
2016—22 inches
Lucinda Mudge,- 'one of us is lying'
2016 – 25inches
Lucinda Mudge  'After Catteau'
Referencing Art Deco French ceramicist Charles Catteau
'My African Dream'  —  Lucinda Mudge
2014
'Take heed of the light within'  –  Lucinda Mudg
2016
Tom Edwards began doing pot jokes back in 1984. Here's how his Wally musings all evolved:
"A friend of mine was in med school and she had a delirious patient who kept talking about Nappy. After a week or so, she realized that the patient was talking about a dog…I made this weird little plate to commemorate the incident and I really liked the way it looked. I was compelled to make more pots like this. I got the name 'Wally' from these British guys I worked with, it's slang for 'nerd'. One day I started drawing these really simple Wally jokes on the pots just for my own amusement. When I took them to a craft fair, the response was incredible. Within a month, I had an order for a complete dinnerware set and people were asking for more Wally adventures."
Wallyware tomato pot
Tom Edwards – Wallyware-old age mug
Wally pots mug
Tom Edwards 'Holy Guacamole' bowl
Tom Edwards Zen kiln
Tomato mug
Ripening tomato mug
Reverse side of above ripeneing mug
'The truth is out there' – Wallyware
Wally Pots
Tomato mug
Screaming tomato mugs
'Farting unicorn mug'  –  Tom Edwards
Elon Musk power generation plate
Wallyware mug
Tomato mug – Tom Edwards
'I'm too sexy for my clay' – Tom Edwards
"The way I work is a reflection on how I see things. That sense of playfulness is what I'm striving for, it's like a comic relief. If I laugh at a drawing I'm working on I know I should pursue it and when I show the pots to friends and it's great to get that reaction.  I've just always been drawn to figurative sculpture and paintings. My earliest inspirations were really classic figurative artists like Henry Moore, Barbara Hepworth, Edvard Munch, Emil Nolde and Picasso. It feels natural to draw this way and I think it suits the shapes that I work in."
Excellent "shelfie ware" from Louise Madzia, made individually, slab built, earthenware pots, hand painted with a clear glaze.
Louise Madzia – 'Wavy Girl' pot with succulents
Louise Madzia playful planter ensemble –  'Toosh' (left)
Louise Madzia planter 'Social Smoker' minimalist, line drawn pot decoration
Louise Madzia – three cylindrical earthenware pots
Louise Madzia pottery ensemble
Louise Madzia naked torso vessels ensemble
Louise Madzia planters – 'Encircle' (centre)
Louise Madzia figurative slab built pottery
Louise Madzia –'The man with all the eyes'
Planter –  Louise Madzia
Louise Madzia
Louise Madzia mugs
A  3,700-year-old  ceramic vessel with a smiley emoji face.
Turco-Italian Archaeological Expedition at Karkemis, the ancient capital of Syria
–