Amanda Ward – 'At The Top'
Marvelous melange of uplifting clayarts.
Presenting a collection of inspired ceramic creativity, unleashed by artists with an innate instinct for free expression, zaniness and feel-good originality. Kitchy clay constructs beyond any pretence that invite you to embrace life by virtue of their frivolous flirtations of flair and brilliance.
A celebration of those who dare to promote a shift in the paradigm to deliver an enriching fullfilment for the aficionados of the quirky, surreal and audacious. During challenging times, indulging in art that's infused with a free spirit of creative abandon is invariably uplifting and therapeutic. Saluting all worshipers of the whimsy and flamboyant.
In Curly Flat, people often change direction and turn off roads to free themselves from the expected way ahead.
escaping 'The Tyranny Of The Inevitable' —  Michael Leunig
'Life Force' – Michael Leunig
Golden/silver ceramic Sun table lamp by Georges Pelletie
Large Ceramic Sculpture or Lamp Base 'Toro' One of a Kind by Dominique Pouchain
Jiha Moon
Clemens Briels Lasenora — 'Passionada'
Stacey Manser Knight female swimmer drinking cup
Stacey Manser Knight – sexy kitten candle holder
Steve Bicknell — turquoise blue garden figure sculpture
'The Messy Teddy' 09 –Agustina Garrigou
2018
'The Wings of Love' —- 'Reflection of the Soul' by Oleh Lesiuk
Turquoise Fish Totem garden sculpture
Tigger tiger Naughty Cat by Nolan Windholtz of Round Tree Pottery
Vertical Lenticular Jug by Alfajar
Abandoned Spainish church converted into a mural-covered skatepark
Monumental highway vase at Accolay Potterie, France
Accolay Potteries vintage ceramic vase
1960s
Akio Takamori face vessel
Jenny Mendez
Kelly Wearstler – African Sculpture
Niki de Saint Phalle — Bete gentille
ARTZUID
Alexander Archipenko — 'Woman with a Fan'
1914
'Bag Lady Ice Floes' — Debra Sloan
Rising Green Duck — Green Mimetite with pseudo cubic orange Wulfenite
Botanically enhanced bust
Birger Johannes Kaipiainen
Bohemian Crystal metamorphiic marvel octopus- designed by Jiri Pacine
 Rosenthal ceramic Cabinet plate with black white Fornasetti image
1980s
Bluewater Avery 'Venus Egg of Time' Sculpture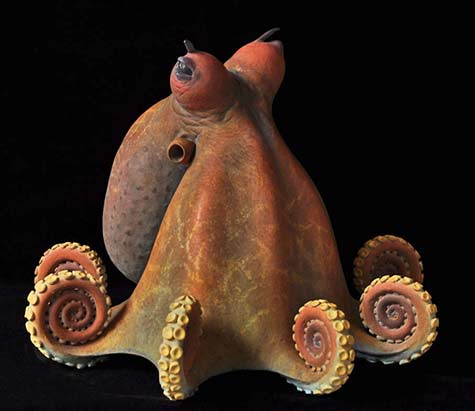 Octopus sculpture by Judy Fox
Carafe –Garnier Liqueurs, Enghien France
Made in Italy
Cloisonne work 'Ox Turning Universe' — Master Zhang Tonglu
Colin Burn's Pearl Royale chess set
Daniel and the Lion in terracotta by WilliamNewland
1950s
'Figure of a woman' ceramic handmade sculpture — Agnieszka Beer