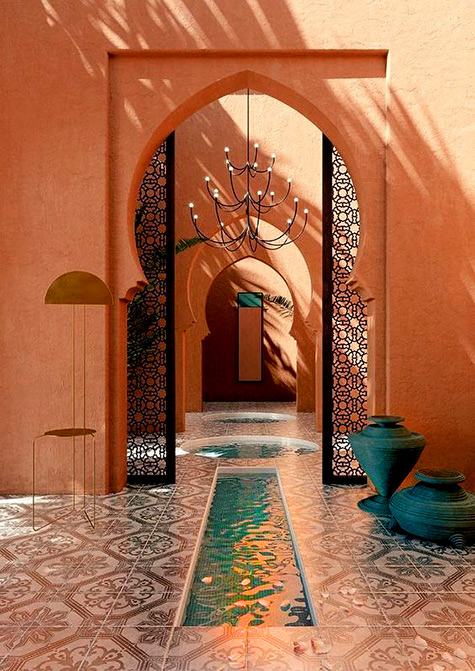 Moroccan courtyard – Ochre with jade green highlights
I'm looking at residential courtyards with the key emphasis being on prominent earth features using design elements like decorative rocks, stone paths, ceramic tiles, planters, earthy tones and stone walls. I am in the process of modifying a home design which has a central courtyard (a rarity these days) that has close proximity to a laundry and bathroom. This  isn't ideal from a Feng Shui perspective, due to the running water depleting the Earth, which can be disruptive to the whole balance as this element is crucial to harmonizing all the elements.. This can be remedied by fortifying the instrinsic Earth element of the middle courtyard and avoiding the presence of fountains and other water features and cooling colours. In addtion, as wood attacks earth (5 Element Theory), large trees, wood decking.and other decorative elements using wood will need to be kept to a minimum. When combined with fire features like a toro stone lantern, red decor aspects and fire pits, this will enhance the Earth element and help regenerate it. The addition of metal with the fire also supports the energy flow of the earth (5 Element Theory)
Traditional Japanese courtyards favor the presemce of large rock features and stone, emphasised by the inclusion of open spaces using gravel, sand and moss (which has a milder growth aspect then the use of larger trees). The main courtyard entrance sometimes used a rounded moon doorway (Mon (門) threshold) becauses like the tortoise, the combination of the curve with a straight line was a symbol of heaven and earth and encouraged the movement of chi.. Arched doorways also attract an enhanced chi flow.
Image by Joachim Müller
Interior courtyard garden, Silverlake,  Los Angeles,
Landscape architect Judy KameonDesign
Cactus courtyard
Contemporary courtyard with blue/white tiled mural
Balinese courtyard, Ubud
Kayon Jungle Resort
Azure blue Persian style courtyard
Greek style courtyard with bourganvillia canopy
Burnt orange/ochre decor highlighting the earth aspect of the courtyard, further supported by the fire pit and the metal patina back wall. A fire feature in this sector directly opposite the entrance to the central courtyard, on its peripheal, is an ideal location to stimulate the earth.
Black paving stones dramatically in contrast with the snow in this Zen inspired courtyard, exemplifing the power of 'Ma' (間) negative space
Minimalist contemporary Zen garden
Japanese garden with contrasting gravel color. The open expanse of gravel symbolizes the eternal conscioussnes with the rocks representing islands.
Symmetrically aligned topiary trees and shrubs
Faiz Mahal, Khairpur, Pakistan
The loggia of the grand Villa Torrigiani with 17th century frescoes.
The Trompe l'oeil mural enlarging the appearance of size.
Lucca, Italy
Mediterranean style courtyard with stone archway and rounded borders drawing +ve chi inside
Karrinyup Courtyards –  CultivArt Landscape Design
Fire pit courtyard feature
Huge Buddha wall mural, Bali
Traditionally designed Japanese garden.
Tuscan interior courtyard
Moroccan courtyard with a Persian wall feature and an abundance of earthy palettes.
Japanese Courtyard Garden by Katsuhiko Mizuno
Zen garden landscaping with stone paving and Toro stone lantern
Designed by Judy Kameon of Elysian Landscapes, LA
Garden decor lemon and lavender
Kyoto Koi pond courtyard, natural rock
Spainish theme garden, Miami
Zen garden featuring white sand, rocks and moss under a large Japanese maple tree. Asymmetry and Irregularity (Fukinsei) is a consistent aspect of a Japanese garden due to it having a higher dynamic of motion and its curvy movement attracting the luck of the dragon, especially if the courtyard faces East.
Large green planters highlighting the symmetry
Large Italian planter
Elevated garden beds create the impression of a sunken courtyard and added depth
Courtyard gardern with hedge wall and curvaceous vintage backdrop
Large garden with Japanese Maple in huge planter
Courtyard in Chur
Moroccan themed ceramic tiled courtyard
Hacienda Mexicana entrance to Spainish styled courtyard
Boho patio/courtyard with Moroccan rugs
Rustic Italian courtyard with orange tree
Potted olive trees and mirrored arch to enhance the light and size of a tiled courtyard
Vermillion red wall  fortifiying the Earth by virtue of the 5 element Mother Son relationship
Melina Mercouri in Italian courtyard
Slim Aarons, 1961
Inviting Moon Door courtyard portal
Youyicun garden
Patterned ceramic tiling for a safer grip
Delightful patio decoarative panel
Archway entrance to courtyard
Civita di Bagnoregio, Italy
© Janmiko1
Contemporary courtyard with an ideally located sun symbol and fire pit
Designrulz
Courtyard of the Riad Jaaneman in Marrakech
Islamic geometric tiled courtyard in Morocco
Myouman ji Temple garden courtyard
Hide and reveal Miegakure (見え隠れ) design
Spandau,Citadel fortress courtyard
Satoyama garden courtyard, Japan
Spainish style central courtyard
Hugh Cornwall Robertson — large floor vase
Useful for adding a splash of red.
Lush hidden courtyard
Landscape Architecture by Allen Russ
Hoachlander Davis Photography
Royal Mansour Hotel, Marrakech
Rahef Design
Orientalist tile effect realised with Mamounia Sky rug featuring Persian geometrics
Raised natural stone Japan style paving
Minimalist Indoor Zen Garden
Zengreen sculptural ceramic piece by Joan Relke
Intricately detailed Moroccan courtyard
Climbing sinuous ghost gum as the central feature balanced with the grounding horizontal lines of the timber slat wall
Patio ODS Architecture
'Barbados Bliss' 70s courtyard by Slim Aarons
Stone wall framed by classical pillars and arches
Turquoise and white courtyard
 Cypress tree lined courtyard, Verona, Italy
Large terracotta pots in courtyard
Sublime  Morocco colour palette – duck egg blue and burnt orange with hints of chalky jade and salmon.
Riad Yasmine, private boutique hotel in Marrakech Morocco
Sunset Phoenix garden cactus wall with terracotta planters
Villa courtyard in La Quinta, California
Babylonian inspired courtyard granduer
Greek inspired blue and white courtyard, inlaid pavers
'Sail Again'  — Nic Noblique
An abstracted form near the entance is good for attracting movement
Moorish styled tiled garden fountain
Jay Winters–flickr
                                                                                                                                                         A Classic Japanese courtyard
Mirei Shigemori Garden Museum
Antonovich Design – Dubai
ψ