'1/2 the Golden Mean is still Perfection' – Lina Viktor
'Ancient, Modern, Future & The Golden Age' – Lina Viktor
Interstellar mission of gold
Golden disks, orbs and triangles arranged with an array of sacred precision, iconography and Egyptian art deco geometries, boldly infused with electric blues, white and black to conjure a transcendent whole. The exotic mystique of her art is further enhanced with her own presence entwined with the photo documentation of her works or directly into her paintings, integrating her art seamlessly with her lush inner worlds as a vehicle for self elevation. Viktor's work is reminiscent of Yayoi Kusama's, the Japanese artist who consistently aims to dissolve the self via her artwork. Gilded gyrations of Klimt and Byzantine richness dance through the maze of patterns and ratios, inviting a sojourn into alternate dimensions blended with her decorated and painted body forms. Cruising a path traversed by other cosmic artists such as Afro Futurist Sun Ra and symbolist Odilon Redon, Lina Viktor touches on ancient symbolic themes and archetypes. She loves using gold for its beauty, resonance, otherworldliness and being a substance that has bewitched cultures around the world for centuries.
Regaining Regality – from an interview Lina Viktor did with Emma Gilhooly for CCQ Magazine
"My work speaks from a cosmological standpoint but it's still with an Afrocentric vantage point. It explores historical happenings and understanding that existed in Egypt…Mali…I'm rechanneling the mind-space of ancient cultures for the contemporary audience. I think they were far more advanced, consciously, spiritually, typologically. The Dogon tribe in Mali, very akin to the ancient Egyptians — were speaking physics, cosmology, astronomy long before we established modern astrophysics. Psychology today is a watered down version of how they understood people on a sacred psychological level. Ancient architecture – we barley understand how they created these structures, we lack the tools to replicate their precision. All of these cultures have a divine understanding of the dimensions beyond our earthly plane."
We look at art as self-expression, a political statement, a tool to shock. These cultures used art as a vehicle for illumination, a proponent of evolution as transcendent: art wasn't just entertainment or something pretty. I'm tempering those lines: how do you put these philosophical, grandiose ideas and thought processes into your work and still make it something people want to consume? The black and gold works, where I'm completely blacked out – discuss the being and cosmos: we all share the same elemental makeup, from the smallest quantum mechanical blob to the largest galaxy. I'm bringing that back down to earth, so people can understand the oneness of it all."
The Power Of Gold – 'Constellation I'  – Lina Viktor
'LV for Visionaire'  (video below)
LV for VISIONAIRE from LINA VIKTOR // LVXIX on Vimeo.
'Elemental as a Circle or a Dot' — Lina Viktor
'Golden Ratio II' by Lina Viktor
Lina Iris Viktor
Lina Viktor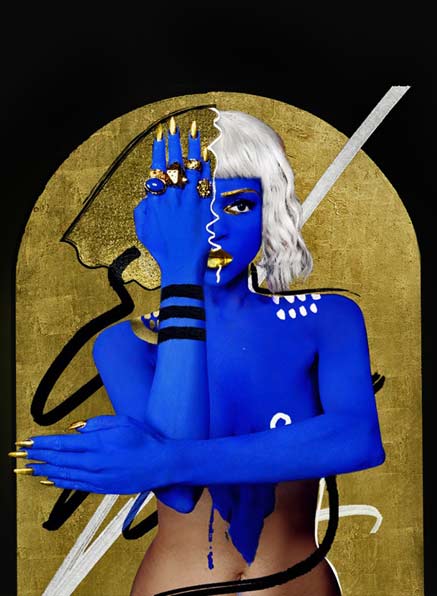 Lina Viktor
Lina Viktor
Lina Viktor
Lina Viktor
Lina Viktor holding golden orb
Lina Viktor
Lina Viktor
They never said evolution would be easy.
they never said it would be pretty.
they only ever said it would be vital.
so against the odds we push, we grow, we transform.
'Now And Forever More' – Lina Viktor
'The Power of 369' – Lina Iris Viktor
2014
Lina Viktor – 'Syzygy'
2015
"I've always done self-portraiture and a kind of iconization of one's self. Not for egotistical reasons, but I guess a big impetus on what I do is trying to elevate one's self or trying to remember our source of greatness as humans. So this painting was based on Elizabeth I's coronation image, and I super-imposed myself in that kind of form that she took. I'm just very much influenced by people who have been very great throughout history. In placing myself in those situations I see that other people can place themselves in the situations, elevate themselves, and realize that there is no ceiling."
Lina Viktor – "Well, I've always been obsessed with gold. I think humanity as a whole has always been obsessed with gold. It's been valued and revered and is sacred."
'Transcending Time and the Golden Ratio' – Lina Victor
Lina Viktor
Lina Viktor— 'A constant struggle The Body Black Iron, Gold, Ether'
2015
'The Incarceration' – Lina Victor
'The Power of 369' – Lina Iris Viktor
2014
 'The Signs and Symbols Appear' –  Lina Iris Viktor
Lina Viktor abstract gold, black and white
'Through The Chrysalis' – Lina Iris Viktor
Lina Viktor
Floating into 2016 a very new person. many lessons learned. much knowledge gained. much baggage dropped.
Lina Viktor
Lina Viktor
the light shines in the darkness
and the darkness comprehends it not.
tests dreamt in blue. – Lina Viktor
'Evocation' – Odilon Redon
Gustav Klimt—Portrait of Adele Bloch Bauer
–