A collection of antique and vintage incense burners, snuff bottles, fragrance vapourisers and perfume bottles.
Etruscan Perfume jar – Turan goddess of love
Research of  ancient Egyptian notes recorded on papyrus & engravings on the temple walls have revealed that a sophisticated technique was in practice for extracting essential oils from flora and herbal plants. A layer of vegetable fat was used for absorbing the essence of the aromatic flowers, which was then dissolved in alcohol to be used in cosmetics & toiletries. This ancient technique is known as Enfleurage and the resulting aromatic oils were also used for massage, inhalation, potions and even ingested.
Here is an ancient fragrance formula from Egypt
Myrrh: 3 parts
Sandalwood: 2 parts
Frankincense: 1 part
Rose Petals: 1 part
Lotus Oil: a few drops
Raw Honey: 1/2 parts
Dried Raisins (crushed): 1/2 part
Mix thoroughly and let dry over many days. Cut into small blocks or roll into small pellets.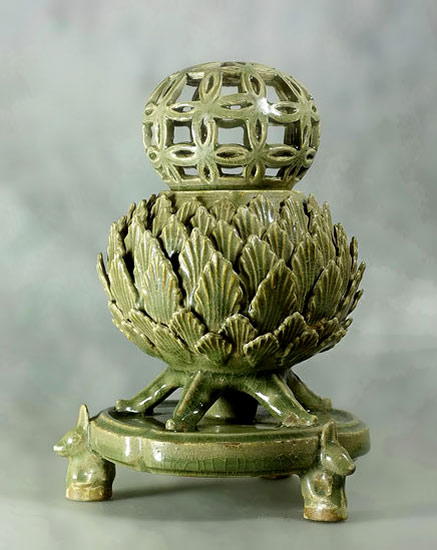 12th Century Korean Celadon censer
French atomizer, decorated porcelain clown playing saxophone
1920's
'Argilor', Paris. Woman with vase. Night light burner perfume vaporiser enamelled porcelain polychrome
Circa 1925-1935
Camard-&-Associés Auction House ( see more below)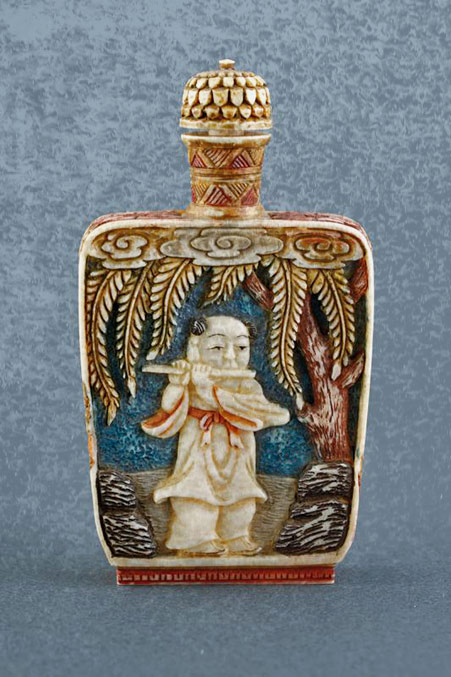 Chinese snuff bottle  —  Qing dynasty
(1644-1911)
Pierre Cardin-(1922) – Enigma black tinted brutalist glass perfume bottle
Cobalt blue Czech Perfume bottle with dancing couple
The rare perfume bottle marks Lalique's first attempt at using the lost wax, cire perdue, technique with glass
M.S. Rau Antique
Dragon perfume bottle
French gold and enamel scent bottle, mid 19th century
Cleveland Museum of Art
Egyptian Hatshepsuts Apothecary
Art Deco perfume lamp
1925-1935
Art Deco Perfume Lamp – Folies Bergeres Dancer Night Light
Sheryls Art Deco
Galle Art Nouveau Cameo Perfume Bottle
French oriental figural, Paris Porcelain Perfume Bottle – Probably by Jacob Petit
Alasdair Gordon contemporary perfume bottle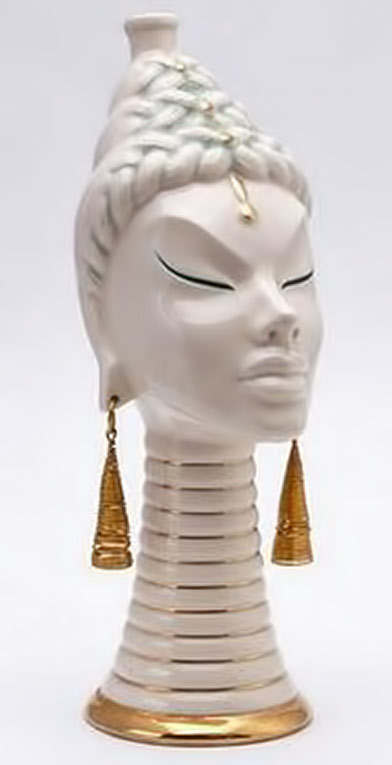 White and gold ceramic Siamese perfume bottle
Crystal Art-Deco Cubist Perfume Bottle – Live auctioneers
'The singer and the guitarist'  – Polychrome porcelain enameled night light, perfume vapouriser
Circa 1925 1935
Cloisonne enamel tripod censer and cover—China, Qing dynasty
Qianlong period (1736-1795)
Porcelain Scent Bottle, 1800's France
Art Deco Noritake Porcelain Perfume Bottle
30's
Antique Sitzendorf Figural Crown Top Perfume Scent Bottle
C1910
Ceramic Incense Holder (Moonlight White Crackle Glazed) by Shoyeido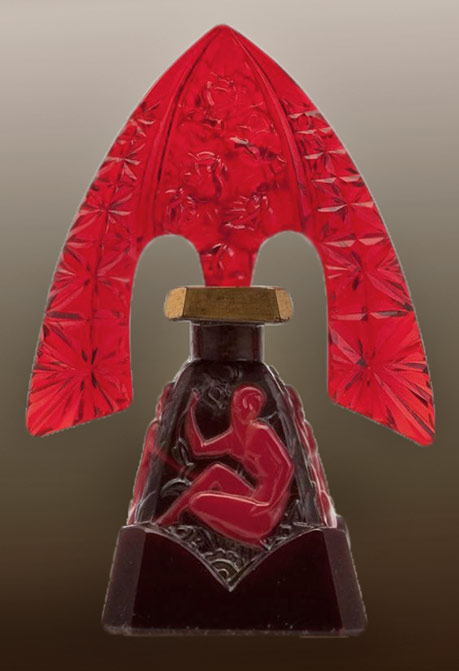 Art deco perfume bottle
Chinese Cloisonne Incense Burner
Chinese Jade Incense Burner with lid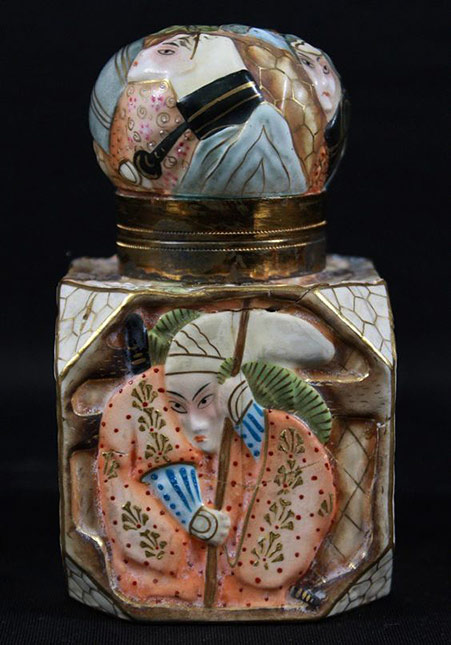 Chinese porcelain perfume bottle
Chinese Snuff Bottle
Chinese snuff bottle, porcelain moulded in relief, painted decoration depicts the underside of a lotus flower
Qing Dynasty; ca. 1750
Blue with gold highlights porcelain perfume bottle, 19th century
 Double Jaguar headed incense vessel Chorotega ceramics
San Vicente on the Nicoya Peninsula in Costa Rica
American Ballerina Perfume Lamp by Fulper Pottery  —  COLLETTI GALLERY Chicago
Early 20th Century
Figural Vintage Art Deco Hattie Carnegie Gold Perfume Bottle
Chinese fine painted ivory double snuff bottle
19th-20th Century
Green quartz 'liu hai and toad' snuff bottle official school, qing dynasty
18th-19th century
Hedi Schoop ceramic perfume night light
Japanese Satsuma incense vessel
Incense box (kogo) in the form of a plum flower
Edo period
Incense burner Chinese 'Sancai 3 color' tripod incense burner lead-­‐based glazes mixed with copper (green) and iron (amber-brown).
Kangxi Chinese famille verte porcelain rosewater sprinkler
1662-1722
Rene Lalique Helene perfume bottle
Heinrich Hoffman perfume bottle- opaque black and orange crystal with metalwork and jewels
Czech circa 1920s
Rene Lalique perfume bottle
Le Jour  Art Deco Style perfume bottle – France
Maurice Marinot lidded glass bottle
(1925) Artsy
J ' ai Fait Un Reve –  'I have a dream'.  A bright matte bottle is crowned with a sculptural cap-stopper in the form of a head, made of Baccarat crystal.
 Perfumer Majda Bekkali 
Turquoise Perfume Bottle by Cache La Pottery
Dalcrose Perfume Bottle
Chinese pink coral snuff bottle
19th-20th Century
Iran, silver rose water bottle made of silver gilt
early 12th century
Richard Satava Art Glass Vintage Perfume Bottle
Roman Bath House Perfume Bottle by Lydia Muell
Lampwork Treasures
Chinese Snuff Bottle
19th-century
Chinese Orange glass snuff bottle
Pierced brass incense burner
Syria, Damascus –  late 13th–early 14th century
MET, NY
German Art Deco Perfume Bottle
1925
Vintage DeVilbiss Cylinder Perfume Lamp
1920s Art Deco
Vintage Moorcroft hand painted porcelain perfume bottle
Vintage frosted glass perfume bottle
Acob Petit style Porcelain Scent Bottle
Rene Lalique crystal Les Elfes perfume bottle
Lampe veilleuse Pierrot Art Déco Limoges
Montières ceramic perfume vessel
ROBJ. Paris. — Spanish lady perfume lamp
Circa 1925-1931
Balinese Princess perfume lamp
Argilor 'The travellers' – Night light perfume burner
Circa. 1925-1935, Paris
Camard-&-Associés Auction House
Carl Nacke .  'The abduction of Europe'
Fraureuth porcelain factory, Kunstabrellung
ROBJ  Paris 'The Venetian'
Circa – 1925-1931 Height-30.5cm
Tharaud Camille. 'Sultan'
Circa 1930
Hindu princess porcelain figurine – JB France
Limoges porcelain Circa.
Paris 1925-1935
Camard-&-Associés Auction House
Aladdin. La France – 'The offering'
Circa 1925-1935 Height 22.5 cm
Hindu princess porcelain figurine
Circa 1925-1935
Aladdin. Heubach – 'Woman with amphora'
Circa 1925-1935
Argilor. Paris. The sigher in front of the gate
Circa-1925-1935
Argilor Paris. 'Woman with elephant' porcelain night light perfume burner
Circa 1925 1935
Camard-&-Associés Auction House
Werkstatt Eigene. 'Pierrot and Colombine' perfume vapouriser
Circa 1925-1935 Fraureuth. Kunstabrellung
–