Over the last 20 years, two multi media artists have displayed a natural flair for interpreting a wide range of materials into captivating art. Juliana Bollini is currently located in San Paulo, Brazil, while Laura Balombini resides in North Carolina, USA. They both integrate wire into their colourful figure work and objects, Juliana favoring a combination with ceramics, papier-mâché, flowers, branches and leaves, while Laura uses polymer clays, earthenware, aged wood, fabrics and found objects.
Laura describes her art – "Artists are storytellers. In paint, song and word we tell the tale of who we are. Some narratives are born with grace and flow..some we uncover using tears and trowels. Dig, scratch, soften, pray…make art..tell it. I bring my favorite ingredients..imagery, color, longing and a desire for discovery to the studio." Her free spirited sculpture figures carry an air of serenity, dignity and contemplation. She also paints on canvas.
For Juliana. in a similar fashion to Laura, whimsy is never far away. Her playful, sculptural narrative is revealed through a contemporary folk aesthetic, infused with botanical themes, rich colours and vibrant movement. She began using the basic technique of "Charter Pesta" (a technique used to make the Venetian masks) which she still employs. Inspiration for her art comes from her love of old circus, puppet theater, children's stories, vintage toys and various masters of old along with contemporary artists.
She also illustrates children's books, and not surprisingly, all her art figures look like they have stepped out of a story.
Laura Balombini
Born in Pittsburgh, Laura received a Bachelor of Fine Arts in Ceramics from Edinboro University in Pennsylvania.
Website www.lbalombini.com
Lady holding duck sculpture – Laura Balombini
Laura Balombini
Canvas acrylic painting – Laura Balombini
"Bird Folk" – Laura Balombini
'Bunny Box' – Laura Balombini
"Dancer in the Dark"  – Laura Balombini
Abstract wall painting – Laura Balombini
"Just Tea"  – Laura Balombini
Multi media figure sculptures – Laura Balombini
Ceramic bust figures – Laura Balombini
Laura Balombini teapot
Laura Balombini mixed media artist
"Might Mr Miser" – Laura Balombini
Purple teapot – Laura Balombini
Laura Balombini
Laura Balombini
Mixed media art – Laura Balombini
Laura Balombini
"Pueblo Beggar Dog" acrylic painting by Laura Balombini
Juliana Bollini
Argentinian Juliana Bollini studied Visual arts at the Faculty of Fine Arts in Buenos Aires before relocating to San Paulo.
Website – http://julianabollini.blogspot.com.au/
Mixed media man drives car – Juliana Bollini
Female carrying small home figurine – Juliana Bollini
Lady with ring of roses – Juliana Bollini
Juliana Bollini circus performer
Flying atomic space vehicle – Juliana Bollini
Trapeze artists – Juliana Bollini
Juliana Bollini
Painted faces – Juliana Bollini
Long neck bust figures – Juliana Bollini
Mixed media artist Juliana Bollini
Juliana Bollini
Women in window – Juliana Bollini
Juliana Bollini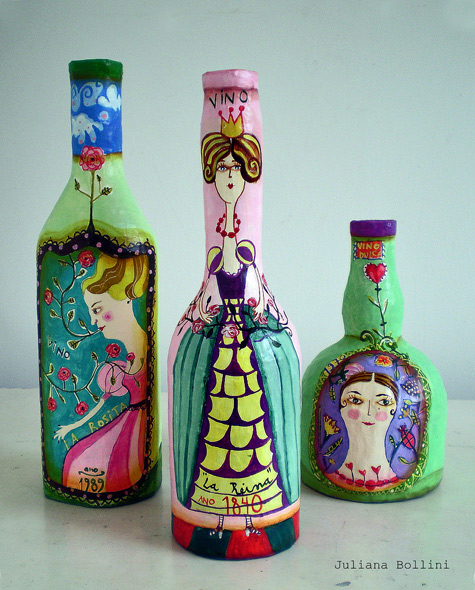 Handpainted bottles by Juliana Bollini
King of Hearts figurine – Juliana Bollini
Juliana Bollini dancing figurine
Female motif vases – Juliana Bollini
Handpainted  female redhead motif bottle – Juliana Bollini
Princess head sculpture – Juliana Bollini
Juliana Bollini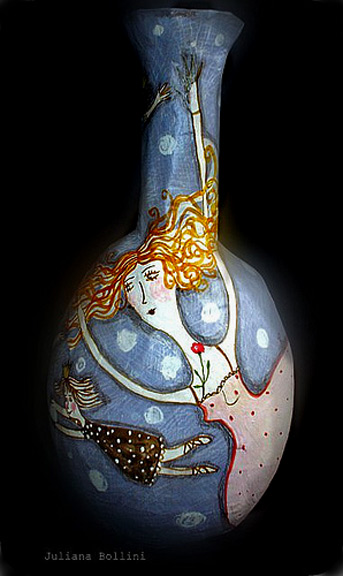 Juliana Bollini Vaso
Juliana Bollini
Red heads and roses vase – Juliana Bollini
Female sculpture busts by Juliana Bollini
Juliana Bollini figurine
Juliana Bollini
–