Beverly Hills Mid Century resurrection – design Chahan Minassian
Earth (ceramic vessels) are harmonic with metal and glass
Delving into decor design subtleties
Objectivity is hard to maintain when planning in advance for the decorative and functional features of a particular space.  Interior designers with keen aesthetic instincts and a sense of balance can intuitively attain a refined outcome in advance with the choice of colours, textures, decorative objects and placement. However satisfying decisions can be elusive until it is all assembled and the final design choices can be critical, along with letting go of preconceived ideas. Virtual design mock ups can assist, but spatial coordination is easier to conceptualize in a real space. This also includes the consideration of other factors ranging from balancing the movement of lines, angles, colours and shapes while maintaining an emphasis on rhythm, proportion and unity. This can be typified by the regular arrangement of motives and patterns to shape a rhythm or to create motion with the use of colour sequences. Beside the creative visual input, I also want to discuss some of the basics with respect to feng shui energy considerations.
Feng Shui interior design
Well designed ceramic and sculpture pieces have dynamics within themselves and apart from introducing a refreshing focal point, they also add a sense of movement and vitality to a corner or open space, particularly when it feels too static. Opposing textures and forms add to the dynamic, exemplified by straight clean lines contrasting with shapely curvy sculptures or neutral tones and passive decors matching diametrically with decorative pieces and pottery vessels of vivid colours.
Pair of large green glazed pots reinforcing the symmetry of the entrance.
The inherent earthiness of a ceramic object or stone sculpture has a natural symbiosis with a wooden structure. In feng shui, the earth element is the most adaptable and harmonizing, being considered the source of all of the 5 elements. It is particularly useful in an environment with lots of wood, as it helps calm and balance this restless creative element (which is ruled by the wind), and is especially applicable for the bedroom where relaxation is the most desirable. Earth is also the easiest to locate as it occupies the center of any room and also the center space of a home. In spaces with an abundance of the metal element, for example with large glass windows and metal frames, fire helps to balance this, so the introduction of objects of fiery colours, say an orange rug or a red sculpture will support harmony.
Red highlights in balance with the glass and metal
Designed by John Saladino.
Wooden beams on the ceiling will act as conduits for the chi to flow along and will build up concentrations of energy and become a source of tension, likewise with objects that have sharp angles, for example a sharp angled lighting fixture. This can be counteracted with rounded stone sculptures and ceramic vessels, the earth and undulating shapes contributing to absorbing the excesses. Soft curvy furniture also can work in a similar manner although it lacks the same concentration of harmonizing earthiness.
Strong vertical lines from a high ceiling, numerous vertical lines in the window frames or a high bookshelf can also be effectively tempered with earthy decorative objects and earthy colours blended with stronger textures, keeping in mind that grounded environments are generally more calming. Avoid placing a study in a high ceiling space as the ability to concentrate becomes more compromised. Yang colours such as red, black and earthy tones are more grounding along with the introduction of more horizontal lines, say with extra shelving. If a space with a lower ceiling feels too claustrophobic then a narrow vertical sculpture or tall slender plants can balance this aspect.
Green, white and chrome decor symmetry – Delphine Krakof
Spaces with a dearth of natural light tend towards being stagnant, so the presence of smoother and shiny surfaces will help encourage chi flow, along with good lighting and bright colours. The same can be said with the introduction of the dynamics of oppositional constructs, for example, combinations of colours and textures, classical with contemporary, symmetry and asymmetrical and angular with curvacous.
Japanese temples never mixed metal with wood due to the antagonistic relationship between the two elements. According to the ancient 5 element theory,(foundation of feng shui), metal attacks wood, so the use of nails, bolts and screws were avoided, so as to enhance the harmony of the structure. For a traditional purist, you wouldn't have a glass sculpture (glass is equated with metal) on a wooden table or a wooden object on a metal base. If these combinations can't be avoided, the element that harmonizes the two is water. The inclusion of blue, cooling colours or a fountain would be apt.
Opposing windows and glass doors or a long straight corridor can lead to strong chi currents that can build an agitated environment. The use of plants, sculptures and other bold objects with deep textures and curves can help slow down or deflect the excess of movement.
The inclusion of some of these above suggestions  can contribute to invigorating a space and establishing a deeper sense of harmony.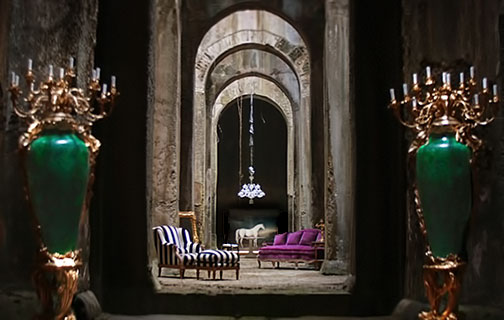 Salone del Mobile, Milan
Eclectic decor 0f African sculptures, gold putto figure cabinet and huge wooden wheel
French Porcelain Cherub Putti Statue
Edith and Evelyn – etsy
Curvaceous interior design by Arthur Elrod. (Spring 1963)
The room features a walnut paneled wall, custom tufted curved sofa, coffee table of picked cork and a large travertine fireplace.
Architectural Digest
Anne Hirondelle — 'Karpos' 1992
Bitossi sculpture figures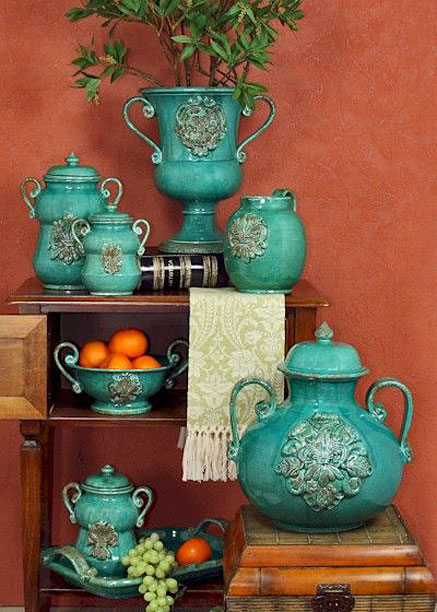 Italian floral relief motif turquoise pottery. Fire has a creative, enhancing influence with earth. The warm, fiery colours of the wall nourish the green earth tones of the pots and the natural earth in the potted plant.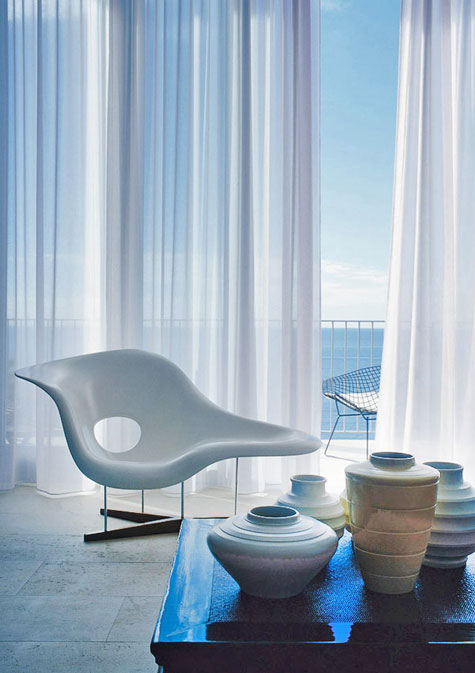 Interior designer Iain Halliday's Palm Beach home features an Eames La Chaise by Vitra, and ceramics by Keith Murray for Wedgwood.
Arabia charger – designed by Finnish artist Birger Kaipiainen
Beatrice Wood volcanic glaze bowl
Brazillian tribal pottery
From left to right – pot of palikaras artisans, ceramic bulbous vases by Baniwas Indians and pans and bowls of Marubo people
House of Amazonas
Moroccan style dresser matched with a Persian style vase
Arcadian Home
Cattelan Italia Globus coffee table. The ceramic globe is in harmony (5 elements) with the metal/glass.
Glazed ceramic bath, mirror panel and basin – Lee Hun Chung
Ceramic wall tile panel –  Chris Gryder
Coffee pot and cover by Figli di Giuseppe Cantagalli
1888
Paris apartment, contemporary decor – abstract sculpture, large Mid Century floor lamp
Design by Pierre Yovanovitch
European classical meets Eastern deities ( Buddha head and Ganesha statue)
Design Studio Peregalli
Guido Gambone
Gustavo Perez contemporary vessel on "Modern Primitive" side-table from NYC-based Aranda/Lasch
Henri Matisse ceramic mural for the interior courtyard of this Hollywood Hills home.
The mural is entitled La Gerbe (The Sheaf), the piece is reflective of the paper cut-outs Matisse made at the end of his career. The work was bequeathed to LACMA in 2010.
Large white ovoid vase and ceramic spherical vessels in contrast with the sharp black lines
Houzz
I love the window symmetry focused on the red abstract sculpture in the courtyard.
Design by Delphine Krakof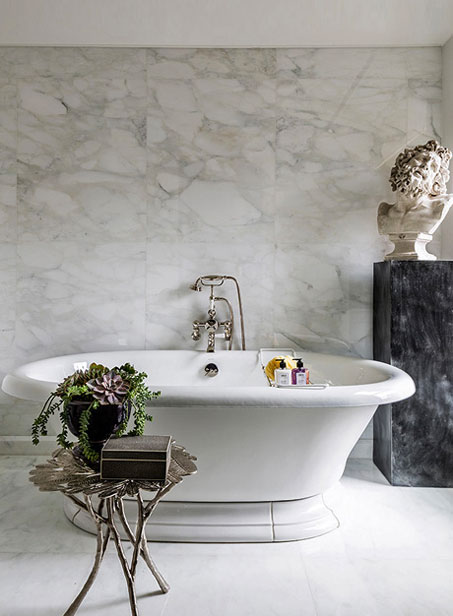 Neoclassical bust blending with the marble – Bennett Leifer design
Traditional Japanese Tea Room with blossom ikebana
John Coolidge interior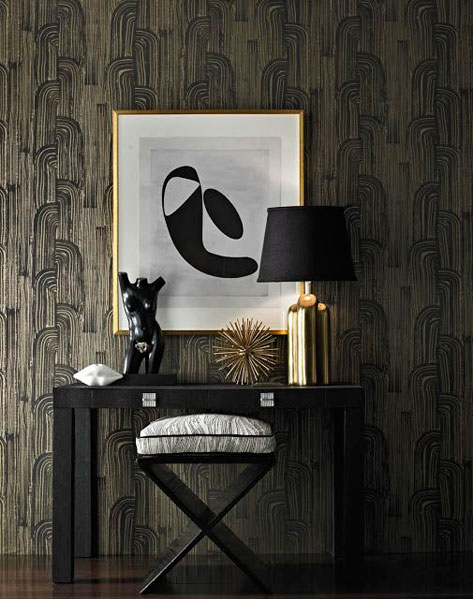 Kelly Wearstler wallpaper design with matching gold ceramic lamp base and black sculpture torso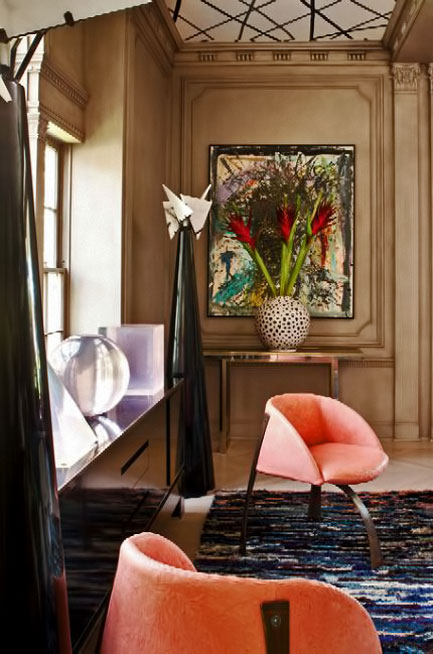 Kelly Wearstler interior decor
Mid Century ceramic Floor Lamp by Georges Pelletier
34 inches tall
Potier ceramic pitcher and bowl decorated by Andre Aleth Masson
Boho shell chandelier with large artifact surface pot and shabby chic sofa
Lisa Hammond
Japanese wooden furniture set
Italian ceramic compote – London interior designer Charles Mellersh
photo Chris Tubbs
 Marcello Fantoni vase
Mid Century decor
Incised cone shaped Mid Century lamp base
NY apartment – tall cactus ( wood element) tempered by large ceramic pots (earth)
Black abstract kinetic sculpture by Costello
2010
Either a ceramic door stop or a real dog?
Michael Fullen Design Group
Watermelon pink sofa and bright yellow cushions with the pink moving to the vase and the feature painting
Nude female in hat vase-  Rene Buthaud
Danish vase pair – Michael Andersen & Sons
Old World 18th Century wall plaster finishes supporting the antiques decor. The symmetry of the wrought iron wall sconces, chairs and lidded majolica vases highlighting the  large painting.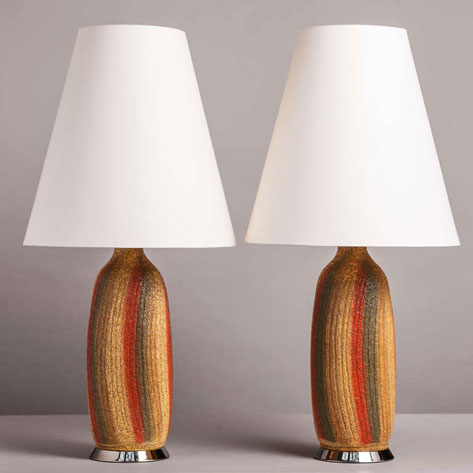 Pair of textured and incised ceramic table lamps
1960's – Talisman
Large Art Deco geometric design vase – Jean Dunand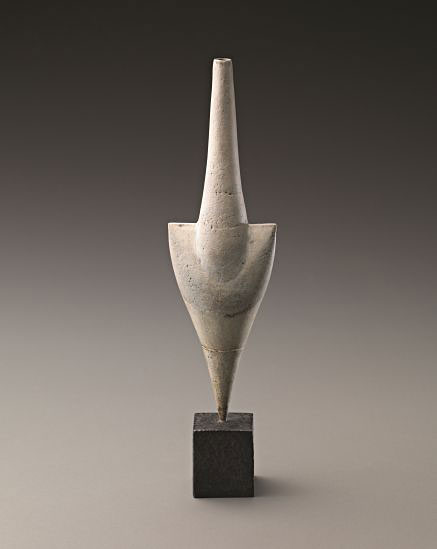 White 'Cycladic' arrow form – Hans Coper
1975
Piero Fornasetti mandolin magazine rack
1stdibs – Navarro Gallery, Canada
Villa La Fraissinede Buddha statue – Samantha Todhunter design.
'In Urban Nocturne' glass sculpture – Ethan Stern
2012
Abstract vases, table and wall art – Gio Ponti
 photographed by Andy Barter
Spanish Colonial Interior design
The simple shape of the biomorphic sculpture in contrast to the intricate patterns of the decor
Kelly Wearstler Residential
'Tane'  (Seed), –  Makiko Hattori
circa 2013
Monumental Belleek porcelain ice pail and lid
Contemporary French sculptor Valérie Hadida
Axel Salto vase for Royal Copenhagen, Denmark
Balinese home with earthy palette. Important concentration of Earth elements in the room centre with the stone sculpture and ceramic pot.
Photo © Flodeau.com
Alexandra and Michael Misczynski interior design. Earth added to the room centre with the carved stone table and ceramic pot.
Cabinet with Chinese porcelain jars, ewers and tea pots
Weathered pottery with antique side table and distressed wall panels
De Crousaz Hugues
Stoneware, 1300 ° C, reduction,
Textured ceramic sculpture by Per B Sundberg, Sweden
Fred Bould— 'Torso Vase'
Nambé
Nothing like livening up the courtyard with a Gio Ponti modernist mosaic sculpture
Planchart villa, Venezuela
50s Italian design maestro Gio Ponti did the architectural and interior design for  Villa Planchart in Venezuela. Almost sixty years later in Miami, Galleria Rossella Colombari recreated the style of those interiors with an installation at Design Miami. It featured a sofa by Carlo Graffi, a fireplace sculpture by Arnaldo Pomodoro and a pair of seatings by Carlo Mollino. Also Gio Ponti ceramic wall plates and writing desk with an abstract sculpture by Bruno Gambone
Photo by James Harris
"Horse in Meditation" – Mariko Swisher
PHOTO: Bob Barrett
marikoswisher.com
Jules Sarlandie Embossed Floral Enameled Vase
Pair of contemporary deco Pino Signoretto Black and Pure Gold Murano Glass Vases
Philip Baldwin & Monica Guggisberg – 'Verona' ovoid vase
Abstract porcelain vase- Babs Haenen
–