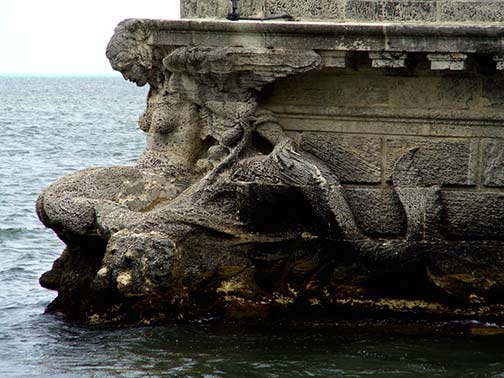 Winged mermaid at the stern of the stone barge at Vizcaya Mansion.
Photo by seekingmuseI
Nouveau siren of Inverloch
I was randomly exploring the southern Victorian coastline with Google Earth and admiring the ariel sculptural patterns, which were displaying a tremendous array of textures and colours. Near Inverloch, which is a coastal town on the edge of Bass Strait facing Tasmania, I noticed what alluded to be a large figurative form of a mermaid near the shoreline, albeit with a Brancusi like reductionist form and cubist face, gracefully swimming out to sea from the channel of an inlet. It didn't require much of a stretch of the imagination to see the impressionistic feminine siren and with some light and contrast enhancement and further editing she looked more real. (see below).
Around fourteen months later, I was intrigued to see that a cruise liner called 'Norwegian Star' had mysteriously became stranded 20km south of Inverloch while on a cruise to New Zealand. After a few days trying to start the engines and get cruising again, and to the distress of its 3000 passengers, it had to be towed over 150 kms back to Melbourne for maintenance, before resuming its trip. According to the local Australian Indigenous women, this strip of  coastline  belongs to the mernaids.
At least the 'Norwegian Star' fared better than the fate of the 'Amazon', which in 1863, on its way to Mauritius, lost its sails in a wild gale and ended up shipwrecked on the beach at Inverloch near the now aptly named Wreck Creek. At low tides it can still be seen, embedded about 3 meters in the sand. Maybe that's why the Inverloch siren has an Art Nouveau era coiffure, as that style was emerging around the latter half of the 19th century. Some local sailors avoid navigating this inlet as quite a few smaller boats have sunk there.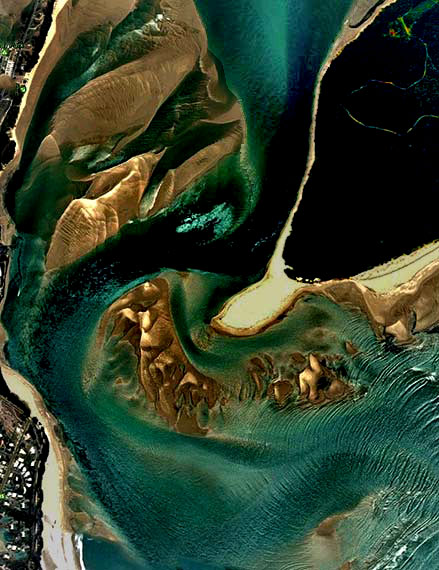 Inverloch Mermaid (bottom right) from Google Earth
Bass Strait, Inverloch, Victoria
The white specks on the left are dwellings on the coastal fringe.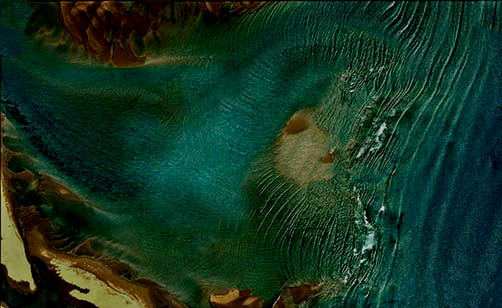 Inverloch Sirene – see original at end of post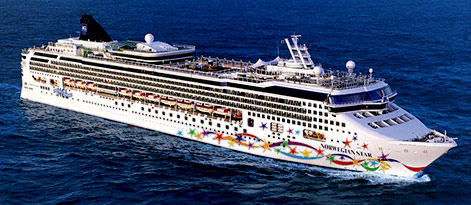 Norwegian Star cruise ship stranded at Inverloch in Feburary, 2017, currently sailing around the Mediterranean from Venice.
Mermaid art, sculpture and lore
Mermaid sculpture — Mermaid Harbor. Norfolk VA
bobistraveling
Mermaids and tales from the ages
Seafarers of old feared mermaids because of their reputation for being able to enchant sailors and lure them into the water. The allure of a sirens voice made sailors steer off course.
In the book Physiologus, written in the Fifth Century AD in Greek by an unknown author, there is a portion dedicated to "The Nature of the Mermaid" which states:
This marvel dwells in an unstable place where the water subsides.
She sinks ships and causes suffering,
She sings sweetly —this siren—and has many voices,
Many and resonant, but they are very dangerous.
Sailors forget their steering because of her singing;
They slumber and sleep and wake too late,
And the ships sink in a whirlpool and cannot surface anymore.
Midsummer Night's Mermaid Dream
William Shakespeare wrote Midsummer Night's Dream between 1590 and 1594. In it, he writes:
"I sat upon a promontory,
And heard a mermaid on a dolphin's back,
Uttering such dulcet and harmonious breath,
That the rude sea grew civil at her song;
And certain stars shot madly from their spheres
To hear the sea-maid's music."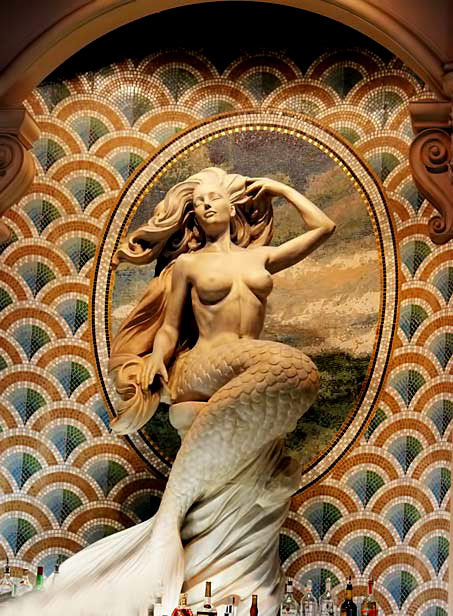 White mermaid sculpture with mosaic background adorning the bar at Caesar's Palace Hotel
Las Vegas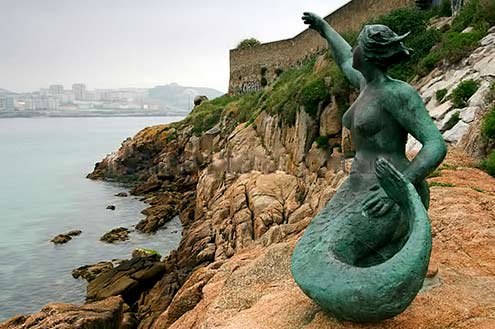 Mermaid sculpture near the promenade of the town of La Coruña in Spain's Galicia region
Photo – Eric Nathan –  Alamy
In 1493, Christopher Columbus wrote in the ships journal that he spotted three mermaids rising high from the sea. The infamous English pirate Blackbeard (Edward Teach) reported seeing mermaids while sailing. Bartholomew Angelicus, in De Propietatibus Rerum, written in the 13th Century described a mermaid, and told of her stealing sailors from their ships.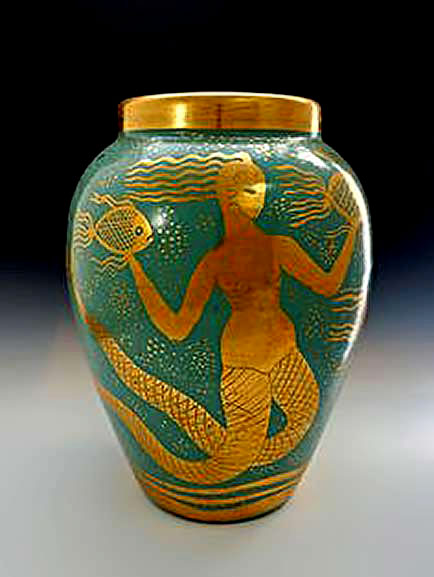 Waylande Gregory Large Art Deco-Phoenician Style Melusine Vase
1930's
'Atargatis' by Virginia Lee.
Atargatis was a Syrian Goddess of fertility, love, motherhood, and the sea and sky. She was sometimes depicted as a mermaid. The first appearance of mermaids in human culture seems to have occurred about 1000 BC in Assyria (roughly equivalent to present-day Syria plus the northern area of Iraq). In the mythology of Assyria, the beautiful fertility goddess Atargatis, became a mermaid after casting herself into a lake.
Atargatis eventually became known to the Greeks as Aphrodite Derceto and incorporated into Greek mythology. Greek mythology then expanded on the concept of mermaids, including in part the Nereids, the Tritons, the Sirens and Thessalonike (sister of Alexander the Great)
Baltic Sea mermaid sculpture – Klaipeda, Lithuania
Ian Thomas antique mermaid statue on Lord Street in Southport, England
The 'Jalakanyaka Mermaid' statue by Arun Sankar
Thiruvananthapuram, India
Italian Cantagalli Maiolica Pottery Vase – Snake Handles – Mermaids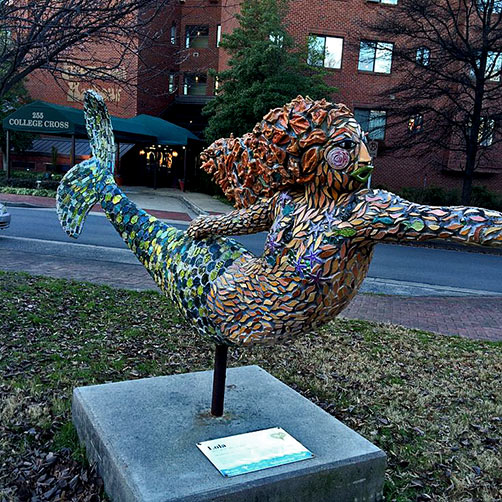 'Lola the mosaic mermaid' on Mermaid Parade, Norfolk, Virginia
Nabeul mermaid sculpture at the seaside, Tunisia
Mermaid Inspirational Wall Sculpture by Fae Factory Artist-Dr Franky Dolan-(clay relief canvas painting-Mixed Media)
Thai mermaid with lotus flowers art painting
Melusine relief – The Château de Lusignan
Figural Zinc mermaid fountain – the water spouts from the merboy holding a conch shell
Art Nouveau Porcelain and bronze mermaid pitcher
Maui Mermaid wood carved sculpture – Dale Zarella
Hawaii
Jean Mayodon ceramic mermaid and merman sculpture
Lebreton Gallery San Francisco
Forlorn looking mermaid sculpture at the Blue Mermaid
San Francisco
Mermaid cup — Irina Zaytceva
Rene Lalique frosted glass Naïade (Large-Mermaid) statuette, 1920
This was used for a car mascot in 1925
Jean Pierre Augier conchshell mermaid
Leopold Park Mermaid Statue.
Photo © by Jan Poppe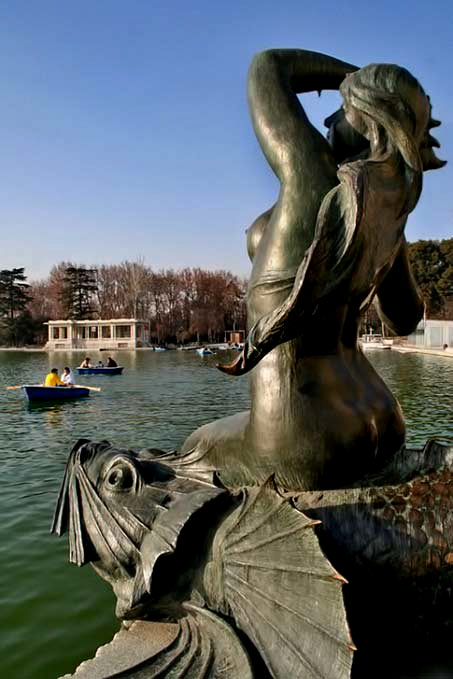 Seated mermaid statue next to a lake
Madrid, Spain
Mermaid 'Guanabara Mitológica'  – sculpted by Remo Bernucci
'The Littlest Mermaid'  –  Nina Winters
Trafalgar Square mermaid statue
Created by William McMillan and Sir Charles Wheeler for the fountains designed by Sir Edwin Lutyens
'Annabelle' by Nathalie Seguin
'High Tide' – John Morris Sculptures
 Decorative Mermaid Sculpture  Figurine by HS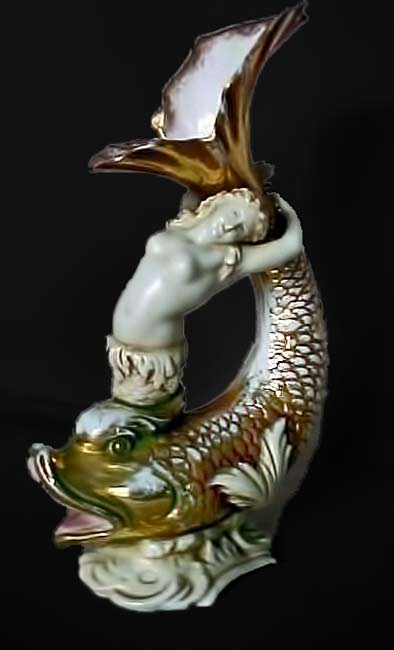 Art Nouveau Porcelain Mermaid and Dolphin Vase
Lifesize Mermaid Figurehead sculpture from bow of ship
'La sirene' – Marie Madeleine Gautier
Rene Buthaud Sirene melusine vase
Driftwood Sirene Sculpture by Debra Bernier
'Water Woman ' —  Wangechi Mutu
Gladstone Gallery NY -2017
Photo David Regen
Delphin Massier Art Nouveau female figure vase with Islamic lustre glaze
Daydream Island mermaid sculptures by David Joffe
Art Nouveau figural table lamp with two mermaids,
c1900
Belle Epoque brooch – Carved Agate, Pearl, Gold 'Naiad and Sturgeons'
 Bronze mermaid fountain, University of Birmingham, England
Bronze seated mermaid fountain in garden pool
Art Nouveau mermaid candle holder
Cast Bronze Mermaid Door Pull by Vadim Androusov 40's
DRAGONETTE LTD
'Ocean Breakers (The Sound)' – Swiss symbolist painter Arnold Bocklin.
1879
Mermaid Riding Seahorse Sculpture by Sergio Bustamante
Mermaid Shaped Solid Patinated Bronze Sconce, France, 1950's
Ist dibs
Jean Mayodon
Mermaid with Trident Dish Nyland Gunnar
1944
Terracotta Mexican Mermaid Sirena
photo by Teyacapan, via Flickr
Mid-Century Modern Rene Buthaud French Ceramic Glazed Vase
BERTIL BERNHARDT, Miami
Minton Majolica putti, mermaid-merman pitcher
White porcelain Mermaid Vase
Art Nouveau bronze mermaid glass goblet
Thailand outdoor mermaid sculpture with creepers, Chang Mai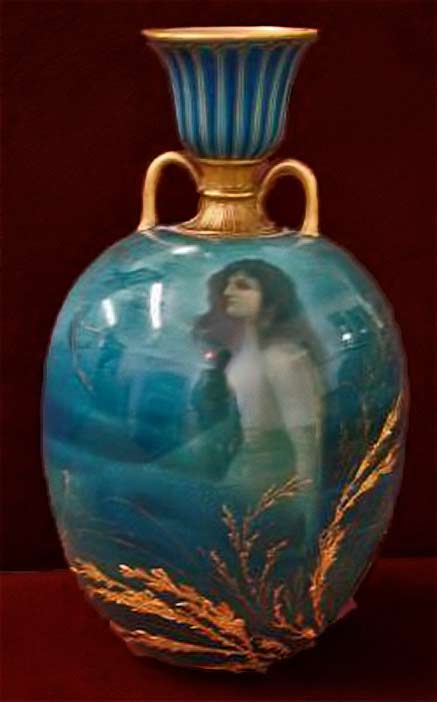 Royal Dalton Hand painted mermaid vase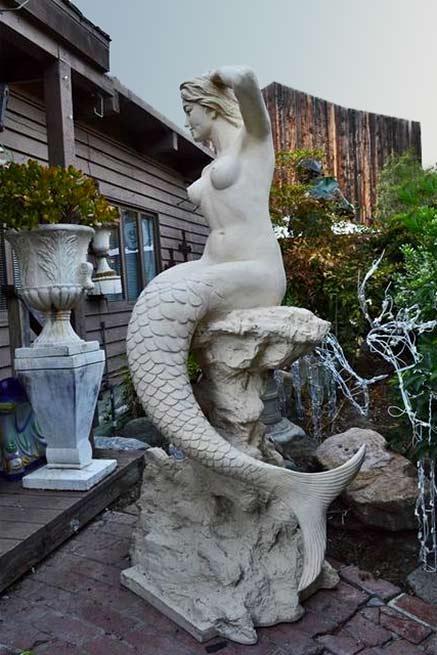 Large white mermaid statue
Philosophy Antiques and Design, Laguna Beach
Puerto Vallarta —  Mermaid and Merman statues
Sergio Bustamante siren sculpture
Mermaid Vase Modern Pottery — Jonathan Adler
Mermaid sculptures, Nabeul, Tunsia
Vintage Royal Haeger Mermaid Planter
14 inches tall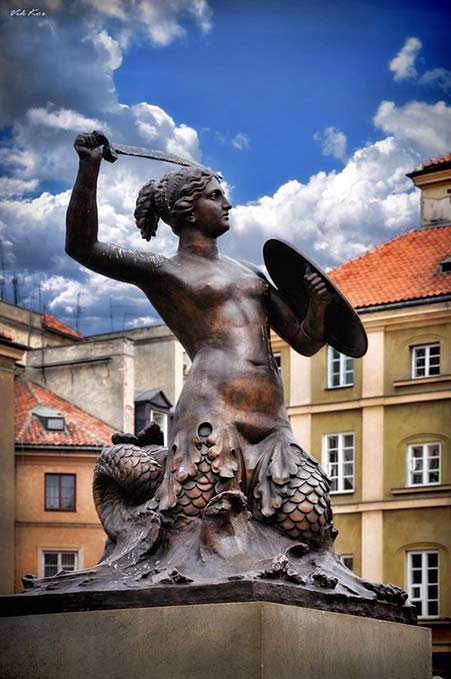 Warszawska Syrenka sculpture, Poland
Bronze mermaid statue sculpture at seaside
Hebei, China D&Z Sculpture
Medieval Mermaid plate,  1475 –  1500,
The Victoria and Albert Museum
Original Google Earth image – click to expand
–