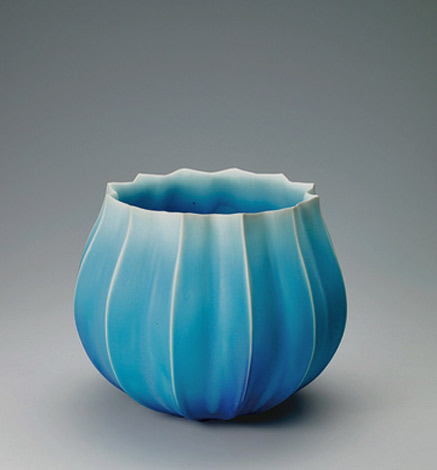 Azuma Masayuki blue glaze bowl
Kogei : art and crafts of Japan.
Muneyoshi Yanagi is widely accepted as the founder of the Japanese craft movement known as Mingei which began around 1927. Yanagi recognized utilitarian objects made by the common people to be art objects quite often "beyond beauty and ugliness". His book "The Unknown Craftsman' became an influential work which examined the Japanese way of viewing and appreciating art and beauty in everyday crafts that included pottery, lacquer, textiles, and woodwork. His son Sori Yanagi, who became an internationally renowned product designer successfully crossed borders between art and craft through his creations and he espoused the philosophy "Contemplate by hand, Create by heart"
The Japanese believe the deep spirit of their culture is reflected in their art. This is exemplified in their Kogei exhibitions which occur in most of the main cities of Japan. These art-and-craft exhibitions became a regular fixture after the mid 50's to help foster and pass down the skills of Japanese traditional crafts and encourage their development. Originally there were 7 categories of traditional Japanese arts: ceramics, urushi (lacquerware), dolls, woodwork and bamboo, textiles and metalwork. A broad spectrum of art works from designated Living National Treasures to today's young artists are represented. The primary aim of theses exhibitions is to keep the traditional arts in focus while showcasing improved techniques and innovative contemporary arts.
Most of participating artists spent years studying their craft, often taught by masters in their fields. While they were trained to adhere to the techniques of their kogei (craft) with unwavering devotion, more artisans have become less immutable and more adventurous with their interpretations of the traditional arts and more contemporary styles are now accepted. Fortunately the exploration of new styles hasn't diminished the exquisite refinement that was achieved traditionally and intricate decorative detail is still in evidence.
Makiko Hattori – Contemporary KOGEI Art Fair, Tokyo
Fujita Seido – urushi lacquerware lidded box
"Applying makeup" – Sugiura Michiko
Formed with tōso and covered with paper.
'Snail ' – Takemura Yuri
Bizen ceramic sculpture – "Weather the storm" – Izeaki Jun  (National Living Treasure)
Bowl with indigo three color glaze decoration. "1307"  – Kato Kiyokazu
Cloisonne box. "Prayer of wind"  –   Ogawa Kazuyo
Miyashi Tohaku
Wooden Box – Fujii Toshio
Jimmai Sakata – internal pink glaze bowls
Plaintext round dance octagonal lacquered box by Ichishima Ogyu
Hiramon: – hiramon is the technique of stretching metals such as gold or silver into thin strips, which are then cut into various shapes to create designs.
Matsumoto Noriko – Kanshitsu vessel
Kanshitsu: A form is made with clay, and then plaster is used to make a mold in that shape. Linen is affixed to the mold with Urushi, layered to the required thickness, and then the mold is removed. Further coats of Urushi are applied after that. The linen fibers are strengthened when the Urushi soaks into them, and the end result is sturdy, although the linen can be shaped with a great degree of freedom.
Nakano Saeko – gold leaf and metal vessel
Decorative metal cutting
This technique was originally used to create beautiful decorations for Buddhist statuary and so forth, but today it is used to create artworks such as decorative boxes. Decorative metal cutting begins with heating gold leaf as thin as paper in a charcoal fire and layering it to create thickness. The layered gold leaf is cut with a blade into fine patterns such as lines, squares and triangles. Then a brush is used to apply further gold leaf to the pattern, and the work is complete.
Osumi Yukie
A tankin (hammered) vessel made by applying the traditional techniques of chasing, mainly nunome-zogan (textile imprint inlay)
Osumi Yukie – Tankin vessel
Keiko Hatori
"To express the beauty of forms, I paint on clay with different colors and materials, and apply the zogan (inlay) techniques with different line widths. With the goal of enhancing the harmony between the shape and colors, and the dignified balance of lines."
Kaku Hayashi
Hideaki Suzuki
Contemporary KOGEI Art Fair, Tokyo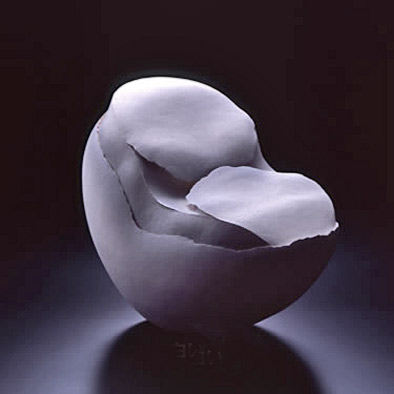 Sachiko Fujino
Flared, incised vase – Ito Tozan  (1846-1920), Meiji period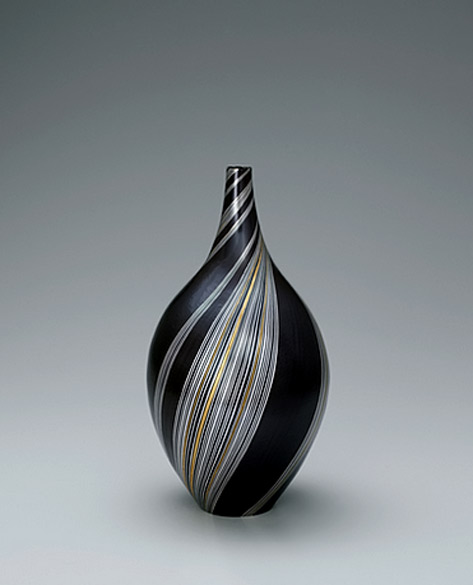 Jar made by metal forging and heat welding method.  – Hagino Noriko
Gallery Japan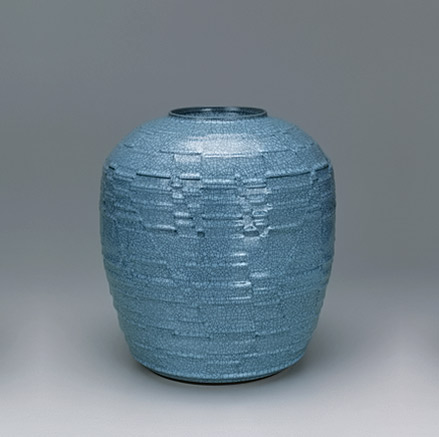 Jar with celadon glaze and carved design – Nahashima Hiroshi  – [Living National Treasure]
Gallery Japan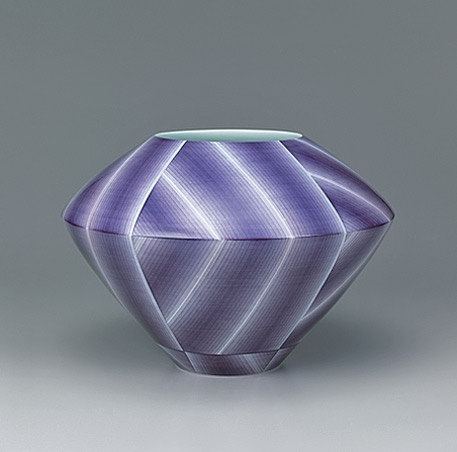 Uwataki Koichi  –  Jar with nunozome Saiji floral decoration and geometric patterns standing out on a white ceramic surface.
Gallery Japan
Zogan Jar with tree bark design in inlay by Sakai Shinichi
Zogan – When using the zogan (damascening or inlaying) technique, you carve into the surface of the pottery, and then inlay clay of other colors into the carved-out areas to make a design. After inlaying the clay, the glaze is applied then fired.
Gallery Japan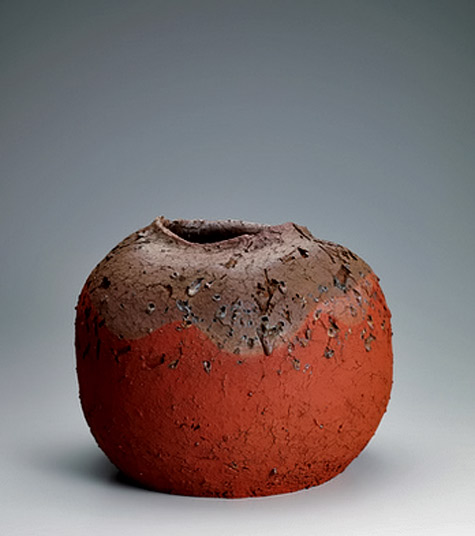 Large "Sadogashima" jar – Ito Sekisui (National Living Treasure)
  Mumyoi-yaki – the fine Japanese pottery made from reddish clay known as mumyoi, which has been used for over 200 years in Japan.
Gallery Japan
Large ovoid vase with muku tree ash glaze and marbled line design by Matsui Koyo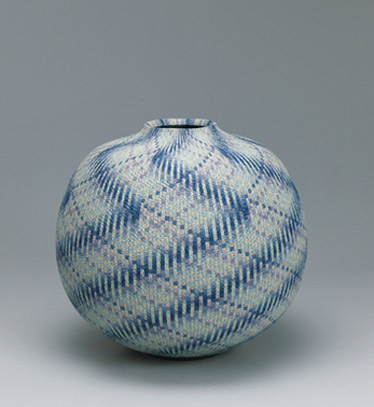 Marbled jar – Matsui Koyo
Masayo Iguchi – Contemporary KOGEI Art Fair, Tokyo
Miyao Masahiro
"I use Kotokoname clay. I collect the raw clay from all over the Chita Peninsula and refine it myself, and use an anagama (cave) firewood kiln for firing and reproduce Kotokoname ware – The majority of my works are yakishime" (ceramics fired at high temperatures and without any applied glaze)
Seihakuji deep bowl with moon white glaze – Fukushima Zenzo
Blue-tinted seihakuji – Seihakuji (blue-white porcelain), known in English as celadon, is produced using porcelain clay made from white stone. It is pottery that has been biscuit-fired and painted with a glaze containing a small amount of iron, which turns a bluish tint when fired again.
Eiji Murofushi
Murofushi mainly produces ceramics using translucent porcelain clay and applying the nerikomi * technique. *
Neriage:  Neriage is made by kneading together different colors of clay which introduces all sorts of patterns depending on the method used to combine the clay colors, with cross-sections of kneaded clay appearing on the surface of the ceramics.
Metalwork vessel – Ozawa Koumin (Living National Treasure)
Gallery Japan
Sakura bunogi type glove compartment by Kyoko Shamida
'Shimmering of heated air'  –  Japanese bamboo basket by Shono Shounsai  (Living National Treasure)
 1969
Gallery Japan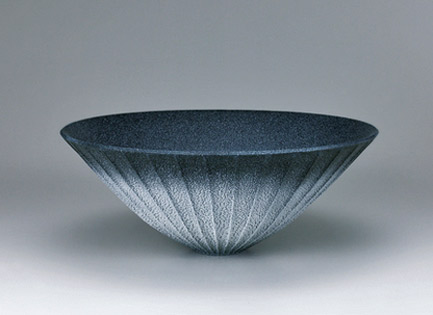 Shino dark blue flower vessel by Sakai Hiroshi
Square jar with iron glaze and design of bird on a Daimyo oak branch by Hara Kiyoshi  (Living National Treasure)
Gallery Japan
Toshio Ohi  – lidded ceramic vessel
Contemporary KOGEI Art Fair, Tokyo
Wide-mouthed jar with design in colored slip painting by  Kikuchi Hiroshi
Fukushima Hiroko
"I want to express the beauty and power of blue through porcelain. I expand my image of patterns from the form of a vessel, and freely use several types of asbolite, and repeated drawing and erasing; these processes create the unique matière (texture effect) allowing me to explore cobalt blue designs and patterns while making full use of the distinctive quality of clay."
Surface carved metalware – Ichikawa Masami
Iwase Nahomi ceramic sculpture
Hoshino Tomoyuki
"When I work on the wheel I find myself harmonizing with the clay, and it's then I can feel a sense as if my own genes somehow become synchronized with the clay drawing itself out in spirals; I find it fascinating process. I use porcelain clay as the main material, and freely combine a variety of techniques, such as neritsugi, a combination of the traditional techniques of neriage and dotsugi, or using a pale blue glaze with red decoration, which is a combination of the blue of seihakuji (blue-white porcelain) and the red of Shinsha glaze. I also use a Japanese-style plane to create edges, which are only found in ceramics scraped with this tool."
Ishida Wataru Parte de verre vessel
Parte de verre – Parte de verre is a technique in which a form is fashioned with clay, which is used as the basis for a plaster mold. Glass powder is mixed with a special kind of paste, and the mixture put into this plaster mold and fired. The heat causes the glass to melt and take on the form of the mold. Then it is slowly cooled and removed from the mold, and it's finished.
Inlaid Oborogin vase "Ame-go Yamakage" by Nakagawa Mamoru (Living National Treasure)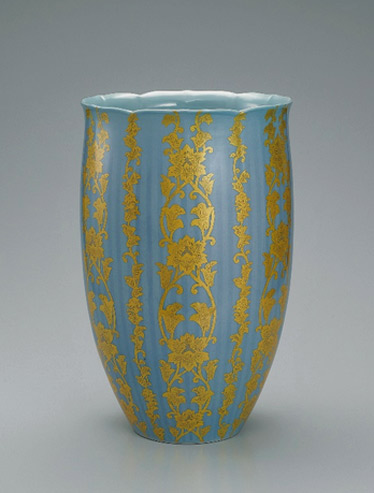 Yoshirta Minor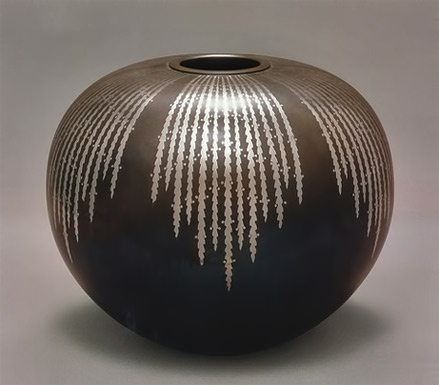 Ozawa Koumin (Living National Treasure)
Tada Yukifumi – Iroe boxes
Iroe:  (literally color painting in Japanese) is a technique in which a transparent glaze is applied and the piece glost-fired, then paint is applied over the glaze and the piece is fired again at a low temperature of approximately 800 degrees Celsius. It is also called uwae, or over-painting. The paint used in traditional iroe is known as wa-enogu (Japanese-style paint), and color choices include red, blue, yellow, green and purple. It is also possible to use yo-enogu (Western-style paint).
Teranishi Shota–urushi (lacquer work) lidded box
Makie Hachi kaku box
Hiroshima Prefectural Art Museum
Yamamoto Izuru  – Tsumiage Kaki (Flower Vase) titled 'Yugo No Chu' (Union of the Universe)
The Japan Kogei Association Exhibition.
Izuru uses a novel and unconventional form of pottery, called 'Tsumiage', a technique of piling up plated clay. His work is based on the inherited Bizen pottery, though he adopts new ideas onto the tradition.
Yamamoto Izuru plate
Yoko Yoshimura Yusen shippo lidded vessel
Yusen Shippo:  The technique where wire like lengths of silver are used to delineate compartments in which colors will be applied.
Plain text octagonal  'Yao-fu' box – Ichishima Ogyo
'Sparkle' by Eiji's Murofushi
Grand Prix prize at the Tokai traditional Kogei crafts exhibition
'Moon Shadows'  – Fuku Fukumoto
"I achieve just the right rhythm to finalize the shape of the piece through a dialogue between my own touch and the specific qualities of the clay."
Photo – Takashi Hatakeyama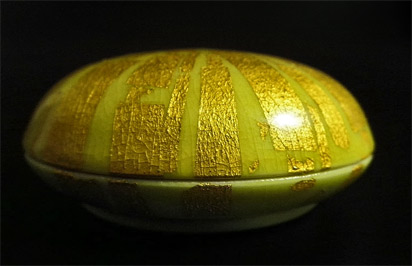 'Kogo' by Ono Hakuko
Koichiro Isezaki – Tall Cut Vase
…
Onishi Gallery exhibition  –  October 20 – November 14, 2015
Contemporary Japanese Kōgei
Onishi Gallery is pleased to bring together the work of five master-level artists who have been designated Living National Treasures by the Japanese government. Unparalleled in their craft, these artists have not only gained mastery over their chosen media, but their contributions are so significant that they constitute intangible cultural properties. These artists, many carrying on techniques that have been passed down through their families for generations, have not only preserved important cultural traditions, but have created new ways to interpret them.
This exhibition focuses on important works by HAGINO Noriko, HANNYA Taiju, HATA Shunsai, KIMURA Moriyasu, KONNO Tomoko, MIZUNO Mineo, ŌHI Toshio, OSHIYAMA Motoko, SHOMURA Hisaki, SUZUKI Miki, TOKUDA Yasokichi IV, and YOSHITA Yukio and also formally introduces the work of the jeweler KOJIMA Joji.
Location –
Onishi Gallery is located at 521 West 26th Street, between 10th and 11th Avenues. NY
Closest subway stations include the C, E lines at 23rd Street, the 1 at 28th Street or 34th Street Penn Station.
Hours: Tuesday – Saturday, 11am – 6pm
or contact Onishi Gallery:  212.695.8035 / [email protected].
–
"Samoku Ona Wata"   –  Traditional rendition of Deep Purple's 'Smoke On The Water'
–