'Six Tulips' – Danielle Adjoubel
'Persian Paradise Garden' – Danielle Adjoubel
Danielle Adjoubel has mastered the intricate skills required for the decoration of stoneware, earthenware and lava in figurative, modern and traditional styles (such as Delft, Moustiers and Vieux Rouen) and more particularly in the oriental style (Ottoman, Iznik and Persian) From her French workshop, full of ceramic samples, Danielle designs and creates a wide range of pieces, including mural tile panels for houses and swimming pools, custom ceramic tiles, large plates, bowls, vases and original tableware. She decorates each ceramic base personally using porcelain painting, under-glazed earthenware, cloisonné, glazing and majolica work.
She integrates contemporary design into the traditional decorations that demands both exquisite skills and dexterity, together with artistic flair, to produce new interpretations of the exotic orientalist arts. She also likes to produce accurate reproductions of famous Iznik pieces. The Iznik ceramic techniques and style evolved over several centuries where the glazing, colours, choice of clays and intricate firing processes underwent refinement and re-creating these achievements can be a challenge.
'Doves and Peacocks' ceramic tile – Danielle Adjoubel
Danielle produces most of her colours individually in her workshop using specific combinations of pigments, which have to be tested to the correct temperature before final application. Pieces are typically fired at 980° and at least three to four times, depending on the final finish required (gold or lustre). Each piece of clay reacts in its own way so the results are unpredictable.
Danielle Adjoubel studied at the acclaimed Manufacture Nationale de Sèvres workshop and The Greta School of Art in Paris, where she mastered the skills required to create stylish ceramic and porcelain pieces. Serves has a deep tradition in Middle Eastern lusters dating back to the research Theodore Deck undertook in the mid 1800's when he was a director there. Deck discovered that the brilliant color in Islamic ceramics was due to a base coating of white alkaline slip containing tin oxide. The decoration, done in enamel colors, is covered with a transparent glaze, and produces glowing, translucent effects. Other French ceramicist's like Eugène-Victor Collinot and his collaborator Adalbert de Beaumont were also fascinated and inspired at this time by the depth, brilliance and luminosity of the Iznik glazes and colors. The arabesque patterns mixed with flattened leaves and floral motifs, combined with romantic gardens and lustrous surfaces were deeply admired.
Danielle's mixed French and Turkish cultural heritage has stimulated her empathy and interest for the orientalist pottery arts and her ceramic outcomes in this genre are impressive. She believes ceramics is all about humility and patience; humility in the face of the great masters that have preceded you and the patience involved in mastering their techniques.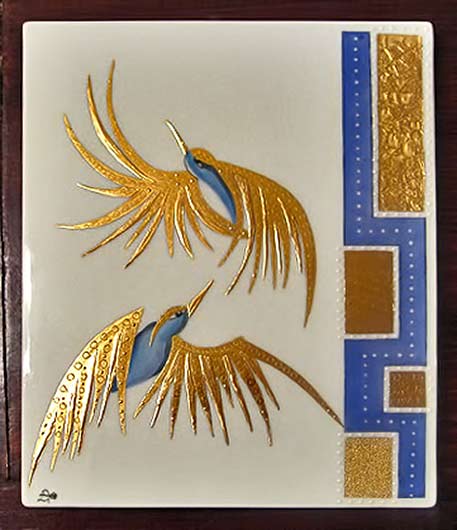 Porcelain plaque with birds – Danielle Adjoubel
'Fantasy Of Flowers' – Danielle Adjoubel, traditional iznik floral design with contemporary rim pattern.
'The Bohemian' – Danielle Adjoubel
Ceramic ashtray, floral motifs – Danielle Adjoubel
'Flowers Bottle' – Danielle Adjoubel
Bathroom traditional Iznik floral wall tile mural   – Danielle Adjoubel
'Indian Ladies' – limoges porcelain tile, decorated with gold and lustres,  hand painted by Danielle Adjoubel
'Tulipmania' Art Deco style bowl by Danielle Adjoubel
'Heron in Branches' – Danielle Adjoubel
Rubis Collection Pomegranates – Danielle Adjoubel
'Hunting In The Fields' – Danielle Adjoubel
Persian Miniature tile panel – Danielle Adjoubel
'Little Amari' – Danielle Adjoubel
'Couple damoureux' (lovers) by Danielle Adjoubel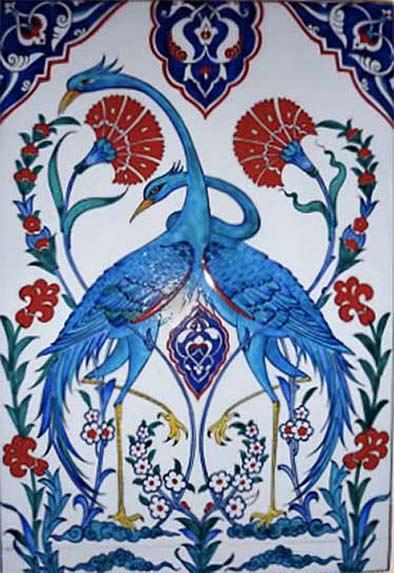 Ceramic lustre glaze tile 'Peacock in Duo' – Danielle Adjoubel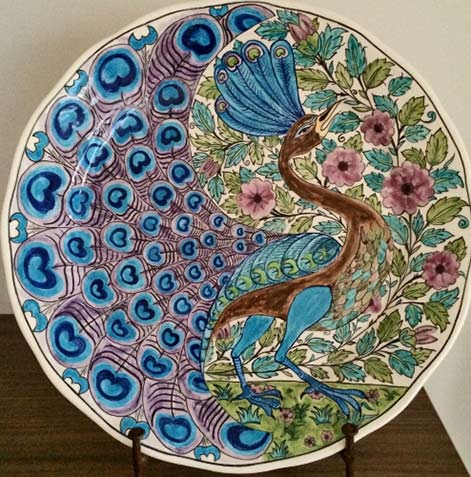 'Peacock in Feathers' – Danielle Adjoubel
'Peacock in Foilage' by Danielle Adjoubel
 Danielle Adjoubel painting a tile
 Iznik Plate reproduction covered with rosettes;, saz leaves and a peacock – Danielle Adjoubel
Ceramic plate with Don Quichotte Chagall interpretation by Danielle Adjoubel
'Faenza' plate –  Danielle Adjoubel
Diameter 32 cm
Iznik style tile with naturalistic patterns '2 Doves' – Danielle Adjoubel
'Aquarium' – Danielle Adjoubel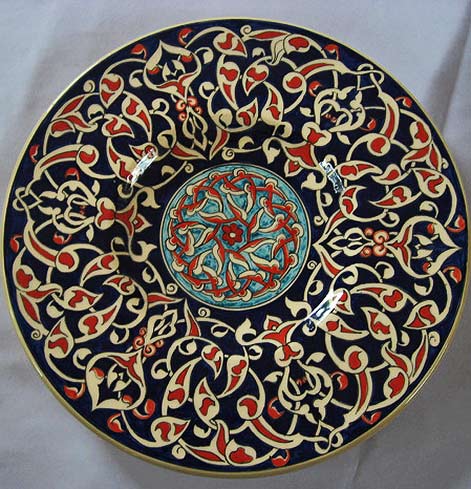 'Arabesque' – Danielle Adjoubel
'Blue Horseman' – Danielle Adjoubel
Pair of iznik lamp bases in blue cobalt pattern – Underglazed earthenware biscuit by Danielle Adjoubel
'Bowl with Solomon Seal' geometric motif – Danielle Adjoubel
Antique majolica and lustreware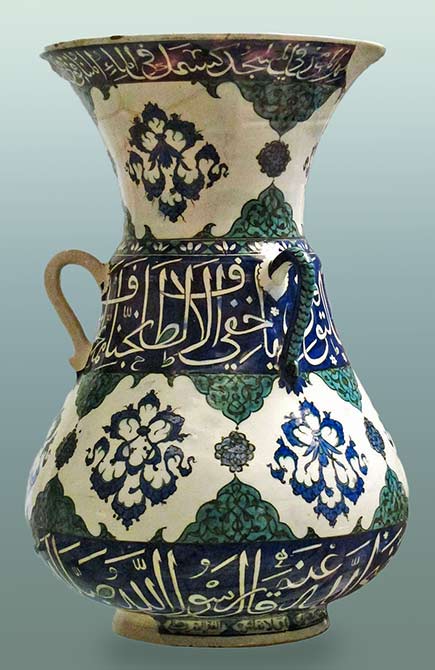 Iznik mosque lamp signed by Musli
Persian Qajar ceramic peacock vessel
19th Century
Italian Majolica Plate depicting a woman in profile identified by the inscribed scroll simply as Giustina
Workshop of Giorgio Andreoli, 1529
Photo by Graham S. Haber, The Morgan
Tin enameled earthenware 16th century plate
Aragon, Spain
Turquoise Alhambra vase
Barakat gallery store
'Vasilisa the Beautiful' – Boris Zworykin
Persian tile – horseman riding white horse
Dish with gryphon Coat of Arms of Bishop Baglioni, Deruta, Italy, ca. 1500
Double shelled ewer, Persian ceramics of the Saljuq period
Fatimid bowl with female scarf dancer —  earthenware painted over glaze with luster
Egypt, 12th century
Italian majolica plate
Ruby Lane
Giorgio Andreoli tondino (plate)
 MET, NY
Moorish ceramic dish of lady shooting an arrow into the neck of a young man. Provenance-Dominican convent of Villareal (near Valencia).
1540
'Maiolica Istoriato Dish' by Urbino
After building the Minotaur's labyrinth for King Minos of Crete, Daedalus and Icarus were locked in a tower so as to ensure its secret was kept. Daedalus joined feathers together with wax for him and his son to escape. On their escape Icarus is famously warned not to fly too close to the sun, but of course the father's warning was ignored. This dish shows Icarus falling into the sea.
1stDibs Errol & Henriette Manners
Hispano-Moresque lustre pottery dish featuring a spread eagle, Valencia, probably Manises, circa 1435-60
Southby's
Plato de Talavera de la Reina,siglo XVIII,España
Mettlach Villeroy & Boch German porcelain Russian fairy tales plate.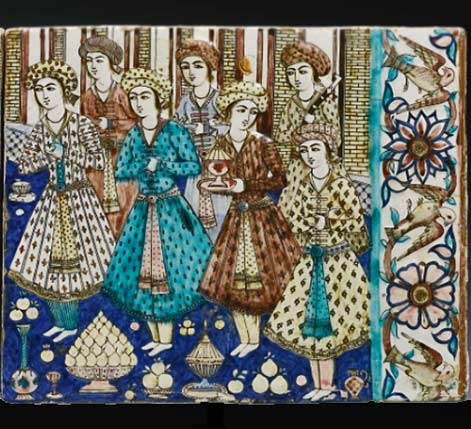 Qajar polychrome tile with figures, Persia,
19th century, Sotheby's
Tin-glazed earthenware charger, 18″ dia.
late 15th–early 16th century, Manises, Valencia, Spain
Italian majolica plate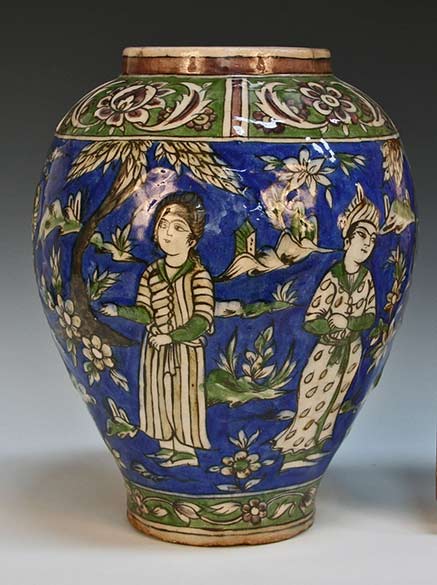 Persian Qajar pottery vase, probably 19th Century, the high shouldered blue ground body moulded in low relief and decorated with five figures
Majolica Plate with Putto, Mask, and Trophies, c. 1440-1460 Italy, Castel-Durante
'Venus and Cupid on dolphins' – Urbino , Italy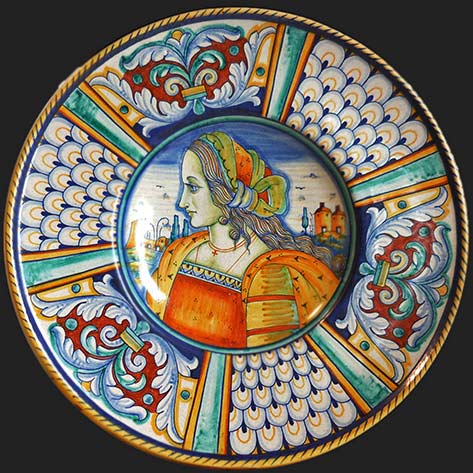 Vintage Romeo-Juliet Portrait Plates Hand painted Italian Majolica
Orvieto/Deruta
Musical instrument plate by Giorgio Andreoli
1519
–