Black volcanic-rock inspired vases – Nicolette Johnson
Etruscan relic renaissance
Nicolette channels ancient classical pottery forms, mainly form the Etruscan epoch and combines them with contemporary geometries, to arrive at a distinctive style that she presents with superb imagery. She majored in photojournalism at Art School, which she believes influenced her perception of communication with visual language. A casual interest in collecting vintage pottery led her to a pottery course in 2015 where she discovered the tactile, physical nature of pottery throwing to be a useful counterbalance to the computer bound nature of image editing.
After spending her early years in London followed by a few years in the American South West, where she claims she was inspired by Mid Century modernism and Native American pottery, particularly for their simplicity and streamlined forms, she presently has a home studio in Queensland, Australia. Here she creates her elegant ancient forms that merge bulbous bases with elongated necks and serpentine handles, capturing an artefact spirit in a refreshing context. Her pieces exude a refinement and balance that only need further embellishment with elaborate handles and simple decorative additions, typical of Etruscan pottery.
She is also currently exploring the subtleties of wood fired ceramics as opposed to using electric fired kilns. The multitude of shapes that emerged from classical pottery has been an endless source of intrigue for me and Nicolette's contribution is a welcome addition to this timeless genre.
Blue abyssal vase – Nicolette Johnson
Ceramic Beer Stern – Nicolette Johnson
Black trumpet vase – Nicolette Johnson  (@swsco)-•-Instagram)
Sulphur crested cockatoos – Nicolette Johnson photo
Ceramic Chain Vase — Nicolette Johnson
Pedestal vase with tulips – Nicolette Johnson
Cojoined vases with knotted handles-Nicolette-Johnson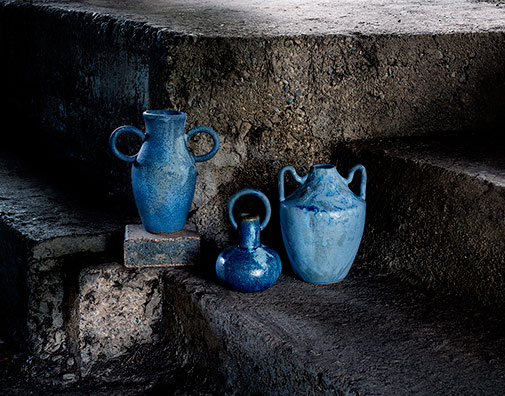 Blue pottery – Nicolette Johnson
Nicolette Johnson
White slip ceramic cup – Nicolette Johnson
Black glaze long handle jug – Nicolette Johnson
Nicolette Johnson vases
'Inseparable Vessels' – Nicolette Johnson
Kaneko and Stepwell vases- – Nicolette Johnson
Large coil built urn – Nicolette Johnson
'Lucidity vessel' — Nicolette Johnson
Nicolette Johnson
Memphis Milano stepwell inspired-vase by Nicolette Johnson
Naked female torso vases – Nicolette Johnson
Nicolette Johnson white vase and bowl
Nicolette Johnson
Nicolette Johnson
Nicolette Johnson
Nicolette Johnson coiled vase with flowers
Nicolette Johnson-blue vase
Long handle ceramic jug – Nicolette Johnson
Nicolette Johnson
Audrey the wood fire kiln – photo by Nicolette Johnson
Pedestal vase – Nicolette Johnson
Black-vase — Nicolette Johnson
Nicolette Johnson  ceramic jug and cup
Nicolette Johnson–twin handled pottery vase
Nicolette Johnson
'Obelisk Pedestal vase' — Nicolette Johnson
Nicolette Johnson vase with sprouting handles
Nicolette Johnson
Nicolette Johnson
Multi handled vase with yellow wattle – Nicolette Johnson
Three Nicolette Johnson vases- Lapis blue raincloud vase (middle)
Nicolette Johnson vase
Nicolette Johnson white footed vase with spherical handles
Symbol pots – Nicolette Johnson
Small white sprouting vase –Nicolette Johnson
Thick stoneware bangle—Nicolette Johnson
Stoneware tea cup with shino glaze — Nicolette Johnson
'Study in blue and black and silver' — Nicolette Johnson
(@swsco)-•-Instagram)
Horizontal ribbed white vase, dried flowers and cup — Nicolette Johnson
White Sands – Nicolette Johnson photo
Nicolette Johnson
–