Reflection Garden at the Jordan Schnitzer Museum of Art
University of Oregon
The evolution of decorative and garden sculpture in ancient Greece.
The most radical transformation of sculptural art for mainstream decoration occurred in ancient Greece. The earliest incarnation of Greek sculpture was in the form of wooden cult statues, where they were used as objects of veneration. The first piece of Greek statuary to be reassembled was the Lefkandi Centaur, a terra cotta sculpture found on the island of Euboea, dated c. 920 BCE. It is the earliest known depiction of myth in the history of Greek sculpture.
The artistic endeavour of early Greek sculpture was centered around the human form, as they viewed their Gods as having a human form and there was no distinction between the sacred and the secular in art—the human body was both secular and sacred. The forms from the geometrical period (c. 900 to c. 700 BCE) were chiefly terra cotta figurines, bronzes, and ivories. Typical works of the era included statues depicting the gods and heroes of Greece, which were displayed in their temples and public places. The Greeks did not produce sculpture merely for artistic display. Statues were commissioned either by aristocratic individuals or by the state, and used for public memorials, as offerings to temples, oracles and sanctuaries.  Sculptures in limestone and marble, terra cotta, bronze, wood, and rarer metals, both free-standing and in relief were produced and the creation of life-sized statues began to occur at about 650 BC. During the Early Archaic period, c. 660–580 BCE, inspired by the monumental stone sculptures of Egypt and Mesopotamia, the Greeks started carving free standing stone statues, but the forms were more dynamic. Some of the the figures were also given a more distinctive human characteristic by giving them smiles. Also around this time new Greek colonies were established and became widespread, and arose in places including southern Italy, Sicily, Sardinia, Corsica, the southern French coast, the eastern Spanish coast, the coast of the Black Sea, and Cyprus, among others. The art was naturally exported too.
Statues in the Archaic period ( 800Bc to 480BC ) were not all intended to represent specific individuals. They were depictions of an ideal—beauty, piety, honor or sacrifice. The sculptures in the Archaic and Geometrical periods were centered upon the works themselves, and seldom, if ever, on the sculptors. During the Classical period from about 500 BCE, Greek statues began increasingly to depict real people, as opposed to vague interpretations of myth or entirely fictional votive statues, although the style in which they were represented had not yet developed into a realistic form of portraiture. Public memorials representing real people began to appear. It was during the Classical Period that an increase in the use of statues and sculptures as decorations of buildings and gardens was witnessed.
 Roman Isis holding a sistrum and oinochoe and wearing a garment tied with a characteristic knot
Musei Capitolini, Rome
An increasing shift towards naturalism occurred during the Hellenistic period in the 4th century BCE, where common people, women, children, animals, and domestic scenes became acceptable subjects for sculpture, which was commissioned by wealthy families for the adornment of their homes and gardens. The statues also became more expressive and dynamic as the sculptural art became more widely adopted. There were new Hellenistic cities springing up in Egypt, Syria, and Anatolia which required statues and this made sculpture, like pottery, an industry. By the 2nd century BCE, the rising power of Rome had also absorbed much of the Greek art and tradition. The legacy of Greek sculptural art has remained an ongoing, dynamic cultural force ever since.
The Castlestrange stone,- County Roscommon, Ireland
This stone curiously has a continental influence in the style of its carving.
Iron Age period between 500 BC and 100 AD
Modern sculptures in garden locations.
Nature is blessed with so many intrinsic sculptural forms, so viewing sculptures in a natural setting always looks symbiotic.
 Bernard Hosey sphere sculpture
"Beelden en tekeningen" by Eddy Roos, Netherlands
'Spaniel in Fight' – Ben Greenwood
Brendan Hesmondhalgh – 'Gannet'
Francony Kowalski –  'The Spring'
Ginger Gilmour – 'Seated Angel'
Statue of a lady seated on a lion
LomNom – deviantart
Irakli Zhvania – 'Musicians'
artparks.co.uk
  'World Wide Widex' – Jens Ingvard Hansen
Contemporary British Sculptor John Huggins – 'Caprice'
www.artparks.co.uk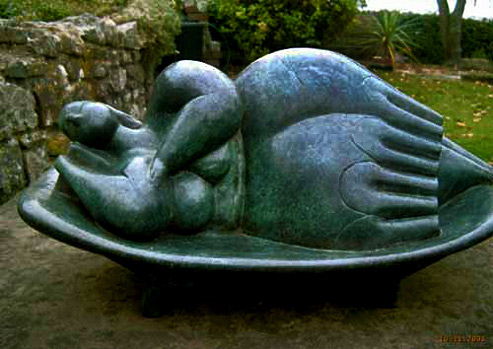 John Huggins 'Maltese Goddess'
 Angel sculpture in hydrangeas
Photography Joseph De Sciose
 Art Deco sculpture 'Perseus and Andromeda' by Raymond Delamarre
Mounted on his horse Pegasus, Perseus delivers Andromeda from the sea monster about to devour her.
1928
Entrance of the stadium Léo Lagrange, the Pyramid Highway, opposite the Parc Floral de Vincennes.
 Baby Clanger sculpture
Bergh Apton sculpture trail Norfolk, UK
Moominpappa06 – Flickr
Barbara Hepworth's Garden, St-Ives
daveserjeant on Flickr
'Duet' – Jeff K Laing
Sculpture garden — Benson Park, Loveland, CO
2009
Tom Frantzen Belgium sculptor
Briony Lawson
Diana, the Roman goddess of the hunt – Biltmore House. USA
Emma Stothard – Willow and Wire Sculpture
North-Yorkshire,-UK
The courtyard of the Isabella Stewart Gardner Boston museum, which opened in 1903 and was modeled on the Renaissance palaces of Venice.
Among the artists represented in the galleries are Titian, Rembrandt, Michelangelo, Raphael, Botticelli, Manet, Degas, Whistler and Sargent.
Peryton at the fountain of Linlithgow Palace, Scotland
The English Garden's Burnett Fountain depicting Dickon and Mary from Francis Hodgson Burnett's book "The Secret Garden"
Conservatory Garden, Central Park, NY –  opened 1937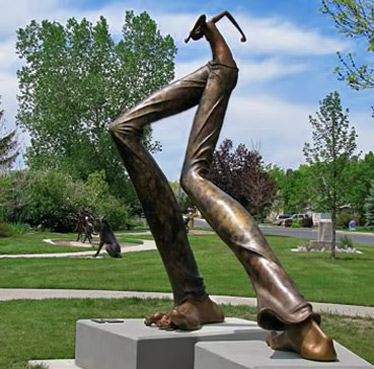 'Monument in Right Feet Major' — Todji Kurtzman
Benson Sculpture Park, Colorado
 Italian Figure Sculpture in York House Garden, Twickenham by Oscar Spalmach
www.speel.me.uk
Orticolaria –  Lake Como, Italy 2014
A biodiversity sculpture for a garden ! A topiaire including insects hotel…for the first time at Villa Erba, Italy, during ORTICOLARIO, international Gardens Festival
French landscape architects Claude Pasquer & Corinne Julhiet Detroyat
www.lamoliere.fr
H.R Giger
 Monumental ceramic sculpture – Jun Kaneko
Faux-Photography
Jiménez Deredia
'Légende de Saint Grat' – Pierre Castillou,
2007, Oloron Sainte Marie
 Van de Bergh Hanneke
 Kuan Yin  – Kuan means earth, Yin means feminine essence
 Sculpture in Loughcrew Gardens, County Meath, Irelqnd
Standing Nude – Nelli Bar ( American, born Cologne Germany )
Hirshhorn Museum and Sculpture Garden, Smithsonian Institution, Gift of Joseph H. Hirshhorn, 1966
'Oiseaux des Tuileries'
pierrepaul43 on flickr
Garden dedicated to George Harrison
 Chelsea Flower Show
Anon of the Orient – 'Nude with urn'
Edwin Russell – 'Leaping Dolphins'
www.artparks.co.uk
Fernando Silveira
 Henry Moore  – 'The Goslar Warrior'
Goslar, Germany
photo Peter Downes
 Sea shell sculpture by artist Vera Viglina titled: 'The Snail'
 "Serenissima" – Phillip Jackson – "maschera nobile" venecianas.
Outdoor sculpture by African artist Yinka Shonibare
Yorkshire Sculpture Park, UK
 Blue Birds Babbling Brook Fountain – Sarah Cox, UK
'The Congo I presume'  – Tom Frantzen
1997, Tervuren Africa museum, Belgium
 Jens Ingvard Hansen – 'Otolih'
Artpark Sculpture
Marino Marini, Cavaliere (Horseman)   circa 1949
Minneapolis Sculpture Gardens
Moon stone
Located near Penzance in the west Cornish moors is the unique and enigmatic Men-an-Tol stone
–