Rene Lalique's superb Art Deco and Art Nouveau designs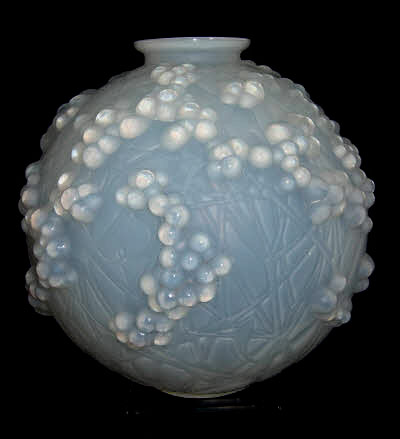 Frosted pale blue spherical incised glass vase – Rene Lalique
 Opal and gold pendant – Rene Lalique
If you are an aficionado of Art Nouveau and Art Deco, it's hard to ignore Rene Lalique's remarkable designs. Lalique, in his time was recognized as an artist, designer, jeweller, innovator, glass-maker,  industrialist and a visionary ! His creations in jewellery were seen as  revolutionary and he was one of the most outstanding exponents of Art Nouveau. His masterful work in glass, and exquisite jewellery design  came to epitomize the Art Nouveau style and adorned the most exotic women of Paris.
"Give a woman the best product you can compound. Present it in a perfect container (beautifully simple, but of impeccable taste), charge a reasonable price for it and a great business will arise such as the world has never seen. "  These words from Lalique proved to be prophetic because he succeeded in being a  creative artisan who combined the sensual charm of his objet d' art with the possibility of mass distribution using mechanization and industrialization. He fulfilled the ideal of producing high quality designs at modest prices and using mass production so every consumer could own a piece of Lalique. His products cleverly supplemented the mechanical processes with finishing techniques to make the pieces appear less manufactured.
Born in Paris in 1860, he was apprenticed to a Parisian jeweller, at the age of 16, while simultaneously doing night school at the Ecole Des Beaux Arts. The young Frenchman went on to attend the School of Art in Sydenham, England where he was inspired by the Arts and Crafts movement of the time, particularly in graphic design. His love of flora and fauna motivated  him to use  naturalistic features in his designs.. In 1885 Lalique purchased a small workshop in Paris and produced his own interpretation of the emerging Art Nouveau style jewelry.
He also produced art glass especially in the form of vases which he became widely known and noticed for. In the 1920's he also produced wares in the Art Deco style along with car mascots (automobile hood ornaments) and clocks. His highly imaginative creations were populated by a magnificent world of fantastical beings – dragons, serpents, lilies, peacocks, butterflies, orchids, and Symbolist women, who metamorphosed into dragonflies, lotus blossoms, or terrifying Medusas. Lalique favoured the use of Nymphs and " Femme Fatales " with voluptuous figures in his creations, reviving a style which had been neglected since the renaissance.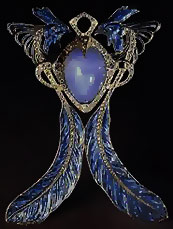 His output of glass spanned the time of Art Nouveau through to the Art Deco Period, and extended up to  World War II.  At the height of Rene Laliques production at his Wingen-sur-Moder ( France ) factory, Lalique employed over 600 workers. After his death in 1945 Lalique's son Marc reopened the factory. Lalique is run today by his granddaughter Marie Claude.
'Sauterelles' vase of clear and frosted glass with blue and green patina, c. 1912
Rene Lalique
Rene Lalique pendant
Rene lalique 'Ronces' vase of dark amber glass, c. 1921
'Le Mans' vase of cased opalescent turquoise glass, c. 1931
Rene Lalique
'Grenade' vase of black glass with white patina, c. 1930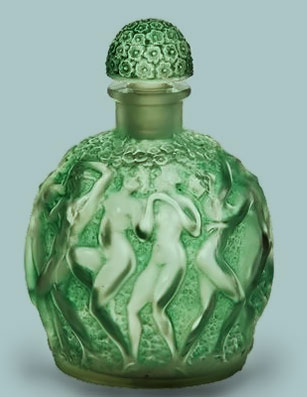 Leze I Pachne Perfume bottle – Rene Lalique
 Lalique 'Chrysis' car mascot in clear and frosted glass, c. 1931
RENE LALIQUE 'Courges' vase of electric blue glass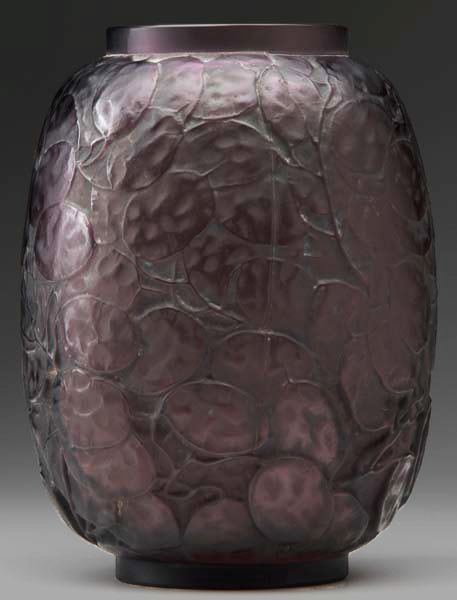 RENE LALIQUE 'Monnaie du Pape' vase of plum glass, c. 1914
'Bacchantes' vase – Rene Lalique
'Inseparables' clock – Rene Lalique
'Le Jade' perfume bottle – Rene Lalique
Hickmet Fine Arts
Rene Lalique 'Silenes' vase of clear and frosted glass with gray patina, c. 1938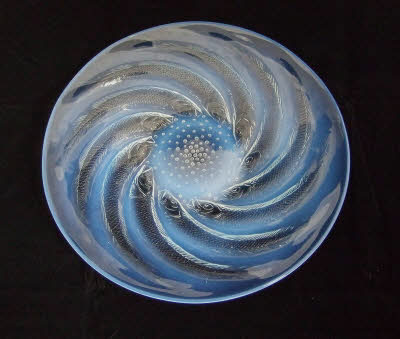 Frosted and clear glass swirl platter – Rene Lalique
'Ceylan' budgerigar vase of opalescent glass with blue patina, c. 1924 – Rene Lalique
Elegant perfume bottle 'Success' for 'Orsay' blown-molded white glass Rene Lalique
1914
'Montargis' vase of black glass with grayish patina, c. 1929.
'Soudan' vase of opalescent glass with blue patina, c. 1928
The recipe of Lalique's famous glass opalescence is still "the secret of the company".
'Suzanne' – statue of opalescent glass on original bronze illuminating base, c. 1925
Rene Lalique
Gold and pearl two naiads choker by Rene Lalique
'Malesherbes' vase of amber glass, c. 1927
Rene Lalique brooch
'Archers' –  Rene Lalique patinated vase
Gui vase of deep teal green glass, c. 1920 – Rene Lalique
Rene Lalique French 'Bacchantes'  dancing nudes vase
Art Deco perfume bottle – Rene Lalique
Lalique Calypso Salver
René Lalique 'Nymph' Pendant, 1899-1901: gold, ivory, enamel, chalcedony.
Calouste Gulbenkian collection
Rene lalique Art Nouveau pendant
'Bulbes' plate – Rene Lalique
Lalique Crystal Owl Paperweight – R.,Lalique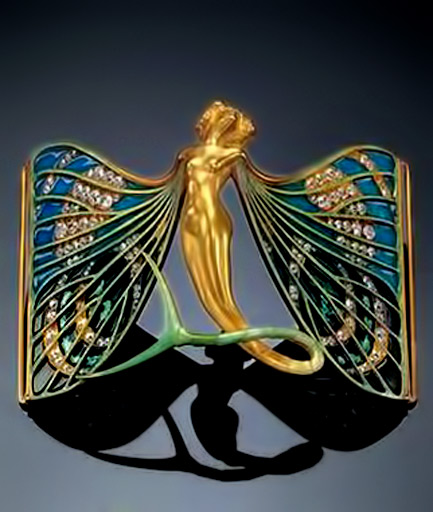 Rene Lalique Enamel, gold and diamond Art Nouveau brooch
1897-98 – Private collection, NY
René Lalique bracelet in yellow gold, green glass and enamel with seven tapered panels, ca. 1900
Rene Lalique frosted crystal paperweight
Soucis – blue cobalt vase by Rene Lalique
Art Nouveau Figural Pearl Broach By Rene Lalique
c. 1920's
Art Deco 'Terpsichore' vase – Rene Lalique – 1937
rlalique.com
La Source Necklace and Pendant  –  R.Lalique
1902
Dragonfly brooch – Lalique
Reve-a-Deux – – Rene lalique art deco perfume bottle
Classic Lalique brooch depicting dancing nymphs in a frame of butterflies, gold, enamel, sapphires and horn.
'Hawthorne' Dog Collar Plaque – Rene Lalique
1902
Rene Lalique and Augustine Alice Ledru, 1903
Rene Lalique pendant
Swan pendant – Rene Lalique
–