A selection of South African ceramic artists, highlighting the rich diversity of their contemporary clayarts.
Donve Branch
Donvé currently works with kaolin and bastitle clay and uses primitive firing methods to explore the dynamic interplay of fire and earth that defines traditional African pots. She has been a South African Eastern Cape potter for over 45 years and has always loved the rhythm and focus that comes from throwing clay on the wheel. Her organic looking pottery features large burnished surfaces that allow her to explore primitive firing methods for her functional reduction wares. Donve likes to experiment with the many different forms of pit-firing and loves to test and  manipulate the vagaries of the delicate hues and serendipitous highlights that adorn pit-fired pots.
She has ran pottery workshops from her Port Elizabeth studio and was involved with Vlok Potteries but now concentrates soley on studio ceramics. She gravitates towards closed globular forms that are influenced by the functionality and strength of the wares of the rural potter. Donve is drawn to experimention with various combustibles, surface covers and chemicals combined with bisque fired vessels in open pits or saggers, subjecting the pots to single or multiple firings; driven by the desire to push the boundaries of her knowledge
Throwing pots of white earthenware that retain their European form, while pursuing the exploration of the relationship between clay and fire, that characterizes traditional African unglazed pots, defines her attractive pottery.
website
Globular pots – Donve Branch
Donve Branch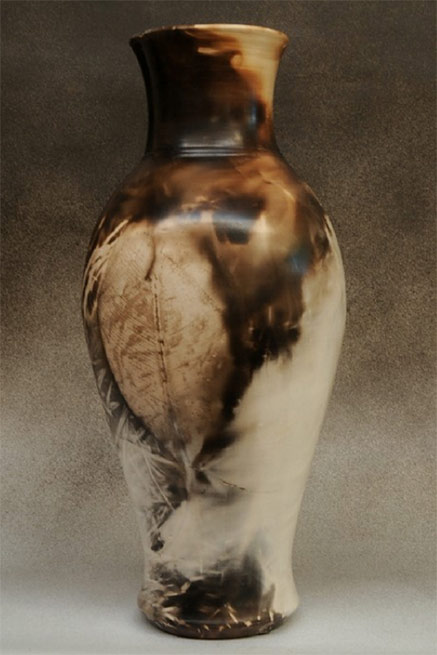 Donve Branch pit fired baluster vessel
Donve Branch
Donve Branch
Handbuilt  planter – Donve Branch
'Nguni Jar' – Donve Branch
Afrikana Gallery
Donve Branch – ovoid pit fired vessel
Tall ceramic bottles – Donve Branch
Afrikana Gallery
Donve Branch
Pit Smoked Bottle — Donve Branch
Donve Branch – squat bottle vessel with twin lugs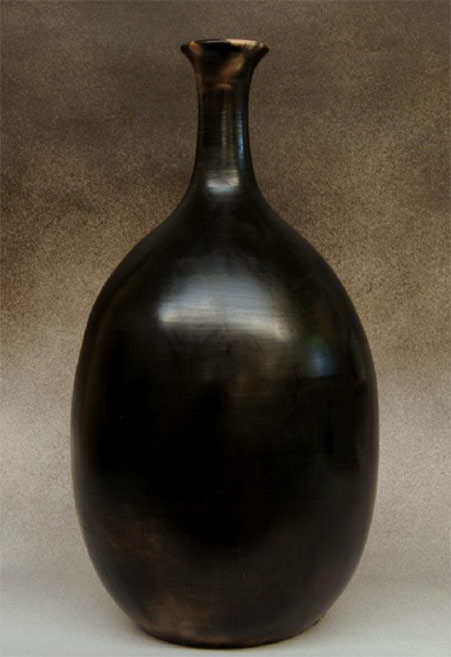 Donve Branch  — black burnished bottle
Squat ceramic pit fired bottle – Donve Branch
Three tall slender ceramic bottles — Donve BRanch
Two footed globular vessels  —  Donve Branch
Ginger Jar and Pit Smoked Plate – Donve Branch
Two figure plate – Donve Branch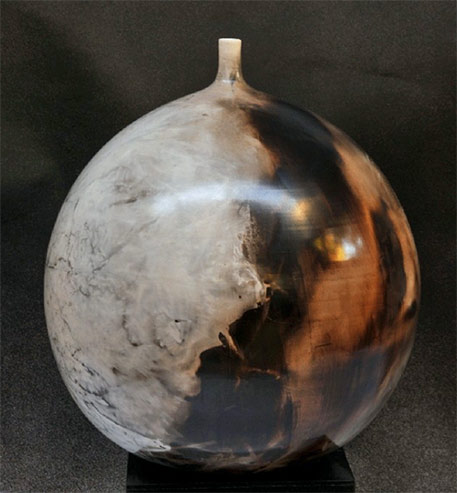 Burnished globular bottle – Donve Branch
Donve Branch ceramic bowl
Charmaine Haines ceramic wall figure fountain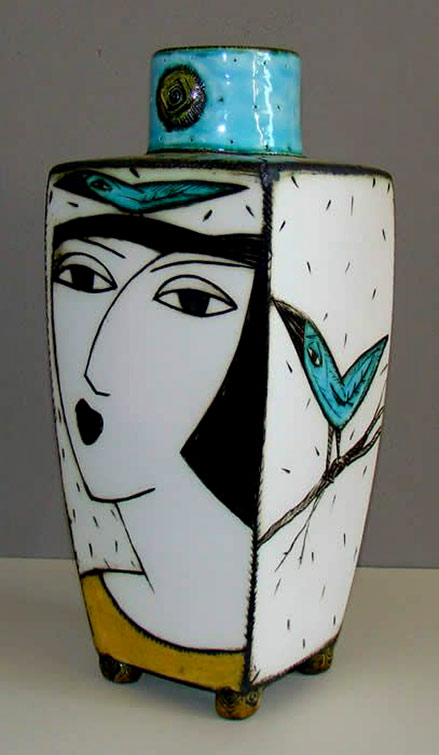 Charmaine Haines  —  female face and bird motif footed vase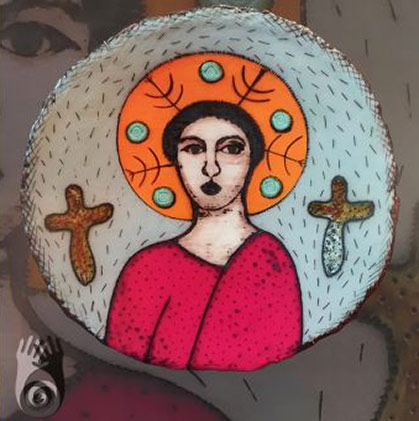 Charmaine Haines
Standing female figure vase – Charmaine Haines
Charmaine-Haines ceramic abstract figure sculpture
See more Charmaine Haines here
Lisa Liebermann
I have been playing with clay for as long as I remember. My journey has taken me from JHB to Cape Town and then to Plettenberg bay where I lived and worked for 15 years. Lisa, a third generation ceramic artist now lives in the vibrant Johannesburg again, creating bespoke commissions, offering regular art classes at a new pottery school in Raedene along with workshops and team building events.
Lisa Liebermann  —  round flat faced bottle, tribal figure motif
Agapanthus
Lisa Liebermann – hand painted ceramic vase
Agapanthus
Ceramic panel – Lisa Liebermann
Ceramic bottle vase with tall female tribal figure — Lisa Liebermann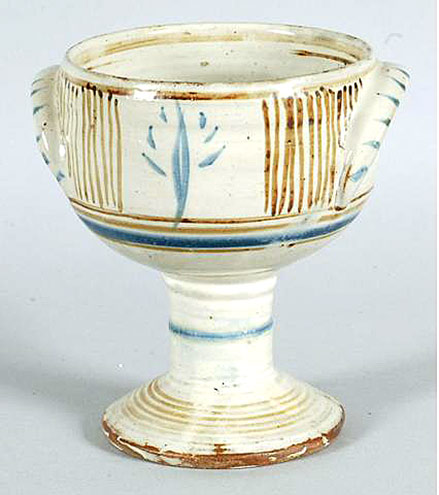 Michael Cardew – ceramic chalice
Ceramic headrest – Imiso Ceramics
Imiso Ceramics—Hand Pinched walford1 white clay hand pinched bowl
John Shirley
John Shirley
Ardmore 
Ardmore Buck teapot
Ardmore floral motif dish
Ardmore Ceramics – Leopard relief planter
See more Ardmore here
Lucinda Mudge
Lucinda Mudge's vivid vases captivate the eye with their rich colours and intricate detail, quite often expressing a range of contemporary and historical sources that convey a complex narrative.  Utilising hand-mixed glazes and stains, each piece is as unique as the narrative it tells using a broad range of themes, images and text. She also likes to pay homage to other famous ceramicists.
Striped vase by Lucinda Mudge – height 44cm
Agapanthus, Capetown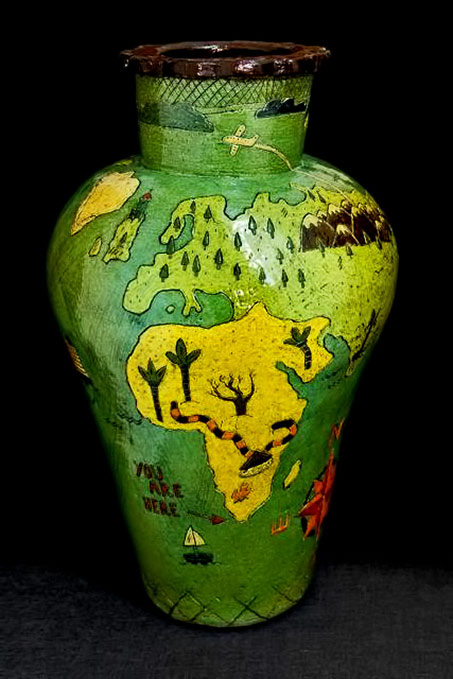 'You Are Here'  — Lucinda Mudge vase with world map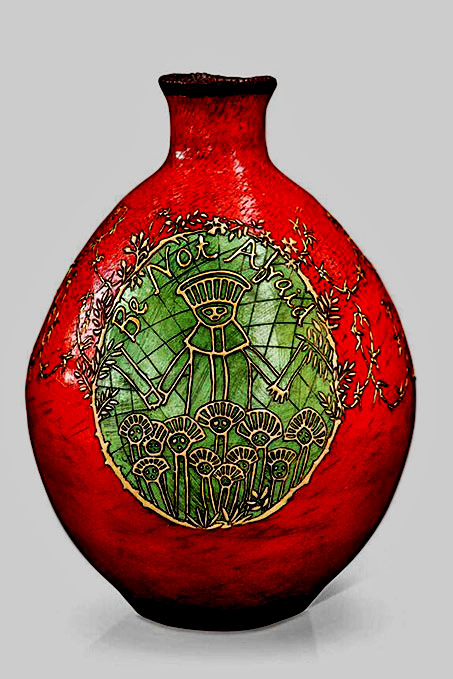 Lucinda Mudge 'Be Not Afraid' ceramic vessel
height  48 cm
Lucinda Mudge  —  ceramic vase after Matteo Nigetti
height -43-cm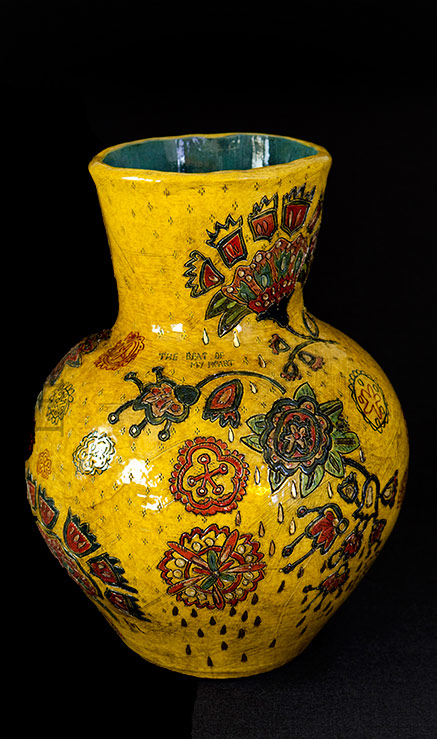 'The beat of my heart'_yellow vase  – Lucinda Mudge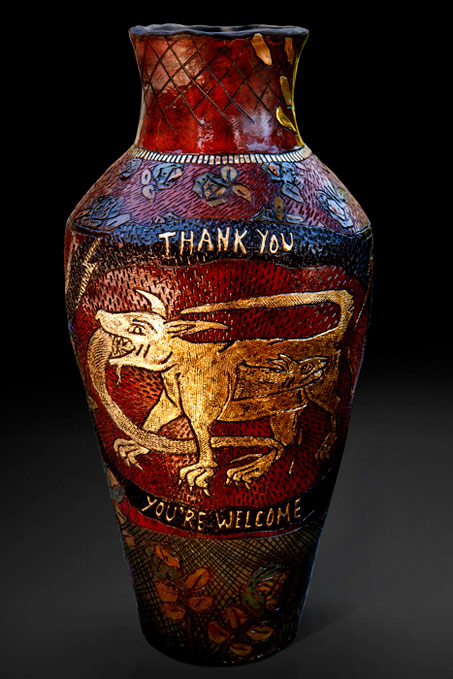 'Thank You You're Welcome' ceramic vase — Lucinda Mudge
height -52 cm
Lucinda Mudge Mami Wata vase
Lucinda Mudge — 'Bigger Better Faster Cooler', vase
Honey bees vase – Lucinda Mudge
finarts.co
Lucinda Mudge – You Had It Coming You Know
'After Cazeaux I' ceramic vase -Lucinda Mudge
height 54 cm
'After Catteaux II' ceramic vase – Lucinda Mudge
height-49 cm
'Take What You Want' ceramic vase – Lucinda Mudge
Thijs Nel
Karoo landscape pottery  —  Thijs Nel
'Meulsteen Altar' – Thijs Nel Stoneware Sculpture
'Still Life on Sotho Blanket' – oil on canvas by Thijs Nel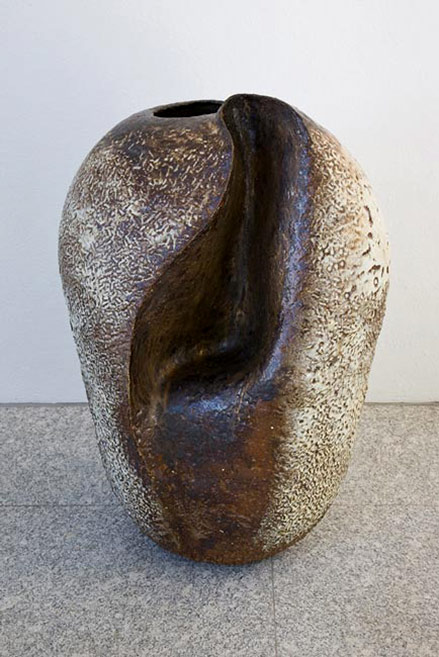 Thijs Ne sculptural ceramic vase
Sculpture,– Koning en Koningin (King and Queen)  —  Thijs Nel
Thijs Nel, ZA
Large ceramic sculpture mask  – Thijs Nel
2016
'Pomegranate Joy' – Thijs Nel
760mm x 600mm – Acrylic on Canvas
Thijs Nel folded sculpture vessel
Lucky Madlo Sibiya calabash sgraffito vessel
Lucky Madlo Sibiya incised ceramic vessel, ZA
Ruan Hoffman-ceramic vase black and white abstract
Ruan Hoffman
Tim Morris ceramic rectangular dish
Agapanthus
Johannes Scott bowl
Agapanthus
Martin Haines  —  'Willow Tree Cat'
Martin Haines ceramic hare figurine
Agapanthus
Ralph Johnson stoneware bowl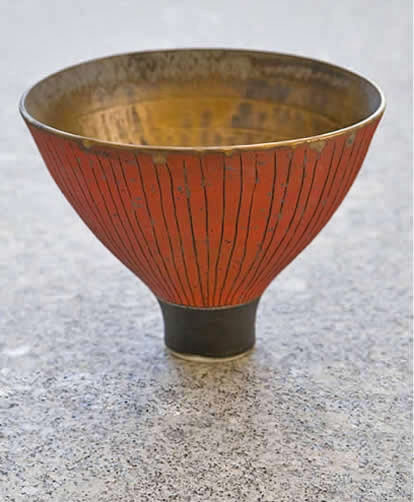 Porcelain bowl Ralph Johnson
Lee Hensberg – Freakalee Ceramics
Lee Hensberg butter dish
Freakalee Ceramics
–