'Portrait of a muse'  painting by Mariano Fortuny, 1935
Portrait of Henriette Fortuny in Pompeian costume with a Delphos dress and Knossos scarf designed by Mariano Fortuny, printed with geometric, asymmetrical patterns and motifs inspired by Cycladic art
The artistic legacy of Mariano Fortuny
The Fortuny museum in San Marco, Venice, was instigated in 1956 by Henriette Fortuny, the Parisian wife and muse of Mariano Fortuny (1871-1949) . He was born in Granada, Spain where both his father and mother were known painters and collectors of ancient oriental fabrics and objects. He became to be known as one of the great creative minds of the early 20th century due to his aesthetic refinement, prolific output and versatility. He was celebrated by his contemporaries as the last Renaissance man and was a conduit to Old World craft and design finesse adapted to modern methods.. He was a legendary textile and clothing designer working in Venice and Paris where he specialized in spectacular luxury fabrics based on Byzantine, Renaissance, Arabesque and Art Nouveau styles. Venice had a centuries old connection to the ancient silk road, so it was fitting that Mariano Fortuny liked to use delicate silks in his fashion and fabric designs. Th House Of Fortuny still makes the finest printed fabrics in the world, handmade in Venice since 1907 and continues the legacy of unique innovation and timeless artistry.
Scudo Saraceno silk chandeliers and Islamic calligraphy motif doorway hanging designed by Mariano Fortuny- 1920
Mariano Fortuny possessed an artistic virtuosity that included painting, sculpture, engraving, set design, lamp designs, photography and being an Orientalist art collector. The creations of Fortuny displayed an exquisite sensitivity, modernity and originality. The Fortnuy Palazzo, being a classic example of Gothic Byzantine architecture was a very appropriate location for Fortuny to reside in and to become a museum for his art and to host other exhibitions. His fortuitous move to Venice from Paris came about due to being allergic to horses, a rare sight around the Venetian waterways.
The contemporary art featured here stands in poignant contrast to the Old World charm exuded by the lush Fortuny fabrics and decor on display at the Fortuny Museum.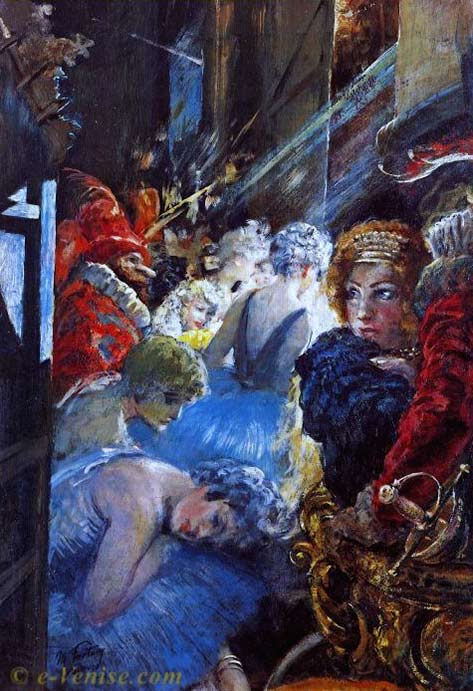 Mariano Fortuny – 'Les coulisses de la Scala de Milan'
Backstage of La Scala Theater 1934
Since 1891 Mariano Fortuny was completely captivated by the allure of the staging of Wagner's theatre, however many years passed before he concretely measured himself against the theatre, experimenting at length with both lighting and technology and the preparation of scenographic sketches.
Mariano Fortuny oil on canvas
After a trip to Bayreuth, to see a Wagner production, he expanded  his interests to include set design and stage lighting techniques
Mariano Fortuny exhibition "Fortuny and Wagner. The Wagnerism in the visual arts in Italy"
Bronze sculpture bust of Mariano Fortuny by Vincenzo Gemito – 1874
2015 Proportio exhibition at Palazzo Fortuny, Venice
'Il mercante di Venezia' – Mariano Fortuny Madrazo
Red silk dressing gown, Delphos pleated dress – Mariano Fortuny
Anish Kapoor White Dark VIII, 2000 ©JPGabriel
Current 2017 exhibition 'Intuition' – aims at investigating the mysteries of intuition and the forms of knowledge that cannot be explained in words.
To coincide with the 2017 Venice Art Biennale till November 26
Antony Gormley, 'GUT X', 2013, © JPGabriel, Palazzo Fortuny
Current 2017 exhibition 'Intuition'
'Artempo – where time becomes art' exhibition curated by Axel Vervoordt
Palazzo Fortuny 2007
'Artempo – where time becomes art'
Palazzo Fortuny 2007
La marchesa Luisa Casati  – Giovanni Boldini, 1908
The Divine Marchesa Art and life of Luisa Casati – Palazzo Fortuny 2014-15
Mariano Fortuny, 'Parsifal, the ascent to the Grail'
Oil on canvas
Bakongo Fetish wood sculpture – Tullio Dainese flickr
Fortuny Palazzo
Model of Villa Pisani in Stra, Sante Benato and Giovanni Gloria from a drawing by Gerolamo Frigimelica, carved and painted wood, c. 1720.
De Kooning, Roberto Matta, Mark Tobey, Julien Beck ©JPGabriel
Fortuny Palazzo current 2017 exhibition 'Intuition'
 Les Maîtres Chanteurs de Wagner, Rome 1931 – Photo de Mariano Fortuny
Wood carved sculpture bust Fortuny Palazzo
Stone carved sculpture head – Fortuny Palazzo
'Elogio de la luz XX', 1990. Eduardo CHILLIDA
Photo – Jean-Pierre Gabriel – 2015
Proportio Exhibition – the exhibition explored the omnipresence of universal proportions in art, science, music and architecture.
'Femme en buste aux liserons' Italian Liberaty Style white marble female bust by Mariano Fortuny
Fiona Kearney 'Quivering, timeless beauty' @PalazzoFortuny
Intuition exhibition 2017
'Fortuny Bowl' — June Schwarcz
Spun and hammered copper with electroformed design, light purple enamel interior, red and orange enamel exterior
1981
Fortuny ceramic Carafe-  L'objet
Fortuny e Caramba – Medieval motif silk applique caftan dress – Mariano Fortuny
Fortuny Lamp Shade
Fortuny–Scheherazade–Seta – Persian pattern silk on metal frame
Venetia Studium
La Divina Marchesa exhibition at Palazzo Fortuny, Venice
2014-15
John Galliano for Christian Dior – Tribute to Marchesa Luisa Casati
'Gathering Clouds' by Anish Kapoor (2014) and 'The Cube' by Alberto Giacometti (1934-1935)
'Artempo – where time becomes art' 2007
Guido Cadorin – nude female sculpture relief
Palazzo Fortuny
Isadora Duncan's daughters wearing Fortuny's Delphos pleated silk dresses
 'Delphos' gowns were dyed individually in a wide range of unusual colours. Delicate silk was processed on porcelain rollers to create fine, uneven pleats, one of Fortuny's innovations.The technique used to process the silk is still shrouded in mystery. Designed in 1907, the loose flowing gown freed women from the constraints of the corset. Fortuny merged his love for medieval history and classical Greece with a fascination for technology and the skills of the craftsman.
Face relief sculpture
La Divina Marchesa exhibition at Palazzo Fortuny
'Lady of Saint Sernin' –- Anthropomorphic Figure 'Statue Menhir'-–-Sandstone
4th—3th millennium
Fortuny palazzo 'Intuition' exhibition 2017
 Model of modernist building, Le Corbusier's, 'Poissy'
Proportio Exhibition 2015
Limited-edition handbag cut and hand-crafted from exclusive archival Fortuny velvet brocades – Marin Hopper
Paul-Cèsar Helleu, Giovanni Boldini and Luisa Casati wearing an Indo-Persian costume in the garden of Palazzo de' Leoni, house of Peggy Guggenheim in Venice. Photograph by Mariano Fortuny, 1913
Marchesa Luisa Casati was renowned for her unique and haunting image, one that she carefully cultivated in order to become a "living work of art."
Mariano Fortuny, 'Gypsy Dancing in the Garden of Granada', 1872
Mariano Fortuny
Mariano Fortuny designed theatre costume
Mariano Fortuny Stage scenery
Fortuny Museum Venice
Maurizio Donzelli proportio mirror
Proportio Exhibition 2015
Palazzo Fortuny -–- The Bottega Cadorin—A Dynasty of Venetian Artists exhibition
Pierre Alichinsky, 'Cobra vivant' 1975
photo ©JPGabriel
Fortuny palazzo 'Intuition' exhibition 2017
Ballerina sculpture  Fortuny Museum
Black stenciled long  velvet stage cortume 1920 – Mariano Fortuny
Fortuny bowls L'objet
Fortuny collaborated with L'Objet to produce these ceramic canape plates with old world Venetian textile patterns
Eloisa Reverie Vezzosi, Palazzo Fortuny
Proportio Exhibition 2015
'Hare Apparent' installation of Izhkar Patkin
Photo Jean Pierre Gabriel
Proportio Exhibition 2015
Works by Victor Vasarelly and Tomas Saraceno-Photo Jean Pierre Gabriel
Proportio Exhibition 2015
Renato Bertelli, Marchesa Casati sculpture bust, 1920.
Collezione Sgarbi Cavallini.
Saint Anne and the Virgin Mary – Fortuny palazzo Intuition exhibition
 Luisa Casati portrait by John Augustus 
The Divine Marchesa Casati exhibition
Marchesa Casati with peacock pens Giovanni Boldini
1914
 Bronze sculpture by Paolo Troubetzkoy – Portrait of the Marchesa Casati with Greyhound, 1914
The Divine Marchesa Casati exhibition, Palazzo Fortuny
'The Rare Vase'  —  Mariano-Fortuny
-1870-
The Valkyrie-  'The embrace of Siegmund and Sieglinde', canvas – Mariano Fortuny
Vaso de Fortuny,  –  Hispano moresque ceramic Alhambra with metallic reflections from Málaga (Spain) dating from the fourteenth century preserved in the Hermitage Museum (St. Petersburg)
'Veiled Lady' sculpture bust– Antonio Corradini
'The Mendicant' — Mariano Fortuny
L'Obbjet – Fortuny bowls
Encantador_de_serps 'Hindu Snake Charmers' – Mariano Fortuny
On a number of occasions, Fortuny returned to North Africa, where the clarity of the atmosphere and the intensity of the sunlight profoundly influenced him. In this scene, set outdoors at twilight, a turbaned Indian mesmerizes a cobra with a reed. The artist, a collector of Islamic decorative arts, includes such accessories as a copper bowl, luster plate, and saddle.
The Alhambra Vase Early century Nasrid period Earthenware painted over glaze Spain. Mariano Fortuny designed frame
Mariano Fortuny oil on canvas painting – 'The Stamp Collector'
Museum of Fine Arts, Boston
Hispano Moresque ceramic lustre ware plate
Buddha statue – Artempo where time becomes art exhibition
2007
'La Vague' -–- Gustave Courbet (France)
Fortuny palazzo 'Intuition' exhibition 2017
Intuition
– designed to provoke the elusive intuitive faculties. Curated by Axel Vervoordt with the exhibition skills of Daniela Ferretti – running to Nov. 26 2017
Intuition' starts with totems, shamanism and iconography from the early history, when men tried to understand the link between the sky and the earth. There will be modern works by Vassily Kandinsky, Paul Klee, Hilma af Klint, Kazuo Shiraga, Pierre Alechinsky, Günther Uecker, Lucio Fontana, Mario Deluigi and Joseph Beuys. Surrealist works include André Breton, André Masson, Paul Eluard, Remedios Varo and Victor Brauner, but also Raoul Ubac, Man Ray, Henry Michaux, Oscar Dominguez or Joan Miró. Finally, contemporary artists are also featured, such as Robert Morris, William Anastasi, Isa Genzken, Renato Leotta, Susan Morris, Marina Abramovic, Chung Chang-Sup, Ann Veronica Janssens and Anish Kapoor.
The team has asked Kimsooja, Alberto Garutti, Kurt Ralske, Bruna Esposito and Nicola Martini to create site-specific installations. All art works will be spread over the beautiful rooms on the different floors of the Palazzo Fortuny.
–