This article centers around the ceramic creations of  UK pottery artists mostly based in the North of England who are members of the Northern Potters Association, an organization of over 400 members dedicated to providing support and encouragement in all facets of  pottery.
◊
   Juliet Blackman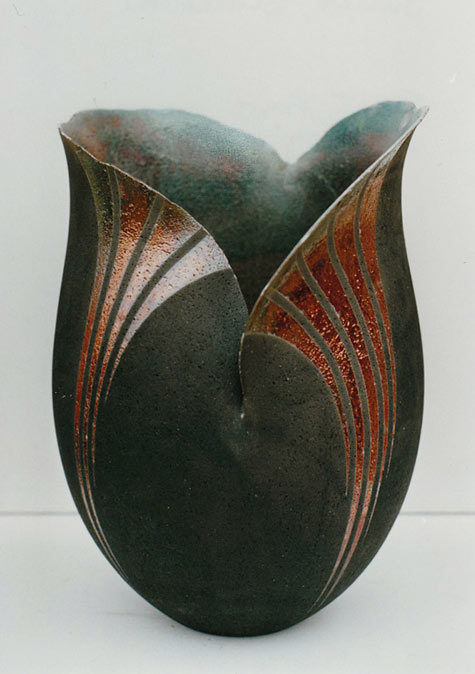 Central to all my work is an enjoyment of coiling, an almost meditative process where the form gradually evolves, together with raku, which provides the essential dark, earthy quality, capturing the mystery and unexpected iridescence of ancient archaeological finds. The contrast between a highly controlled, considered building process and the relatively unpredictable nature of raku firing is very exciting. Inspiration derives from the natural world and landscape, together with the effects of time such as weathering and erosion; also a fascination with the artefacts of very early people. My work now falls into two groups which reflect these interests.
◊
Sue Dunne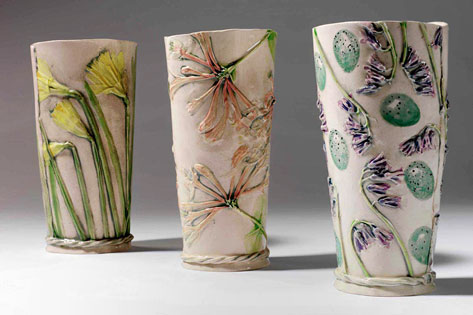 My work directly reflects my year-round fascination with natural history, particularly plant-life when it's wild. The methods I use, including colouration, ensure that each piece is a separate and individual work of art rather than using 'mass-produced' identical moulds. Everything is twice-fired, the colour being applied before the glaze firing at just under 1100°C.  I studied ceramics at Bath Academy, have had many exhibitions in the North of England and in Scotland, and exhibit at Potfest annually.
◊
Ian Baldwinson
I've been building and throwing clay for around 3 years, in evening classes and at home. I love the whole process, from sketching ideas, to them cluttering up our shelves. I try to keep the forms simple and the colours and textures subtle. I often incorporate mosaic – broken pottery, usually found in gardens I look after.
◊
June Ridgway
My introduction to ceramics began at the Harrogate School of Art. After which I gained a 2 1 in Ceramics/ 3D Design at Wolverhampton Polytechnic followed by PGCE at Birmingham Polytechnic. The work is coil built, burnished and saggar fired. Inspiration is from a number of sources: erosion or weathering, just as the patina of age takes its course over any surface subjected to the elements, so the smoke and the added ingredients placed in the saggar, such as salt, wire, oxides, make their unique marks directly on the satin, burnished surface of the piece.
◊
Carol Metcalfe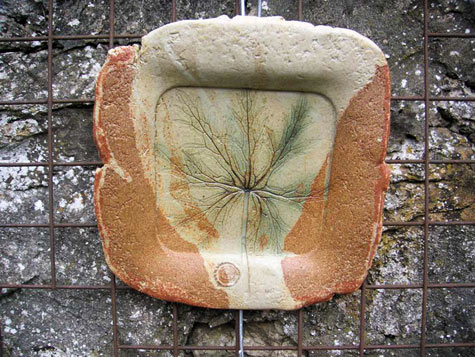 Carol uses  home-grown ash glazes together with plants and other locally-found materials, collected on the farm where she lives, near Richmond, North Yorkshire.  Carol's pieces have a particular emphasis on texture, inspired by natural forms and nature's effects on man-made objects – erosion, corrosion and colonisation.
◊
Kat Dale
◊
Stephen Breu
I make usable pots that are good to look at and to handle; this way the container can add an extra dimension to the pleasure gained from the contents. I make traditional shapes in stoneware, with shiny or satin glazes in strong colours with interesting textures. For decoration I let the glazes and their interactions in their molten state provide the surface beauty. Being a chemist, I love experimenting with glazes, while gaining an understanding of the processes involved.
◊
Elisabeth Bailey
Elisabeth lives and works in Kirbymoorside.
◊
Polllie and Gary Uttley
We travel frequently in India and our work is inspired by the richly patterned tribal textiles we source there. We make a range of wall panels, platters and bowls using a wide variety of decorative techniques. These include impressing & applying of clay, printing, painting slip trailing, glazing & colour staining, decals, raku & lustres. These are often combined to capture the vitality of the textiles& to blur the distinction between the softness of the textile and the hard ceramics.
◊
Joan Hardie
My aims are to produce ceramics that are interesting, accessible and affordable and encourage people to look afresh at the natural world. My inspiration comes from the natural colours, textures and forms found in the Cumbrian countryside. All my work is hand-built, mostly in stoneware and sometimes in porcelain or earthenware. I make pieces based on leaves, bark, shells, fungus and lichen, including wall collages, hanging pieces for inside or outside, sculptural pieces, and a variety of dishes, bowls and vases. All my pieces are individual. My studio and shop, Bitter Beck Pottery, is in Cockermouth's historic Market Place.
◊
John Cook
I have always been interested in painting and sculpture, and in particular the work of Garbo, Duchamp, Kandinsky, and Kemeny. I am intrigued with the exploration of ideas, creativity, and uses of colour, texture, and materials, and the very act of making shapes and forms. My current ceramic work is inspired by my childhood memories of industrial architecture, power, movement and colour. These memories have then been refined to now ones of decay, demolition, and neglect, but with still a hint of optimism. All my current work is fumed paper stoneware, with appliqués that are crystal glazed.
◊
Kirsti Buhler Fattorinini
Educated in Switzerland, I studied paintings and ceramics in Rome and cramics at Manchester Collage of Art. Married and in England, I changed from earthenware to stoneware. I am making plates, bowls to use. Every item is different. I use stoneware colour glazes often mixing them for special effects. My designs are drawn from nature – animals, birds, fish and flowers. I feel that pots are not just for decorations, but should be used (dishwasher, oven)!
◊
Anne Decker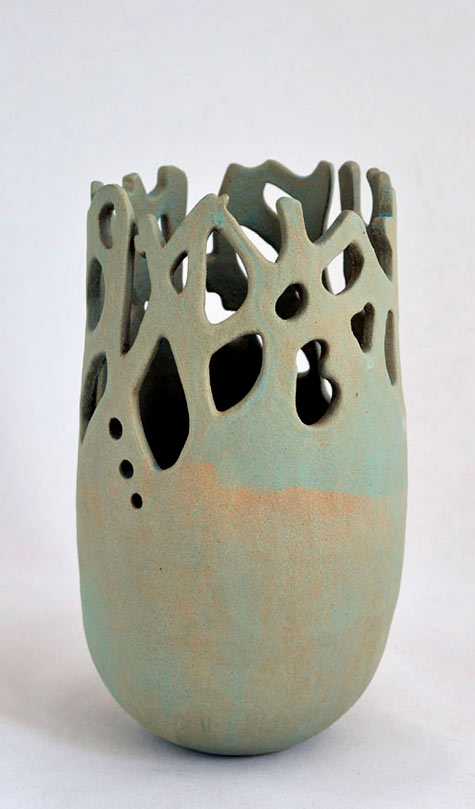 The organic geometry found in marine and plant life provides endless creative inspiration. In my sculptural ceramic work I want to capture the delicacy and strength of natural architecture like that found in sea corals and tree branches. Light and shade also play a part in the fragility of the work as the pierced openings cast patterned shadows. I hand build with stoneware clay: coiling and shaping, piercing and carving. After the initial firing, engobes – white or coloured slips – are sprayed onto each piece before the final firing, resulting in a matt finish.
◊
Keiko Harada
Originally from Japan, I obtained the degree of BA, Art and Design at Leeds Metropolitan University in 1999. Oriental influences are strong in my clay work, which springs from my long involvement with Japanese calligraphy and Textiles. I express my feeling for nature and the human spirit in an abstract way, using calligraphy brushes to emphasize the spontaneous movement of line.
◊
Gillian McMillan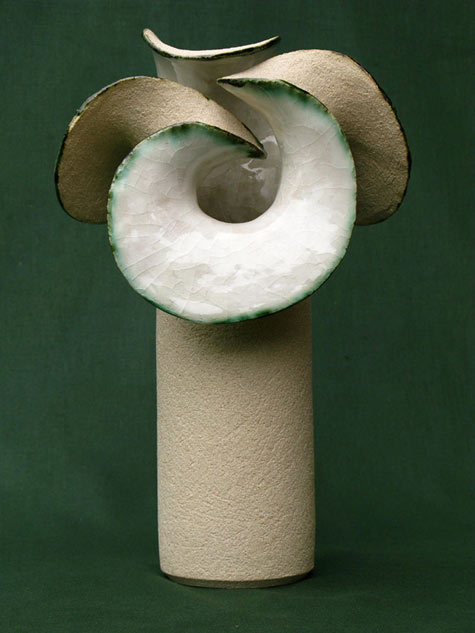 Gillian,s ceramics are hand crafted in porcelain, stoneware or terracotta. Pots are thrown on the wheel or hand built, and decorated with oxides, glazes and lustre. Stoneware and porcelain are fired to 1260°C; the lustre on porcelain is fired again to 700°C.  Her inspiration is from natural forms including the sea and rocks.
◊
Anne Harworth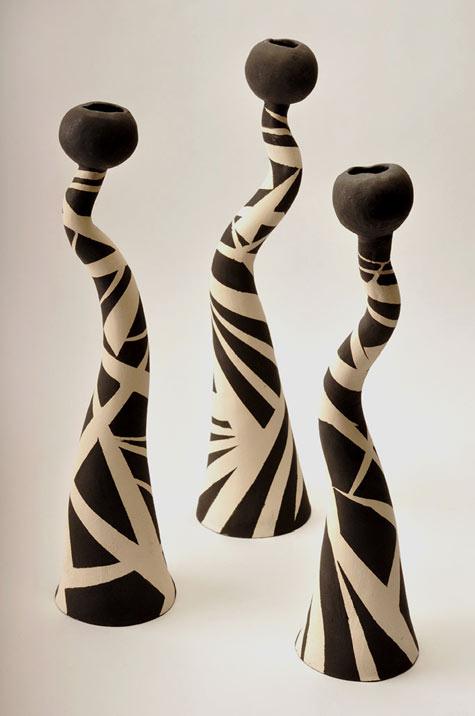 My work is inspired by the natural world and I find there are endless sources of inspiration in plant forms, leaves, thistles, seed pods, vegetables, fungus etc. I use traditional methods of making – coiling, pinching and slab-building – and for surface decoration use slips, stains, oxides and some glazes. I like to tweak the forms in a playful way so that I can try to echo the endless possibilities of nature with my own finishing touches
◊
Alan Birchall
I make mainly individual thrown functional pieces but, influenced by Japanese potters, I have recently broadened the range of my work to include hand carved pieces. My inspiration comes from oriental ceramics and the natural world – geological formations and the colour and form of primitive plants, especially lichens and mosses. I work only in stoneware and fire in either a gas or wood fired kiln. Glazes are based on traditional oriental recipes and often incorporate local wood ashes. I love the wonderful effects natural ash and the raw flame can produce, each firing allowing me to discover and explore new effects.
◊
Sheila Spencer
I make high fired colourful earthenware, mainly bowls, plates and tiles. Leaves, flowers, fruit and frogs feature in my decoration reflecting my interest in gardening. I use red clay, nothing special, just the cheapest I can find and a commercial transparent glaze. I use sponges, stencils, brushing and sgraffito to get the images onto my pots. I like to write on my pieces, maybe I am a repressed graffiti artist at heart. I fire in an electric top loader. I am still amazed by the alchemy that changes messy clay into bright, shiny objects.
◊
Karen Hollinson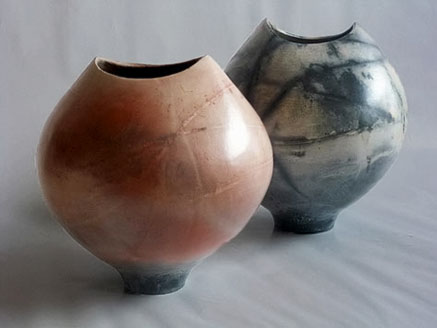 ◊
Lizi Botham
◊
Syl Macro
◊
Caroline Lee
◊
Sophie Hamilton
◊◊◊
To obtain more information on any of the above potters or see other pottery works from this collective, go to Northern Potters Association 
◊◊◊
–