Amazing clay creations from deep antiquity to the present
Clayton Bailey ceramic robot teapot
Simple hand propelled pottery wheel Vietnam
Ceramic heads – market day at Chichicastenango, Guatemala
 Latin Modernist mural, Barcadi Martini Annex
Miami
'The forrest' wax resist vase – Carlton F Ball
1960's
Paola Paronetto contemporary clay vessels
Grotesque Shark Attack birthday cake
Studio Built Coil Vase –  Jana Merlo
1978
 Terracotta vessel. Greek, Sicilian, Centuripe
Idealized portrait of a bride or of Aphrodite, the love goddess
3rd-2nd century BC
Bobo mask dancing in Bwa purification ritual. Burkina Faso
Lustre Enamel on copper bowl, NY
1898 – 1902
 Lace wrap ceramic vessel with bronze effect
Porcelain vase by Tony Laverick. UK
Ceramic rooster vase sculpture by Dominique Pouchain
Cloisonne enamel dragon vase—Meiji era-(1868-1912), late 19th century
Bonhams
Barocco destructured head ceramic sculpture
CHRIS BROC, France
Contemporary folded vase Coco Schoenberg (French American)
1990
Clever advertising for bubble wrap
Georges CONDE et MOUGIN (XX) "Danseuses"
Ceramic ovoid vase with open neck, enameled gray/green & decorated with frieze of dancers
David Geschke Lidded sphere vessel
Devrim Sevim Aykac mosaic planter
'Eclpise' raku basket – Dragonfly Pottery
Edwin and Mary Scheier Incised vessel,
1986
Egyptian Revival garden throne with gargoyle pillars
El Hussein Fawzi—'Felaha and Jars'
 Transport of Lebanese cedar in Etruscan dragon ship. at the king Sargon II palace at Dur Sharrukin in Assyria
Wall relief  c. 713–716 BC
Etruscan Vase with lid — animals facing each other and geometric patterns.
Cerveteri, around 630 BC
Dekor Futura – Eva Zeisel art deco vase
The International Design Museum Munich (A. Laurenzo)
1929
"Ruby Throat" – Gene & Rebecca Tobey
Exposures International Gallery of Fine Art  Sedona
Geometric Bird Askos
c. 700-BC
Gio Ponti vase
Milan, 1930
Livia Gorka — Grouping of 4 Mid Century Vases
Hungary  c1950
Huge antique Tullio Mazzotti vase
Albisola, Italy
Famille Rose Hu Vase, Qianlong
Satsuma Japanese vase
Kyoto
Kanika Sircar footed ceramic vessel
Rafa Perez
2018
Valcke art gallery, Belgium
'Knight and Tiger' by British artist John Maltby
Kukuli Velarde's-Chola de Mierda
(Moche, Peru, AD-200)
Lesley Jensen raku vase
Lora Rust Ceramic vase
'Mãe d'Àgua' ceramic wall mural — Arnie Zimmerman
Everson Museum
Michael Lucero- 'Island Dreamer'
Artnet
Mount Teide Volcano, Canary Islands, Spain
'Oceans Edge#5'  —  Toshiko Takaezu
Pablo Picasso — ceramic vase woman face lampe
1958
Hand painted amphora with anicient Goddess motif, Moldova
Patricia Griffin ceramic lidded vessel
Persian Ceramic Plate c19th Century
Magdalene Anyango N. Odundo burnished vase
H-16 ins – 1990
Royal Copenhagen – Thorsson Bacca tie dye vase
Ovoid Neriage vase – Matsui Kosai
Vase by Rudolf Staffel, American, 1911-2002
Philadelphia Museum
Sandy Terry hand-built and wheel thrown decorative wirecut teapot
2016
Sea lion and pup mosaic floor panel – Gary Drostle
Lucile Packard Children's Hospital Stanford in Palo Alto, CA
Gary Drostle — Dungeness Crab and mussels mosaic panel
Aiko Takamori  —  'Blue Nude Figure'
22.5 x 14 inches
Phoenix Majolica Vase – TFS Ltd
Kiapkwa Polychrome Water Jar United States, New Mexico, Zuni Pueblo, Zuni
circa 1840-1850 Earthenware and pigments Height– 14 .5 in
Large Aztec Winged vessel – Goddess of Maize temple vessel
Vases in Rosso Levanto and Bianco Michelangelo Marble, by Matteo Cibic,Italy
Full moon through North Window Arches
National Park, Utah, USA
Tina Banitska Vase –  Springmount Pottery
Creswick Victoria, AUS
This 7th-century B.C. amphora relief has the earliest known depiction of the Trojan horse and shows the Greek warriors hidden inside.
Zsolnay Pitcher shaped like a bird
1898-1899, stoneware, eosyna lustre glaze
Janus Pannonius Múzeum
Victorian Bust Terracotta Figures Pair – Johann Bloch
Walter Paul Suter American Art Deco glazed pottery sculpture
1929
Wayne Higby, 'Temple's Gate Pass'
1988, Smithsonian American Art Museum
Yoko Komae
Yui Tsujimura pottery
Precious water deep well
Cinque Terre Monterosso Neptune statue
Italy
Solo lemon, morning sunbeam heart
The lemon tree in my garden has been barren for seven years and it recently produced a lemon. On capturing this achievement for the record I unknowingly got the bonus of an early morning sunlight heart.
Vintage India Hand painted Porcelain Vase-Monkey Riding Elephant
'Le Dieu De La Ceramiche'-(God of Ceramics) – Francois Raty
Ovoid vase with three constricted necks connected by a glazed ceramic handle yellow tinged green decorated with geometric patterns.
Vilmos Zsolnay 1900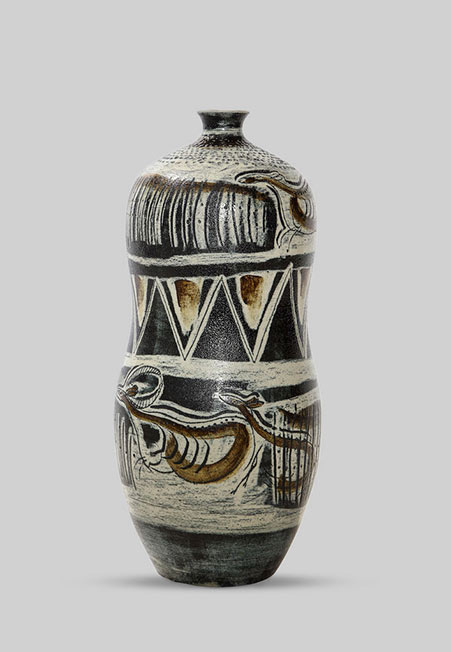 Bruno Anders large 21 inch tall abstract ceramic vase
1950
–