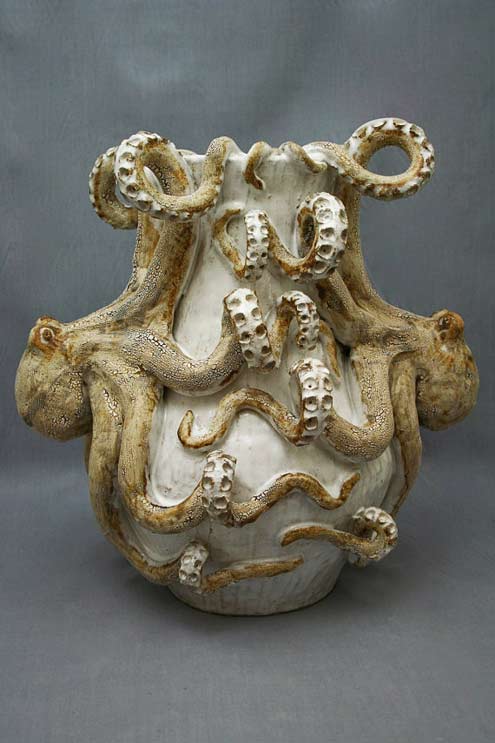 Large Ceramic Twin Octopus Vase by Shayne Greco, NC, USA
Artifacts from the ancient cities of the Grecian Archipelago and Asia Minor have depicted numerous examples of decorative motifs representing the octopus. They were a very popular artistic theme with the pottery of Crete, Cyprus, Mycenae and Troy and they were generally regarded as a sacred symbol. Octopus art also appeared in Peru and Brazil and was believed to have originated from the ancient Pacific ocean continent of Mu. Having eight legs coming from a central hub, the octopus was aligned to the mystical eight sided 'Pa Qua' configuration. This was also known as the Magic Square to the Egyptians or the Lo Shu square  by the Chinese, as it was first observed in China carved on the shell of an elderly tortoise which came from the Lo Shu river. The spider was also given a sacred status due to also having eight legs radiating from a central point.
Moss green octopus – Wax & Bing Studio
Having exceptional polymorphic powers of camouflage due to being boneless and possessing a remarkable skin able to change colour, texture and patterns in a split second, the octopus can shape shift and adapt its appearance to practically anything it wants in the ocean (see video below) They were admired because this reflected the ancient esoteric belief in the metamorphic potential of human beings. Also being colour blind, they must have possessed psychic abilities to be able to interpret their surroundings so accurately. The most rigid part of their body is the eye and they can fit through anything if their eye does. They are blessed with three hearts and like to collect shiny objects off the ocean floor to make 'octopus gardens' around their lairs. They are considered the most intelligent of all the invertebrates.
Erik Pontoppidan, the Norwegian historian claimed that the giant kraken (octopus) posed a real danger to sailors due the whirlpool left in their wake and if the creature's arms were to lay hold of a ship, they had the abiltiy to pull it down to the bottom of the sea. In his 'The Natural History of Norway' he described the kraken as "incontestably the largest Sea monster in the world" who had the ability to wrestle with a whale.
The sinuous, malleable and diverse forms of the octopus make its easily adaptable to numerous shapes, hence its popularity with artists and creators.
Octopus, cephalopods, kraken and tentacle spectacles
Giant pacific octopus – arm span up to 6 metres
Kraken attacking a sailing ship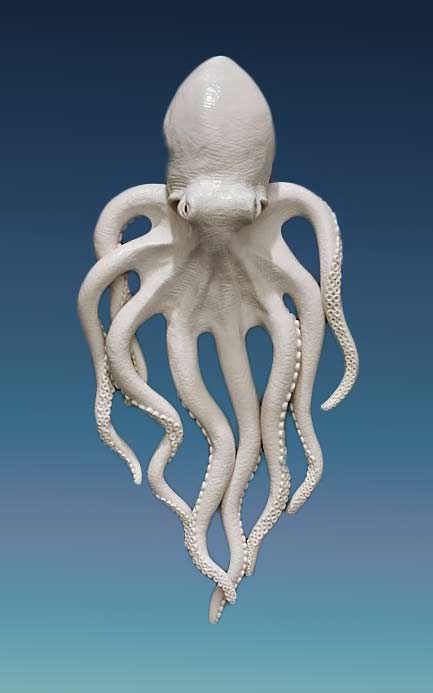 'Skin Changers Closet: octopus'  wall art – Kate MacDowell 2015
Sold @Mindy Solomon Gallery
Red ceramic octopus – Beth Allison
Ellen Jewett
Octo mudka pot – Sue Anderson
Art Nouveau octopus vase by Amphora
A mural by Belgian artist ROA is part of the street art project 'Djerbahood'
Photograph- Mohamed Messara-EPA
It's hard to keep a good octopus down !
'Inky' looks content in this photo because he knew he would soon be back in the sea again at Hawke's Bay in New Zealand.
The morning staff at the National Aquarium of New Zealand arrived recently to see that 'Inky' had done a runner in the night. The telltale tentacle tracks were on the floor, he had 'got kraken' through the 50 metre drain pipe which led to the sea and his freedom.
Ancient Pompeii-Herculaneum octopus mosaic
Neil Weightman flickr
Austrian Art Nouveau Octopus Vase by Stellmacher for Amphora
1901-02
llustration for Jules Verne's Twenty Thousand Leagues under the Sea – Alphonse de Neuville & Edouard Riou
1871
Giant Kraken illustration from the original 1870 edition of Twenty Thousand Leagues Under the Sea by author Jules Verne
Octopus mosaic by Carrie Wilson
Octopus wash basin by Shayne Greco
Chilling out cephalopod
Diana Fayt Scrimshaw platter
Bronze Octopus Sculpture by Paul Harder, California, USA
Ancient Greek coin with octopus
Eretria, c. 500-465 BC
Tracey Porter
Octopus chest tattoo
Large glass mosaic octopus by LucyDesignsonline
Black vase with surface relief octopus – Tammy Garcia
Octopus plate – – Ruchika Madan
'Octochair' – Maximo Riera new edition of animal chair collection
Orange octopus plate – Monica Pharr
Red Octopus vase  – Moorcroft Pottery
Large octopus floor mosaic at Gumalimba Park, Roatan, Honduras
Susan Ward—flickr
Glazed ceramic octopus pen toothbrush holder by Miss Mog Devian Art
Octopus on Face vessel by Mitchell Grafton
Red mosaic octopus at the museum entrance
Musée océanographique Monaco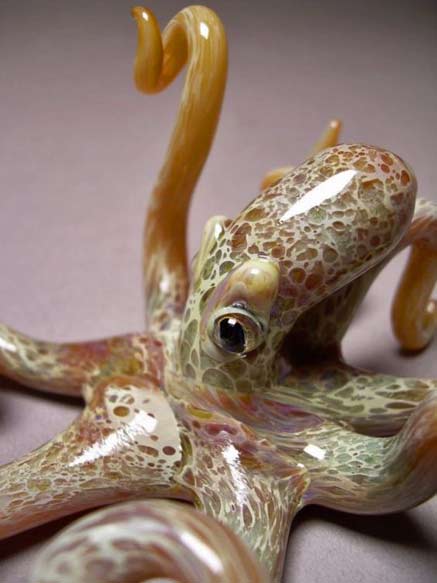 Glass Octopus Sculpture
Glassnfire — etsy
Suzuki Miyagi vase
Roman mosaic in  villa in Pompeii
2nd century BC
Charles Catteau octopus homage to Minoan artists
Sandra Bryant octopus mosaic
Octopus sculpture in seafoam and red by P.Y Simpson
Tentacled server cake stand – BHLDN
Minoan clay flask showing an Octopus, Palaikastro,
( 1500 B.C.E.) Archaeological Museum in Herakleion.
Octopus art by Alexis Diaz
Octopus tea candle lamp sculpture –  Scott Musgrove , Seattle
'Octopus Jar'  – Jennifer McCurdy
Zoe Friend, Boston
Cast octopus desk ornament – Wangstone
Seattle Country Day School mosaic mural octopus
Wall bronze octopus key holder
'Oliver the Octopus' — Kyle Guymon  – sager fired ovoid vase
Ephraim Faience Pottery, Wisconsin USA
Lady Gaga adorned in an octopus outfit
Artpop Tour Madison Garden
 19th Century drawing of a colossal octopus by Pierre Denys de Montfort
This depicted a French ship reportedly attacked by a kraken off the coast of Angola.
Bright pink octopus Paris street art by Vinnie
Octopus yes mural – Yuko Shimizu
80 ft long – Dumbo, Brooklyn
Octopus salad bowl – Cornwall
Octopui polymorphism
–