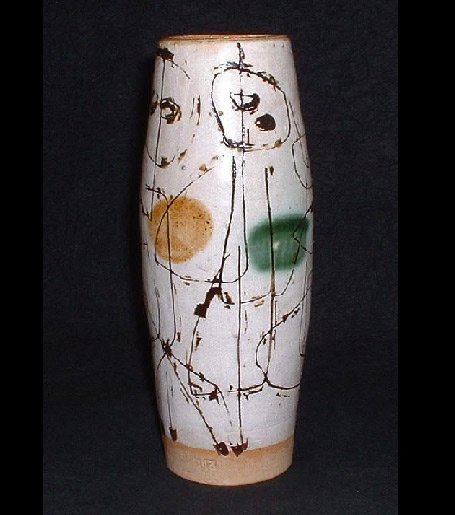 Kumakura Junkichi
Clay dimensions and Zen
One of the underlying traditions that permeates life in Japan, arising from their culture and Zen Buddhist/Shinto influences is mindfulness, contemplation and a deep respect for nature and its rhythms. Objects in the process of decay or conception are considered to be more evocative then in full bloom because they reinforce the sense of transience. This is encapsulated by the deliberate attention given to oppositional forces, created for example, between contrasting textures (rough to smooth) and asymmetrical forms, to allude to the dynamic of the incomplete. The drawing of the enso circle in training, which is never shown as closed or complete, is a reminder of this aspect.
The distinctive Japanese aesthetic speaks from within and is reflected in their art by the expression of several qualities including kanso (asymmetry), fukinsei (simplicity) and koko (basic). Furthermore, the quality of shizen (keeping it natural, spontaneous and without pretence) is consistently expressed along with the recognition of the nature of Kami, which relates to the 'spiritual essence' and 'spirit' that inhabits all animate and inanimate forms.
Further enhancement is also achieved through these following aspects: Yugen — subtleness and not obvious, Datsuzoku — unfettered by convention and Seijaku — solitude, stillness and tranquillity. The concept of Shibusa also considers similar qualities – simple, subtle, emptiness and unobtrusive beauty (understated).
Artistic transcendence usually nurtures an innate awareness of these traditional subtleties. How much of these cultural perceptions filter into the consciousness of the Japanese artist and are executed is hard to fathom and correlate but there is an obvious, subtle, tangible presence pervading most of their art. The nature-centric shinto also celebrates the landscape and the wholeness of creation and has over 100,000 shrines and around 79,000 priests, so its input would be plausible.
Assembled here is a collection of Japanese pottery that has caught my attention over the past 12 months, displaying their refined aesthetic, skilled craftsmanship, reverence for the ceramic arts and Zen empathy that characterises the contemporary clayarts of Japan.
The Japanese sculptor Sayaka Ganz clasims he was strongly influenced by the Shinto beliefs that all objects have a soul when he created these horse sculptures.
Shinya Tanoue
Yuh Okada— Faceted Jar
Kakurezaki Ryuichi bizen vase
Black and white Japanese tea bowl from the Edo period
Yukiya Izumita ceramic sculpture
Takeshi Matsuzaki shino yunomi cup.
The above note in Japanese was displayed with the cup. The translation was a kinda zen way of of describing walking.
Stoneware bottle with the nuka oatmeal glaze over black slip accents, top and bottom and iron and black glaze accents –Craig Bird
How is it possible to strip away the unwanted encumbrances, additions, distractions, to do away with all the superfluous that can weigh down an object? There is a palpable complexity to simplicity and in its creation, it is never born from over thought, conscious action, rather it springs from a disciplined and well practiced extension of years of unconscious repetition earned over decades of "doing". A simple object exudes a clarity of idea and purpose since there is nothing to clutter the direct intent of its function in a classic example of "less means more". As a potter, I know I can be guilty of "more means more" and though I won't blame our modern times for that stern indoctrination, it is not a simple thing to work consciously in an unconscious manner, for most of us, it goes against our accumulated experiences. It might be this fact alone that makes the creation of simple, honest pots both so difficult and so greatly admired, because quite frankly, simple is just awfully hard.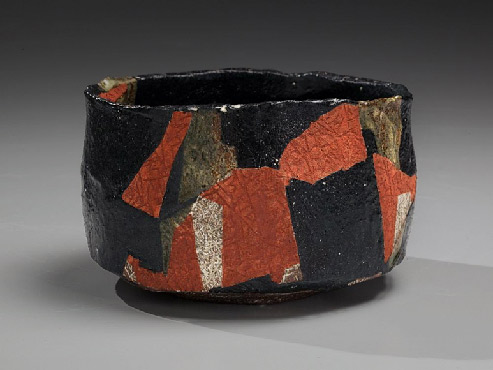 Wada Morihiro — Black-glazed teabowl with red and olive-green slip glaze patterning and impressed surface
Torso-shaped vase with thin neck and green, black, brown matte patterned decoration–Wada Morihari
1992
Large Tsubo Vase – Shimizu Yasutaka
Oribe drip glaze vessel with lid and tea bowl — Takahiro Ishii
Ryo Suzuki
Square vase with white glaze and trailed black glaze decoration
Tsuji Shindo — 'Momuntain Man'
1957
Mondo Bloggo
Yagi Kazuo ovoid ceramic sculpture
Japan
Yagi Kazuo
Joan Mirviss Gallery
Bowl with line design in colored slip painting. — Mieko Kono
Gallery Japan
Yagi Kazuo
Mirviss Gallery
Yasuhisa Kohyama—Japan Art Galerie
Shoji Hamada – footed vase
Shoji Hamada-footed tea bowl
Jun Matsuo — Unglazed high fired jar with fire marks
Jun Matsuo
Tomimoto Kenkichi — ceramic faceted gourd vessel with long neck
Mirviss
Shinya Tagami yunomi cup
Tea bowl with sugarcane design in black iron glaze by Shoji Hamada
Mashiko, Japan — 1955
Shigaraki Vase — Honiwa Rakunyu
Shimizu Takeshi lidded vessel
Ryuun Bottle Vase by Yasuda Zenko
Inoue Toya Karatsu bottle vase
Suzuki Taku —- lustre glaze vessel
Suzuki Tomio chawan
Tokkuri ceramic flask and ochoko cup – Tamiya Shinya
Ryota Shibata lidded incense burner
Ogawa Noriyuki – 'Reincarnation' cup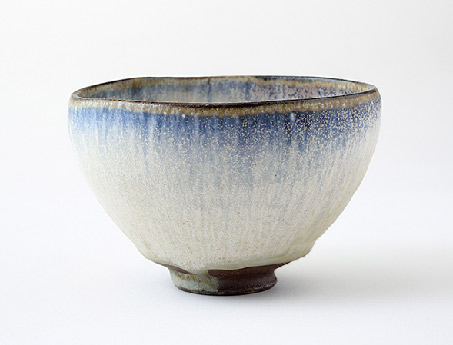 Nobuoka Nakaoka—Gradient coloured ash tea bowl
Nishihata Tadashi – Tamba Clay lidded vessel
Kitamura Tsuruyo – 'Eternal Sea' —Lesley Kehoe Gallery
Nishihata Tadashi — carved ceramic vase
Yahichida Oribe Tea Bowl by Katsunori Sawa
Trax Gallery, Berkeley
Nanako Kaji sculptural vessels
Nakano Yasumi ikebana display
Nakamura Takuo abstract ceramic sculpture
William Bayer Collection
Nakamura-Hirotomo–contemporary metal sculpture
Nakaigawa Yuki. combed and incised ceramic sculptures
Joan B. Mirviss, Ltd
Moriyoshi Saeki Zogan vase
Gallery Japan
Morino Taimei – Contemporary Bottle Form Vase
Modern Shino Tsubo by Ando Hidetake
Mihara Ken raku sculpture
Mentori Tokkuri Faceted Sake Bottle
Manabe Shizu Ryo abstract panel ceramic teapot
Lee Kang-tak — chawan
Large Shino Tsubo by Hayashi Shotaro
Large contemporary pottery Wash Basin by Ichino Masahiko
Kawai Kanjiro — Three Color Bottle Vase
1965
Ken Matsuzaki, Square vase
–hidasuki technique, stoneware, 10x5zx5 inches
Kato Ichiro –  cloth texture and colors ceramic vase
Kaki Tsuto gallery
Kawai Kanjiro- stoneware oribe footed vase
C-Masanao – abstract vase
Kaneta Masanao yunomi
Kakurazaki Ryuichi lidded jar – exceptional spontaneity in the construct curves
Jehni Ashanti- elegant shape, sawdust firing
Kan Sato – Ovoid jar with white slip and connected ridge design
 Minimalist motif with classic use of space and adaption to shape
Hayato Sawada tapered square vase
Gallery Japan
Faceted globulous jar with pearly lustre – Hiroshi Nakada
Contemporary Shino Vase Set by Wakao Toshisada–sculpture art vase
Huge Contemporary Shino Sculptural Vase by Hayashi Shotaro
Hiroyuki-Kobayashi yunomi cup
Hakuhoyu Koro (Incense Burner with Grapevine Branch-ash glaze) – Shigeo Takemura
Covered jar with a geometrical pattern Yukifumi Tada
GALLERY JAPAN Japanese traditional art crafts
Large contemporary Vase by Hiraga Taeko
Wada Morihiro stoneware teapot
Contemporary Japanese Vase by Hiraga Taeko
Japanese Iga Vase – Atarashi Kanji
Vintage Shinsha Vase by Yamazaki Koyo
Vase by Sui Kiichi (Suzuki Mata Kazu)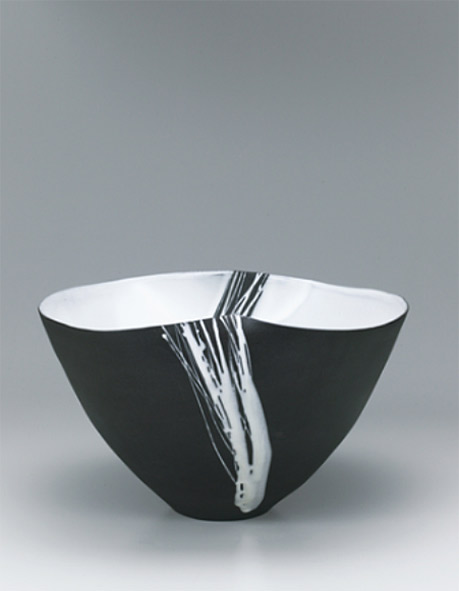 Black bowl with white earthen glaze –  Ushio Shimizu
Bizen jar with irregular shape. – Ryuichi Kakurezaki
Asymmetrical sculpted vessel — Yagi Kazuo
1970
Bizen highlights flower vessel with wide mouth.– Ryuichi Kakurezaki
Akira Satake Chawan
–