Contemporary Hispanic pottery of Gustav Perez
"Pre-Hispanic art is part of my background, but everyone loves this work. How it becomes a part of my work, I don't know. Maybe it is in my subconscious. Things grow inside me. They have been growing for years. Maybe I had one idea when I was five years old and it took fifty years to come out. I think I have a huge cocktail of "influences," including architecture, dance, literature, music — all of these have influenced my work.
I don't follow what's going on in the world of ceramics. I'm not aware of trends. I'm friends with some other artists, but I work all the time. I care only about my own work. My only other passions are classical music and literature. If I have any time not working, I want to read literature. I don't want to look at what other people are making. I don't care about vacations. I crave time to work. When possible, I work alone. I receive very few visitors. I don't "have wine" in the studio. This takes too much time. Truly, I'm not arrogant; it's only that I value my time so much. I love working! I do enjoy people, but I enjoy clay so much more. My clay is my life." ( from an interview at Gustav Perez's studio in Xalapa with Maya Shacter )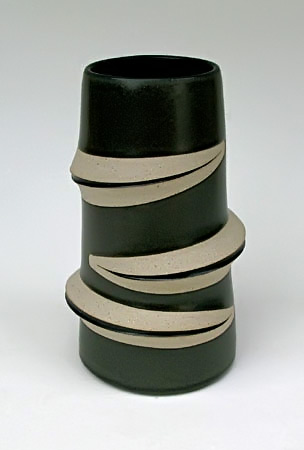 " I can't think of a better way to define my work than quoting what Franz Schubert once said: "I just finish one piece and begin the next". ……Gustavo Perez
Recently, Gustavo completed an excellent interview with keramiekatelier
Can you tell us something about yourself? Where do you live and work?
I am Mexican, I work mostly at my studio in Zoncuantla in the state of Veracruz, in Mexico. But I also work, a few months every year, in the atelier of my partner Brigitte Pénicaud in France, at Les Places, close to Argenton sur Creuse.
Where did you study ceramics or another art discipline?
I studied for two years at Escuela de Diseño y Artesanías in Mexico City (1971-73). Then, after some ten years of work, I had a grant to study for two years in the Sint Joost Akademie voor Beeldende Kunst, in Breda, in the Netherlands.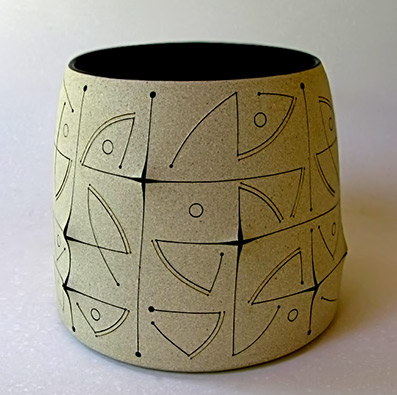 Gustavo Perez contemporary vessel
Which reasons do you have for choosing clay as means to express yourself or realise your ideas, concepts or forms ?
Many times I have said I did not really choose clay; I have the feeling that in fact clay chose me… for several years I had been looking for something to devote my life to, it was a difficult time. But the moment I smelled (!) clay in an atelier, and I saw a throwing wheel, I knew that was the activity I had been looking for.
What was the starting point where from your current work has grown?
The throwing wheel, it all starts there.
Which message you hope to convey to your spectators?
I hope it can be understood that if one wants to be creative with clay, craftmanship (le métier), is essential. I am convinced of the necessity to give everything one can give, and for many years, before a personal way, a personal language can be discovered. For me it took some 22 years before I could feel there was something that I could call really mine.
Creativity is a deep mystery, something like source that does not flow until a certain personal "position" (an attitude, a confidence, an openness) is found. And this sort of secret cannot be transmitted, it has to be a personal discovery after a lot of work… so, the only possible idea to transmit would be this: you need to work and work and work…
Which importance has design in your work and what is the relation between design and clay?
It is important. Because while in fact what I do in my research is mostly playing with the possibilities that appear along the development of series of pieces, I am aware that I always do it in a certain quite systematic way: going from one piece to the next as in a game, trying just every idea that comes to my mind.
And about the relation between design and clay, I can say that I cannot see at all a border separating art and design. Or at least I do not care about it.
What is the meaning of colour for you and your work and what is the relation between colour and clay?
Colour seems not to be as essential for me as form and surface treatment. For some years, while my work concentrated basically on the graphic aspects of what can be done on a pot's surface, I had the feeling that a good black glaze was all I needed to develop my ideas. However, nowadays I am convinced there has to be a certain presence of colour in my work, because I definitely feel some few colours that belong to it: subdued, natural… colours that are close to earth, to the colour of clay itself.
What was for you the most important moment in your ceramic career?
I guess it was the moment when I discovered, by accident, the effect produced on the wall of a thrown piece by making an incision open as in a wound. What Garth Clark called "the gentle cuts". This discovery produced without a doubt the international recognition for my work. And I must say that I felt a profound pleasure in realizing that such a simple effect (because it is indeed a very easy technical resource) had never been used in the thousands of years of ceramics history, ot at least, never had been really developed.

A strange thing is that nowadays there are many young ceramists using this effect on their work (which is alright with me, I never tried to keep it as a secret or a personal "property"), and even some that claim to have discovered the effect themselves… which is not for me as easy to take. (Of course you are aware, because it happened in your own Keramiek Atelier page, of a discussion around such a situation)
Which artist is or has been an inspiration for you?
Just too many. But to mention one, Brancusi.
Or to mention two: Schubert
Or three: Rembrandt… Picasso, Francis Bacon, Paul Klee, etc…
Which ceramic works and ceramist do you admire in your own country and internationally?
In Mexico I respect the work of Jorge Wilmot, from the generation before mine.
And internationally…. many:
First: Hans Coper, a deep influence.
Also, from the past, Kanjiro Kawai.
From our times, there are really many whose work I follow with interest. I cannot mention them all (I will forget many important ones) but in a fast recollection I would say: Gordon Baldwin, Claude Champy, Claudi Casanovas, Lawson Oyekan, Peter Voulkos, Bernard de Jonghe, Johan van Loon, Enrique Mestre, Yasuo Hayashi, Eva Hild, Alison Britton, Tatsusuke Kuriki, etc.
Can you remember the best ceramic exhibition you ever saw?
Maybe Claudi Casanovas at Boijmanns Museum in Rotterdam, 1982 (?)
Do you have a gallery where we can see your work or where you exhibit frequently?
The Frank Lloyd Gallery in the USA
Loes en Reinier, Deventer, Nederland
Puls in Brussels
Galerie Capazza, Nançay, France
Galerie de l'Ancienne Poste, Toucy, France
http://galerie-ancienne-poste.com/
Do you have one or more exhibitions in the near future?
At the Frank Lloyd Gallery.                                   March 19
Puls.                                                                               September
Do you have a website?
It is under construction, almost ready
Thank you very much.
Graag gedaan
Hartelijke groeten,
Gustavo Pérez
Reproduced from :
http://keramiekatelier.wordpress.com/interviews/
.
The above exhibition piece was from the seventh solo exhibition of Perez's work which was displayed at the Frank Lloyd Gallery. Two large scale examples of his work were included in this show, Triangulo and Tablero. The installation piece Triangulo is composed of dozens of small cylinders, cut at a precise angle and placed face-to-face in opposition. The sculpture forms an equilateral triangle, and though it is based in geometry alludes simultaneously to minimal art and optical illusion. Tablero is a wall relief, composed of 49 small abstract forms. Although the individual pieces are made by straightforward folding and forming of the clay, the resulting image has a primitive presence.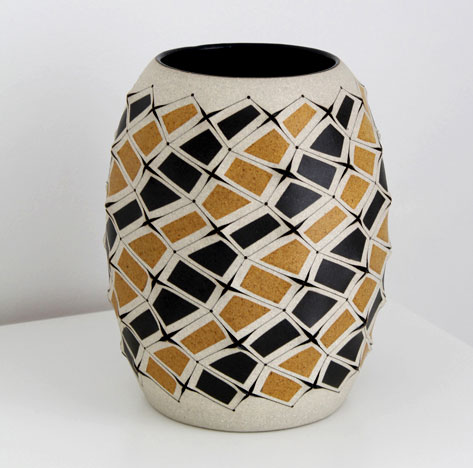 Gustavo Perez Ceramic Vessel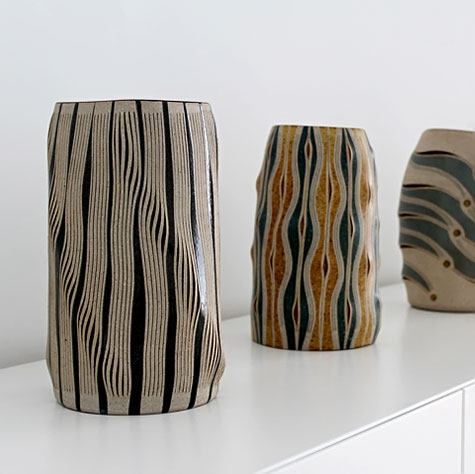 Gustavo Perez Vases
Gustavo Perez incised and folded geometric vessel
Gustavo Perez geometric vase
Sculptural vessel – Gustavo Perez
Gustavo Perez incised vase
Two Gustavo Perez vessels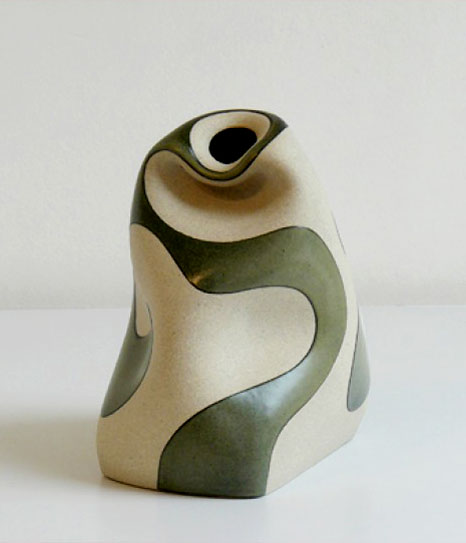 Mexican ceramicist Gustavo Perez abstract contemporary vessel
Gustavo Perez finely incised vase
Gustavo Perez contemporary stoneware bowl – 2010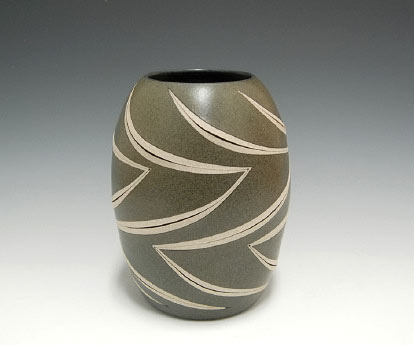 Stoneware Vase – Gustav Perez   2010
Gustavo Perez stoneware vase
Abstract black and white vase – Gustavo Perez
Gustavo Perez folded vase 2005
Abstract form vase -Gustavo Perez
Gustavo Perez asymmetrical vase
Gustavo Perez contemporary sculptural vessel
Gustavo Pérez Vase Sculpture 2011
Puerto-Vallarta gallery – Gustavo Perez
–